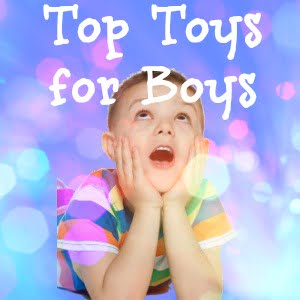 This year's top toys for boys age 6 to 8 includes everything from superheroes and robots to gross games and science kits.
If you're looking for the hottest toys for boys for birthday gifts or any occasion, you'll find something here to make the 6, 7 or 8-year-old boy in your life do a happy dance.
Just an FYI that most of these toys are gender neutral, meaning both boys and girls would like them. We separate our lists simply to make it easier for toy shoppers to narrow their search a bit.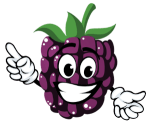 Heads up that the links below take you to Amazon and as an Amazon Associate I earn from qualifying purchases. That means if you buy something through a link, we may get a small commission at no extra cost to you. You can learn more here. I hope you enjoy our toy and gift suggestions!
Top Toys for Boys Age 6 to 8
Let's Start With a Few Favorite Toys for Boys
Take a look at some of our favorite toys for boys below. The Hot Wheels Barrel Box is a new toy, but the others are popular favorites that 6 year-old, 7-year-old, and 8-year-old boys still love. Then scroll on down to view the very latest top toys for boys.
Wookie Sounds Mask
Make a LEGO Movie
Dart Blaster
Stomp Rockets
Adventure Kit
Hamper Hoops
Rocket Ship Tent
Hot Wheels Barrels
Connect 4 Game
---
Hottest Christmas Toy for Boys – Treasure X Aliens
Treasure X Aliens
One of the hottest new toys is undoubtedly Treasure X Aliens! Treasure X toys were first introduced to us last year and they were a big hit. (Scroll down to read more because they remain on our top toy list.)
With Treasure X Aliens, kids still dig for a treasure hunter…but they have to dissect an alien and instead of digging in dirt, they slog through slime.
It's packaged very cleverly so that the packaging is part of the toy and everything stores nice and tidy when the rescue operation is done.
There are 18 treasure hunters to collect and each comes with their own weapon and treasure. This one is one of the best toys for boys and girls this year!
Age 5+
---
Crayola Spin & Spiral Art Station
Spin & Spiral Art Station
Encourage creativity in the boy in your life with the brand new Crayola Spin & Spiral. This one combines the classic Spirograph art style with the splatter technique so kids can make some really unique creations.
The paper it uses is round, so plain paper plates work as refills. And any washable crayola paint will work with it too.
Kids can make several, punch a hole through them and string them up as a banner for their room, or even make a mobile out of them. The options are endless.
Age 6+
Here's a couple more cool toys for boys to help spark their inner creativity.
My Comic Book Making Kit
Light Up Tracing Pad
---
LEGO Creator Underwater Robot is a Top Toy for Boys
LEGO Creator Underwater Robot
The LEGO Creator line makes some of the best toys for boys in the 6 to 8 age group. One of their new sets is the 3-in-1 Underwater Robot.
It contains all the pieces kids need to make either a robot, submarine, or underwater crane. Cool!
This set has some unique pieces that LEGO aficionados can add to their collection.
Another new LEGO Creator set that is selling very well is the 3-in-1 Deep Sea Creatures set.
Age 7+
Check out a few of the latest LEGO releases below!
---
Thames & Cosmos Robotic Tumbling Hedgehog
Robotic Tumbling Hedgehog
The best toys for boys interested in technology and robotics are the build-your-own-robot kits, like the the Thames & Kosmos Robotic Tumbling Hedgehog.
The hedgehog tumbles, spins and bristles in response to claps. In this age of interactive pets, that doesn't sound too impressive but the cool thing is that as kids are building it, they get to see which gears and gizmos cause those reactions.
The box says ages 7 and up with some adult help, but how much help your child needs depends on how familiar they are with these types of robotic builds. It's a great learning experience to do with mom or dad.
Age 7+
---
WowWee Buttheads
This new toy for boys will either disgust you or crack you up (pun intended). Buttheads are action figures whose super power is farting. And their heads are butts.
Each figure makes 20 different farting sounds (impressive!) when their finger is pulled downward. They have a prank mode where kids can set a timer and launch an offensive attack on an unsuspecting victim.
Oh and they each come with a scratch and sniff trading card. Yeah, they went there. I do love the names though – I'm a sucker for puns. Need something for that office White Elephant party? These are perfect!
Brainfart (Zombie)
Robutt (Robot)
Grim Ripper
Tushi (Ninja)
Related: Strange Kid's Toys that are Actually Popular!
---
Artie 3000 Coding Robot
Artie 3000
For a more cerebral toy, we have the Artie 3000, the latest coding robot from Educational Insights. What's neat about Artie is it combines art with coding to encourage both creativity and tech skills in kids.
A cool feature is kids don't have to connect to the Internet to use Artie. They are actually connecting to Artie's internal server (which will show up as a wifi network). Then you use a browser and go to Artie's user interface.
Kids can drag and drop different commands in a certain order and Artie will follow them to create an image. There are preset designs, or more advanced kids can create their own.
While some parents felt it was more appropriate for an older age range, others found it a great teaching tool for 7 and 8 year olds. If you're looking for a coding toy that has an artistic element, it's definitely worth a look.
Age 7+
---
Untamed Mad Lab Minis
Untamed Mad Lab Minis – 2 Pack
Mystery toys encased in goo are still the rage and these Untamed Mad Lab Minis are going to be hot items this Christmas.
Lab Minis are little creatures with interchangeable heads that kids can collect, mix and match, and trade with their friends. There's 34 characters to collect and over a 1000 new creature combinations!
The substance (or DNA as they like to call it) the characters are packaged in gives a hint as to the type of creature they are.
Slime DNA = Scaly creature
Sand DNA = Skeleton creature
Clay DNA = Furry creature
Furthermore, the color of the DNA tells how rare the collectible creature is.
Green is common
Orange is ultra-rare
Silver is special edition
Gold is rarest Goldrush dragon
Another reason kids will love these is the cap of the container holds a disc with a QR code on it. Kids can scan the code and put their character into an augmented reality app where they can create new characters and have them battle.
All of these features, plus the inexpensive price makes Mad Lab Minis one of the top toys for boys in the 6 to 8 age group this year!
Age 5+
---
Hottest Christmas Toy for Boys – Bakugan
SpinMaster has reinvented their decade-old Bakugan sensation. Never heard of it? Me neither because when they first came out around 2008, my son was out of school and adulting (for the most part). But if he had been 8-years-old at that time, I'm sure he would have loved it because he was really into Pokemon and other Anime style games.
But I digress. Bakugan are plastic spheres that pop open into characters when you roll them. Each character is assigned certain attributes and powers and kids use them along with cards for gameplay.
SpinMaster reintroduced Bakugan and new ways to play it at the 2019 Toy Fair. It's pretty cool because the new game combines strategy, action, and imagination for an immersive game kids will love.
A Bakugan Battle Brawlers starter set has everything to introduce kids to the game. It includes an Ultra Bakugan, which basically is a character that makes a more dramatic entrance than the rest; two core characters, action cards and a full deck of Bakugan cards. I love that it's packaged into a neat little box where everything can be stored when play is done.
You can also buy Bakugan Ultras separately so kids can have more of them in the game. Or pick up a Battle 5-pack for more characters. OR check out the Battle Arena so kids can play their Bakugan on a board instead of just the kitchen table.
So far, the Bakugan toys have been very popular with boys ages 6 to 8 and even older.
Age 6+
Battle Brawlers Starter Set
Bakugan Ultra Nillious
Bakugan Battle 5-Pack
Bakugan Battle Arena
===>> You can see ALL the Bakugan Game Sets here!
---
Crayola Build A Beast
Crayola Build A Beast
A new toy from Crayola is Build A Beast. What's unique about it is how it combines model making with clay molding for a creative, science-y experience.
Kids use the pieces to shape the creature, then use the clay to bring it to life with colored skin, bumps, fins and whatever else they can think of. This bundle comes with all three sets – a shark, a chameleon and an alligator. Kids can follow the instructions or take their own path and create a sharkaleon or chamegator.
What's neat is the pieces snap together so that the creature is bendable after it's finished, which makes them not only fun to build, but fun to play with afterwards. For these reasons, this one makes our list of top toys for boys ages 7 and 8.
Age 7+
---
Air Hogs Zero Gravity Laser Racer – Hot Toy for Boys!
Zero Gravity Laser Racer
Air Hogs updated their cool laser racer cars this year and made them even cooler! The new Zero Gravity Laser Racer cars charge up via USB, saving on battery costs, and the laser gun is much lighter and easier to use.
Did I mention these things climb walls? Kids aim the laser gun wherever they want the racer to go – up the wall, on the ceiling, across the floor – and the racer chases the laser.
Pretty cool, right? The laser gun takes batteries, but the car is charged via USB. It's rated for kids age 8 and up, but younger kids could easily handle this with some adult supervision. This is a really fun toy for boys in the 7 and 8 and up age group!
Age 8+
Related: Check out this other wall-climbing car review!
---
Foam Alive Make N' Melt Ice Cream Kit
Foam Alive Make N' Melt
The Foam Alive Make N' Melt Ice Cream Kit is new from Moose Toys. It's squishy, fluffy foam that kids can mold into all kinds of shapes, including perfect scoops of ice cream.
The cool part is watching as the foam drips and melts, all on its own. Sort of like watching that stuff in lava lamps, only a little faster motion.
Foam Alive isn't wet, sticky or messy and never dries out, so kids can play with it forever and parents don't have to clean up anything – win-win!
Age 5+
---
LEGO Hidden Side Sets – Super Hot Toy for Boys!
LEGO sets are always among the top toys for boys in the 6 to 8 age group and beyond. They've outdone themselves this year with their new LEGO Hidden Side series of building sets.
The theme of the series is a little town called Newbury, where friends, Jack and Parker live. They're friends with Professor J.B., who is certain Newbury has a haunted "hidden side" and creates an app to help her rid the town of ghosts. The fun part is that there really is an augmented reality app kids can use with the sets to find and release the hidden ghosts!
Most of the sets are recommended for kids 8 and up, but there are a few sets designated for 7 and up. The Hidden Side Graveyard Mystery and the Hidden Side J.B.'s Ghost Lab are two of them. The app works with both iOS and Android devices.
Age 7+
LEGO Hidden Side Graveyard Mystery
LEGO Hidden Side J.B.'s Ghost Lab
---
Hatching Toothless Interactive Baby Dragon
Hatching Toothless Baby Dragon
The latest Dreamworks Dragons movie came out fairly recently and of course there are lots of new toys in the franchise for kids to put on their wish list.
One of the latest is Hatching Toothless, the Interactive Baby Dragon. Toothless lights up, growls, and taps back through his little shell home until he's irritated enough to hatch. Kind of like dad unsuccessfully trying to sleep in on Saturday morning.
Once hatched, Toothless will learn how to fly and plasma blast and interact in other fun ways, including playing games and making adorable dragon sounds. He's a cute little guy and sure to be one of the most asked-for toys for 6 to 8 year old boys this holiday season.
Age 5+
---
Beaker Creatures Deluxe Lab
Beaker Creatures Deluxe Lab
Beaker Creatures by Learning Resources came out last year and kids loved fizzing and swirling and discovering the cute little collectibles. So much so in fact, that their Beaker Creatures lab was a Toy of The Year finalist for 2019.
How do you top that? With a Beaker Creatures DELUXE Lab of course! Which as far as I can tell, is the same lab with two additional mystery creatures. But still, it's a cool toy that combines mystery collectibles with learning about science.
There are 30 more Beaker Creatures to discover in Series 2. Here's a good deal on 6 Series 2 Reactor Pods they can play with in the lab. There's also some separate add-ons, like a bubbling volcano chamber and a whirling wave chamber. Each comes with an experiment card with 5 different experiments kids can do with their chamber.
Age 5+
Whirling Wave Reactor Chamber
Bubbling Volcano Reactor Chamber
---
LEGO App controlled Batmobile Kit
LEGO RC Batmobile Kit
LEGO combined building, Batman, and Bluetooth and created a really cool App-controlled Batmobile. This toy was released a couple years ago and is still receiving such great reviews that we're keeping it on our top toys for boys list this year.
8-year-old boys love building things that really work because they can continue to play with it long after the fun of building it is done.
LEGO really delivers with this Batmobile. Once it's built, kids use an app to make it drive, turn, do wheelies, and all sorts of other things. It also comes with a Batman minifigure to drive it. This is a great toy for boys who love to build things and who enjoy DC Super Heroes.
Age 8+
---
Boxer – Interactive Robot
Boxer Interactive Robot
Robots are top toys for boys age 6 to 8 because they are interactive and offer lots of different ways to play with them.
The Boxer A. I. Robot by Spin Master is FULL of personality and fun. He plays games, does tricks, responds to movements and has the cutest voice you ever heard from a robot.
He's easy to use right out of the box, but he's the most fun when he goes rogue with all his quirky antics!
Boys will love this little sidekick to play with on their own or with their friends. Boxer came out last year but he's still popular and has great reviews, so we're leaving him on our top toys for 6-year-old boys and up list!
Age 6+
Below are a couple other popular interactive robot toys. Anki Cozmo is offically rated for age 8 and up, but users report that younger kids find him easy to use and entertaining. Cozmo has been out a couple years now, but still comes very highly rated.
Chippies Robot Dog
Anki Cozmo Robot
---
Crayola Arctic Color Chemistry Set
Crayola Artic Color Chemistry Set
One of the new top toys for 7 and 8 year old boys this year is the Crayola Arctic Color Chemistry Set. Crayola's Color Chemistry Set from last year was so popular, they've added this arctic themed set to the mix.
Kids love seeing cool reactions and effects, like lava spilling out of a volcano they made themselves or bouncing colored bubbles.
Got some bored little boys on a rainy afternoon? This is the perfect toy to whip out! The experiments are fun and entertaining and don't tell them, but they're learning a little something too. 😉
There are over 50 experiments in the kit and many of them actually create things that can be played with later, like slime. Kids can repeat the experiments over and over too, so this little kit is well worth the money!
Age 7+
---
Hot Wheels Criss Cross Crash Track Set
Hot Wheels Criss Cross Crash
Hot Wheels sets are always among the top toys for boys. The Hot Wheels Criss Cross Crash Set has been out for a while but is still wildly popular among boys and girls who like vehicle toys.
Kids love sending their cars whizzing around the tracks, never knowing when they are going to crash. And best of all, it's thrillingly loud when they do! (Just a heads up for parents!)
This set connects to most other Hot Wheels sets so kids can build an epic highway system if they've got the floor space!
Age 5-9
Related: Review of the Hot Wheels Track Builder Stunt Kit set – is it worth the money?
---
Gross Games are Popular Toys for Boys
Boys love all things gross and the last couple years there have been tons of gross games released to the market to delight that segment of the toy market.
My personal favorite is Don't Step In It, where kids have to avoid little clay piles of poo while blindfolded. We have the perfect game board for that in our backyard (Hashtag: 4dogs).
But below are a few other gross games released last year that are still popular with boys and girls.
Don't Step In It
Flushin' Frenzy
Snot It
Pimple Pete
---
Rollplay 12 Volt Nighthawk Ride On
Rollplay Nighthawk Ride On Toy
Get those boys outside with The Rollplay Nighthawk Ride On toy. It's so much more fun than a bike or scooter!
The Nighthawk is battery-powered (with an impressingly long-lasting charge!) so kids can get up to 6 miles an hour. They maneuver it with their bodies (leaning left or right) and can make it tilt and glide around obstacles or just drift.
It's easy to control, fully assembled, and supports weight up to 110 pounds. It's a thrilling toy for boys and girls both!
Age 6+
Below are two more highly-rated ride-on toys for kids age 6 and up!
Hauck Lightning Pedal Kart
Razor DeltaWing Scooter
Related: Best Outdoor Toys for Kids!
---
Treasure X Legends of Treasure – Top Toy for Boys!
Treasure X Legends of Treasure Set
Before there were treasure-bearing aliens, there were season I Treasure X discovery toys. These little toys were super popular toys for 6, 7, and 8-year-old boys last year so we're keeping them on our best toys for boys list this year. What's not to love about discovering buried treasure?
If you haven't seen them, they're like little blocks of dirt that come with an excavation tool for kids to dig for their treasure. Boys love the fun of excavating the "bones" of an expired treasure hunter and discovering the treasure left behind.
The Treasure X Legends of Treasure Set comes with 3 treasure blocks, plus a map, decoder tool, and some other goodies. If it's out of stock, check out the later edition, Treasure X Quest For Dragons set.
If you really want to wow the 6 or 7-year-old boy in your life, pick up the Legends of Treasure Aliens vs Kings set! It's the brand new top toy for boys from this line we mentioned at the beginning of this post.
Age 5+
---
Untamed T-Rex by Fingerlings
Untamed T-Rex Scratch
Fingerlings quickly moved past the sparkly monkeys and cute unicorns and last year released the Untamed T-Rex Fingerlings.
The one pictured here is Scratch, but there are several others to choose from. Like the monkeys, these are interactive little creatures with more boy-appeal than their predecessors.
There is even an app where boys can let their T-Rex's do battle! These little guys will chomp, growl and fart their way into the heart of the 6 to 8 year-old-boy on your gift list.
Later last year, more Untamed creatures were added to the line, including dragons, wolves, and saber-toothed tigers. They each have unique interactions, like howling at the moon or a moldable personality!
Untamed Dire Wolf
Untamed Dragon
Age 5+
Related: Latest 2018 and 2019 Electronic Pets for Kids!
Deal Alert ==> Check out all the toys on sale today!

---
Mega Construx Breakout Beasts Wave 3
Breakout Beasts Wave 3
Mystery toys that hatch out of eggs are STILL popular and when they're encased in slime, well…all the better.
Breakout Beasts came out last year and quickly became a favorite toy for 6 and 7-year-old boys. The latest is the Breakout Beasts Wave 3 release, which features more hatching mythical dragons to discover.
Boys love these because they are a combination of all their favorite things in one package: monsters, slime and building things.
The whole fun of this top toy for boys is the experience of opening it, discovering which beast they got, pulling off all the slime, posing their beast…then anxiously waiting for when they can buy another one.
There are nine to collect in this third wave, so it's a good thing these are priced right!
Age 5+
If you haven't seen Wave I yet, you can check them out in the link below.
---
Ozobot Bit Coding Robot
Bit Coding Robot
Who knew something so small can teach kids how to code? This Bit Coding Robot is about the size of a ping-pong ball but teaches the fundamentals of coding to young kids in a way that's fun and engaging.
Seriously, parents are amazed at how quickly their kids learn to code from this little toy. For that reason, we're keeping it on our best toys for boys age 6 to 8 list this year.
The printable and interactive games, plus the customizing stickers, entice kids to actually play with their little Ozobot Robot, unlike many other robot toys that quickly lose their novelty.
This Ozobot comes with instructions, colored pens for coding, stickers, games and everything else kids need to learn coding and have fun with their Ozobot!
Age 6+
Toys that teach coding to kids are still the trend, and rightly so as they give kids a head start in this technical world. Here's two more coding robots that are very popular and would be awesome educational gifts for boys and girls.
Botley the Coding Robot
Sprk App-Enabled Robot
---
Hot Wheels Super Ultimate Garage Playset
Super Ultimate Garage Playset
If you are looking for a top toy for a boy who loves Hot Wheels – this is the toy that will make you the favorite aunt, uncle or grandparent ever! The Hot Wheels Super Ultimate Garage playset holds 140 cars!
Oh, but it's not just a parking garage. Kids have to use their racing skills to avoid the car snatching gorilla and pterodactyl. It's like parking on the dodgy side of town.
This Hot Wheels toy won Toy of the Year for 2018, and it's still a hot toy for boys this year!
If your little Evil Knievel needs more cars to fill it up, here's a great deal on a multi-pack of Hot Wheels cars.
Age 5+
And I really love these custom themed cars by Hot Wheels, below. What a fun addition to a boy's Hot Wheels collection!
Jurassic World Cars
Marvel Avengers Cars
---
Scientific Explorer Mind Blowing Science Kit
My First Mind Blowing Science Kit
The My First Mind Blowing Science Kit teaches kids cause and effect with 11 fun experiments. This science kit has been a top toy for boys and girls for a few years now and consistently gets rave reviews!
From writing secret messages to making fizzy concoctions, this is a great toy for boys age 6 to 8 to introduce them to scientific concepts (also, the concept of cleaning up the mess in the kitchen afterwards)!
Age 6+
Below are two more highly rated science kits that are popular gifts for the boys in your life!
Disgusting Science Kit
Magic Science Kit
---
Osmo Genius Kit
Osmo Genius Kit for iPad
The award-winning Osmo Genius Kit has been on the top Christmas toys for boys (and girls!) list since 2015 and it's still there because it's just so darn cool.
Kids need to use an ipad for this toy, but it unlocks a slew of creative thinking and problem solving games and activities for them.
The skill level can be adjusted from age 6 on up to age 12 so kids will feel challenged for a number of years. This makes it a great toy for girls and boys age 6 to 8 and beyond.
Once you have the base kit, there are all kinds of fun add-on games for it, making it really versatile and never boring.
Age 6+
Below are two popular Osmo game add-ons.
Osmo Creative Set Monster Game
Osmo Hot Wheels MindRacers
UPDATE: You can now get the Osmo Genius Kit for the the Fire Tablet!
---
Zax Axe
Zax Ax
For some reason, Ax throwing is trendy. Enter Zax the Foam Throwing Ax, by Zing. Don't worry about your walls (or your kids' safety) – it sticks with suction cups, not a blade. Kids can practice their aim and technique…you know, in case they want to enter a lumberjack contest.
The Zing brand is known for other flying projectile games, like the Zing Zeon Archery set (also with suction cups).
If the kids get tired of ax throwing, mom or dad can bring it into the office and let off a little steam!
Age 5+
Related: Best Toys to Keep Kids Active When They're Stuck Indoors
---
Hackin' Packin' Alpaca Game
Hackin' Packin' Alpaca
Know what else is trending in toys this year? Llamas. Only packin' and hackin' don't rhyme with Llama so we have the Hackin' Packin' Alpaca game.
Kids have 5 seconds to pack a knick-knack on Mac the Alpaca's back. If skills kids lack, they get the sack, jack.
Okay, I'll stop. Basically, Mac squirts you with water if you fail. The game tests kids' hand-eye coordination and thinking skills, plus it's fun to see their friends or parents get squirt with water.
Age 5+
---
Voltron Ultimate 14 Inch Figure
Voltron Ultimate
The Ultimate Voltron was on several top toys for boys lists in 2017. It's from a popular television series about a robot built to defend the universe from evil.
Since the show is very popular with boys age 6 to 8 and the toy got such great reviews, we are keeping it on our top toys for boys list.
Voltron lights up and says cool things like, "You brought the sonic BOOM on him!" I'm pretty sure that's followed by a mic drop. But the best part is that his hands shoot out little missles! At 14 inches tall and with lots of articulation, it's a fun toy with lots of play value for kids, even if they don't watch the show.
Age 4+
---
LEGO Boost Creative Toolbox
LEGO Boost Creative Toolbox
The award-winning LEGO Boost Creative Toolbox toy shows kids how to build robots with actual motion sensors, motors, lights and other neat features.
It includes plans and instructions for 5 different types of robots, so there's lots of variety and challenge.
Kids will need access to a tablet to build and play with the LEGO Boost toy, but it is compatible with Android, Apple and Kindle Fire.
Boys and girls who love to tinker and watch their creations come to life will love this thing. It also makes for some great parent/child time because mom and dad will be just as fascinated by it as their kid is.
Age 7-12
---
VTech Star Wars Stormtrooper Smartwatch 2.0
VTech Stormtrooper Smartwatch
In recent years, Smartwatches are one of the top toys for boys age 6-8. They're a way for kids to always have some entertainment with them, which is great when they have to tag along on boring errands or when traveling.
The Star Wars Stormtrooper Smartwatch adds the fun element of voice-changing effects so Star Wars fans can feel like they're part of the Star Wars galaxy. Plus, there's even light saber sound effects!
Kids can also take pictures and videos with cool filters and play all kinds of games on it.
Age 5-9
If you're thinking about a Smartwatch as a gift, you should definitely check this one out. Below are a couple other gift suggestions to help boys with timekeeping. The LEGO Darth Vader Alarm Clock looks cool on their bedside table. And if the 6 or 7-year-old boy in your life isn't particularly a Star Wars fan, check out the VTech KidiZoom Smartwatch, which is still getting great ratings.
Lego Darth Vader Alarm Clock
VTech Kidizoom Smartwatch
---
Mega Construx Inventions Deluxe Pack
Mega Construx Inventions Deluxe Pack
If the boy on your gift list is a builder, he'll love the Inventions Deluxe Pack by Mega Construx.
If you're not familiar with this toy line, they are similar to LEGOs but a little less expensive and a little more conducive to free-form building. Which is great for parents' pocketbooks and boys' imaginations.
The set comes with some ideas of things to build, but for more inspiration, there's an app available for tablets.
Age 5+
---
Check it out! ==> Here's all the best selling toys on Amazon right now!
---
I hope our list of the top toys for boys age 6 to 8 helps you to find the perfect gift for the young boy in your life. What boy wouldn't want to unwrap one of the hottest toys for boys!
Share these epic toy ideas!
Shopping for kids of other ages too? Check out our Best Toys for Preschool Girls and Best Toys for Preschool Boys guides.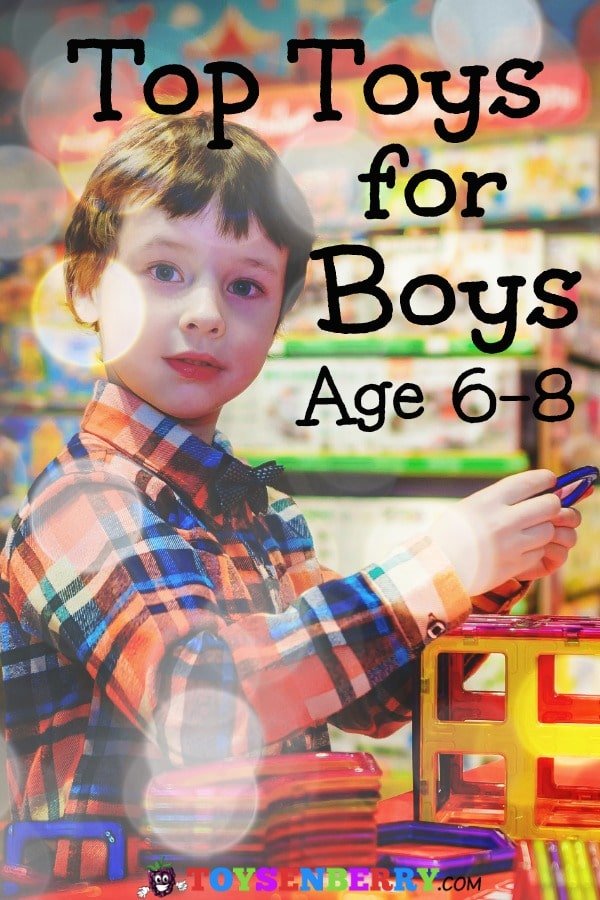 Search for More Top Toys for Boys Age 6 to 8