Share these epic toy ideas!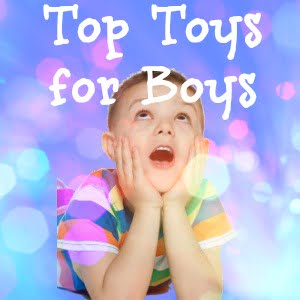 This year's top toys for boys age 6 to 8 includes everything from superheros and Star Wars to cool science and space-themed toys. If you're looking for the hottest toys for boys for Christmas or birthday gifts, you'll find something here to make the 6, 7 or 8-year-old boy on your list do a happy dance.
Just an FYI that many of these toys are gender neutral, meaning both boys and girls would like them and so are some of the toys on our top toys for girls age 6 to 8 gift guide as well. So, be sure and check that one out too for more of the hottest kids toys for Christmas.
Top Toys for Boys Age 6 to 8

BB-8 Adventure Base Playset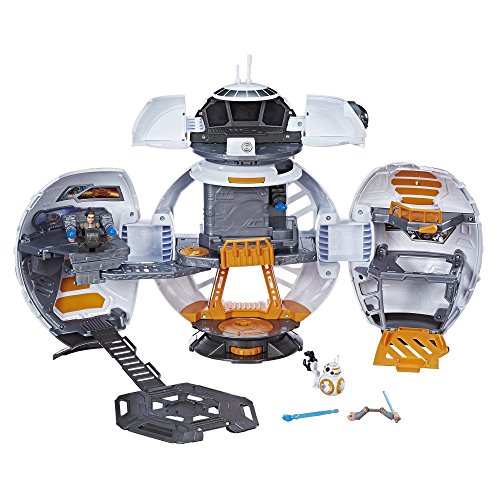 The hottest toys for boys for Christmas always include the latest Star Wars toys and this BB-8 Adventure Base is a cool one!
BB-8 transforms into an adventure base where Rey and little BB can launch projectiles at their enemies from the swiveling turret and drop prisoners down into a secret jail cell. Kind of like an evening with Chuck Norris.
Age 3-7

Here's a few more super popular Star Wars toys that are hot this year!
 Millennium Falcon Playset
 Star Wars Walkie Talkies
 Chewbacca Mask
---
Marvel Legends Series 12-inch Action Figures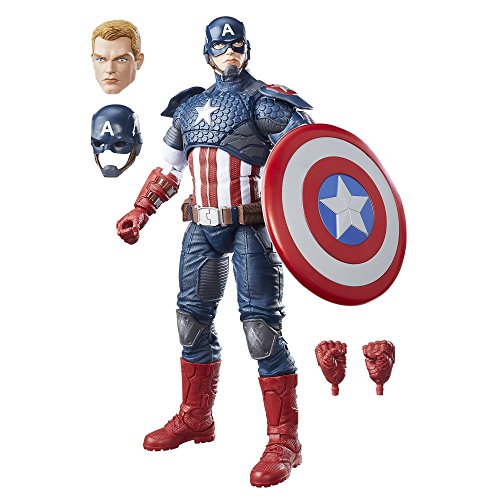 Boys love superheros, and their favorite superhero action figures are always top toys for boys age 6 to 8. The Marvel Legends Series 12-inch figures are beautifully made, very poseable, and come with cool features, like removable heads and hands so kids can get exactly the look and pose they want from the character.
There's a Captain America figure (my personal favorite) and Spider-Man, Deadpool, Iron Man and Thor figures.
Each one has an interchangeable head, depending on the side of their personality a kid wants to deal with at the moment. If only men really had that. I'd have my guy wearing his "honey-do" face 24/7, pretty much.
Age 4+

---
Hot Wheels Super Ultimate Garage Playset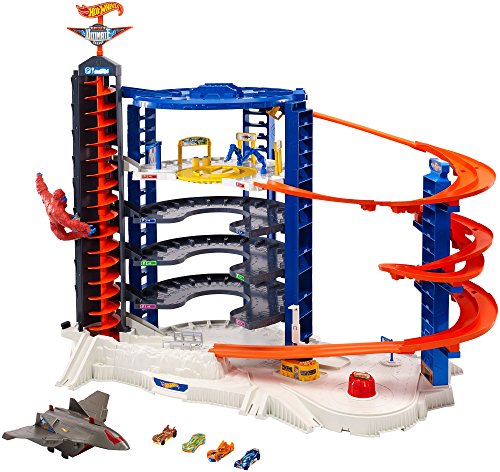 If you are looking for top toys for a boy age 6 to 8 that loves Hot Wheels – this is the toy that will make you the favorite aunt, uncle or grandparent ever! The Hot Wheels Super Ultimate Garage holds 140 cars!
Oh, but it's not just a parking garage. Kids have to use their racing skills to avoid the car snatching gorilla and pterodactyl. It's like parking on the dodgy side of town.
And if your little Evil Knievel needs more cars to fill it up, here's a great deal on a multi-pack of Hot Wheels cars.
Age 5+

Here are a few more very popular Hot Wheels playsets that boys are loving!
 Criss Cross Crash Track Set
 Minecraft Hotwheels Playset
 Ai Starter Set Street Racing
Another one of Hot Wheels top toys for boys age 6-8 is featured in our Hot Wheels Track Builder Stunt Kit review article. This was one of last year's top Christmas toys for boys and is still popular. Plus, there are several add-ons available for it.
---
Crayola Scene Creator
So, let's cultivate that creative side of the boy age 6 to 8 in your life. The Crayola Scene Creator is a newly released toy that lets kids draw out scenes on a screen, then add in action cards with images and then bring the whole scene to life.
Check out the video demo of this toy in our Amazon link and you'll see what I mean. it's pretty cool! It's a neat way to introduce kids to the art of animation and a great way to stimulate their imagination.
Age 3-12

You might also like one of these gift ideas below to encourage creativity in the 6, 7 or 8-year-old boy in your life!
 Light-up Tracing Pad
 Comic Book Making Kit
 Neon Glow Spin Art
---
Spider-Man: Homecoming Vulture Attack Set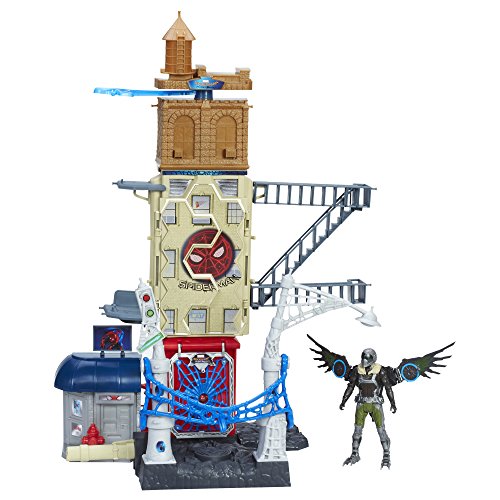 The Spider-Man Homecoming movie was released in June and one of the top toys for boys age 6 to 8 is this playset based on the movie.
Will Spider-Man save the city from the evil vulture? Will Tony Stark accept him as a true super hero? Kids can play it all out with the Spider-Man Vulture Attack Set.
This set is compatible with all the 6-inch Spider-Man Homecoming figures and you'll want to buy a Spider-Man figure (I recommend this one of Spider-Man in his homemade costume) because the set only comes with the Vulture. It is priced right, though.
Age 4+

---
Scientific Explorer Mind Blowing Science Kit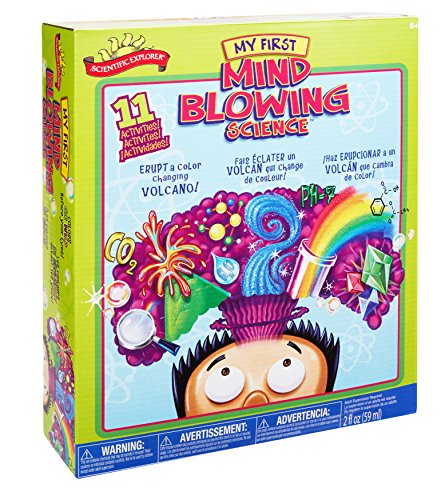 The Mind Blowing Science Kit is a top gift for boys or girls. Watch the video and check out the rave reviews here, to appreciate all the cool stuff kids can do with this kit.
This is a great toy for boys age 6 to 8 to introduce them to scientific concepts (also, the concept of cleaning up the mess in the kitchen afterwards).
Age 6+

Here's a few more highly rated science kits that would be great gifts for the boys in your life!
 Disgusting Science Kit
 Magic Science Kit
 Grow 'n Glow Terrarium
---
Marvel Thor: Ragnarok Interactive Gladiator Hulk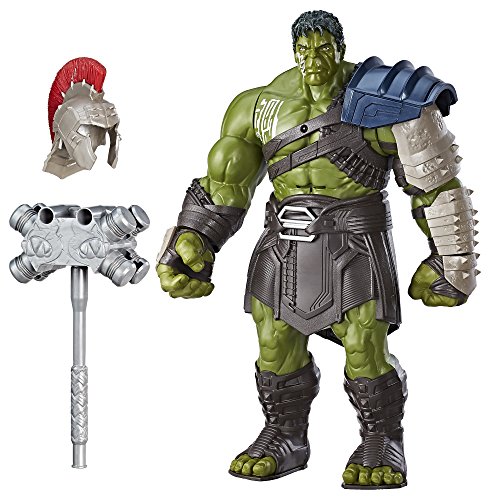 Interactive characters always find their way to the list of top toys for boys age 6 to 8. And this year, Interactive Gladiator Hulk is brand new and promises to be one of the hottest toys for boys this year.
What's not to love about a hulky guy who proclaims how strong he is? It's why we love Conor McGregor, right? Hulk is less cocky, though. But I digress. The Gladiator Hulk toy interacts with the Ragnarok Electronic Thor toy, so the two superheros can battle each other or the enemy.
Age 4+

---
Osmo Genius Kit
The Osmo Genius Kit has been on the top Christmas toys for boys (and girls!) list since 2015 and it's still there because it's just so darn cool.
Kids need to use an ipad for this toy, but it unlocks a slew of creative thinking and problem solving games and activities for them. The skill level can be adjusted from age 6 on up to age 12 so kids will feel challenged for a number of years. This makes it a great toy for girls and boys age 6-8 and beyond. You can check out the video and rave reviews here.
Age 6+
Here are two more Osmo kits that are really cool. The Creative Kit on the left brings drawings to life and is getting great reviews!
 Osmo Creative Kit
 Osmo Hot Wheels MindRacers
---
Star Wars The Black Series 40th Anniversary Luke Skywalker (and other figures)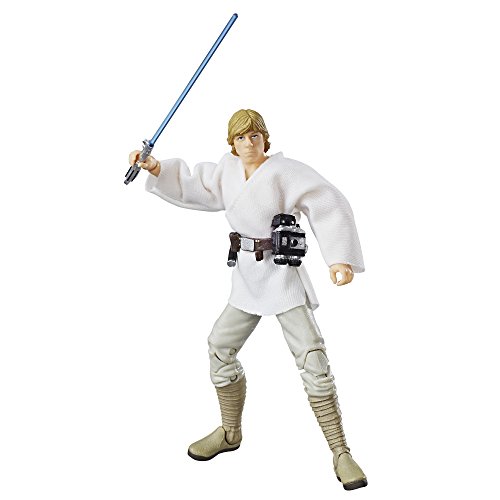 No top toys for boys age 6 to 8 list is complete without the latest Star Wars figures. In 2017, Hasbro released their 40th Anniversary 6-inch figures and they are a throwback to the original figures released when the movie first came out in 1977.
The figures have cloth clothing and great detail, which makes for realistic Star Wars adventure play for kids. Luke Skywalker is pictured here, but you can check out the whole selection of the Star Wars Black Series 40th Anniversary figures here.
Age 4+

If you have a Star Wars fan on your gift list, check out our Interactech Imperial Stormtrooper Review.  This fun interactive toy came out in 2016 and was one of the hottest toys for boys. It's still selling very well. And check out the toys featured in our  Hasbro Rogue One toys article for more favorite Star Wars character toys.
---
Egged On Game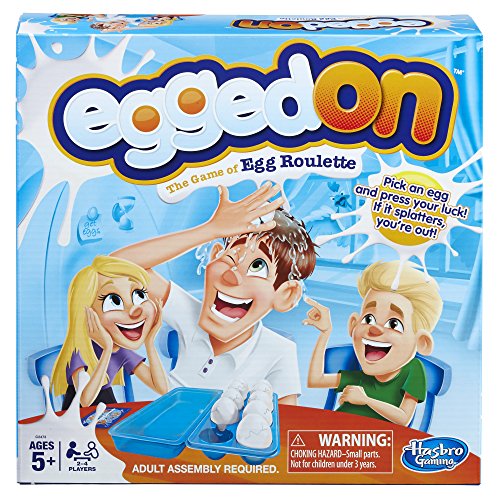 This year's theme in games is the messier and grosser, the better. Which is why this one is on our top toys for boys age 6 to 8 list, because well…messy and gross appeals to that demographic like no other.
The Egged On Game is like Russian Roulette with eggs (don't worry, they're pretend and filled with water). This is a fun game for adults to get silly with the kids on family game night.
Age 5+

Here's a few more fun games that are super popular this year!
 Guess Who? Game
 HedBanz Game
 Googly Eyes Game
---
Nerf Nitro Moto Fury Rapid Rally Action Figure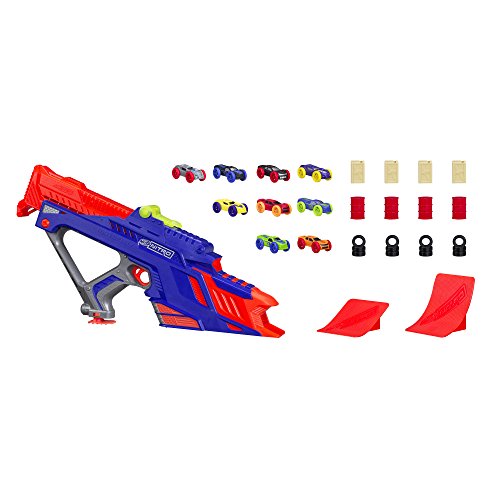 This is the latest addition to the Nerf line. The Nerf Nitro Rapid Rally lets kids send foam cars sailing over ramps and into obstacles at breakneck speeds. What could be funner?
Age 5+

Nerf makes a huge selection of top toys for boys age 6 to 8. You can browse all the Nerf Shooters on Amazon here.
---
Ultimate Voltron 14 Inch Figure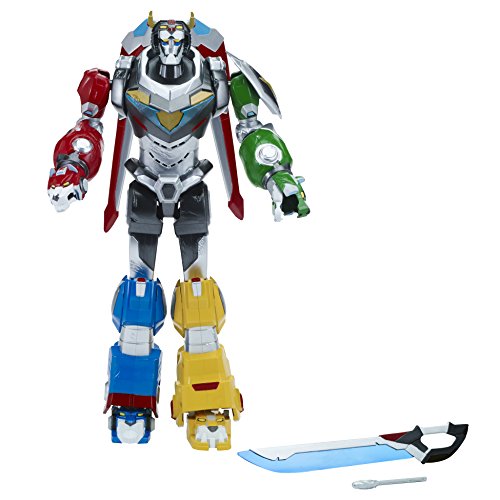 The Ultimate Voltron is from a popular television series about a robot built to defend the universe from evil. Even for kids that don't watch it, this toy is a hot toy for boys age 6-8.
Voltron lights up and says cool things like, "You brought the sonic BOOM on him!" I'm pretty sure that's followed by a mic drop. But the best part is that his hands shoot out little missles! At 14 inches tall and with lots of articulation, it's a fun toy with lots of play value for kids.
Age 4+

Here's a few more popular toys that your Voltron fan might like!
 Voltron Blue Lion
 Voltron Defender Gear
 Voltron Black Lion
---
LEGO Boost Creative Toolbox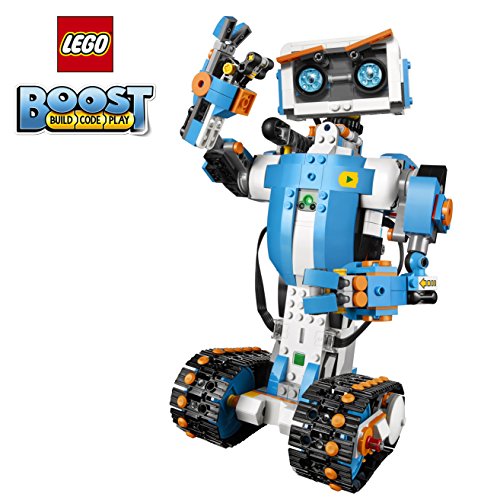 The brand new LEGO Boost Creative Toolbox toy shows kids how to build robots with actual motion sensors, motors, lights and other neat features.
It includes plans and instructions for 5 different types of robots, so there's lots of variety and challenge. Kids will need access to a tablet to build and play with the LEGO Boost toy, but it is compatible with Android, Apple and Kindle Fire. You can check out all the details about that here.
Age 7-12

For boys who like robots, one of the two pictured below might make them happy.
the Wonder Workshop robot building kit on the left is one of the few robot building kits rated for kids under 8 years old. And the Botsquad on the right is made to be able to go and fetch things, like the remote, or anything else you can think of.
 Dot Creativity Kit Robot
 Botsquad remote control robot
---
Mr. Dusty The Super Duper Toy Eating Garbage Truck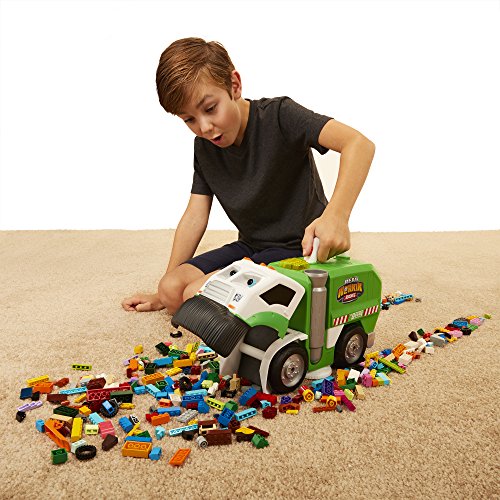 This one is going to be the parent's pick of top toys for boys age 6 to 8 (and preschoolers too!). If you buy Mr. Dusty for the kid on your shopping list, their parents will love you forever! You can check out the video in the Amazon link to see what I'm talking about.
Age 3-7

It doesn't gobble up toys, but it does scale walls and you should consider it an idea for a top toy for the boys age 6-8 on your list. What am I talking about? Check out our review of this remote control wall climbing car. It was one of the top Christmas toys for boys in 2016 and is still a big seller.
---
Marvel Guardians of the Galaxy Star-Lord Elemental Blaster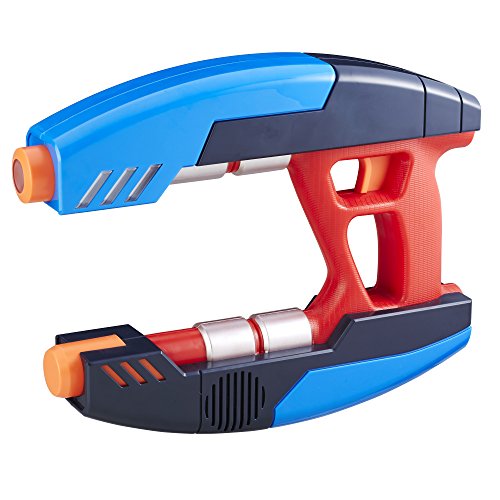 Kids can save the galaxy with the Star-Lord Elemental Blaster. It features sound effects and lights for fire, electricity and water and kids can change the weapon of the choice with a turn of their wrist.
This would be a perfect accessory for a Guardians of the Galaxy Halloween or Cosplay costume too. Pair it up with the Star-Lord mask and you're all set.
Age 5+

---
Pie Face Sky High Game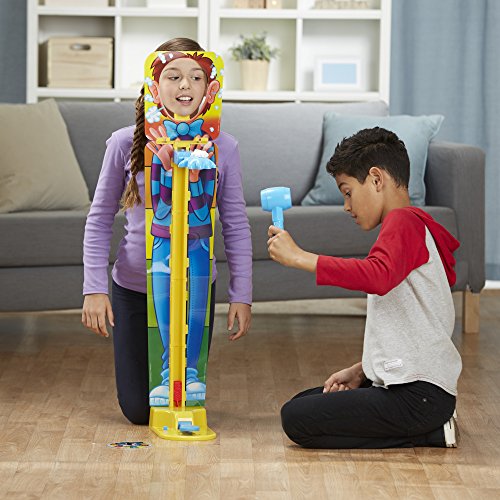 Remember the popular Pie Face Showdown game from a couple years ago? Now it has a twist.
With the Pie Face Sky High game, kids can stand (or kneel if they are too tall) in front of the pie throwing hand while another person hits the plate and tries to make the cream-filled hand smack the victim. It's a blast at parties for kids and adults who don't mind getting their face dirty. Whipped cream not included.
Age 5+

---
VTech Star Wars Stormtrooper Smartwatch 2.0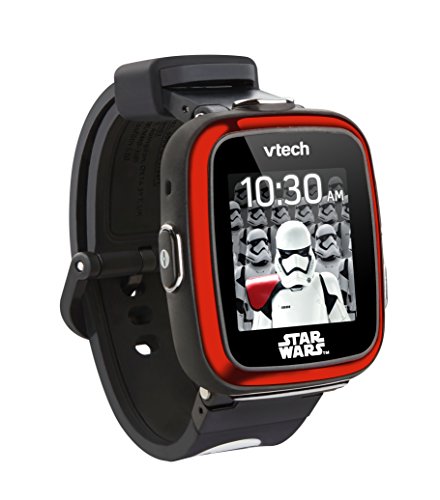 In recent years, Smartwatches are one of the top toys for boys age 6-8. They're a way for kids to always have some entertainment with them, which is great when they have to tag along on boring errands or when traveling.
The new Star Wars Stormtrooper Smartwatch adds the fun element of voice-changing effects so Star Wars fans can feel like they're part of the Star Wars galaxy. They can also take pictures and videos with cool effects and play games on it.
Age 5-9

Smart watches come in a variety of colors and styles. You can find a great selection of Smartwatches for kids here.
---
HEXBUG nano Space Cosmic Command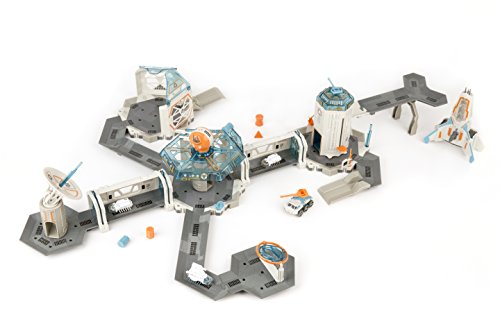 The HEXBUG Space Cosmic Command set is huge, with lots of different ways to configure it. Girls and boys age 6-8 with an interest in space exploration will love building and playing with this.
This set is compatible with other HEXBUG nano sets too, like the HEXBUG nano Space Discovery Station.
Age 3+

---
New Nintendo 2DS XL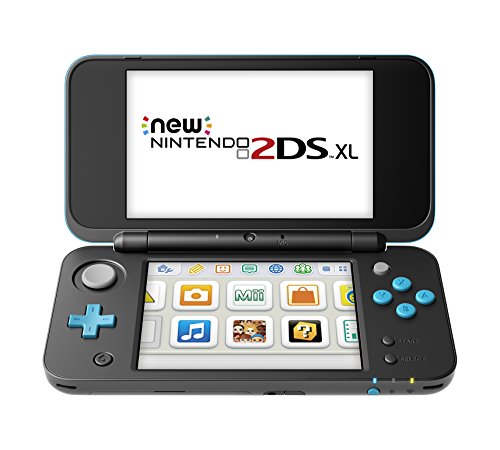 Hand-held game systems are always among the top toys for boys age 6 and up. The New Nintendo 2DS XL is lighter and more comfortable to hold and play than prior versions.
It's compatible with most Nintendo DS games and all Nintendo 3DS games. You can find a selection of Nintendo 3DS games here and Nintendo DS games here (but check the age recommendations for each game).
Age  6+

---
Playmobil Pharaoh's Pyramid
Playmobil makes beautiful and engaging building set toys for kids in the 6-8 age group.
One of their newest sets captures the mystery of Pharaoh's Pyramid, complete with moving walls and clever traps.
It's full of fun details, like skeletons, mummies, treasure and other clever features that Playmobil sets are known for.
Boys who enjoy building toys will love creating adventures with this set!
Every year, Playmobil makes new top toys for boys age 6 to 8. For more of their newest sets, check out our post on the new Playmobil sets for 2017, featuring some cool Ghostbusters sets!

---
I hope our list of the top toys for boys age 6 to 8 helps you to find the perfect gift for the young boy in your life. What boy wouldn't want to unwrap one of the hottest toys for boys!
Shopping for kids of other ages too? Check out our Best Toys for Preschool Girls and Best Toys for Preschool Boys guides.

Pin the Top Toys for Boys Age 6-8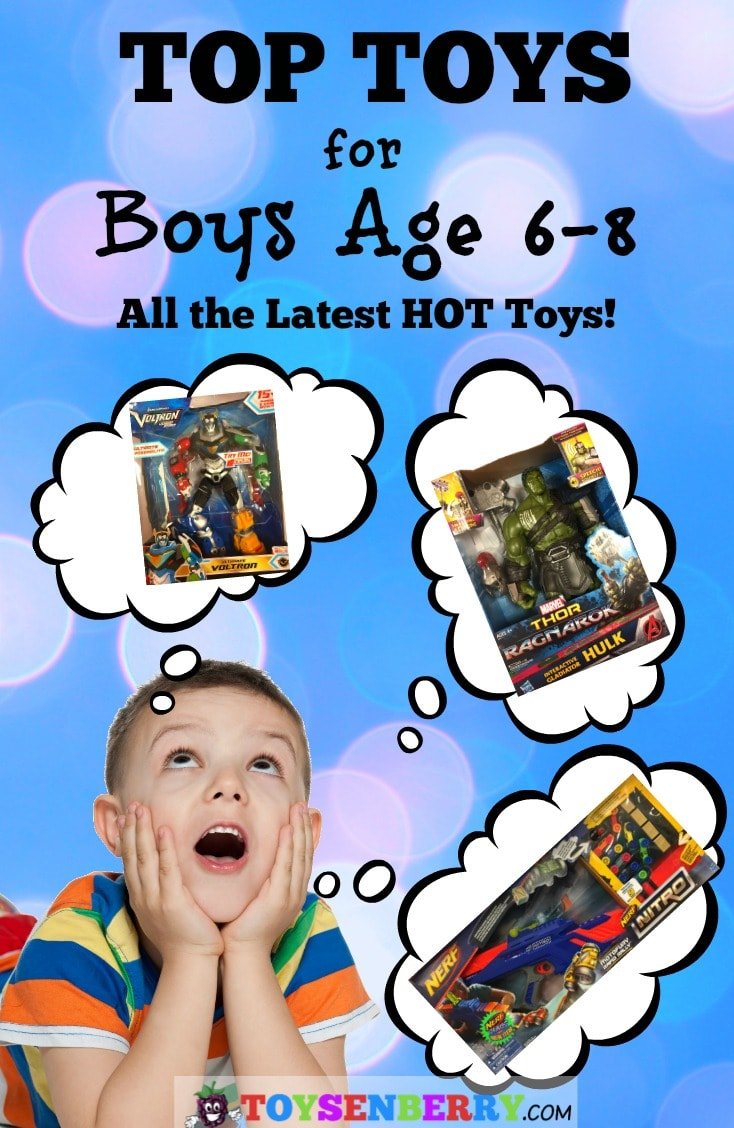 Search for More Top Toys for Boys Age 6 to 8