This is the Toysenberry.com Privacy Policy and Terms of Use. It's all super boring, but it's stuff we have to let you know.
This is the privacy policy for Toysenberry.com ("this Site"), located at https://toysenberry.com/ and owned by Lori and Fred ("we"). Please read this page before using this Site. By accessing or using this Site, you agree to the policies and conditions contained on this page.
This privacy policy is effective as of 5/24/2018.
Contents
Privacy and Cookie Policy
Terms of Use
Privacy Policy
Protecting your personal information is important to us. This privacy policy has been compiled to help users of our website understand how their Personally Identifiable Information (PII) is used online.
PII is information that can be used to identify, contact, or locate an individual. This would be things like a full name, address, telephone number, or email address, to name a few. An IP address, if used along with other pieces of information, could potentially be considered PII as well.
Please read our privacy policy so that you understand fully how we collect, use, protect or otherwise handle your Personally Identifiable Information.
What personal information do we collect from people that visit our website?
Comments
When visitors leave comments on this Site, we collect the data shown in the comments form, and also the visitor's IP address and browser user agent string to help spam detection.
An anonymized string created from your email address (also called a hash) may be provided to the Gravatar service to see if you are using it. The Gravatar service privacy policy is available here: here. After approval of your comment, your profile picture is visible to the public in the context of your comment.
Your email address will not show in the comments, but anything you say in the comment will. So please only leave comments that you are comfortable with the public reading. Do not leave any personal information (such as a physical address, email, or other personally identifying information) in the body of your comment, to protect your privacy.
Contact Forms
When visitors use the contact form on this Site, they are required to provide an email address. We only use this email address to reply to the inquiry. We will not send any unsolicited marketing material to the email address.
The information included in the contact form (name, email and message) is kept in this site for a period of five years, for the purpose of future reference and follow up replies only. If the visitor wishes to have this information deleted, they may state that in their message and we will honor that request. See also the information under the "what rights you have over your data" heading, further down, for more details about this.
What are cookies?
A cookie is a small text file created when you visit a website. They are created to keep track of your movements within the site, help you resume where you left off, and save any customizations you made.
The text file contained in a cookie includes some or all of the following information:
IP addresses
Internet Service Provider
Date and time stamp
Type of browser (such as Chrome, Firefox, Explorer, etc)
Enter and exit pages
How long cookies stay on your browser depends on the duration set for that particular cookie. Some stay for a year or more, some are gone as soon as you close the browser.
Links to help you control cookies on your browser:
Go here to see how to prevent cookies from being installed on your browser
Go here to see how to delete cookies from your browser
Go here to opt-out of Google Analytics cookies
Go here to control which ads Google shows you
Go here to manage third-party advertisers cookies
Different types of cookies
There are two types of cookies: necessary and non-necessary.
Necessary cookies are exactly what the name implies – they are needed to make this Site function properly for you. For example, if we have links to products on a third-party site, those links need to work for you and may require cookies to do so. If we have an online store feature in our site (coming at some point), you'll need cookies to add products to your cart.
Non-necessary cookies are one of these:
Performance cookies that track activity, like pages visited, error messages, and similar info. They don't identify a particular user, just overall activity on this Site.
Functionality cookies that remember choices you've made on this Site, like the comment cookies we mention below.
Targeting or Advertising cookies that use your browsing habits to display ads on a site.
What cookies do we use on this site?
We use both necessary and non-necessary cookies.
WordPress Comments
If you leave a comment on our site you may opt-in to saving your name, email address and website in cookies. These are for your convenience so that you do not have to fill in your details again when you leave another comment. These cookies will last for one year.
These are non-necessary functionality cookies, so if you do not opt-in when you comment, the site will still function normally for you.
Wordfence Security
We use a security plugin on our site, called Wordfence. This helps us keep the site free from malware and viruses, which in turn protects our users as well. Wordfence has a feature we enabled called "Live Traffic". This shows us the IP address of visitors currently using our site and what pages they viewed.
It also shows IP addresses of bots and crawlers. Which sounds like bugs, but are web tools used by Bing, Google and other companies and softwares. Some of them are good and some bad, but that's the beauty of Wordfence – it alerts us to the bad ones. It also detects if an IP address is known for installing viruses on other sites and blocks it.
Each visitor to the Site, whether bot or human, gets a row in the Wordfence live traffic screen. When a person or bot clicks on a new page, that displays to us in a new row.
The reason I'm explaining this is to let you know that the length of time the live traffic data is stored, varies according to the number of rows we wish to save. It is currently set to 500 rows. That sounds like a lot, but because many of those hits are bots and crawlers, it's really not that much. The timeframe this entails depends on how much traffic we get.
If a hack or malware attempt comes from an IP address, that address is saved in our records for a long time – 10 years – so that we recognize the scallywags if they try it again.
The Wordfence cookies are necessary because they help protect this Site from malware and viruses.
Siteground Cache Cookie (wpSGCacheBypass)
This is a necessary cookie. Our hosting server uses this cookie as part of a caching process to improve the speed and performance of our website. Caching allows our website to load more quickly for our visitors. 
Amazon Cookie (ad-id)
We have Amazon ads on our website, so you may see the "ad-id" cookie in your browser when you visit one of our pages. This cookie is used by Amazon Advertising to register user actions and target content on the website based on ad clicks on a different website. This is a non-necessary cookie. You can view Amazon's privacy policy and how they use IP address information here. For the Amazon UK policy, go here.
We also use Google Analytics, which uses non-necessary performance cookies and deserves a heading all on its own.
Google Analytics cookies
Like any business we like to see if our visitors come from Google, Facebook or another site in order to better manage and market our business. We use Google Analytics to tell us this information. When we login to our Google Analytics account, we can see which pages on this website visitors visited, the paths visitors took, where they came from and how they left.
We can not see which website you visited after you leave us, however. The only way we could narrow down the information to any one individual is if only one person was on this website that day, and we knew who that was (hi, mom!).
Our Google Analytics Cookies are set to retain the visitor information for 26 months and resets each time you visit us. For example, if you visit this Site on July 1, then again on July 14, the 26 months starts again on the July 14 visit.
This visitor usage history helps us to see, month over month or year over year, how our site is performing, which pages people like and how we can improve it to get more visitors.
Furthermore, we have our Google Analytics set to anonymize IP addresses. That means the last three numbers of your IP address becomes a zero, rendering it more anonymous than it was before. It is then not a personally identifiable piece of information (it really wasn't completely one before, but in combination with other pieces of information, it could have been). Clear as mud, right?
Yeah, it confuses us too. The main thing is that our Google Analytics isn't saving or sharing your personal information.
Cookie Consent
On your very first visit to this Site, you will see a cookie consent message at the bottom. There we let you know a quick summary of the types of cookies we use and why. According to the GDPR, we have to get the consent of EU visitors before we use any non-necessary cookies that share or store personal information.
Well, NONE of our non-necessary cookies share or store personal information, so we don't ask for consent before installing them. So when you click "Accept" on our cookie consent message, it's really just informing you and making the annoying message go away.
And when you click "Tell me more", you go to this page you're on, (hi!) to read all this stuff.
BUT, if you just don't like the idea of any cookies from our site being installed on your browser, that's totally okay. You can use the links to control the cookies in your browser, that we gave earlier to help you block them. Or…you can use the below technique to see and block the cookies that a particular website installs on your browser.
Cool technique to view and block cookies
First, for this to show just the cookies installed on your browser by a particular website, you have to do this in an incognito window. In Chrome, you click on the three dots on the far right of your browser tool bar: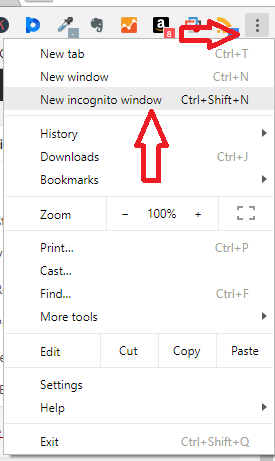 Then, click on "New incognito window" and type in the website url you want to visit.
When the site comes up, look in the browser window, on the left, before the url. You'll see a little lock icon. Or, if the site doesn't have a security certificate, it might be a little "i". Either way, click on it and you'll see a popup box like this: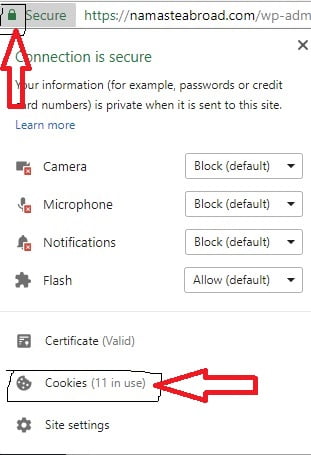 Click on where it says "Cookies". You'll see a number after it, which is the number of cookies that website installed on your browser. If you do not do this in an incognito window, you'll see a lot more cookies, because if you're signed into Chrome, or Google or something, there's all those cookies in there as well and those aren't coming from just that particular website.
Anyway…so when you click on "Cookies" a box comes up that looks like this: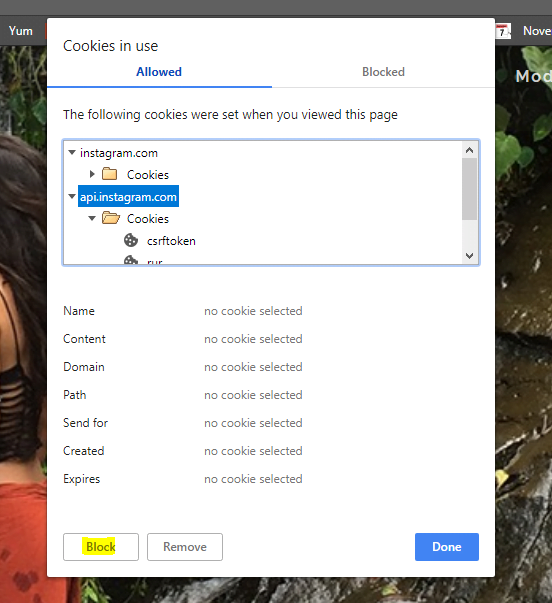 It shows you the cookies that are installed and where they came from. In this snippet, it's an Instagram Feed plugin that installed some cookies on the site in the example. If you highlight the source of the cookies, like in the picture, you can click "Block" down in the bottom left corner, and those cookies will be blocked by your browser. You should be able to do that for any of the cookies listed there, theoretically. We haven't tried this in every browser or for every cookie, so we don't know if it works every time, but it's a cool little tool for Chrome browser, anyway.
The site used in this example is my daughter's travel site, which I helped build, so I have permission to use her material. Just sayin'.
Embedded Content
Articles on this site may include embedded content (e.g. videos, images, articles, etc.). Embedded content from other websites behaves in the exact same way as if the visitor has visited the other website.
These websites may collect data about you, use cookies, embed additional third-party tracking, and monitor your interaction with that embedded content, including tracing your interaction with the embedded content if you have an account and are logged in to that website.
Below are links to the privacy policies of the sites where we embed content from:
YouTube
Third party plugins and social sharing
We use third party plugins for social sharing and other purposes. By the way, plugins are tools installed on a website to make it look and act the way we want it to.
Below are the plugins we use and how they may affect your information.
Sassy Social Share
The Sassy Social Share plugin allows you to share content from this Site to Facebook, Twitter, Pinterest and Google+. The plugin does not track any user data, but it depends on the third party social network you are sharing to, and THAT party might track data. 
How that works is the plugin sends a request to the third party APIs via your web browser to fetch information (like whether you are logged into your Facebook or Pinterest account to be able to share the post). This request made by your web browser may include your IP address, which can then be seen by the third-party that it's being requested from. This API request doesn't include any of your personal data other than the IP address.
If you use the share buttons on our site to share to Facebook, be aware that the process will share your IP address, and web browser with Facebook and will store and retrieve cookies on your browser, embed additional tracking, and monitor your interaction with the widget, including correlating your Facebook account with whatever action you take (such as sharing our webpage), if you are logged in to Facebook. For more information about how this data may be used, please see Facebook's data privacy policy: https://www.facebook.com/about/privacy/update.
If you share a post to Twitter, the plugin will make a request to Twitter's servers for you to be able to tweet our posts using your Twitter account. These requests make your IP address visible to Twitter, who may use it in accordance with their data privacy policy: https://twitter.com/en/privacy#update.
If you share a post to Google+, the plugin will make a request to Google's servers for you to be able to share our posts using your GooglePlus account. These requests make your IP address visible to Google, who may use it in accordance with their data privacy policy: https://policies.google.com/privacy.
If you share a photo or post to Pinterest, Pinterest may track your IP address in accordance with their data privacy policy: https://policy.pinterest.com/en/privacy-policy.
Third Party Ads
We use third party advertising companies to display ads to you when you visit our website. These companies use cookies and may use information about your visits (not your name, address, email or telephone number though) to this and other websites in order to display ads for services or products that may interest you.
If you would like details about this practice and your choices in the matter, please go to networkadvertising.org. You can even manage many third party companies' cookies used for online advertising by going here.
These are the advertising companies we currently use:
Amazon
What do we do with your personal data?
Currently, the only personal data we collect from you is possibly an email address (from your comment or contact form) and an IP address (from Wordfence, our security software plugin).
We mentioned above that we will only use your email address to reply to your inquiry from our contact form. As far as comments, we may reply to a comment, but that reply doesn't even get sent to you via email. You can view those in your WordPress account or come back to the post where you commented and check for a reply. We don't use the email address you provide when you comment unless you specifically request us to do so.
As for your IP address, we mentioned how we use Wordfence to see the live traffic hits to our site, from humans, crawlers and bots and to protect this Site from virus attacks.
These are the only ways we use your data.
Who do we share your data with?
We don't share your email or IP address with anyone else. If you have a WordPress account and leave a comment, WordPress has access to your email address. You can find their privacy policy here, including how to change the settings in your WordPress account.
Also, if you comment, it will be checked by the spam filter within the Wordfence plugin, to determine if the comment contains a virus or is spam.
We also do not share your contact form information with anyone else. All conversations between Toysenberry staff and you via email or the contact form are private. If law enforcement legally demands those conversations then we would have to comply, but other than that, we don't spill.
We may have links to other websites from our Site. We are not responsible for the content, security, privacy policies and practices of any other websites, even if you access them using links from this Site or if you can access this Site or use our services from them. We recommend that you check the policy of each website that you visit and make sure that you are comfortable with the terms of such policies before providing any personal information.
If our business is sold or merged, or if we sell or buy any business or assets, we may disclose your personal data to the prospective seller or buyer of such business or assets. We will make sure that any such transfer is done in a secure way.
How long do we retain your data?
If you leave a comment, the comment and its metadata are retained indefinitely. This is so we can recognize and approve any follow-up comments automatically instead of holding them in a moderation queue.
For users that register on our website (if any), we also store the personal information they provide in their user profile. All users can see, edit, or delete their personal information at any time (except they cannot change their username). Website administrators can also see and edit that information.
Earlier, we explained about the Wordfence security plugin and how long (approximately) that data is retained.
Where do we store your data?
We maintain your data at the server of our hosting company, Siteground, and within the backups for this Site stored on our business computer.
If you leave a comment on this website, that information is stored at our hosting company, Siteground, as well. That information includes your name, your avatar, your comment, the time you left the comment and your ISP address.
For any Europeans using the site, the data that we collect from you may be transferred to, and stored at, a destination outside the European Economic Area ("EEA"). It may also be processed by staff operating outside the EEA who work for us or for one of our suppliers or contractors. Territories outside of the EEA may not have equivalent legal protections to those that apply within the EEA but we are under a duty to make sure that our suppliers and contractors located outside of the EEA continue to take all steps reasonably necessary to ensure that your data is treated securely and in accordance with this Policy. By submitting your personal data to us, you agree to this transfer, storing or processing.
Unfortunately, the transmission of information via the internet is not completely secure. Although we will do our best to protect your personal data, we cannot guarantee the security of your data transmitted to our Site; any transmission is at your own risk. Once we have received your information, we will use strict procedures and security features to try to prevent unauthorized access.
We follow strict security procedures to ensure that your personal information is not damaged, destroyed or disclosed to a third party without your permission and to prevent unauthorized access to it. The computers that store the information are kept in a secure facility with restricted physical access and we use secure firewalls and other measures to restrict electronic access. If we are working with third parties, we will require them to have in place similar measures to protect your information.
What rights you have over your data
If you have an account on this site, or have left comments, you can request to receive an exported file of the personal data we hold about you, including any data you have provided to us. You can also request that we erase any personal data we hold about you. This does not include any data we are obliged to keep for administrative, legal, or security purposes.
Your Rights:
You have the right to ask us not to process your personal data at any time.*
You have the right to ask us, at any time, to show you what data we've collected.
You have the right to fix any data we have that is incomplete or wrong.
The Data Protection Act 1998 (DPA) and the GDPR (in Europe) gives you the right to access information held about you. Your right of access can be exercised in accordance with the DPA and GDPR.
You can also exercise the rights above at any time by contacting us at info (at) toysenberry.com. Simply send us an email with your request and we will comply. You can also use our contact form for this purpose.
*Asking us to not process your data does require us to delete your data, which is legally considered processing your data. So respectfully inform you that we'd have to do that one thing.
How we protect your data
We use whatever means are within our control to protect your data and that consists of:
This Site uses a SSL security certificate to help prevent evil hackers from intercepting the connection between your computer and our Site.
We use Wordfence, a security plugin to protect our site from hackers, attackers and other malicious entities out to steal people's information.
We don't share your email with anyone, unless we're required to by law.
Data breach procedures
After yelling some not-so-nice words, the procedure we will follow if we discover this website has been breached is to email the commenters, form submitters and registered users within 24 hours of discovering the breach.
We will also perform a scan of this Site to determine where and how the breach occurred and take extra security precautions to ensure it doesn't happen again.
Children Online Privacy Protection Act (COPPA)
Although this Site does sell toys, it is not intended to be used by kids under 13 years of age. It is intended for grown-ups to use to help them shop for toys for kids. No one under age 13 may provide any information to or on this Site. We do not knowingly collect personal information from children under 13. If you are under 13, do not use or provide any information on this Site or on or through any of its features. This includes registering on this Site, making any payments through this Site, using any of the interactive or public comment features of this Site, or filling in the contact form on this Site. Do not provide any information about yourself to us, including your name, address, telephone number, email address, or any screen name or user name you may use.
If we learn we have collected or received personal information from a child under 13 without verification of parental consent, we will delete that information. If you believe we might have any information from or about a child under 13, please contact us at info (at) toysenberry.com or through our contact form.
We are committed to complying with the Children's Online Privacy Protection Act (COPPA). Schools and parents should supervise their children's online activities and consider the use of other means to provide a child-friendly, online environment. If you would like to learn more about COPPA, visit the Federal Trade Commission home page at http://www.ftc.gov.
If you are living in the EU and are under the age of 16, it is required by law that you obtain consent from your parents before subscribing to any email list. We do not target, cater or provide products or services for 16 years and under and thus do not have a parental approval process.
Changes to this privacy policy
It is our policy to post any changes we make to our privacy policy on this page. If we make material changes to how we treat our users' personal information, we will notify you through a notice on the Website home page. The date the privacy policy was last revised is identified at the top of the page.
We may add affiliate marketing, newsletter marketing, or other features that will affect this privacy policy.
You are responsible for periodically visiting this page of our Site to check for any changes and to ensure the email address you have provided to us is accurate in case we need to notify you of a breach.
Contact Information
If you have questions about this privacy policy, or anything else, you can contact us at info (at) toysenberry.com or through our contact form.
Terms Of Use
The following terms and conditions govern all use of the Toysenberry.com website and all content, services and products available at or through the website (taken together, the Website). The Website is owned and operated by us, the owners of Toysenberry.com. ("Toysenberry"). The Website is offered subject to your acceptance without modification of all of the terms and conditions contained herein and all other operating rules, policies (including, without limitation, Toysenberry's Privacy Policy) and procedures that may be published from time to time on this Site by Toysenberry (collectively, the "Agreement").
Please read this Agreement carefully before accessing or using the Website. By accessing or using any part of the web site, you agree to become bound by the terms and conditions of this agreement. If you do not agree to all the terms and conditions of this agreement, then you may not access the Website or use any services. If these terms and conditions are considered an offer by Toysenberry, acceptance is expressly limited to these terms. The Website is available only to individuals who are at least 13 years old.
1. Responsibility of Contributors
If you comment on or post material to the Website, post links on the Website, or otherwise make (or allow any third party to make) material available by means of the Website (any such material, "Content"), You are entirely responsible for the content of, and any harm resulting from, that Content. That is the case regardless of whether the Content in question constitutes text, graphics, an audio file, or computer software.
By making Content available, you represent and warrant that:
the downloading, copying and use of the Content will not infringe the proprietary rights, including but not limited to the copyright, patent, trademark or trade secret rights, of any third party;
if your employer has rights to intellectual property you create, you have either (i) received permission from your employer to post or make available the Content, including but not limited to any software, or (ii) secured from your employer a waiver as to all rights in or to the Content;
you have fully complied with any third-party licenses relating to the Content, and have done all things necessary to successfully pass through to end users any required terms;
the Content does not contain or install any viruses, worms, malware, Trojan horses or other harmful or destructive content;
the Content is not spam, is not machine- or randomly-generated, and does not contain unethical or unwanted commercial content designed to drive traffic to third party sites or boost the search engine rankings of third party sites, or to further unlawful acts (such as phishing) or mislead recipients as to the source of the material (such as spoofing);
the Content is not pornographic, does not contain threats or incite violence towards individuals or entities, and does not violate the privacy or publicity rights of any third party;
your blog is not getting advertised via unwanted electronic messages such as spam links on newsgroups, email lists, other blogs and web sites, and similar unsolicited promotional methods;
your blog is not named in a manner that misleads your readers into thinking that you are another person or company. For example, your blog's URL or name is not the name of a person other than yourself or company other than your own; and
you have, in the case of Content that includes computer code, accurately categorized and/or described the type, nature, uses and effects of the materials, whether requested to do so by Toysenberry or otherwise.
By submitting Content to Toysenberry for inclusion on your Website, you grant Toysenberry a world-wide, royalty-free, and non-exclusive license to reproduce, modify, adapt and publish the Content solely for the purpose of displaying, distributing and promoting your blog. If you delete Content, Toysenberry will use reasonable efforts to remove it from the Website, but you acknowledge that caching or references to the Content may not be made immediately unavailable.
Without limiting any of those representations or warranties, Toysenberry has the right (though not the obligation) to, in Toysenberry's sole discretion (i) refuse or remove any content that, in Toysenberry's reasonable opinion, violates any Toysenberry policy or is in any way harmful or objectionable, or (ii) terminate or deny access to and use of the Website to any individual or entity for any reason, in Toysenberry's sole discretion.
2. Responsibility of Website Visitors
Toysenberry has not reviewed, and cannot review, all of the comments posted to the Website, and cannot therefore be responsible for that material's content, use or effects. By operating the Website, Toysenberry does not represent or imply that it endorses the material within posted comments, or that it believes such material to be accurate, useful or non-harmful. You are responsible for taking precautions as necessary to protect yourself and your computer systems from viruses, worms, Trojan horses, and other harmful or destructive content. The Website may contain content that is objectionable, as well as content containing technical inaccuracies, typographical mistakes, and other errors. The Website may also contain material that violates the privacy or publicity rights, or infringes the intellectual property and other proprietary rights, of third parties, or the downloading, copying or use of which is subject to additional terms and conditions, stated or unstated. Toysenberry disclaims any responsibility for any harm resulting from the use by visitors of the Website, or from any downloading by those visitors of content there posted.
3.  Content Posted on Other Websites
We have not reviewed, and cannot review, all of the material, including computer software, made available through the websites and webpages to which Toysenberry.com links, and that link to Toysenberry.com. Toysenberry does not have any control over those non-Toysenberry websites and webpages, and is not responsible for their contents or their use. By linking to a non-Toysenberry website or webpage, Toysenberry does not represent or imply that it endorses such website or webpage. You are responsible for taking precautions as necessary to protect yourself and your computer systems from viruses, worms, Trojan horses, and other harmful or destructive content. Toysenberry disclaims any responsibility for any harm resulting from your use of non-Toysenberry websites and webpages.
Because we are an affiliate, we frequently link to outside websites to promote products for sale. These products are only suggestions. We use our best judgement in making these suggestions, but we are not responsible for the quality or safety of the products. If you purchase a product through our links, any product questions or returns should be directed to the website where your purchase was made. Please see our full disclosure regarding affiliate marketing here.
4.  Copyright Infringement and DMCA Policy
As Toysenberry asks others to respect its intellectual property rights, it respects the intellectual property rights of others. If you believe that material located on or linked to by Toysenberry.com violates your copyright, you are encouraged to notify Toysenberry in accordance with Toysenberry's Digital Millennium Copyright Act ("DMCA") Policy. Toysenberry will respond to all such notices, including as required or appropriate by removing the infringing material or disabling all links to the infringing material. Toysenberry will terminate a visitor's access to and use of the Website if, under appropriate circumstances, the visitor is determined to be a repeat infringer of the copyrights or other intellectual property rights of Toysenberry or others.
5.  Intellectual Property
This Agreement does not transfer from Toysenberry to you any Toysenberry or third party intellectual property, and all right, title and interest in and to such property will remain (as between the parties) solely with Toysenberry. Toysenberry, Toysenberry.com, the Toysenberry.com logo, and all other trademarks, service marks, graphics and logos used in connection with Toysenberry.com, or the Website are trademarks or registered trademarks of Toysenberry or Toysenberry's licensors. Other trademarks, service marks, graphics and logos used in connection with the Website may be the trademarks of other third parties. Your use of the Website grants you no right or license to reproduce or otherwise use any Toysenberry or third-party trademarks.
6.  Use of our Work
All images and written copy on this website may not be reproduced in whole or in part, without permission from us. However, if you would like to link to our content, we welcome links. A short excerpt (a few lines) may be used if accompanied by a link to the appropriate page or post on our website and our website name. The links must not be used or referred to in a negative or degrading way. We encourage social sharing of our content and images, such as sharing to Pinterest, Facebook, Google+ or other such social networking sites.
7.  Changes
Toysenberry reserves the right, at its sole discretion, to modify or replace any part of this Agreement. It is your responsibility to check this Agreement periodically for changes. Your continued use of or access to the Website following the posting of any changes to this Agreement constitutes acceptance of those changes. Toysenberry may also, in the future, offer new services and/or features through the Website (including, the release of new tools and resources). Such new features and/or services shall be subject to the terms and conditions of this Agreement.
8.  Termination
Toysenberry may terminate your access to all or any part of the Website at any time, with or without cause, with or without notice, effective immediately. If you wish to terminate this Agreement, you may simply discontinue using the Website. Toysenberry can terminate the Website immediately as part of a general shut down of our service. All provisions of this Agreement which by their nature should survive termination shall survive termination, including, without limitation, ownership provisions, warranty disclaimers, indemnity and limitations of liability.
9.  Disclaimer of Warranties
The Website is provided "as is". Toysenberry and its suppliers and licensors hereby disclaim all warranties of any kind, express or implied, including, without limitation, the warranties of merchantability, fitness for a particular purpose and non-infringement. Neither Toysenberry nor its suppliers and licensors, makes any warranty that the Website will be error free or that access thereto will be continuous or uninterrupted. You understand that you download from, or otherwise obtain content or services through, the Website at your own discretion and risk.
10. Limitation of Liability
In no event will Toysenberry, or its suppliers or licensors, be liable with respect to any subject matter of this agreement under any contract, negligence, strict liability or other legal or equitable theory for: (i) any special, incidental or consequential damages; (ii) the cost of procurement for substitute products or services; (iii) for interruption of use or loss or corruption of data; or (iv) for any amounts that exceed the fees paid by you to Toysenberry under this agreement during the twelve (12) month period prior to the cause of action. Toysenberry shall have no liability for any failure or delay due to matters beyond their reasonable control. The foregoing shall not apply to the extent prohibited by applicable law.
11. General Representation and Warranty
You represent and warrant that (i) your use of the Website will be in strict accordance with the Toysenberry Privacy Policy, with this Agreement and with all applicable laws and regulations (including without limitation any local laws or regulations in your country, state, city, or other governmental area, regarding online conduct and acceptable content, and including all applicable laws regarding the transmission of technical data exported from the United States or the country in which you reside) and (ii) your use of the Website will not infringe or misappropriate the intellectual property rights of any third party.
12.  Indemnification
You agree to indemnify and hold harmless Toysenberry, its contractors, and its licensors, and their respective directors, officers, employees and agents from and against any and all claims and expenses, including attorneys' fees, arising out of your use of the Website, including but not limited to your violation of this Agreement.
13.  Miscellaneous
This Agreement constitutes the entire agreement between Toysenberry and you concerning the subject matter hereof, and they may only be modified by a written amendment signed by an authorized executive of Toysenberry, or by the posting by Toysenberry of a revised version. Except to the extent applicable law, if any, provides otherwise, this Agreement, any access to or use of the Website will be governed by the laws of the State of Nevada, U.S.A., excluding its conflict of law provisions, and the proper venue for any disputes arising out of or relating to any of the same will be the state and federal courts located in Clark County, Nevada. Except for claims for injunctive or equitable relief or claims regarding intellectual property rights (which may be brought in any competent court without the posting of a bond), any dispute arising under this Agreement shall be finally settled in accordance with the Comprehensive Arbitration Rules of the Judicial Arbitration and Mediation Service, Inc. ("JAMS") by three arbitrators appointed in accordance with such Rules. The arbitration shall take place in Las Vegas, Nevada, in the English language and the arbitral decision may be enforced in any court. The prevailing party in any action or proceeding to enforce this Agreement shall be entitled to costs and attorneys' fees. If any part of this Agreement is held invalid or unenforceable, that part will be construed to reflect the parties' original intent, and the remaining portions will remain in full force and effect. A waiver by either party of any term or condition of this Agreement or any breach thereof, in any one instance, will not waive such term or condition or any subsequent breach thereof. You may assign your rights under this Agreement to any party that consents to, and agrees to be bound by, its terms and conditions; Toysenberry may assign its rights under this Agreement without condition. This Agreement will be binding upon and will inure to the benefit of the parties, their successors and permitted assigns.