Share these epic toy ideas!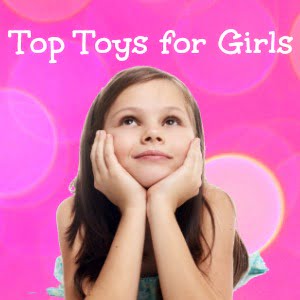 If you are Christmas or birthday gift shopping for a young girl, you need to know the latest toys for girls age 6 to 8. Oh, but not just the latest toys, you need to be up on the hottest toys – which ones are sure to be on her "most-wanted" toy list.
Our guide of the latest top toys for girls includes everything from finger-clinging monkeys to Barbie birthing pups. There's bound to be a toy listed here that the 6, 7 or 8-year-old girl on your list wants.
Latest Toys for Girls Age 6 to 8

Hatchimals CollEGGtibles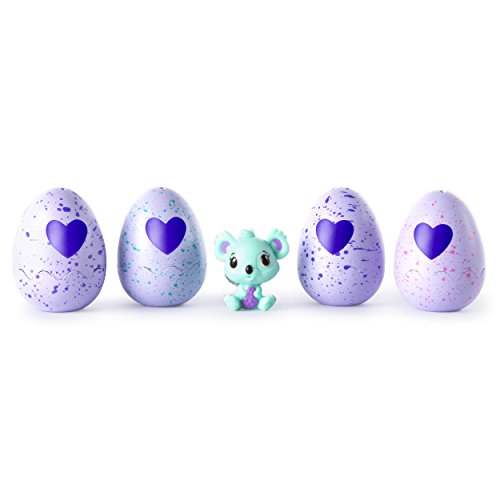 Last year's top Christmas toy for girls age 6 to 8 is back…only better! Some parents felt the Hatchimals weren't all they were cracked up to be (see what I did there?).
But the CollEggtibles are mini eggs with a mini price and are already huge hits. There's 70 different ones to collect, so you're set for gift ideas for a while, plus they come in packs of four, so you've got a cute little stocking stuffer or small gift for four girls with one purchase. SCORE!
Ages 5+

---
My Little Pony My Magical Princess Twilight Sparkle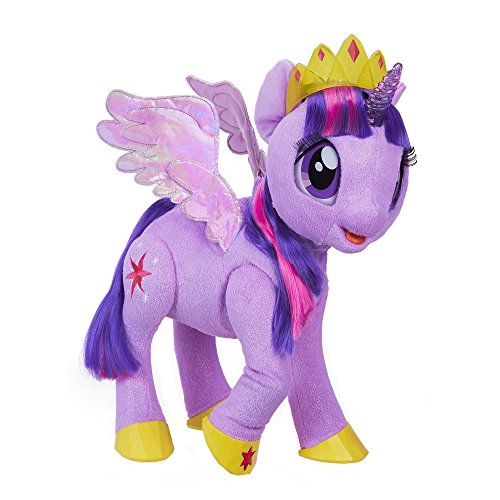 My Little pony: The Movie was released recently and there's a whole herd of toys to mark the occasion. The interactive Princess Twilight Sparkle will charm the hoofs off any little princess.
She speaks 90 phrases and nuzzles, tells stories, flaps her wings and other enchanting things. If you check it out on Amazon, you'll see the demo video – it's pretty cute! This one is sure to be a hit with My Little Pony movie fans!
Ages 3+

---
Barbie Newborn Pups Doll and Pets Playset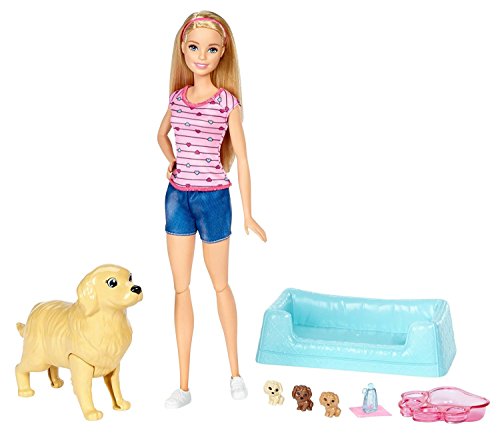 The latest toys for girls always includes the newest Barbies, since they are such popular toys for girls in the age 6 to 8 bracket. And Barbie sets that include animals of any kind are huge hits.
The Barbie Newborn Pups playset is particularly darling because momma pup is pregnant with babies and Barbie gets to help deliver and care for them! Good thing Mattel also makes a Barbie pet room playset.
Ages 3-7

On the topic of Barbies (because it's one of my favorite toys!), take a look at the Fairytale Barbie below – isn't she beautiful? Also popular are the Career Barbies. The Farm Vet set is pictured on the left. So cute! There's a whole bunch of Career Barbie sets
 to choose from and these are always favorite gifts of little girls who like Barbies!
 Barbie Careers Farm Vet
 Barbie Fairytale Doll
If you are buying for a Barbie fan, take at look at our post, Star Light Adventure Galaxy Barbie and Flying Cat Review. It's a mouthful, I know. But it really is a cute toy.
---
Mattel DC Super Hero Girls Supergirl Locker and Doll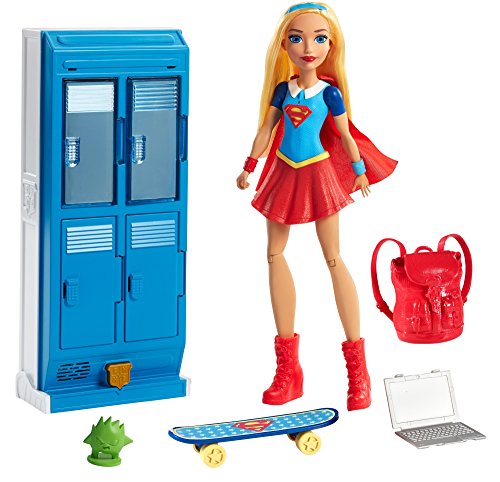 The little superhero in your life will love the Supergirl Doll and locker set.
Girls can pretend to be Supergirl, whooshing in to school on her skateboard and using her x-ray vision to see the love notes waiting in her locker. Or, in the case of super mean girls – shaving cream. But that's a whole different high school.
Ages 6-10

Here's a couple more DC Super Hero sets that a Super Hero fan would like. You can get the whole set of DC Super Hero girls (pictured on the left) which would inspire all kinds of heroic stories for girls to play out!
And the Super Hero Girls High School set, on the right, was one of the top toys for girls age 6 to 8 last year and is still very popular. It's a great price too!
 All 9 Super Hero Girls
 Super Hero High School
---
My Mini MixieQ's Camping Playset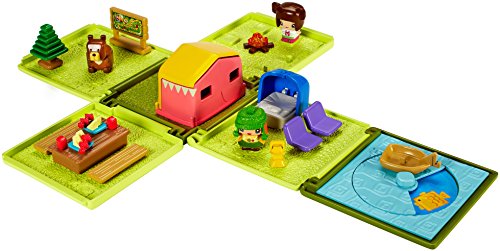 Anything "mini" are popular toys for girls age 6 to 8. The My Mini MixieQ's toys come out with the cutest darn sets to add to their collection every year.
Their latest toys for girls this year is a camping themed set and and since I'm partial to anything trailer or camping related, it's on our list of the top toys for girls.
There's a large selection of Mini MixieQ's toys which is great because if the girl on your toy buying list is a fan, you have gift ideas for birthdays and Christmas for a few years.
Age 4-8

Here's a few of the most adorable My mini MixieQ's sets!
 Mini Mixieqs Arcade
 Mini MixieQ's Apartment
 Mini MixieQ's Beach Party
---
Dance Code Disney Princess Belle
One of the cooler latest toys for girls is the Dance Code Princess Belle. This toy combines arts with smarts. It's designed to teach girls how coding works by having them choreograph moves for Belle, using an app.
But that's not all – they can also learn dance moves from Belle (10 different dances) and listen to her speak over 100 phrases. Dance Code Belle was just released on November 1, 2017 and it's an Amazon Exclusive toy, so you won't find it anywhere else.
Ages 5+
For more ideas of toys for girls age 6-8 with a Beauty and The Beast theme, check out our post on 10 Beauty and The Beast Toys for more gift suggestions.
---
Shopkins Shoppies Dolls (Lucy Smoothie, Daisy Petals and Polli Polish)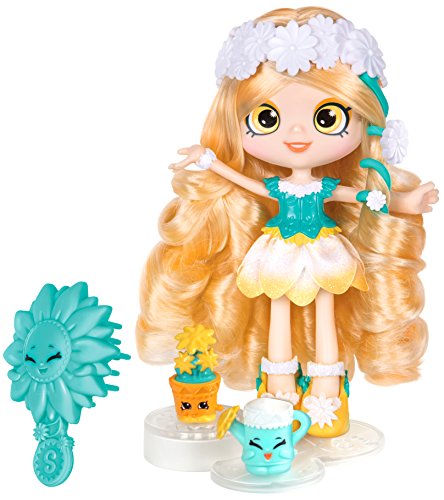 Speaking of minis, the tiny Shopkins toys
are still super popular toys for girls age 6 to 8, as are their larger friends, the Shoppies Dolls.
The new Shoppies Dolls recently released are Daisy Petals (pictured here), Lucy Smoothie, Polli Polish and Cocolette. Girls love collecting these and they are great gifts for girls age 6 to 8.
Age 5+ 

Here are two other popular Shopkins toys that are top toys for girls age 6 to 8!
 Happy Places Shopkins Mansion
 Happy Places Shopkins High School
---
Fingerlings – Interactive Baby Monkey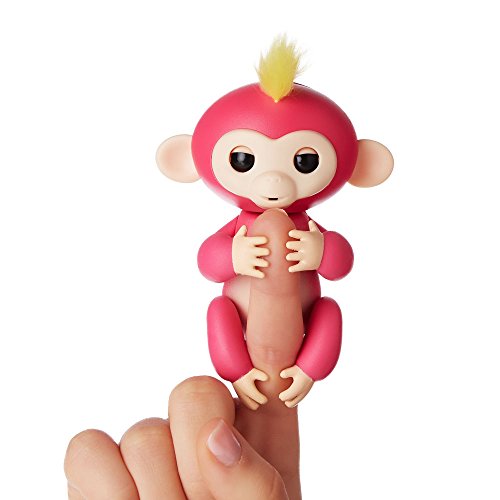 One of the latest toys for girls, Fingerlings, are THE latest toy craze! Fingerlings are one of the most wanted toys for girls age 6 to 8. What's not to love about interactive baby monkeys? (Remember falling victim to the Sea-Monkeys scam of the 70's? Yeah. These aren't that.)
If you click over to Amazon from our link, watch the video of them in action to fully appreciate their appeal. But don't monkey around about buying one for the kid on your toy shopping list, because these things are selling FAST! Here's a selection of Fingerlings
so you can find the seller with the lowest current price and I just found these Fingerlings Glitter Monkeys on Amazon too. Glitter! *Insert squeal of delight here*
Ages 5+

---
FurReal Makers Proto Max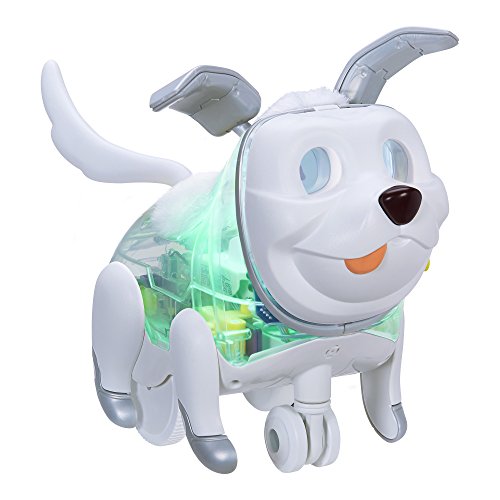 Proto Max is the most trainable pup around – literally! Kids can code little Max to run obstacle courses and make a variety of eye and body movements and sounds. And they do it all from an easy to use app.
Proto Max is another Amazon Exclusive and was just released November 1, 2017. It looks like a fun and interactive way for girls and boys to learn how coding makes things work.
Ages 6+

Speaking of dogs that don't poo or chew your shoes, you might want to take a look at our review of CHiP the Robot Dog, which was on last year's hottest toys list and is still popular.
---
LEGO Friends Sunshine Catamaran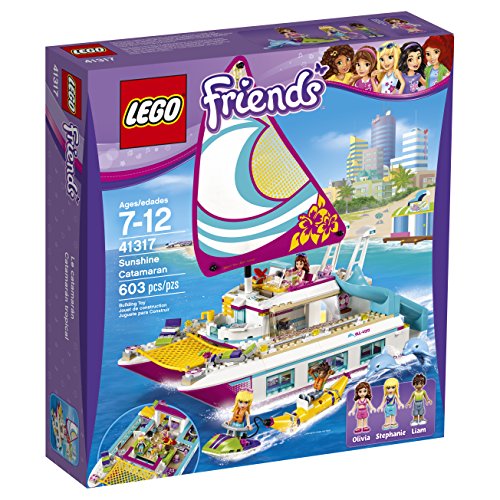 LEGO Friends are among the best toys for girls age 6 to 8 who like to build and play with their creations. Their latest toy for girls is this new Catamaran set. It comes with with dolphins, banana boat, Jet Ski and lots of other fun accessories.
You can check out the huge selection of LEGO Friends sets here
, in case there are other themed sets that your young builder might like.
Age 7-12

Here's two of the cutest LEGO Friends sets, but there's so many nice ones. Check them all out in the link above.
 LEGO Friends Snow Chalet
 LEGO Friends Puppy Daycare
---
Play-Doh Touch Shape to Life Studio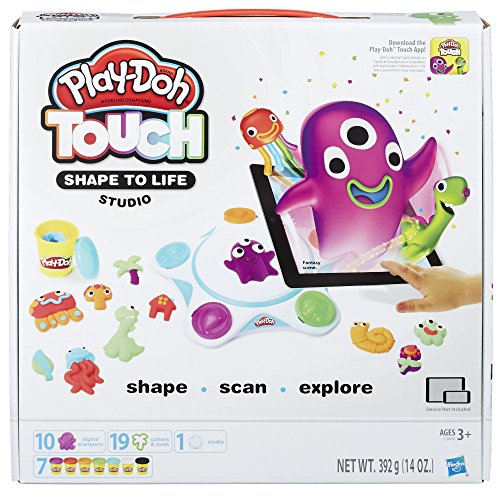 This brand new toy from Play-Doh is a really cool concept. Kids shape their creatures, then scan them in an app and their creatures come to life on the screen!
You can scan several creatures and create whole interactive worlds. This is getting great reviews (check 'em out here) and is on its way to being one of the top toys for girls (and boys!) this year.
Age 3+

---
Zoomer Show Pony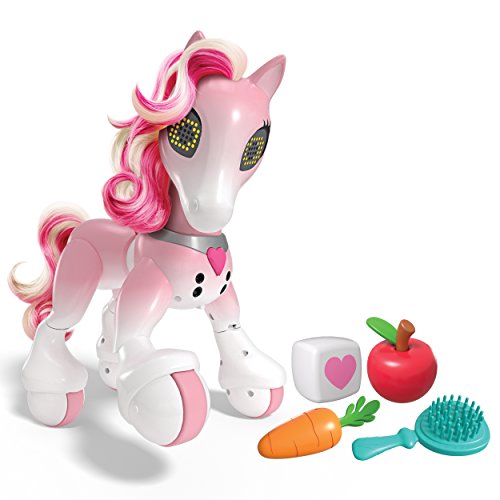 Interactive horses seems to be a theme among the latest toys for girls age 6 to 8. Not only does Zoomer the Show Pony dance, prance and sing, but kids can train her to do tricks and choreograph dances for her by performing certain interactions with her.
And when she's done, of course, she expects her sugar cube treat. Take a look at the video demo on Amazon of her in action – it's pretty adorable. I see why it was on several top Christmas toys for girls lists.
Age 5-7

Zoomer is also on our Top Electronic Pets for Kids list. Check it out for more gift ideas for girls!
---

---
DC Wonder Woman Bow-Wielding Doll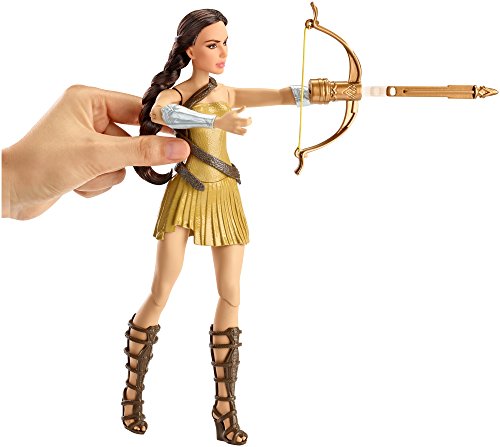 The Amazon warrior princess, Diana, takes crap from no one and always does the right thing. Not to mention, her hair and makeup stays perfectly applied while she's kicking butt, so there's that too.
This latest toy for girls from Mattel even lets girls fire arrows at their enemies (or their brother's toys). If you have a Wonder Woman fan on your list, she'll love the Wonder Woman doll with her bow!
Age 6-10

Two other popular female action figures this year are from the new Star Wars movie, Forces of Destiny. Below, you can see two toys inspired by Rey, the heroine of the movie.
 Star Wars Rey Action Figure
 Star Wars Rey and BB-8 Action Figures
---
Educational Insights GeoSafari Jr. Talking Microscope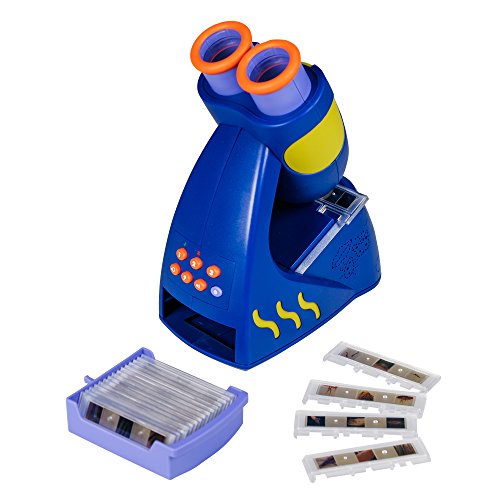 With the GeoSafari Talking Microscope, kids get to see the intricacies of natural objects, like snowflakes and tadpoles, all close-up and personal. Plus they learn science and nature facts narrated to them by wildlife enthusiast Bindi Irwin.
This is a great toy to encourage both boys and girls age 6 to 8 (even younger) to get interested in the world around them.
Ages 4-7

---
Littlest Pet Shop Cruise Ship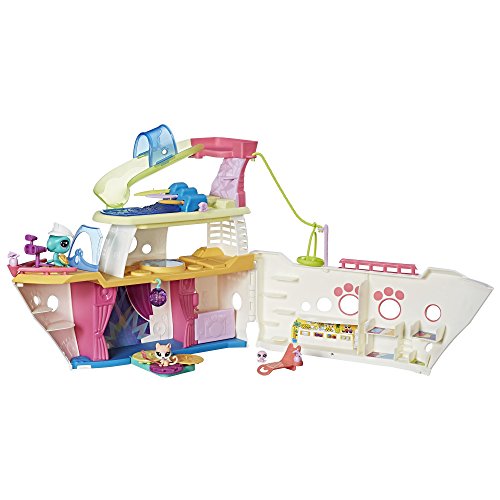 The adorable LPS figures are super popular toys for girls age 6-8 and even a bit older. The latest addition to the little critters' world is a cruise ship, where they can zipline, sunbathe and walk out of the B-grade entertainment in the showroom to go hit the buffet line again. You know, just like on a real cruise.
Seriously, this little toy has a lot of really cute features and little girls will love taking their LPS collection out on the high seas. This is a really cute toy for girls who love Littlest Pet Shop playsets.
Ages 4+

For more details on this LPS latest toy for girls, check out our review post of the Littlest Pet Shop Cruise Ship here.
The Pet Jet, pictured on the left is one of the top LPS playsets! And for any Littlest Pet Shop set, you always need extra pets, so check out the set on the right with 15 pets!
 Littlest Pet Shop Pet Jet
 15 Littlest Pet Shop Pets!
---
Barbie Dreamhouse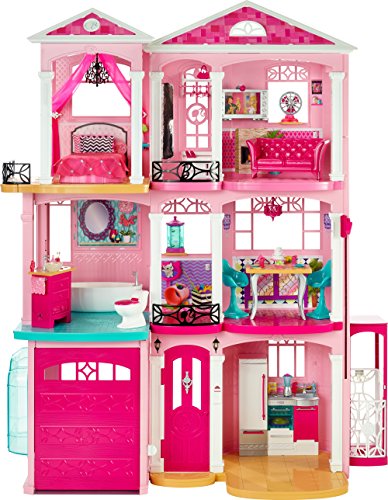 That Barbie sure lives in some nice cribs! This year, the Barbie Dreamhouse has gone high-tech with interactive features like an aquarium and a big screen TV!
There's also an elevator, a swimming pool and a garage that really opens and closes!
The dreamhouse comes fully furnished with over 70 furniture pieces and accessories, so all Barbie has to do is move in! Any girl who plays with Barbies will ADORE this!


For a more abstract home choice, there's the Barbie Dreamtopia Sweetville Castle, pictured on the left. And for a home on wheels, every Barbie needs her own RV! The Barbie camper and accessories on the right is just TOO cool!
 Barbie Sweetville Castle
 Barbie DreamCamper
---
Melissa & Doug Stained Glass Made Easy Kit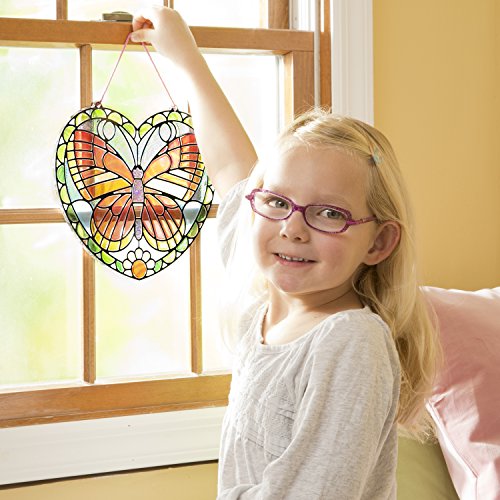 Arts and crafts toys are some of the top toys for girls age 6 to 8 because they love to express their creativity!
The Melissa & Doug Stained Glass Kit lets girls make a beautiful light catcher using stickers. The end result is a unique piece of art that a girl can be proud of.
These are great for kids to make and give as gifts to grandparents or other family members!

There are several lovely designs to choose from in these kits. Below are a couple other cute ones.
 Heart and Rainbow Kit
 Mermaids Kit
---
L.O.L. Surprise! Big Surprise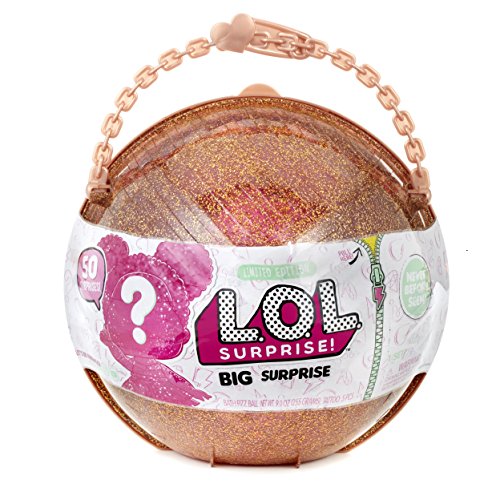 L.O.L. Surprise dolls are the tiniest big hits of the year! They're tiny little dolls with clothes, bottles and other accessories.
The L.O.L. Big Surprise is a huge ball (actually, it's half a ball – the back is flat) that contains 50 doll surprises!
The 50 pieces include dolls, clothing and accessories, so not all 50 items are dolls.
The Big Surprise is a hot item, so the price fluctuates both on Amazon and with other retailers. If you can find it priced for less than $90, GRAB IT! 

---
Alex Toys My First Sewing Kit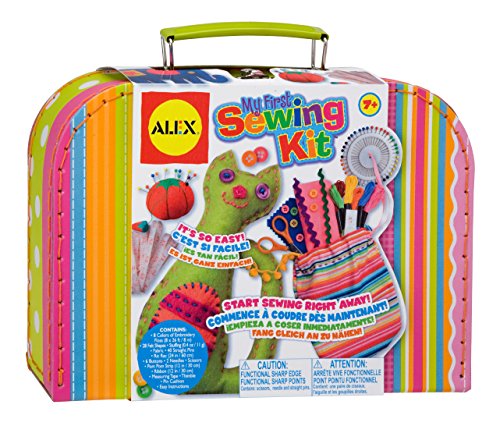 The award-winning My First Sewing Kit teaches girls the basics of sewing with a few simple sewing projects.
Girls will be delighted with these adorable crafts that they made themselves! This is one of the best toys for girls age 6 to 8 who enjoy crafts or want to dabble in the art of sewing.
The whole kit comes in it's own little carrying case so all the supplies stay together. It's an excellent price and is getting great reviews too!

Here's a couple more fun arts and crafts kits that little girls are loving!
 Grow Your Own Fairy Garden!
 Make Your Own Bracelet Charms!
---
I hope our list of the latest toys for girls helps you to find the right toys for the girls age 6 to 8 in your life. What could be nicer than a big, genuine smile from a child because you gave them the toy they've been wanting?
Shopping for girls of other ages too? Check out our Best Toys For Preschool Girls gift guide!

Pin the Best Toys for Girls age 6 to 8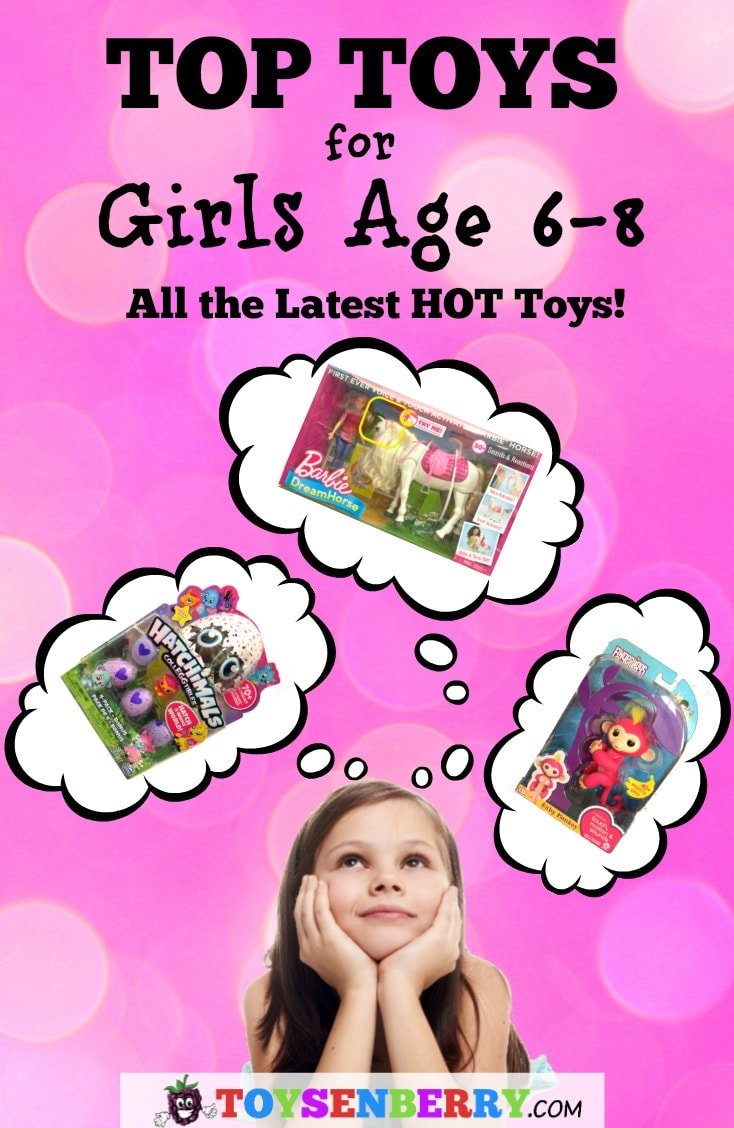 Search for More Top Toys for Girls Age 6-8