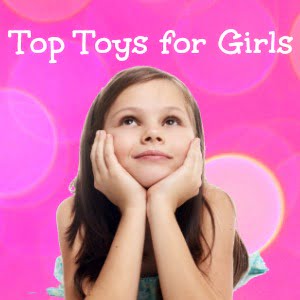 If you are gift shopping for a young girl, you need to know the latest toys for girls age 6 to 8. Oh, but not just the latest toys, you need to be up on the hottest toys – which ones are sure to be on her "most-wanted" toy list.
The latest top toys for girls include lots of teeny surprises, cuddly pets, cool tech, and oh…unicorn anything! There's bound to be a toy listed here that the 6, 7 or 8-year-old girl in your life wants.
✳️ In a hurry? ==> Check out our 5 favorite new toys for girls age 6 to 8 on Amazon HERE!
Latest Toys for Girls Age 6 to 8

Hatchimals Mystery
Hatchimals Mystery
Nope, the Hatchimals craze is NOT over. Last year's top Christmas toy for girls age 6 to 8 is back. But if you were one of the parents who thought Hatchimals weren't all they were cracked up to be, you might change your mind about the Hatchimals Mystery toy.
Here's what makes the latest Hatchimals craze even better than before:
Fluffier fur more conducive to cuddling
Expandable wings
They'll learn to say your child's name
There's 4 different, darling creatures and the hatching process is even more exciting since you don't know which one it will be. Hence, the mystery.  😉
Hatchimals Mystery is one of the hottest new toys for girls!
Age 5+
---
Hatchimals CollEGGtibles Season 4
Hatchimals CollEGGtibles
On the topic of Hatchimals, this year brings a brand new set of Hatchimals CollEggtibles.
These 2018 Family Choice Award Winners are mini eggs with a mini price.
CollEGGtibles are cute little critters that kids LOVE to hatch and collect. The bottom shell becomes a "nest" and display spot for the hatchling.
There's 80 different ones to collect in Series 4 alone, so you're set for gift ideas for a while. PLUS they come in packs of four, so you've got a cute little stocking stuffer, easter basket filler or small gift for four girls with one purchase. SCORE!
Age 5+
---
✳️ UPDATE ==> The 2019 Toy Of The Year finalists are in! Check 'em out here!
Twisty Petz are Top Toys for Girls
Twisty Petz
Twisty Petz are one of my favorite new toy releases for girls! But then, I'm a sucker for bling.  😉
Girls can twist these charming animal jewels into bracelets or backpack charms and create a colorful look all their own.
These 3-packs of Petz include two known and one mystery Petz. They come in everything from subdued pastels to glitzy gold so girls can have a variety of looks.
The one shown is Marigold Unicorn and Popsicle puppy, but in the link you'll see four other combinations of Petz. This top toy for girls is the perfect small gift, stocking stuffer, or Easter basket filler!
Age 4+
---
A Brand New Toy for Girls is The Barbie Care Clinic
Barbie Care Clinic Vehicle
The latest toys for girls always include the newest Barbies, since they are such popular toys for girls in the age 6 to 8 bracket. And now, when Barbie sprains her ankle from partying a little too hearty in the Dream House, she can just hobble on over to her neighborhood Barbie Care Clinic and get all fixed up!
This thing is a cross between an ambulance and a Quick Care, with it's working lights and siren and waiting room stocked with the latest Barbie fashion magazines.
Seriously…Mattel put all kinds of cute details in this set, right down to flowers in the gift shop and an adjustable gurney with storage.
It's wide open for lots of imaginative play! It doesn't come with a Barbie doll (most of these sets don't)  but you can always get the Barbie Baby Doctor Playset to go with it.
Ages 3-7
On the topic of Barbies (because it's one of my favorite toys!), below are a few of the newly released Barbies that the 6 and 7-year-old girl on your list will love! Barbies are always among the best toys for girls.
Barbie Bakery Chef features cupcakes that really "rise" and cool frosting effects.
Barbie TV News Team includes a reporter and a camerawoman – TWO Barbies in the set!
Barbie Skipper Babysitter and Stroller is just one set of a whole new line of Skipper Babysitter toys that are so cute!
Barbie Newborn Pups is actually a release from last year, but is so darn cute and popular, I had to include it on our list of top toys for girls age 6 to 8 for 2019.
The Barbie Confetti Skirt Studio and Color-in Fashions are two new products featuring Crayola. Girls can express their creativity and design their own Barbie clothes with these sets and both sets DO come with a Barbie Doll to model the unique fashions!
---
Mattel DC Super Hero Dolls
Although Barbie can do just about anything, she hasn't evolved into a true super hero yet. For girls who like a little more action and adventure, I love the DC Super Hero dolls, based on the popular Super Hero High kid's cartoon.
Mattel releases new dolls to their Super Hero line each year, to inspire all kids of heroic stories for girls to play out.
My favorite new ones this year are the Frost Doll and Starfire Masquerade Doll.
But I really like the original Super Hero Dolls – Wonder Woman, Batgirl, Ivy, and Supergirl are the best ones, IMHO.
All of the 12-inch Mattel DC Super Hero Doll feature lots of pretty details and in true comic book character style, are fully poseable. They are nice collectibles, as well as top toys for girls in the 6 to 10 age group.
Age 6-10
Super Hero Frost
Starfire Masquerade
Wonder Woman
Batgirl
Poison Ivy
Supergirl
---
Ozobot Bit Coding Robot
Ozobot Bit Coding Robot Starter Pack
The Ozobot is a ping-pong ball sized robot that teaches younger kids the fundamentals of coding in a fun and engaging way.
Kids start out using markers on paper to color code instructions for their Bot. They set the Ozobot on the paper and it follows the path of the code and performs each command. Here's a few highlights of this clever little coding toy:
Includes reusable stickers for fun customizations
Printable games are available on the Ozobot website
Interactive games available on a tablet
Easy instructions for kids to learn quickly
Small but durable
If there are siblings in the family, you may want to get additional Bots so the kids can have fun Bot competitions. Educators, parents and kids are giving the Ozobot rave reviews as one of the best coding toys for girls and boys.
Age 6+
---
Pomsies
Pomsies Patches
Pomsies were just released at the 2018 Toy Fair and have been very popular with our readers!
These soft, furry interactive pets have flexible tails that wrap around wrists, ankles, backpacks and anywhere else girls want to carry them.
Their eyes change color to signify their needs and they will warble, purr, and sing their way into the hearts of the girls on your Christmas shopping list!
There are several Pomsies to choose from, including the adorable Snowball and Luna the Unicorn.
Ages 3+
---
Shopkins Lil Secrets Shoppies
Shopkins Lil' Secrets Shoppies Marsha Mello
The Shopkins teeny-tiny toys have been popular toys for girls age 6 to 8 ever since their release a few years ago.
This year, their Shoppies dolls have some teeny-tiny toys of their own and they are too flippin' cute!
The Lil Secrets Shoppies each come with a purse that opens up to reveal a little world all their own, complete with a teeny mini-me. The worlds are all sweet-shop themed, of course. Marsha Mello's world is a miniscule donut shop. The tiny world comes with a chord so girls can wear it like a necklace (a donut shop around my neck? Yes, please!).
There's also Jessicake and her tiny cupcake shop, Peppa-Mint and her ice cream shop, and Donatina and her candy shop.
These are really adorable for the price and are the latest top toys for girls!
Age 5+ 
---
Fingerlings Variations
Last year's hit toy for girls (and boys!) were Fingerlings, those cute, clingy, interactive baby monkeys.
This year they are STILL one of the most wanted toys for girls age 6 to 8, only now there's a few even cuter variations of them. 
Glitter Monkey Kiki, Baby Unicorn Gigi and the Monkey & Mini BFFs all interact in pretty much the same way as the original Fingerlings. There are different color variations for each of these, so check that out in the links.
The Untamed Raptor has some fun additional reactions, like hissing, growling and farting and were most likely designed with boys in mind. But girls like dinos too, right? Who knows, maybe hanging out with serene little Gigi will tame that raptor!
Last year, the best Fingerlings sold out fast (especially the unicorns!) so if the girl on your shopping list wants one, don't monkey around about buying one! Get them early.
You can check out ALL the Fingerlings here, including the cute Panda, Sloth and dragon!
Ages 5+
Oh, and another hot Fingerling toy for 2019 is the new Fingerlings Hugs, which are larger, softer versions of the finger clinging toys. Below is the lovable Kiki Fingerlings Hugs. She's interactive, responds to voice and touch, and even repeats things whispered in her ear…in her own funny way!
---
L.O.L. Surprise House with 85+ Surprises
L.O.L. Surprise! House
L.O.L. anything are the hottest toys for girls right now. One of the newest toys in their line is the L.O.L. Surprise! House. Because where on earth do you put all those tiny plastic people your kid collects?
Here's a few features of this mansion:
At 3 ft tall by 3 ft wide, there's loads of room
The surprises are the included family, furniture and accessories
Has a working elevator, lights and sounds, pool and hot tub
Not only is this a great place to store all those surprises, but there's also lots of opportunity for imaginative play with this thing. Kids can make additional furniture for it out of household items (YouTube is full of tutorials for this!) and it can be used for other small dolls or Littlest Pet Shop characters.
The girl on your gift list will be the envy of her friends with this hot toy for girls!
Age 5+
---
✳️ ==> Check Out All the Toys on Sale Today!

L.O.L. Surprise Under Wraps Eye Spy and Bigger Surprise!
Just when you think the whole surprise thing has been exhausted (spoiler alert: it hasn't!), MGA Entertainment released more surprises to their L.O.L. toy line.
The Surprise Under Wraps Eye Spy Doll features a cylinder-shaped container (which later doubles as a purse), a doll in disguise, some mysteries to decode and of course, 15 surprises. This is still a big seller and one of the top toys for girls this year (and boys actually like these too!).
The long-awaited L.O.L. Surprise Bigger Surprise! contains over 60 special and unique little bundles of joy for kids to discover. This one is one of the hottest toys for kids this year, so grab it fast if your walking bundle of joy wants one.
Buying Tip – Amazon usually has the best prices and availability of L.O.L. Surprise toys, but make sure the one you purchase says "ships from and sold by Amazon.com" to avoid getting a copycat toy.
Age 5+
---
PLAYMOBIL Magical Fairy Forest
PLAYMOBIL Magical Fairy Forest
Each year, Playmobil releases new building and play sets full of their signature detail and charm. Playmobil sets are among the best toys for girls age 6 to 8 who like to build and play with their creations.
My favorite new Playmobil release is the Magical Fairy Forest. The set is full of secret caves, fairy perches and swings, magical unicorns, a cauldron so the fairies can whip up healing balms for their animal friends, and of course a fairy throne.
I mean – this thing is DARLING! Girls will be enchanted for hours, playing out their imagined fairy adventures!
You can check out all the latest Playmobil sets here.
Age 4-10
---
Lil' Gleemerz
Lil' Gleemerz Pink
Lil' Gleemerz are interactive, raccoons-on-too-much-coffee-looking creatures that light up, talk and respond to touch and sound.
They have over 100 reactions, which vary depending on the mode it's in. In game mode, kids can play games with the tail. In party mode, it will put on a light show to the beat of clapping. And in hang out mode, it purrs, growls, farts and says goofy phrases (as one does when one hangs out).  😉
If you have more than one, they will interact together. Gleemerz were popular with our readers for Christmas last year and are still hot toys for girls!
Age 5-9
---
Scientific Explorer Mind Blowing Science Kit
Mind Blowing Science Kit
The wildly popular Scientific Explorer Mind Blowing Science Kit makes our list of top toys for girls for the second year because it has garnered such rave reviews.
The 11 activities included in it are so fun and engaging, even parents are impressed. I mean, what's not to love about giant, jiggly crystals?
The kit comes with most things you need, aside from some common household items most people already have (other than grape juice).
Age 6+
---

---
VTech Kidie Secrets Selfie Journal
VTech Kidi Secrets Selfie Journal
This is not the diary from your youth that you had to hide to keep your nosy siblings out of it. The VTech Kidie Secrets Selfie Journal has face recognition, so only its owner can open it. Here's a few cool features of this high-tech journal:
Front and rear camera for selfies and and photos
Pre-loaded with apps for games, virtual pets, fashion fun, photo filters and more
Holds 750 diary entries with photo and voice memos
Kids can transfer their favorite music to it via USB
Has slot for SD card and port for headphones
The Selfie Journal is on the Toy Insider's Holiday Toy List and is one of the latest toys for girls in 2019. It's an engaging way to encourage girls to record their thoughts and with the added features of games, activities and photo filters, girls will get lots of use out of this!
Age 6+
---
Little Live Pets Sparkles Dancing Unicorn
Sparkles My Dancing Unicorn
What little girl doesn't want a unicorn as a pet? Sparkles the Dancing Unicorn makes unicorn noises, eats her cupcake, dances and several more interactions.
She comes with a brush so girls can groom her and her horn lights up and changes colors to indicate it's time to feed her.
She's less than 6 inches in size, so your unicorn lover can take her along when traveling and for a dancing unicorn, she's priced pretty reasonably.
Sparkles was a hot toy for Christmas last year and is still a top toy for girls!
Age 5+
---
Don't Step In It Game
Unicorns and poop are the theme for the new toys of 2018 and 2019, so it's no surprise that Hasbro released the Don't Step In It Game Unicorn Edition as an Amazon Exclusive.
The game comes with clay and a mold so kids form their piles of poo themselves, then place them on the game mat. Players take turns attempting to walk the mat blindfolded while avoiding the poo-bombs.
The Unicorn Edition is brand new and goes in and out of stock frequently on Amazon, so when you see it available, grab it! Don't pay more than $20 for it.
The regular Don't Step In It! Game is a riot as well and is a few bucks cheaper. But you know…unicorn poop is a hot commodity these days.
Age 4+
---
My Kissing Puppy – Rollie
My Kissing Puppy Rollie
Little Live Pets latest addition to their litter of interactive pets for kids is My Kissing Puppy Rollie. What's not to love about a wrinkly, cuddly pup?
Rollie responds to pets and cuddles with over 25 puppy sounds and actions. He wags his tail when he's happy and sleeps when he's frolicked enough for the day.
But the cutest thing about Rollie is that he gives doggie lick-kisses to show how much he loves his owner!
Rollie is the latest top toy for girls (and boys!) and is the next best thing to finding a real puppy under the tree. And there's no poops to pick up.
Age 4+
---
Hairdorables are Top Toys for Girls
Hairdorables
Hairdorables are dolls based on the hit YouTube channel, all about girls with big hair and big attitudes.
There are 36 dolls to collect, each based on one of the 12 YouTube stars, and of course, their iconic, lustrous and colorful hair.
The thing girls are loving most about these little beauties is that you never know which one you will get. The thrill of opening the package and discovering which Hairdorable doll is inside, is all part of the gift.
Not only is the doll a surprise, but there are 11 other tiny surprises inside the package and each one reveals a little more about the dolls personality and traits.
Girls are loving these adorable little dolls and the price is so good that it won't break the bank to collect several of them. These are popular toys for girls and make great small gifts or Easter basket fillers.
Age 3+
---
Polly Pocket Transformaton Playset
Polly Pocket Transformation
Polly's baaaaack! Remember Polly Pocket from the late 90's? She and her teeny-tiny playsets are back and are still super popular toys for girls age 6 to 8.
The Polly Pocket Transformation Playset adds a fun element to the play experience with its big Polly/little Polly concept.
The toy includes a 3-inch Polly doll and her tiny living quarters, but the transformation part is that there are all sorts of secret compartments where a little micro Polly lives too. Kind of like The Borrowers story.
Girls will love pushing and sliding all the secret compartments to reveal little micro Polly's world. This little set is quite charming and is getting great reviews.
Age 4+
---
Crayola Color Chemistry Set
Crayola Color Chemistry Set
Crayola gets that science is more fun when it's colorful.
Their brand new Color Chemistry Set features 50 experiments for kids to do to help them learn about chemical reactions and other science-y stuff.
The nice thing is that, although some of the experiments require a few household items, a number of them can be done right out of the box with the included ingredients.
This a fun way for kids to spend a cold afternoon indoors!
Age 7+
---
PIKMI POPS Giant Flips
PIKMI POPS Giant Flips
Pikmi Pops are super popular surprise toys for kids and their latest additions are the PIKMI POPS Giant Flips.
These are basically big, soft, balls that flip over to reveal a cuddly pet (either a bunny, dog, or cat).
Inside each pet is one (or if you're lucky, two) more smaller pets, plus some stickers and other surprises.
They're quite cute and make adorable pillows to decorate a girl's room.
Age 5+
---
VTech Kidi Star Karaoke Machine
Kidi Star Karaoke Machine
Your budding Barbra can belt out her favorite songs with this the VTech Kidi Star Karaoke Machine.
Here's a few reasons this new toy makes our list of the top toys for girls age 6 to 8:
Comes with lights and sound effects
Even has a voice changer!
Connects to smart device for more songs
Adjustable mic stand
Unit is detachable for on-the-go fun
This is a fun birthday or Christmas gift for girls that the whole family can enjoy – Partridge Family style!
Age 5+
---
Barbie Dreamhouse
Barbie DreamHouse
Man, that Barbie sure lives in some nice cribs! Last year's Dreamhouse was all about high-tech with interactive features like an aquarium and a big screen TV.
But the latest Barbie Dreamhouse is all about multi-purposing and making the most of your space. Although…it measures a whopping 4 feet wide and 3 feet tall. But that's just all the more room for kids to play with it.
Some cool features of Barbie's new digs are a couch that converts to a bunk bed for Chelsea sleepovers, a fireplace that converts to shelves for a home office, and room for 4 dolls!
And of course, there's an elevator and a swimming pool (with slide!) and a garage.
The Dreamhouse comes fully furnished with over 70 furniture pieces and accessories, so all Barbie has to do is move in!
Any girl who plays with Barbies will ADORE this!
Age 3+
---
Littlest Pet Shop Cruise Ship
LPS Cruise Ship
I love the Littlest Pet Shop line! With the increased number of tiny toy figures released just over the past year, they've kind of gotten lost in the shuffle of all the plastic collectible toys from China (**cough** L.O.L. Surprise **cough**).
So I'm keeping this popular toy for girls from last year on our list. It's the latest addition to the Littlest Pet Shop world, their very own Cruise Ship.
The little critters can zipline, sunbathe and walk out of the B-grade entertainment in the showroom to go hit the buffet line again. You know, just like on a real cruise.
Seriously, this little toy has a lot of fun features and little girls will love taking their LPS collection out on the high seas. It's still getting super reviews and is a really cute toy for girls who love playing with little tiny animal toys.
You can check out our complete review of the Littlest Pet Shop Cruise Ship here. Oh, and if you're looking for more of the little critters to add to her collection, here's a great deal on a collector party pack set of LPS pets.
Ages 4+
---
Melissa & Doug Stained Glass Made Easy Kit
Melissa & Doug Stained Glass Made Easy
Arts and crafts toys are wonderful gifts for girls because they love to express their creativity! This one from Melissa & Doug is not new, but it's very popular with our readers, so we are leaving it on our top toys for girls list for 2019.
The Melissa & Doug Stained Glass Kit lets girls make a beautiful light catcher using stickers. The end result is a unique piece of art that a girl can be proud of.
What I love about these is they are great for kids to make and give as gifts to grandparents or other family members!
There are several lovely designs to choose from in these kits. Below are a couple other cute ones.
Age 5+
---
Grow 'n Glow Terrarium
Grow 'n Glow Terrarium
The award-winning Grow'n Glow Terrarium by Creativity for Kids teaches girls the basics of botany as they create, plant and grow their own little eco-system.
This kit has been around a few years but it was on Amazon's top 100 toys for 2018, no doubt due to its strong sales and rave reviews. Kids will be delighted to watch their seeds grow and nurture their garden they planted themselves. 
The kit comes with everything needed for the terrarium, so kids can start creating it right out of the box. They can even decorate it with glow-in-the-dark stickers to enjoy it after dark too.
This very affordable little kit is a fun way to introduce girls to gardening and botany and is a great gift for girls in the 6 to 8 and older age range.
Age 6+
Below are a couple more popular gardening kits for kids that little girls are loving!
---
L.O.L. Surprise! Biggie Pets
L.O.L. Surprise! Biggie Pet Dollmation
Before you roll your eyes at yet another L.O.L. Surprise toy on our top toys for girls list, take a look at what reviewers are calling the best one yet!
The L.O.L. Surprise! Biggie Pets aren't just a bunch of teeny-tiny toys – these actually have a purpose. The biggie pet doubles as a piggy bank or cute novelty backpack, plus they are adorable!
And in true L.O.L Surprise style, the package is also filled with 15 little surprises and the whole kit and caboodle fits inside a pretty pink carrying case. What more could a little girl want?
The Biggie Pets are part of the Eye Spy Series, so there is the added fun of finding secret codes and unlocking surprises, which kids LOVE about this toy line.
The one shown is Dollmation, but my favorite is M.C. Hammy (you can see him below, gotta love that name!). And there is also Spicy Kitty and a few others.
Age 5+
---
✳️ ==>From old favorites to brand new releases, here's all the best selling toys on Amazon!
More of the Latest Toys for Girls
Here's a few more of the best new toys for girls this year. You can check out the images down below.
L.O.L. Suprise! #OOTD (Outfit of the Day)
The L.O.L. Surprise ! #OOTD is like an advent calendar, which is way cool! It comes with a doll, then each day reveals a special outfit and accessories for it. Girls will love unlocking a surprise each day, even when it's not Christmas!
Hatchimals CollEGGtibles Neon Nightglow
What girl wouldn't want a whole carton of these Hatchimals CollEGGtibles Neon Nightglow eggs? Each one is a mystery, but they all will light up the night!
Tangled Twirl and Curl Rapunzel Doll
Girls who love playing with hair will love the Twirl and Curl Rapunzel Doll. They can create lots of hairstyles with the wand and accessories and it's a toy that won't break the bank too!
furReal Munchin' Rex
One of the newest furReal pets is adorable Munchin' Rex, the interactive dino that will chomp his way into your child's heart!
Do Dats Salon Pets
Do Dats Salon Pets are cute little backpack charms or keychains that girls make out of colorful beads. This is a fun and simple kit for girls who like crafts.
Disney Doorables Mega Stack Playset
Doorables are cute little stacking playsets where each door reveals a Disney character. The Disney Doorables Mega Stack is three playsets in one and each part can be stacked and moved around to her heart's content.
Baby Alive Real As Can Be Doll
If the little girl on your list likes playing with baby dolls, she'll love the Baby Alive Real As Can Be Doll. This is like the Baby Alive dolls we remember from the 70's, only even more responsive, thanks to technology. She falls asleep when rocked, drinks, wiggles, cries, and just about everything else real babies do. Your little mama will be asking you to babysit to give her a break.  😉
Pimple Pete Game
And then there's the Pimple Pete Game. It's gross, it's weird, but it's on all the hot Christmas toy lists this year, so we gotta give it a mention. Kids try to extract the zits without getting squirted with water (at least it's not mayonnaise). Eww.
 L.O.L. Surprise!! Outfit of The Day
 Hatchimals CollEGGtibles Neon
 Rapunzel's Curl 'n Twirl
 furReal Munchin' Rex
 Do Dats Salon Pets
 Disney Doorables Mega Stack
 Baby Alive Real As Can Be
 Pimple Pete Game
---
I hope our list of the latest toys for girls helps you to find the right toys for the girls age 6 to 8 in your life. What could be nicer than a big, genuine smile from a child because you gave them the toy they've been wanting?
Shopping for girls of other ages too? Check out our Best Toys For Preschool Girls gift guide!

Pin the Best Toys for Girls age 6 to 8
Search for More Top Toys for Girls Age 6-8