Share these epic toy ideas!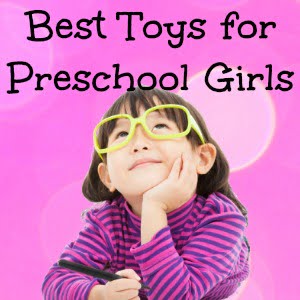 Our top picks for the best toys for preschool girls is full of exciting new toys that will delight the little girl you're shopping for.
I have to admit, I adore buying birthday or Christmas toys for 3 and 4-year-old girls because, frankly, I wish I could play with them myself. 😀
From baby dolls, to sparkly castles, to dogs that poo, these are the current hot toys on the wish list of the preschool girl in your life.
Best Toys for Preschool Girls
The links below take you to Amazon, where you can view current prices and reviews for each toy
Fisher-Price Think & Learn Smart Cycle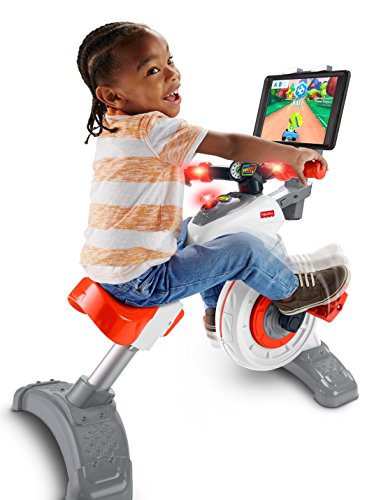 You might be thinking, "Whaaaa? A stationery bike for kids? Get. Out." And I know you mean that literally. As in, get outside.  I don't blame you.
But the Think & Learn Smart Cycle is pretty cool for apartment or city homes that don't have a yard where kids can get exercise. Or even just to keep them busy during long, cold winters.
Preschool girls or boys can play games, learn and get a little exercise, all from the safety of their home. Plus, they'll get all tuckered out and be ready for nap time. There's really a lot of pluses to this one.
Ages 3-6

---
Crayola Color and Erase Mat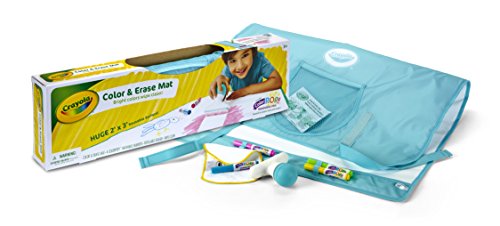 On a more low-key note, we have the Crayola Color and Erase Mat. I love this because it's portable (great for travel) and can be used over and over again.
It's also big enough for more than one kid to scribble away on it. It comes with 4 markers, but here's a great deal on a large pack of Crayola Washable Markers to go with it.
Ages 4+

Preschoolers love the Color Wonder toys by Crayola! The Art Desk on the left, lifts up for storage of art supplies and comes with stamps and pens. And the Magic Light Brush lets kids paint without the mess.
 Crayola Color Wonder Art Desk
 Crayola Color Wonder Magic Light Brush
---
VTech Smart Friends Shimmering Seashell Castle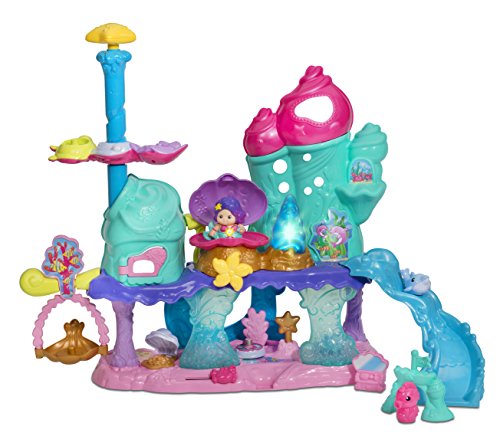 The best toys for preschool girls always include castles. Always. The VTech Smart Friends line is super popular with toddler and preschool girls with last year's hit being the Enchanted Princess Palace.
Add cute little mermaids into the mix and the Shimmering Seashell Castle will be just as much a hit.
Ages 18 mos – 5 years

Speaking of things that shimmer, this post on the most popular Shimmer and Shine toys may give you more ideas for a toy the preschool girl in your life might like.
Here's a couple other VTech Smart Friends sets that girls love. The Magical Unicorn walks and talks and flaps her wings and is actually really reasonably priced. The other little set features a baby unicorn – what's cuter than a baby unicorn?!
 Smart Friends Twinkle the Magical Unicorn
 Smart Friends Magical Journey Unicorn
---
Leap Frog Scribble and Write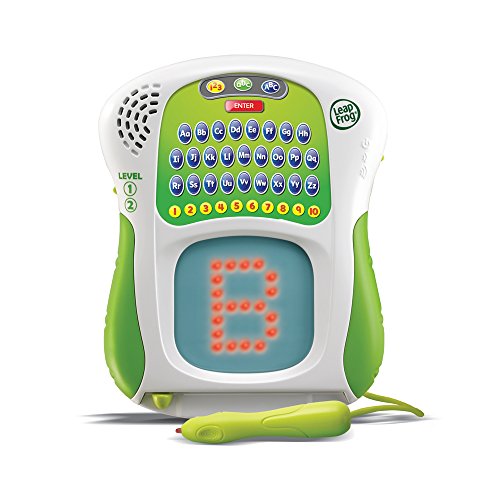 TheLeap Frog Scribble and Write is a great way to teach preschoolers their letters, counting, reading, writing and more.
LeapFrog is known for creating some engaging learning toys for preschoolers and toddlers and this one is already getting great feedback from parents.
Ages 3-5

Another popular toy by LeapFrog is the LeapReader, which helps preschoolers learn to read. Pictured on the left is a great deal on a LeapReader and 10 books. And the Touch and Learn Activity Desk, by VTech is getting great reviews and is still a big seller!
 LeapReader Learn to Read Bundle
 Touch and Learn Activity Desk
---
Baby Alive Sweet Tears Baby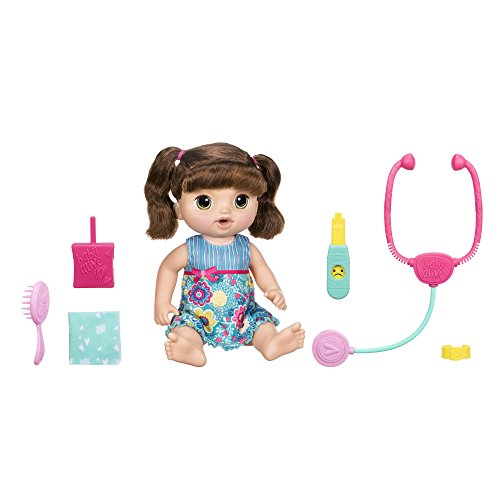 Most 3 and 4 year old girls love playing with baby dolls. The Baby Alive dolls have been around since I was a kid, although it was a bit too high-end for me. I had a  Baby Tender Love doll. But I digress.
The Sweet Tears Baby will give your little mama a taste of true motherhood, as she drinks, gets sick and cries. All that's missing is throwing up in the middle of the night, but then, maybe that's a little too real.
Anyway, Baby Alive says 35 phrases in both English and Spanish.  That little genius baby is going to need some accessories, by the way, and there's a great deal on a sturdy doll stroller here.
Ages 3+


Below are a couple more good deals on doll accessories for your little mama.
 30 Piece Baby Doll Accessories
 Doll highchair, playpen, bouncer
---
FurReal Roarin Tyler, the Playful Tiger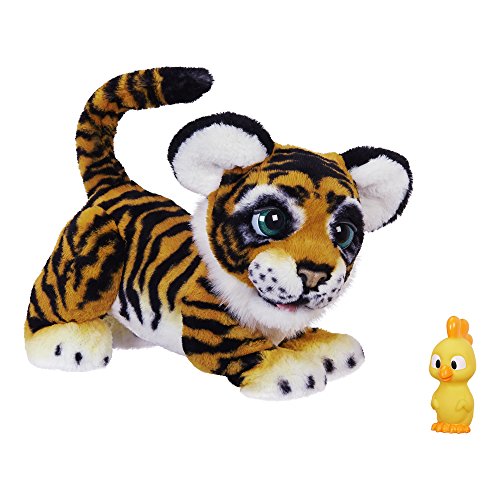 Each year, the FurReal toy line delivers something that ends up on the current list of the best toys for preschool girls. This year it's Tyler, the adorable tiger.
He's fully interactive, with 100 different combinations of sounds and actions to delight wanna-be pet owners.
Ages 4+


Here's two more FurReal Friends toys that are big hits. Torch, the baby dragon is absolutely adorable and can "toast" his little marshmallow. And Flurry, the snow leopard is an Amazon exclusive toy with great reviews.
 Torch, My Blazin' Dragon
 Flurry The Snow Leopard
Speaking of pets that you don't have to clean up after, our post on the most popular electronic pets for kids will give you some more toy ideas for that preschool girl on your list.
---
Disney Junior Doc McStuffins Baby All in One Nursery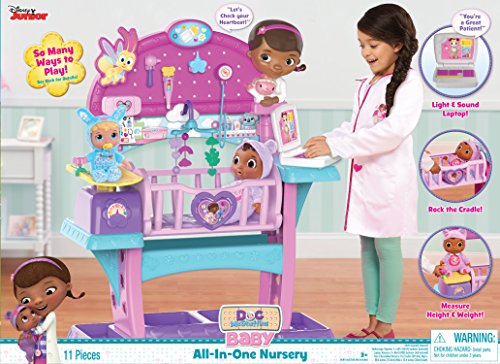 Little Doc McStuffins fans can pretend to bring their dolls and stuffed toys to life, just like in the show, with this All in One Nursery setup.
There are lots of gizmos and gadgets to keep preschoolers busy. I'd suggest hiding the cat, lest it becomes a patient.
Ages 3-6


If the preschooler on your gift list is an animal lover, here's two other playsets she might like. The vet set on the left is a great deal for all that you get and The Doc McStuffins hospital on the right, has a ton of fun features. I'm thinking it's a great place for the Littlest Pet Shop pets to go when they get sick!
 Pretend Play Vet Set
 Doc McStuffins Pet Hospital
---
My Little Pony The Movie Canterlot and Seaquestria Castle with Light-Up Tower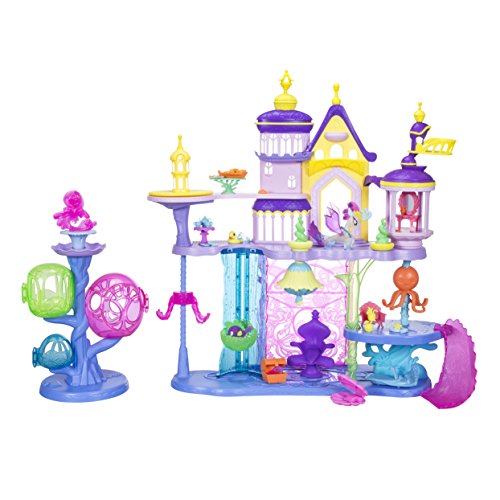 Some of the best toys for preschool girls are My Little Pony toys and this brand new My Little Pony Canterlot and Seaquestria Castle won't disappoint.
This toy is based on the My Little Pony movie that came out not too long ago. The castle is over two feet wide, so there's plenty of room for 3 and 4-year old girls to play with it together.
It has lots of engaging features, like a light-up tower and over 30 accessories!
Ages 3+

Here are a couple more hot toys based on the movie. The Seapony collection has 3 pony-maids (mermaid + pony. Yeah, I made that up.) and accessories and would be fun additions to the castle. Then there's the Seashell Lagoon playset that is smaller and less expensive than the castle, but still features the little pony-maids. (Mer-ponies?)
 Seapony Collection Set
 Seashell Lagoon Playset
---
Disney Tangled the Series Swinging Locks Castle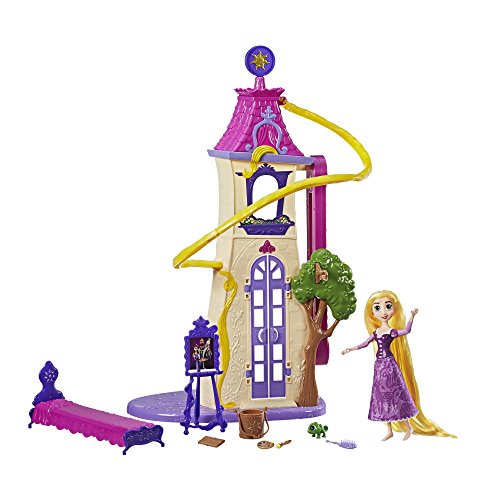 Disney princess toys are always a hit with preschool girls. The newly released Swinging Locks Castle is based on the Tangled television series and features a zipline, swing and fun accessories.
If your little free spirit is a big Tangled fan, she also might like this Tangled toy that got great reviews.
Ages 3+

For more Disney princess gift ideas for preschool girls, check out our post about the best Disney Princess Little Kingdom toys that are perfect for preschoolers.
---
Princess Castle Play Tent with Glow in the Dark Stars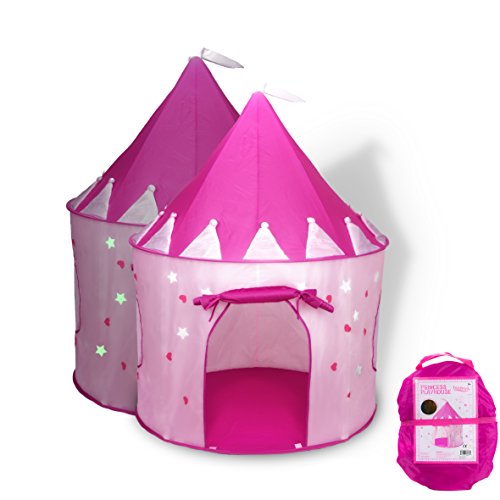 To quote Cameron Diaz in the movie The Holiday, this tent is "seriously cool." English accents or not, little girls will love camping out in this thing, indoors or out. I mean, it has glow in the dark stars!
I want one. You'll definitely want to view the price and reviews on Amazon because it's a best seller for a reason.
Ages 3-8

Pictured below on the left, is another cute play castle, with more of an open-air feel. It's also rated for indoor or outdoor. Add some twinkly lights and it's a cozy, magical throne room for your little princess! And speaking of princesses, she'll need a proper wardrobe. The Disney Princess Dress Up Trunk on the right, is full of all the accessories a proper princess needs!
 Princess Castle Pop-up Tent
 Disney Princess Dress Up Trunk
---
Play-Doh Kitchen Creations Magical Oven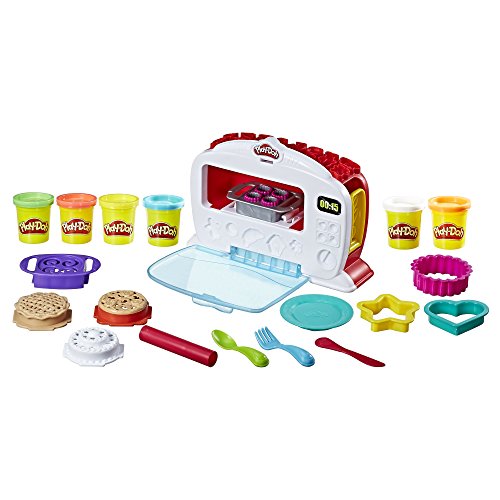 My 4-year-old niece loves Play-Doh food toys – proof to me that they are among the best toys for preschool girls (actually, her brother loves them too).
The newly released Kitchen Creations Oven has the cutest molds for pies and cakes and of course, for the pretty flourishes on top. Here's a great deal on extra Play-Doh too.
Ages 3+

There's tons of really cute Play-Doh sets! The Kitchen Creations Stovetop lets kids make and cook a pretend dinner and they can top it off with swirl ice cream for dessert with the Perfect Twist playset.
 Kitchen Creations Sizzlin' Stovetop
 Perfect Twist Ice Cream Playset
---
Melissa & Doug Wooden Chef Play Kitchen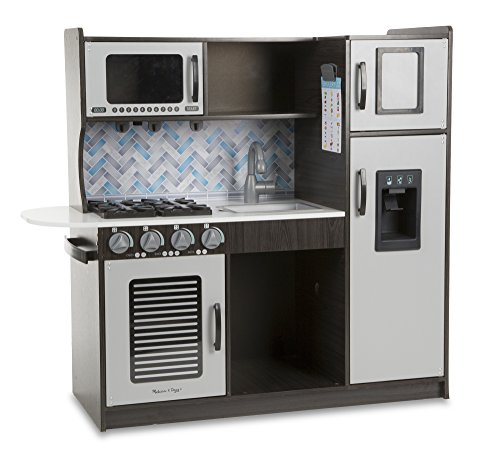 Some of the best toys for preschool girls inspire pretend play and there's no better way to do that than with a play kitchen!
The Melissa & Doug Wooden Chef kitchen features a working "ice" maker, modern looking appliances and lots of storage. This thing is nicer looking than my kitchen!
Here's a really cute set of dishes and pots and pans to go with it!
Age 3+


I love the wooden play food sets that Melissa & Doug make! They give preschoolers lots of opportunities to engage in fun pretend play. The Pizza Counter and Ice Cream Counter sets below are very popular and so darn cute!
 Wooden Pizza Counter Playset
 Wooden Ice Cream Counter
Play kitchen sets are so much fun for preschoolers! Check out our article on the best wooden play kitchen sets, where we give details about the top wooden kitchens for kids.
---
Barbie Dream Horse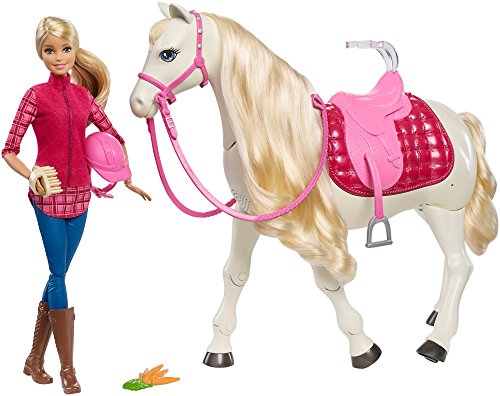 Nope, that's not a typo. Barbie now has a dream horse to go with her dream house.
The Barbie Dream Horse is voice and touch activated and can nod, nuzzle, make eating noises, come when called, turn, dance and a whole bunch of other stuff. Little girls will be quite delighted with this.
If the price tag is a little steep, I bought this slightly cheaper Barbie and horse set for a friend's little girl and she loved it.
Ages 3-7

I love the Barbie sets that come with animals because I just feel like you get more bang for your buck, you know? And kids seem to love them too. Below is the new and very popular Barbie Pet Care Center that comes with a bunch of cute accessories. It doesn't come with a Barbie though, so the Career Barbie Vet doll, pictured on the right, is perfect for it.
 Barbie Pet Care Center Playset
 Barbie Careers Pet Vet Doll
---

---
Little Tikes Princess Horse and Carriage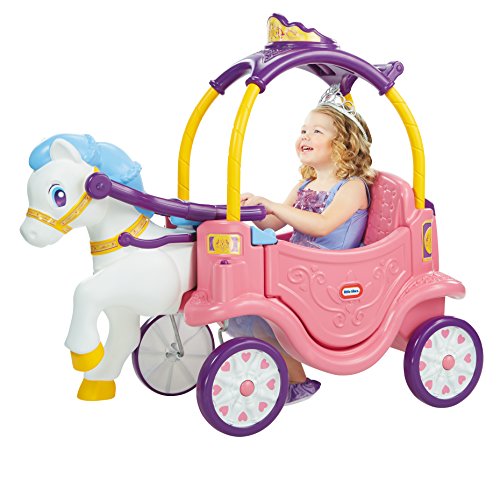 So, I ask you – what little girl wouldn't want to be carted around in her very own horse and carriage? Little preschool queens can pedal their Princess Horse and Carriage themselves, or saddle up mom or dad to pull them.
There's even a drink holder so the grown-up won't go thirsty while they're doing all the work. The royalty have to be nice to the little people, after all.
Ages 18 mos – 5 years

Then there's the Cozy Coupe truck, for more modern gals, or the Frozen Jeep Wrangler for girls who like to travel with a sidekick!
 Princess Cozy Truck Ride-On
 Disney Frozen Jeep Wrangler
---
LEGO DUPLO All-in-One-Pink Box of Fun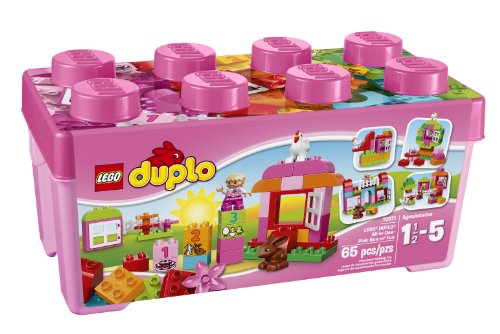 The best toys for preschool girls aren't always princess carriages, castles and dolls. Little girls like to build too and these Lego Duplo blocks are a great starter set for your little builder.
Ages 18 mos – 5 years

Here are two more DUPLO building sets that preschool girls love. The set pictured on the right teaches math skills as kids work on their creative and building skills.
 Build 'N Learn Table
 Build 'N Learn Math Set
---
Barbie Walk and Potty Pup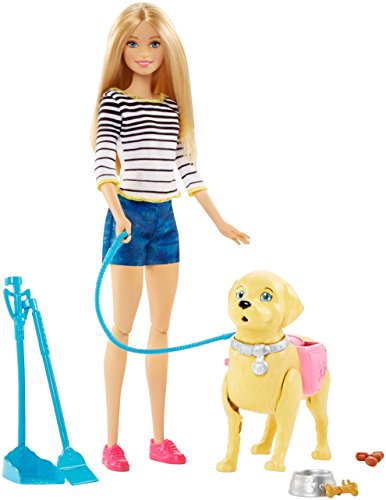 One of this year's cutest holiday hot toys for preschool girls isBarbie and her poopin' pup. Seriously, you have to watch the video on Amazon.
The dog really walks along with Barbie and she can scoop up the messes with her handy pooper scooper. Leave it to Barbie to make poop scoopin' look fun.
Ages 3-10

Below are a couple more very popular Barbie playsets. The Swimmin' Pup Pool features a dog that really swims!
And the Pop Up Camper – Holy Barbie-oly!! You have to read the full description on Amazon, but this thing has all kinds of contraptions that open up to reveal a bathroom, kitchen and even a firepit! It has rave reviews too. What better way for Barbie to relax after scoopin' poops than in the pool of her luxury camper?
 Barbie Swimmin' Pup Pool Set
 Barbie Pop-Up Camper Vehicle
---
Soggy Doggy Board Game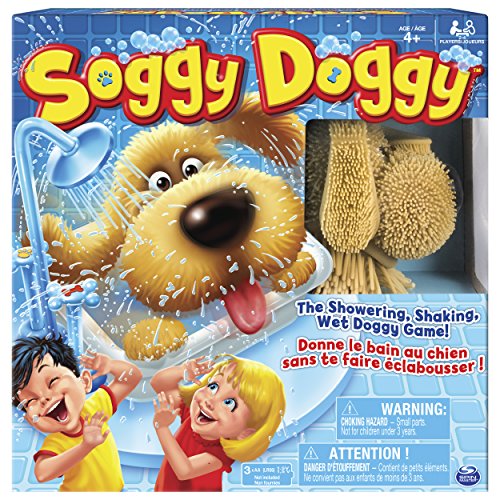 The idea of the brand new Soggy Doggy game is to get around the board without getting sprayed by the wet dog.
The adorable puppy and colorful game board make this a hit with preschool girls and boys both. It's a family game night winner too.
Ages 4-6


Games help preschoolers improve thinking and social skills. Below are two more games with good reviews that preschool girls are loving!
 Enchanted Cupcake Party Game
 Candy Land World of Sweets Game
---
Spinmaster Luvabella Responsive Baby Doll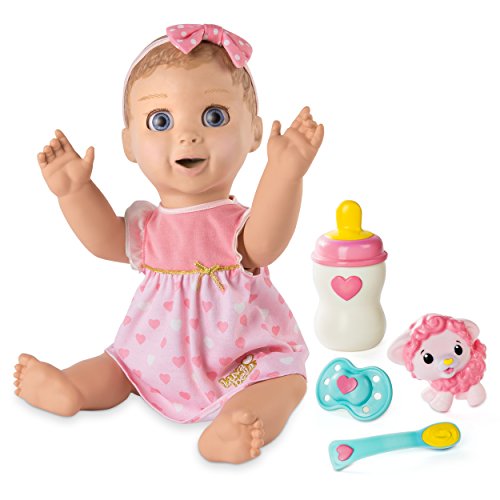 The realistic Luvabella doll is the hottest toy for preschool girls this Christmas! This thing is scarily realistic. Think Chucky meets Baby Alive. 😀
The neat thing about Luvabella is the more your child interacts with her, the larger her vocabulary grows – to over 100 words and phrases! It's just like teaching a real baby, only without the colic and sleepless nights.
Little Bella interacts with her Lamby toy, drinks her bottle, raises her arms, kicks her legs, plays games and even tells her little mama, "I love you."
Despite the slightly intense eyes, she's really quite amazing. She would be the perfect gift for a preschooler who's expecting a new brother or sister, and she comes in different skin tones too.
If you want to buy Luvabella for a preschooler on your list, you should buy her as soon as you see her in stock. This toy is celebrated as one of the best toys for preschool girls this year and is a hot item this Christmas.
It sells out fast on Amazon, then the prices go up until she's in stock again. And the closer we get to Christmas, the harder it will be to find her!
Age 4+

---
Teamson Kids All-In-One Baby Nursery Station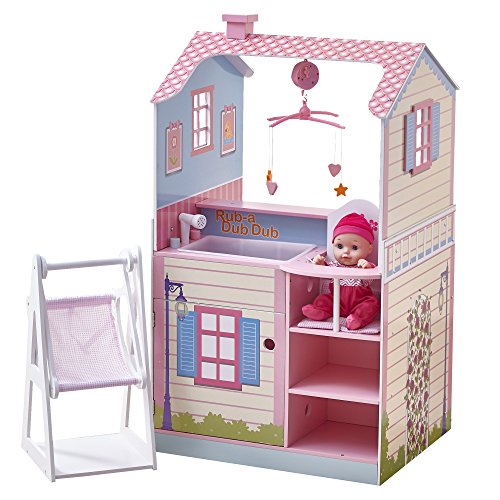 Oh, how I would have loved one of these when I was little! The Teamson All-In-One Nursery station has everything a young mother needs to care for her baby dolls.
This mini nursery has a highchair, baby bath and storage on one side and a changing table/bed, play mobile and more storage on the other side. Plus, it comes with a baby swing!
This all-wood set is adorable! It's made for dolls sized 16 – 18 inches long, but smaller dolls fit in it too (put a cushion or pillow under the doll when in the highchair).
It's one of the best toys for preschool girls who love baby dolls!
Age 4+

If you want to add to your preschooler's doll collection (or looking to start one), the dolls below are great choices. The baby on the left is 15 inches and comes with a change of clothes and accessories, which is nice (again…more bang for the buck!)
And the twin babies on the right, with those cute, realistic faces! These would be perfect for the All-in-One Nursery, because there's plenty of room there for twins! The twins are 13 inches. Both of these baby doll sets are very reasonably priced.
 Soft-bodied Baby Doll Set
 Soft-bodies Twin Babies
---
Barbie Club Chelsea Playhouse Playset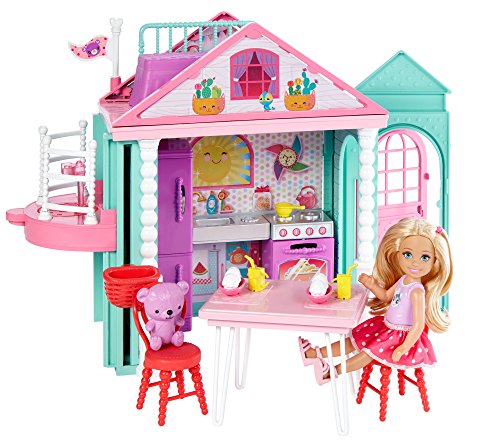 I love the Club Chelsea dolls and playsets for preschoolers because they're a great size for littler hands. Most Barbies are for ages 3 and up, but some kids that age don't have the dexterity yet to play well with a Barbie-sized doll.
The Club Chelsea Playhouse set is the ultimate she shed for Chelsea dolls! The doll can ride up the platform to the roof where she can hang with Teddy or bake some cookies in the oven that really opens and closes.
The set comes with the doll and all the accessories you see in the picture. It's like a mini dollhouse, which is great for kids who would like a dollhouse, but don't have a bedroom large enough to house one.
Age 3-7

Below are two more Barbie Club Chelsea sets that preschool girls will love!
 Flips & Fun Skate Ramp
 Ice Cream Cart Playset
---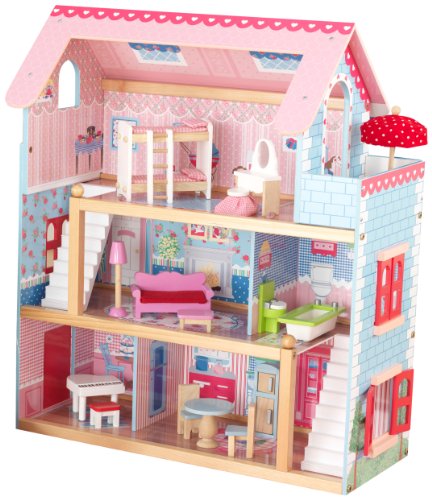 Speaking of dollhouses, they are one of the best toys for preschool girls because there are so many pretend play scenarios girls can dream up with them.
If the preschool girl on your gift list has room for a dollhouse, the Kidkraft Chelsea Doll Cottage is a great deal! First of all, it's utterly charming and secondly, it comes with 17 pieces of furniture!
It's mostly wooden, which just adds to the whimsical appeal. It is made for 4-inch size dolls, which are not included. But reviewers say it works well with 5 and 6 inch dolls too, and even the Calico Critter dolls fit.
Here's a wooden doll Family of 7 to go with it, or here is a plastic doll family that works.
The preschool age is the perfect time to introduce girls to the joy of playing with a dollhouse, so it would be a fantastic Christmas or birthday gift!
Age 3-7

Below are a couple more quality dollhouses. I love the Princess Castle on the left! It comes with 4 royal dolls and all the accessories, including little wooden horses.
And the Hape dollhouse is ultra modern with lots of room for multiple kids to play together!
 Princess Castle Dollhouse
 Hape Wooden Doll House
---
I hope our list of the best toys for preschool girls helps you find the perfect toy for the little girl on your gift list. Be sure and check out our suggestions for the top toys for girls age 6 to 8 as well, since many toys do crossover in age ranges. Happy Shopping!

Pin The Best Toys for Preschool Girls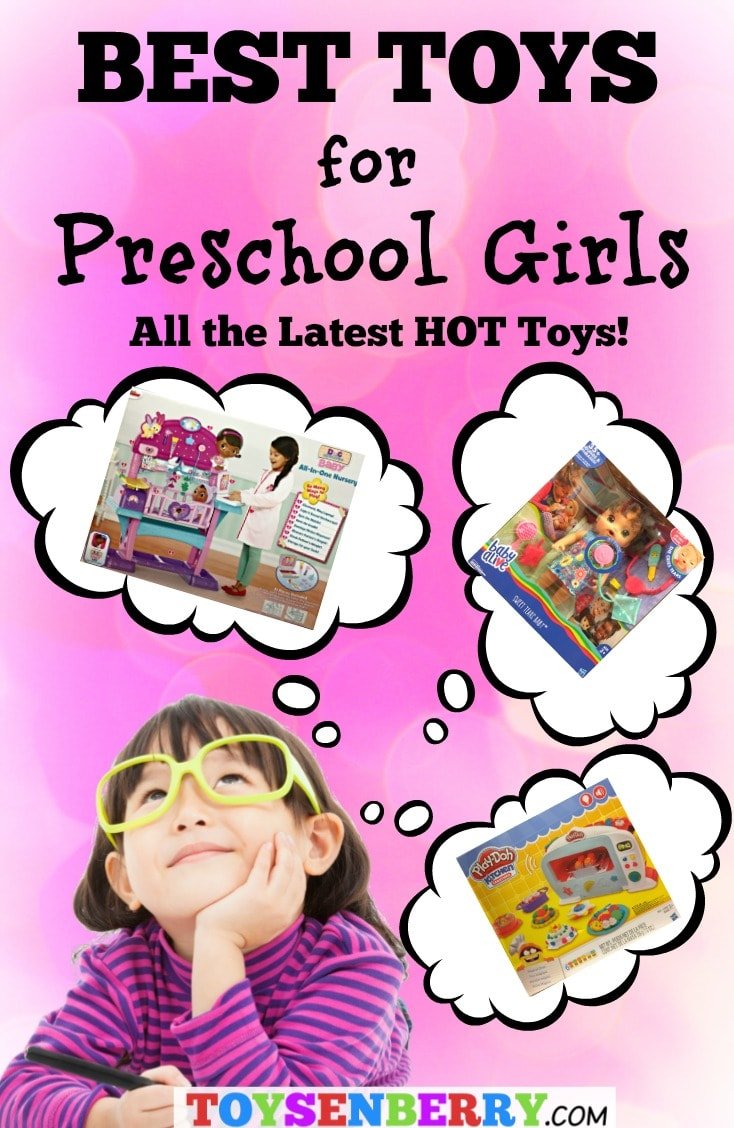 Search for More Best Toys for Preschool Girls