Share these epic toy ideas!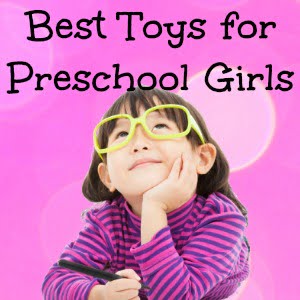 Our top picks for the best toys for preschool girls is full of exciting new toys that will delight the little girl you're shopping for.
I have to admit, I adore buying birthday or Christmas toys for 3 and 4-year-old girls because, frankly, I wish I could play with them myself. 😀
From baby dolls, to sparkly castles, to dogs that poo, these are the current hot toys on the wish list of the preschool girl in your life.
✳️ In a hurry? ==> Go straight to all the top Christmas toys for preschool girls HERE!
Best Toys for Preschool Girls

A Few Favorite Toys for Preschool Girls
Before we go into detail on some of the latest and greatest 2018 toys for preschool girls, let's start with some quick picks. These are our classic favorite toy gifts for preschool girls, with a couple brand-new showstoppers thrown in (hello, Twisty Petz and Pomsies!). Then scroll on down for the rest of the our top toys for preschool girls!
Pomsies
Fairy Stamp Set
Calico Critters Set
Twisty Petz
Glitter Girls Stable
Dust & Sweep Set
Play Vet Set
DUPLO Pizzeria
Wooden Bead Set
---
Fisher-Price Think & Learn Smart Cycle
Think & Learn Smart Cycle
You might be thinking, "Whaaaa? A stationery bike for kids? Get. Out." And I know you mean that literally. As in, get outside.  I don't blame you.
But the Think & Learn Smart Cycle is pretty cool for apartment or city homes that don't have a yard where kids can get exercise. Or even just to keep them busy during long, cold winters.
Preschool girls or boys can play games, learn and get a little exercise, all from the safety of their home. Plus, they'll get all tuckered out and be ready for nap time. There's really a lot of pluses to this one.
Age 3-6
Related: Toys to Keep Preschoolers Active When They're Stuck Indoors
---
Crayola Scribble Scrubbie
Crayola Scribble Scrubbie
The brand new, award winning Scribble Scrubbie set is already a big hit with 3, 4 and 5-year-old girls!
Girls love decorating these cute little puppies with washable pens, then dunking them in the tub for a bath and starting all over again.
This is a great toy for a small group activity, like a slumber party, or just to keep a few girls entertained for a little while.
The set comes with 4 animals, but you can buy additional ones, like this cute pair of kittens!
Ages 3+
Below are two more really fun Crayola toys for preschool girls. The Art Desk on the left lifts up for storage of art supplies and comes with stamps and pens. And the Magic Light Brush lets kids paint without the mess.
Both of these are entertaining Christmas gifts for preschool girls!
 Crayola Color Wonder Art Desk
 Crayola Color Wonder Magic Light Brush
---
My Little Pony Singing Rainbow Dash
My Little Pony Singing Rainbow Dash
The My Little Pony toys are always among the best toys for preschool girls. What's not to love about magical, flying ponies?
One of their latest additions is the Singing Rainbow Dash toy. This little flying friend sings 5 songs and says over 15 phrases. But the funnest part for girls is they can sing along with Dash, or take over the microphone and just go solo.
Kids love singing along to their favorite songs and parents like that Dash's sunglasses and microphone are attached, so no lost pieces to worry about!
Age 3+
---
VTech Write and Learn Creative Center
VTech Write and Learn Creative Center
The VTech Write and Learn Creative Center is a great way to teach preschoolers their letters, counting, reading, and writing to help them get ready for kindergarten. Parents can even program the doodling feature to teach kids to write their name!
But preschoolers tend to get bored with just letters and numbers. What I love about this toy is it encourages creativity in young kids by teaching them basic drawing skills. Preschool girls and boys love using the stencil feature to draw pictures and create imaginative scenes.
If you want to give an educational Christmas toy to the preschool girl on your list, this is a good one!
Age 3-6
VTech makes some of the best toys for preschool girls and boys! Their Touch and Learn Activity Desk is still super popular and getting great reviews. And the KidiBeats Drum Set is an awesome musical educational toy for preschoolers.
Touch and Learn Desk
KidiBeats Drum Set
---
Baby Alive Sweet Tears Baby
Baby Alive Sweet Tears Baby
The Baby Alive doll has been around since I was a kid, although it was a bit too high-end for me. I had a  Baby Tender Love doll that didn't cry, poop, eat or say a word. Man, I loved taking care of that doll! But I digress.
The Baby Alive Sweet Tears Baby will give your little mama a taste of true motherhood, as she drinks, gets sick and cries. All that's missing is throwing up in the middle of the night, but then, maybe that's a little too real.
The Sweet Tears Baby Alive doll came out last year and is still very popular, so we're keeping it on our top Christmas toys for preschool girls list.
However, we have to mention this year's hot Christmas toy for preschoolers, the Baby Alive Potty Dance Baby.
Preschoolers love training their doll to go on the potty – just like they learned to do fairly recently!  Oh, but she doesn't just potty, she talks, sings and dances too. No wonder this is one of the hottest toys for preschool girls this Christmas!
Age 3+
And here's a couple good deals on doll accessories for your little mama.
 30 Piece Baby Doll Accessories
 Doll highchair, playpen, bouncer
---
FurReal Friends Ricky, the Trick-Lovin' Dog
Ricky the Trick-Lovin' Dog
Each year, the FurReal toy line delivers something that ends up on the current list of the best toys for preschool girls. This year it's Ricky, the Trick-Lovin' Dog.
He's fully interactive, with 100 different combinations of sounds and actions to delight wanna-be pet owners. He's also about the size of a real puppy, so not only will he thoroughly entertain the preschooler on your list, he'll fill those little arms too!
Ages 4+
Below are two FurReal Friends toys from last year that are still big hits. Torch, the baby dragon is absolutely adorable and can "toast" his little marshmallow.
And StarLily, the Magical Unicorn is as enchanting as ever!
Torch, My Blazin' Dragon
StarLily, Magical Unicorn
Related: The Latest Electronic Pets Kids Want for Christmas
---
Doc McStuffins Pet Rescue Mobile Unit
Doc McStuffins Pet Rescue Mobile
Little Doc McStuffins fans can pretend to bring their dolls and stuffed toys to life, just like in the show, with the brand new Pet Rescue Mobile Unit.
Last year's Christmas toy hit with preschoolers was their All In One Baby Nursery set. What's nice about the mobile unit though, is that it all closes up and can be toted around and played with anywhere!
Both of these Doc McStuffins toys feature lots of gizmos and gadgets to keep preschoolers busy. I'd suggest hiding the cat, lest it becomes a patient.  😉
Any young aspiring vet or animal rescuer will love these sets!
Age 3-6
Below are two accessories for preschool girls to have even more fun with their Doc McStuffins pretend play. The Talk & Trace Clipboard is highly rated and a great price!
Talk & Trace Clipboard
Doc Mcstuffins Costume
---
Fisher-Price Think & Learn Rocktopus
Fisher-Price Think & Learn Rocktopus
The latest hot toy for preschoolers from Fisher-Price is the Think & Learn Rocktopus. This cool guy combines math and games with music appreciation.
Preschoolers can change the sound of a song by inserting different instruments into the legs. They can even add sound effects, which makes their face light up as they listen to their unique creations.
There is a free app available also, where kids can create little music videos with the Rocktopus. This is a fun and educational toy for 3, 4 and 5-year-old girls and a great way for them to experiment with musical sounds.
Age 3-6
---
Rescue Runts and Scruff-A-Luvs
Two of the hottest Christmas toys for preschool girls in 2018 are Rescue Runts and Scruff-A-Luvs. Both of these scruffy little creatures are basically matted fur balls that your preschooler must bathe, groom and give a home to.
The fun of the Scruff-A-Luvs is you don't know what kind of creature it's going to be until you clean it up. Is it a puppy…a kitten…a bunny? The anticipation is all part of the gift!
Rescue Runts are similar, only you already know what the pet is. But they have the added feature of big, sad eyes that beg to be adopted, which then turn to happy eyes when they're all cleaned up.
Preschoolers adore nurturing these little fur balls!
Ages 3+
Scruff-a-Luvs
Rescue Runts Husky
✳️ DEAL ALERT ==>Check out all the toys that are on sale TODAY!

---
Princess Castle Play Tent with Glow in the Dark Stars
Princess Castle Tent with Glow in The Dark Stars
This wildly popular and highly rated Princess Castle Play Tent was on our list of the best toys for preschool girls last year and it ain't going anywhere!
To quote Cameron Diaz in the movie The Holiday, this tent is "seriously cool." English accents or not, little girls will love camping out in this thing, indoors or out. I mean, it has glow in the dark stars!
I want one.
Ages 3-8
Pictured below on the left, is another cute play castle, with more of an open-air feel. It's also rated for indoor or outdoor. Add some twinkly lights and it's a cozy, magical throne room for your little princess!
And speaking of princesses, she'll need a proper wardrobe. The Disney Princess Dress Up Trunk on the right, is full of all the accessories a proper princess needs!
 Princess Castle Pop-up Tent
 Disney Princess Dress Up Trunk
Related: Your little princess will love these Disney Kingdom Little Princess Toys!
---
Play-Doh Kitchen Creations Magical Oven
Kitchen Creations Magical Oven
My 4-year-old niece loves Play-Doh food toys – proof to me that they are among the best toys for preschool girls (actually, her brother loves them too).
On my last visit, the three of us sat for over two hours, creating all kinds of play food creations that looked good enough to eat!
The Kitchen Creations Oven has the cutest molds for pies and cakes and of course, for the pretty flourishes on top. Here's a great deal on extra Play-Doh too.
Ages 3+
There's tons of really cute Play-Doh sets! The Kitchen Creations Stovetop lets kids make and cook a pretend dinner with a stove that actually "sizzles".
And I love the Play 'n Store Table which comes with fun Play-Doh tools and storage and makes a great surface for kids to form their masterpieces!
Age 3+
Kitchen Creations Sizzlin' Stovetop
Play-Doh Play 'n Store Table
---
Melissa & Doug Wooden Chef Play Kitchen
Melissa & Doug Wooden Chef's Play Kitchen
Some of the best toys for preschool girls inspire pretend play and there's no better way to do that than with a play kitchen!
The Melissa & Doug Wooden Chef kitchen features a working "ice" maker, modern looking appliances and lots of storage. This thing is nicer looking than my kitchen!
Here's a really cute set of dishes and pots and pans to go with it!
Age 3+
I love the wooden play food sets that Melissa & Doug make! They give preschoolers lots of opportunities to engage in fun pretend play. The Pizza Counter and Ice Cream Counter sets below are very popular and so darn cute!
 Wooden Pizza Counter Playset
 Wooden Ice Cream Counter
Related: Our favorite wooden play kitchen sets for preschool girls!
---
Barbie Dream Horse
Barbie Dreamhorse
Nope, that's not a typo. Barbie now has a dream horse to go with her dream house. The Barbie Dream Horse came out last year but is such a hit that it's still on Amazon's Holiday Toy List this year.
The Barbie Dream Horse is voice and touch activated and can nod, nuzzle, make eating noises, come when called, turn, dance and a whole bunch of other stuff.
Little girls will be quite delighted with this!
Ages 3-7
I love the Barbie sets that come with animals because I just feel like you get more bang for your buck, you know? And kids seem to love them too.
Below is the new (last year new) and very popular Barbie Pet Care Center that comes with a bunch of cute accessories. And look how cute the Barbie Farm Vet Set is!
Barbie Pet Care Center Playset
Barbie Farm Vet Doll & Playset
---
Our Favorite Barbie Toys for Preschool Girls
Barbie playsets are perfect for 3, 4, and 5 year-old girls (and even a bit older!) They help those little minds imagine their own adventures and let girls play out their dreams vicariously through their Barbie doll.
Here's a few of our favorite new Barbie toys that preschool girls are loving! You can find them pictured down below.
Barbie Dreamtopia Castle
The mini Dreamtopia Castle gives girls a little house for their Barbies, but doesn't take up a ton of space. It has some super cute features, like a royal puppy and adorable tiny tea set.
Dreamtopia Fairytale Barbie
This Dreamtopia Fairytale Barbie has been hugely popular with our readers and continues to get rave reviews!
Babysitters Inc. Skipper Sets
The brand new Babysitters Inc sets include a Skipper doll and baby and are just too cute! I love this one with a stroller too!
Barbie Pop-Up Camper
Holy Barbie-oly!! This Barbie Pop-Up Camper has all kinds of contraptions that open up to reveal a bathroom, kitchen and even a firepit! It has rave reviews too. What better way for Barbie to relax after caring for all those animals than in the pool of her luxury camper?
Barbie Dreamtopia Castle
Dreamtopia Barbie
Skipper Babysitters Set
Barbie Pop-Up Camper
---
Little Tikes Princess Horse and Carriage
Little Tikes Princess Horse & Carriage
So, I ask you – what little girl wouldn't want to be carted around in her very own horse and carriage? Little preschool queens can pedal their Princess Horse and Carriage themselves, or saddle up mom or dad to pull them.
There's even a drink holder so the grown-up won't go thirsty while they're doing all the work. The royalty have to be nice to the little people, after all.
Ages 18 mos – 5 years
For a little wilder ride, the PlasmaCar is awesome! How it propels forward with no batteries or pedals, I don't know, but kids love them! They're super sturdy too, so your preschool girl can use it for several years.
And the Tough Trike is a Christmas toy classic that preschool girls will always love!
---
Don't Step In It! Game
Don't Step In It
The idea of the brand new Don't Step In It! game is pretty self-explanatory…don't step in the dog poo!
Kids get to first make the poo out of soft clay, which is included in the game. Then they lay it out on the game board. Gross as it seems, they love the dread and anticipation of walking blindfolded, hoping not to get a squishy surprise between their toes!
The Amazon Exclusive Unicorn Edition of this game is super cute, but it goes out of stock often and then the price goes way up. If you find it for less than $20, grab it!
Age 4+
Games help preschoolers improve thinking and social skills. Below are two more games that preschool girls are loving!
Enchanted Cupcake Party Game
Disney Princess Candy Land
✳️ UPDATE ==> The top 100 Christmas toys on Amazon are here!
---
Baby Alive Real As Can Be Doll
Baby Alive Real As Can Be Doll
The brand new Baby Alive Real As Can Be doll interacts with your preschooler just like a real baby!
This is definitely the most realistic Baby Alive doll yet (and less creepy than last year's Luvabella doll!). Baby Alive wiggles when tickled, coos when spoken too, and even turns her head when called.
She would be the perfect gift for a preschooler who's expecting a new brother or sister, and she comes in different skin tones too.
Age 3+
---
Doll Changing Station and Nursery
Doll Changing Station and Nursery
Oh, how I would have loved one of these when I was little! This Changing Station and Nursery has everything a young mother needs to care for her baby dolls.
This mini nursery has a highchair, baby bath and storage on one side and a changing table/bed, play mobile and more storage on the other side. Plus, it comes with a baby swing!
This all-wood set is adorable! It's made for dolls sized 16 – 18 inches long, but smaller dolls fit in it too (put a cushion or pillow under the doll when in the highchair).
It's one of the best toys for preschool girls who love baby dolls!
Age 3+
If you want to add to your preschooler's doll collection (or looking to start one), the dolls below are great choices. The baby on the left is 15 inches and comes with a change of clothes and accessories, which is nice (again…more bang for the buck!)
And the twin babies on the right, with those cute, realistic faces! These would be perfect for the All-in-One Nursery, because there's plenty of room there for twins! The twins are 15 inches. Both of these baby doll sets are very reasonably priced.
Soft-bodied Baby Doll Set
Twin Babies Set
---
Barbie Club Chelsea Playhouse Playset
Club Chelsea Clubhouse
I love the Club Chelsea dolls and playsets for preschoolers because they're a great size for littler hands. Most Barbies are for ages 3 and up, but some kids that age don't have the dexterity yet to play well with a Barbie-sized doll.
The Club Chelsea Playhouse set is the ultimate she shed for Chelsea dolls! The doll can ride up the platform to the roof where she can hang with Teddy or bake some cookies in the oven that really opens and closes.
The set comes with the doll and all the accessories you see in the picture. It's like a mini dollhouse, which is great for kids who would like a dollhouse, but don't have a bedroom large enough to house one.
Age 3-7
Below are two more Barbie Club Chelsea sets that preschool girls are loving. The Treehouse playset is brand new and sooo cute!
Flips & Fun Skate Ramp
Club Chelsea Treehouse
---
KidKraft Doll Cottage
KidKraft Doll Cottage with Furniture
Speaking of dollhouses, they are one of the best toys for preschool girls because there are so many pretend play scenarios girls can dream up with them.
If the preschool girl on your gift list has room for a dollhouse, the Kidkraft Doll Cottage is a great deal! First of all, it's utterly charming and secondly, it comes with 17 pieces of furniture!
It's mostly wooden, which just adds to the whimsical appeal. It is made for 4-inch size dolls, which are not included. But reviewers say it works well with 5 and 6 inch dolls too, and even the Calico Critter dolls fit.
Here's a wooden doll Family of 7 to go with it, or here is a plastic doll family that works.
The preschool age is the perfect time to introduce girls to the joy of playing with a dollhouse, so it would be a fantastic Christmas or birthday gift!
Age 3-7
Below are a couple more quality dollhouses. I love the Princess Castle on the left! It comes with 4 royal dolls and all the accessories, including little wooden horses.
And the Hape dollhouse is ultra modern with lots of room for multiple kids to play together!
 Princess Castle Dollhouse
 Hape Wooden Doll House
---
Little Tikes Stem Jr. Wonder Lab
Little Tikes STEM Jr. Wonder Lab
The latest top Christmas toy for preschoolers from Little Tikes is their Stem Jr. Wonder Lab. This thing is like having a mad science laboratory in your house!
Kids follow simple instructions on colorful cards and do all sorts of fun and creative experiments. It's fun to watch them marvel at their homemade witches brew and complex marble maze!
Their mini lab keeps things interesting with voice and sound effects, so it will really hold your preschooler's attention!
Age 3+
---
I hope our list of the best toys for preschool girls helps you find the perfect toy for the little girl on your gift list. Be sure and check out our suggestions for the top toys for girls age 6 to 8 as well, since many toys do crossover in age ranges.
And there are many toys on our preschool boys gift guide that girls would love too. Happy Shopping!

Pin The Best Toys for Preschool Girls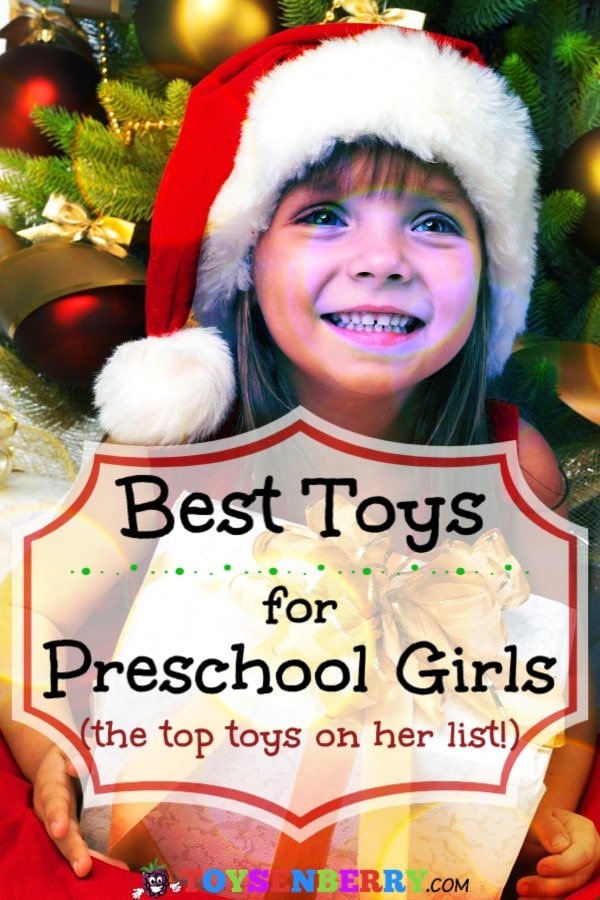 Search for More Best Toys for Preschool Girls