Share these epic toy ideas!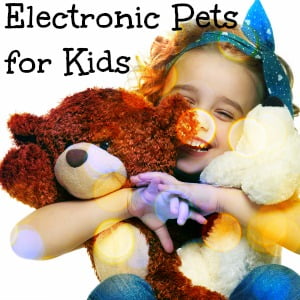 Electronic pets for kids are always among the most wanted kids toys. Kids love them because they're adorable, cuddly, and interactive. Parents love them because they are household additions that don't eat, poop, or make messes. So win, win.
Electronic pets for kids are not only fun, but they can be a learning experience too. Since their responses are so life-like, parents use them to teach their child how to take care of a living pet. It can be a real eye-opener for a five-year-old when they are responsible for meeting the needs of a little creature that whines for attention (#MomRevenge).
For these reasons, electronic pets for kids are among the 2018 hottest kids toys for Christmas or birthday presents and each year a whole new litter of automated bundles of cuteness are released. To help you find the right electronic pet toys for the kids in your life, we've gathered the best of the new deliveries, plus some popular old favorites.
Electronic Pets for Kids
The links below take you to Amazon so you can check prices and reviews for each toy.
New Releases in Electronic Pets for Kids
FurReal Roarin' Tyler the Playful Tiger
The Hasbro FurReal Friends electronic pets for kids have taken the toy industry by storm ever since they came out in 2002. Here's a few features of this latest addition to their furry family:
Has over 100 sound and motion combinations
Purrs and plays with his toy
Soft and cuddly so he doesn't feel robotic
Off button for quiet time
Roarin' Tyler is the largest of their pets that I've seen. At 20 inches long and over 17 inches high, he will fill the little arms and heart of the child on your gift list.
---
Little Live Pets Cuddles My Dream Kitten
Little Live Pets Cuddles
Move over Snuggles, cause Cuddles is in the house! (No dis' to Snuggles – you can find more about him further down in the post!)
This cute little ball of fur nuzzles your hand when you pet her, just like a real kitty.
She also swishes her tail, makes realistic mewing and purring sounds and comes with her own little cat kibble bowl.
Her fur is silky soft and those eyes will melt your heart. And the best part is – no litter box to scoop!
---
Zoomer – Interactive Show Pony
Zoomer puts on quite the pony show!
Kids can choreograph a performance of several tricks for her, plus here's some other things Zoomer can do:
Neighs and says "I love you" and other things a young Horse Whisperer would understand
Gets hyper when she eats too much sugar cube
Gets full when she eats her apple
Responds to touch and performs tricks
Zoomer is the latest addition to the popular Spin Master line of electronic toys for kids and will be a hit this holiday season!
Zoomer is a great gift for girls age 5 to 7. For more of the latest toys for girls in this age group, check out our Top Toys for Girls Age 6 to 8 gift guide.
---
Fingerlings are Electronic Pets Kids are Crazy Over
Fingerlings are interactive baby monkeys that dangle, cling and respond to touch and sound.
I couldn't resist picking one up and I have to admit, they are pretty cute. I love the reaction of my dog when little Bella makes her teasing little monkey chant when she wants attention.
There are several different varieties of Fingerlings
 to pick from and they are all selling FAST! If you are looking for a Fingerling to buy, check Amazon frequently because they go in and out of stock all the time and the price fluctuates accordingly.
Also, make sure you are buying the Original WowWee brand Fingerlings because there are some knock-offs out there. One surprising place that I saw had WowWee Fingerlings in stock was Kohl's, in the store. I'm not sure if they have them online or not.
 Fingerlings Interactive Baby Monkey – Bella
 Fingerlings Playset – Playground + Liv Monkey
 Fingerlings Interactive Baby Monkey – Zoe
---
Hatchimals Glittering Garden Sparkly Penguala
Hatchimals and New Hatchimals Surprise
Speaking of toy crazes, unless you've been living in an egg, you've no doubt heard of the Hatchimal craze a couple Christmases ago. These things sold out everywhere and then prices went up faster than you can say "chicken poop".
What's special about Hatchimals? The concept is basically a combination of Tamagotchi virtual pets and Furbies.
When you buy a Hatchimal, what you get is a big, speckled egg…at first. But when your child begins to play with the egg – by rubbing it and holding it – the creature inside hatches. After hatching, there are all sorts of interactions kids can do as the furbaby grows, including games they can play with it.
The cutest thing is that as the baby grows through each stage, he'll warble a Happy Birthday song, and the baby rendition is the most adorable sound you'll ever hear!
It's really a cool concept for electronic pets for kids and Hatchimals are still going to be hot items this year, so if you want one, I suggest you buy them early.
New this year are the Hatchimals Surprise toys, which are TWINS! How cute is that?
 Hatchimals Surprise Giraven
 Hatchimals Surprise Peacat
How to Play With Your Hatchimals Electronic Pets for Kids

---
 Electronic Pets Kids Still Want for Christmas
This next group of electronic pets for kids were among the hottest kids toys for Christmas last year and prior years. They are still hot sellers and continue to make kids happy electronic pet owners.
---
Little Live Pets Snuggles My Dream Puppy
Okay, just look at that face and try to say that you don't want one of these for yourself!
It's no wonder that the Snuggles electronic toy for kids was one of the hottest kids toys for Christmas last year. Granted, naming the furball Snuggles was probably a little heavy handed, but you do just want to grab the thing and hug it.
He barks, squirms, snuggles, drinks, snores and provides lots of interactive fun for kids. There is also Frosty the Dream Puppy as well, with similar adorable interactions.
These cute little guys aren't just for kids. If you're an adult and want to take a first step into dog ownership (or annoy your existing dogs), Snuggles or Frosty will do just fine for that too.
 Little Live Pets Snuggles
 Little Live Pets Frosty
---
FurReal Friends Torch, My Blazin' Dragon
FurReal Friends Torch
Torch was one of the most wanted kids toys for Christmas last year. He will chortle, gurgle and burp his way into your heart (come to think of it…that's what my husband did!).
Here's some other things Torch does that will delight kids:
Reacts to touch with 50 sound and motion combinations
Breathes red "fire" and toasts his marshmallow which kids can feed him
Makes baby dragon GOOs and GAAs that will melt your heart
The cuteness factor is off the charts with this one and he will absolutely charm a young child (and most adults)!
Preschoolers will love Torch! For more gift ideas for preschoolers, check out our Best Toys for Preschool Boys and Best Toys for Preschool Girls gift guides!
---
Zoomer Meowzies – Lucky
Lucky is an interactive kitty that gets happier the more she's played with.
She makes noises, plays games, purrs, sings and responds to petting and touch.
The other fun thing about Meowzies is, if you get more than one they will interact with one another by talking, singing, telling jokes, playing and other actions. You can check out the full selection of Meowzies
 here.
Although Meowzies have been on the market a couple years now, they are still popular electronic toys for kids.
---
FurReal Friends Bootsie
Bootsie is another electronic cat full of personality and attitude. Just like a real cat, you never know quite how she'll respond, but at least she doesn't have claws!
Bootsie hisses and meows, depending on her mood, but she usually enjoys being petted and loved.
Her expressive eyebrows give away her current temperament and add to her lovable little character.
Bootsie was one of the most wanted kids toys for Christmas last year and is still one of the popular FurReal Friends electronic pets for kids and cat-loving adults too.
---
More Popular FurReal Friends Electronic Pets for Kids
 FurReal Friends Pax, My Poopin' Pup
 FurReal Friends Flurry (Amazon Exclusive)
 FurReal Friends JJ My Jumpin' Pug Pet Plush
---
FurReal Friends StarLily, My Magical Unicorn
FurReal Friends StarLily
StarLily graced us with her magical presence in 2015 and is still a hot seller. What's not to love about an interactive unicorn? Here's some fun features of StarLily:
Her horn lights up in different colors
She flaps and flutters her beautiful wings
She's posable, which is hard to find in an electronic pet
There is an app for even more interactions
StarLily will absolutely delight young girls! No wonder she was one of the hottest kids toys in past Christmases and has kept her popularity.
---
Zoomer Dinosaurs are a Different Breed of Electronic Pets Kids Enjoy
If you're looking for a more unusual breed of electronic pets, then a Zoomer dinosaur toy fits the bill.
These prehistoric robots are great for kids who want more action and less cuddle.  Zoomer electronic dinosaurs respond to touch and voice commands and can be trained to do tricks and play games. There are several different types with various capabilities.
These are our top three choices for Zoomer dinosaur electronic pets for kids.
 Zoomer Dino
 Zoomer Chomplingz – Interactive Dinosaur
 Zoomer Dino, Jurassic world INDOMINUS REX
The Zoomer Dinosaur toys are fun for boys in the 5 to 10 age group. For more gift ideas for this age range, check out our Top Toys for Boys Age 6 to 8 gift guide!
---
Small Sized Electronic Pets for Kids
Zoomer Zupps
Zoomer Zupps are a little like Fingerlings in size and interactions. There are several litters (releases) of them, so there's a huge variety of cuteness to choose from. If you're buying for a child that collects them, the price is small enough that it won't stretch the wallet to buy a few.
Zoomer Zupps are great for preschool aged kids. They are small enough to fit in a pocket or backpack and provide just enough interaction to keep young kids interested but not overwhelm them.
The cool thing about these is that each one has a secret trick and a child must interact with it frequently and in various ways to unlock the trick.
 Zoomer Zupps Retriever Posy – Litter 1
 Zoomer Zupps Husky Spotlight – Litter 2
 Zoomer Zupps Poodle Jellybean – Litter 3
---
Electronic Pets for Kids that Adults Like Too
CHiP, the Robot Dog
Any of the above electronic pets are great for adults who are kids at heart. ChiP is a little more interesting though, because his personality conforms to the way he is trained. Kind of more like a real dog. Here's some other cool features of ChiP:
Recognizes his owner (thanks to the SmartBand)
Chases his ball and plays fetch
Automatically charges himself
More interactions available with an app
CHiP is great for adults and older kids who like the challenge of training and interacting with him.
For more details about CHiP, check out our CHiP the Robot Dog Review.
---
Electronic Pets for Adults
Joy For All Companion Pets are robotic pets for adults. They are designed to be a comforting tool for the elderly and are a good substitute in situations where an older person just can't have a live pet.
These robotic pets for adults are very lifelike in their reactions and feel. The cat movements, meows and purrs are so much like a real cat that even real cats do a double-take when they first see it (check out the videos on Amazon and you'll see what I mean).
The Joy For All Golden Pet has lifelike fur and a heartbeat sound. He responds to touch and petting just like the cat.
Electronic pets for adults don't replace live interactions, but they can certainly provide some comfort to the elderly who can't have real pets.
 Joy for All Companion Pet Golden Pup
 Joy For All Silver Cat With White Mitts
---
Which of the Electronic Pets Should You Buy?
There are so many adorable electronic pets for kids and adults on the market, it can be hard to decide which one to buy. If you're trying to decide on one for a gift, think about the recipient's age, patience level and the types of animals they like. Also think about whether the electronic pet will be more for cuddling or playing, since some are softer than others.
We hope this article helps you to pick a toy that will put a smile on the face of that special child or adult on your gift list.
Search Here for More Electronic Pets Kids Love