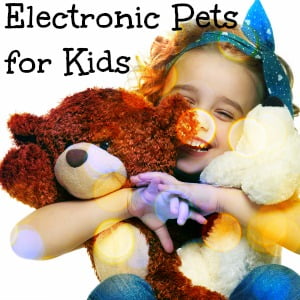 Electronic pets for kids are always among the most wanted kids toys. Kids love them because they're adorable, cuddly, and interactive. Parents love them because they are household additions that don't eat, poop, or make messes. So win, win.
Interactive pets are not only fun, but they can be a learning experience too. Since some of them have responses that are so life-like, parents use them to teach their child how to take care of a living pet.
It can be a real eye-opener for a five-year-old when they are responsible for meeting the needs of a little creature that whines for attention (#MomRevenge).
For these reasons, electronic and interactive pets are among the 2020 hottest kids toys for Christmas or birthday presents and each year a whole new litter of automated bundles of cuteness are released.
To help you find the right interactive stuffed animals for the kids in your life, we've gathered the best of the new deliveries, plus some popular old favorites.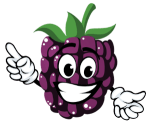 Heads up that the links below take you to Amazon, Target, or other retailers where noted. As an Amazon Associate I earn from qualifying purchases. I am also a participant in the Target Affiliate
Marketing Program. That means if you buy something through these links, I may get a small commission at no extra cost to you. You can learn more here. I hope you enjoy our toy and gift suggestions!
Electronic Pets for Kids
New Releases in Interactive Pets For Kids
Here's our favorite new releases of electronic pets. Which will be the favorite of the child on your gift list?
Scruff-a-Luvs Mystery Real Rescue Pet
Scruff-a-Luvs Mystery Rescue Pet
Scruff-a-Luvs were a huge hit last year and this year they've upped their game with a more interactive plush pet rescue.
Their Mystery Real Rescue Pets shiver, coo, burp and interact with their new owners in lots of cute little ways. Kids will love cleaning them up, nurturing, and caring for them.
These interactive stuffed animals have hidden interactions that kids will discover the more they play with them too!
Age 4+
---
FurReal Cubby the Curious Bear Interactive Plush Toy
FurReal Cubby
Cubby made his debut this year at the International Toy Fair and made quite an impression on sleep deprived parents of little ones!
Cubby the Curious Bear is not just any electronic pet for kids – he's especially designed to help kids sleep. When it's time for bed, he sings softly and makes sleepy noises. He has a sleep mode so there's no creepy, random noises from him in the middle of the night.
He also plays games, drinks his bottle and has over 100 sound and motion combinations. Plus, he's super adorable!
Age 4+
---
Pixie Bells
Pixie Belles
Pixie Bells are the latest interactive pets from WowWee, the makers of Fingerlings. They have three different play modes and the cutest little warble.
Kids will love how Pixie Bells kiss their cheek when held against their face, then spin around in happiness after.
They're small enough to carry around in a backpack or purse and have a magnetic bottom so kids can even wear them! There's four different Pixie Bells to choose from and they are inexpensive enough that you can pick up a couple and let kids interchange their tails for different looks!
Age 5+
---
Hatchimals Wow Llalacorn
Hatchimals Wow Llalacorn
The Hatchimals Wow Llalacorn is one of the hottest interactive stuffed animal releases this year! These hatch from an egg, like the classic Hatchimals, but with fun twists that really add to the play value.
They GROW up to 32 inches tall!
They can REHATCH out of their egg!
They make over 250 different sounds
They communicate their needs with changing eye colors
If you're wondering what a Llalacorn is, it's a cross between a llama and a unicorn. They have pretty little wings, soft fur, beautiful expressive eyes, and of course, a unicorn horn. You really have to check them out in action to appreciate how cute these are!

These are much more entertaining than the classic Hatchimals and are very popular interactive plush toys!
Age 5+
---
FurReal Hoppin' Topper
furReal Hoppin' Topper
Little Hoppin' Topper is the perfect electronic pet for kids who love dinosaurs. This baby Triceratops hops up and down with his front paws when he senses you're ready to play.
He has 35 sound and motion combinations, including cocking his head and making cute cooing noises. Plus, he gobbles up his broccoli and desert with delight!
What does a baby Triceratops eat for desert, you ask? A caveman-shaped cookie, of course! 😀
Age 4+
---
Mighty Roar Simba Interactive Plush Toy
Mighty Roar Simba
The Lion King Mighty Roar Simba interactive electronic pet will delight little ones with his expressive face and cute roar!
Simba has over 100 sound and motion combinations and when you pet his head, you never know what reaction you will get. Kids will love having roaring contests with him!
This interactive plush version of Simba really brings the movie character to life with his realistic movements and voice (well…as real as a cartoon character, anyway) . He's also a pretty decent size and will fill the little arms of the child on your gift list!
Age 4+
---
Owleez Interactive Pets for Kids
Owleez
Owleez take interactive pet training to a whole 'nother level. Any kid can train an electronic pet to bark, beg or purr, but how about teaching them to fly?
Whoooooo are Owleez, you ask? 😉 They are cute little baby owls with over 100 sound and movements. These babies sing and dance and coo and respond to touches and tickles.
If you've treated them well and responded to their moods correctly, they'll take off and fly around the room! They get better and better the more they practice.
Owleez come in both pink and white and are going to be one of the hottest gifts for kids this Christmas!
Age 6+
---
Hatching Toothless Interactive Baby Dragon
Hatching Toothless
Fans of the How To Train Your Dragon movies will love the Hatching Toothless interactive pet dragon.
Kids tap and rock the shell to help Toothless hatch, then he's ready to play games, use his plasma-blast, eat his fish snack and lots of other fun interactions.
Plasma can be taught to fly too, but not by himself. He's really cute though, when he flaps his wings as kids guide him through the air.
Little Toothless is a great electronic pet for dragon-loving kids!
Age 5+
---
Juno, My Baby Elephant Interactive Pet
Juno My Baby Elephant
Baby Elephant Juno is another showstopper introduced at the International Toy Fair. And she is adorable!
The cutest thing about Juno is of course, that expressive trunk. But she has lots of super cute reactions. She hides behind her ears when she's shy, plays with her toy mouse, and can be trained with her peanut to do tricks.
The more a child interacts with Juno, the more responses they'll unlock. She's one of the cutest electronic pets for kids and will be on many wish lists!
Age 5+
---
Myla The Magical Unicorn Electronic Pet
Myla The Magical Unicorn
Llamas haven't pushed the unicorns out of popularity just yet. Myla The Magical Unicorn is a new plush electronic pet from VTech and she has some fun features that little ones are loving.
Kids can change the color of her horn, eyes, wings and more
Her lights sparkle as she talks and sings
Comes with a microphone so kids can sing with her
Myla also comes with a comb and hair clips that her owner can share. She's a magical gift for young girls!
UPDATE: Myla is a 2020 Toy of the Year Finalist!
Age 4+
---
Below are two more interactive pets for kids. Little Gleemerz are new this year and Wrapples are still very popular.
Lil' Gleemerz Babies Yellow Figure
These Lil' Gleemerz babies were born for teeny gleem dreams!
Press its nose over and over for cute sounds and to light up tummy with...
Tilt upside down and move all around for purrs, coos, and other silly...
Electronic Pets Kids Still Want for Gifts
This next group of electronic pets were among the hottest kids toys for Christmas last year and prior years. They are still hot sellers and continue to make kids happy electronic pet owners.
FurReal Ricky, the Trick-Lovin' Pup Interactive Stuffed Animal
FurReal Friends Ricky
One of Hasbro's hottest new releases last year was the adorable interactive plush toy Ricky, the Trick-Lovin' Pup.
Ricky is so playful and lifelike (right down to the pretend poops!) that he will delight the child on your gift list. Here's some features of little Ricky.
100+ sound and motion combos (kids won't get bored!)
Does adorable tricks, like catching his bone and shaking paws
Licks his owner's face to show affection
Ricky might not substitute for a real puppy under the tree, but he's still a popular electronic pet that kids love and would make an awesome gift for kids!
Age 4+
---
Pomsies Electronic Pets
Pomsies Pinky Plush
Pomsies came out last year and are still very popular with our readers. These cute balls of fluff wrap around wrists, ankles, backpacks and more and let their owners know when they're tired, cold or hungry.
Pomsies are interactive and respond to touch with over 50 different sounds. Kids never have to guess what their Pomsie wants because their eyes light up to indicate what they need.
These aren't lifelike of course (because what even are they?), but for the price they're adorable, entertaining creatures that kids can take with them everywhere they go.
These come in several colors – you can see all the Pomsies here.
Age 3+
RELATED: Latest Christmas Toys for Girls!
---
Fingerlings Interactive Pets
Fingerlings were one of the hottest electronic pets for kids when they first came out and they remain very popular.
Each year, WowWee adds new interactive creatures to the litter and every one has unique interactions to entertain both kids and adults.
You can check out all of the Fingerlings here and all of the Untamed Fingerlings here. Below are a few of their latest cute releases!
Just make sure you are buying the Original WowWee brand Fingerlings because there are some knock-offs out there.
Age 5+
Untamed Fang
Untamed Shockwave
Fingerlings Dolphin
Fingerlings Narwha
---
Sparkles My Dancing Unicorn
Sparkles My Dancing Unicorn
Sparkles, My Dancing Unicorn was released by Little Live Pets last year and she is still a big seller in electronic pets. She nuzzles, dances, makes unicorn sounds (I have no idea) and eats her tiny cupcake.
Sparkle's horn lights up to indicate whether she wants to eat or nuzzle. She comes with a brush to take care of her colorful mane and tail.
She does need 2 AAA batteries, which aren't included. Little unicorn lovers will adore this magical electronic pet for kids!
Age 5+
---
furReal Roarin' Tyler the Playful Tiger
FurReal Roarin' Tyler
The Hasbro FurReal Friends electronic pets for kids have taken the toy industry by storm ever since they came out in 2002.
Their Roarin' Tyler the Playful Tiger has gotten rave reviews since its release two years ago and kids still love him! Here's a few features of this popular addition to their furry family:
Has over 100 sound and motion combinations
Purrs and plays with his toy
Soft and cuddly so he doesn't feel robotic
Off button for quiet time
Roarin' Tyler is the largest of their pets that I've seen. At 20 inches long and over 17 inches high, he will fill the little arms and heart of the child on your gift list. He's one of my favorite interactive stuffed animals.
Age 4+
---
DEAL ALERT ====>>> Check out all the toys on sale today!

furReal Friends Torch Electronic Pet
Torch, My Blazin' Dragon
FurReal Friends Torch, My Blazin' Dragon was one of the most wanted kids toys for Christmas when he first came out a couple years ago and still has great reviews.
Torch interacts with kids by making 50 different sound and motion combinations. The cutest part is he breathes "fire" and toasts his marshmallow which kids can feed him. And his baby dragon GOOs and GAAs will melt your heart!
He will chortle, gurgle and burp his way into your heart (come to think of it…that's what my husband did!). 😀
The cuteness factor is off the charts with this one and he will absolutely charm a young child (and most adults)! He's still a very popular electronic pet for kids.
Age 4+
---
FurReal Friends Bootsie Interactive Stuffed Animal
FurReal Friends Bootsie
Bootsie is an interactive plush toy cat full of personality and attitude. Just like a real cat, you never know quite how she'll respond, but at least she doesn't have claws!
Bootsie hisses and meows, depending on her mood, but she usually enjoys being petted and loved.
Her expressive eyebrows give away her current temperament and add to her lovable little character.
Bootsie was one of the most wanted kids toys for Christmas a couple years ago and is still one of the popular furReal Friends electronic pets for kids and cat-loving adults too.
Age 4+
---
FurReal Friends StarLily Electronic Pet Unicorn
StarLily, My Magical Unicorn
StarLily, My Magical Unicorn graced us with her magical presence in 2015 and is still a hot seller. What's not to love about an interactive plush pet unicorn? Here's some fun features of StarLily:
Her horn lights up in different colors
She flaps and flutters her beautiful wings
She's posable, which is hard to find in an electronic pet
There is an app for even more interactions
StarLily will absolutely delight young girls! No wonder she was one of the hottest kids toys in past Christmases and has kept her popularity.
Age 4+
RELATED: Top Christmas Toys for Preschool-Aged Girls
JUST IN! ====>> Here's all the current top-selling toys!
---
Electronic Pets for Adults
Joy For All Companion Pets
Joy For All Companion Pets are robotic pets for adults. They are designed to be a comforting tool for the elderly and are a good substitute in situations where an older person just can't have a live pet.
These robotic pets for adults are very lifelike in their reactions and feel. The Silver Cat movements, meows and purrs are so much like a real cat that even real cats do a double-take when they first see it (check out the videos on Amazon and you'll see what I mean).
The Joy For All Golden Pup has lifelike fur and a heartbeat sound. He responds to touch and petting just like the cat.
Electronic pets for adults don't replace live interactions, but they can certainly provide some comfort to the elderly who can't have real pets.
Joy For All Silver Cat
Joy For All Golden Pup
---
Popular Electronic Pets
Lastly, here are a few highly-rated electronic pets that are still very popular and might be perfect for the child on your gift list. Harry the Pet Dog has been very popular with our readers.
Crate Creatures
Snow Leopard Flurry
Pet Dog Harry
FurReal Daisy
---
Which of the Interactive Pets Should You Buy?
There are so many adorable electronic pets for kids and adults on the market, it can be hard to decide which one to buy.
If you're trying to decide on one for a gift, think about the recipient's age, patience level and the types of animals they like. Also think about whether the electronic pet will be more for cuddling or for playing, since some interactive pets are plush and some are not.
We hope this article helps you to pick an electronic pet gift that will put a smile on the face of that special child or adult on your gift list.
[Sassy_Social_Share title="Share these epic toy ideas!"]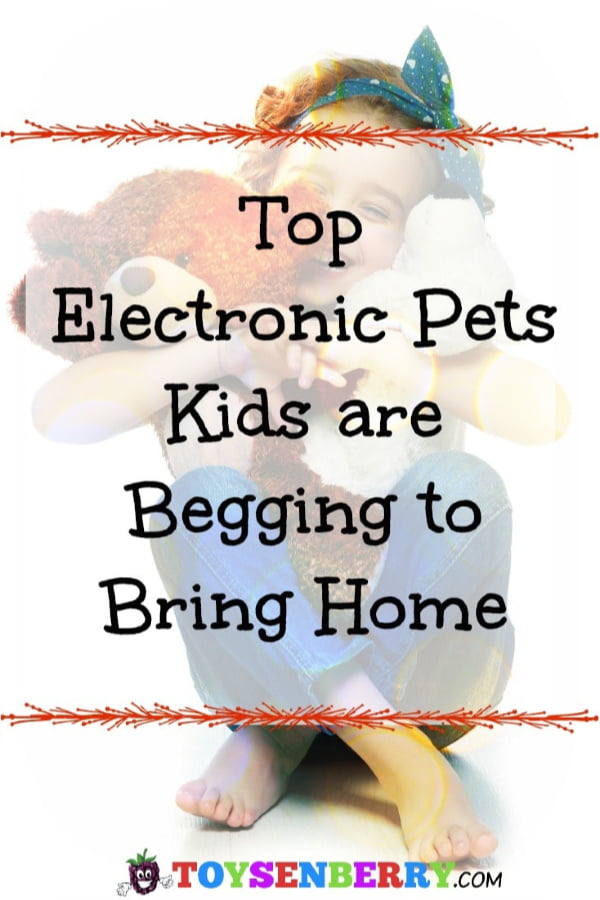 Search Here for More Electronic Pets Kids Love