Share these epic toy ideas!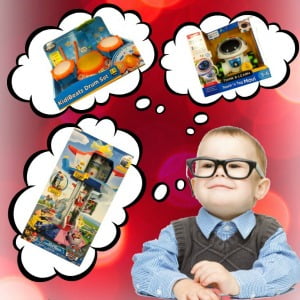 If you're looking for the best toys for preschool boys, here's our list of the latest top toys for 3 and 4-year-old boys right now. These are some of the 2018 best toys for preschoolers and chances are the preschool boy on your gift list is dreaming of at least one of them.
From superhero and television character toys, to electronics and creative toys, you'll find something in the latest toy releases to make the preschool boy on your gift list grin like the Cheshire Cat.
Best Toys For Preschool Boys
The links below take you to Amazon, where you can check current prices and reviews for each toy.
Paw Patrol My Size Lookout Tower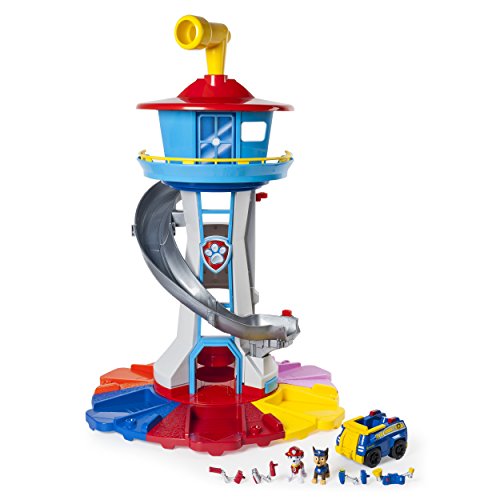 Kids will love the interactive lights and sounds and rotating periscope on this Paw Patrol Lookout Tower. At over two and a half feet tall, there's plenty of room for them to act out their favorite scenes from the show with their friends.
Paw Patrol toys are always on the holiday lists of best toys for preschool boys. There's so many cute ones! You might want to check out the whole selection of Paw Patrol toys
 on Amazon for more best toys for the preschoolers on your gift list.
Ages 3-5

Here's a couple of the most pawpular  😉 Paw Patrol toys that preschool boys love!
 Marshall and Fire Fightin' Truck
 Lights and Sounds Air Patroller Plane
---
Imaginext DC Super Friends Batbot Xtreme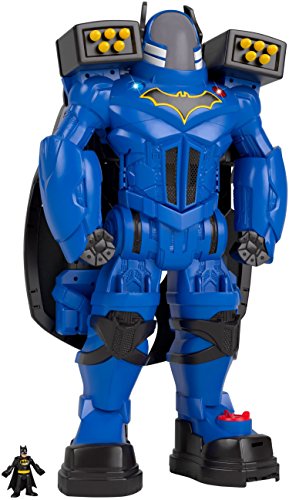 Imaginext appeals to boys and girls secret desire to be a superhero, so they make some of the best toys for preschool boys. Their Batbot Xtreme toy is supersized (over two feet tall) and complete with projectile launchers and voice changer.
What's not to love about wings that pop out and fists that really punch? AND inside, Batman can take a secret elevator up to his crib and exchange witty one-liners with Alfred.
If you buy this toy for a 3 or 4-year-old boy, don't be surprised if the oldest boy in the house takes it over. Yeah, I'm talking about dad.
Ages 3-8

Here's two more Imaginext toys your preschooler might like. The Justice League Mobile Command Center on the left is super popular. And the Transforming Batcave (even the name is cool!) is a huge seller with great reviews!
 Imaginext Mobile Command Center
 Imaginext Transforming Batcave
Preschool boys really love these Imaginext toys! You can check out the whole selection of cool Imaginext toys here
.
---
Etch A Sketch Freestyle Toy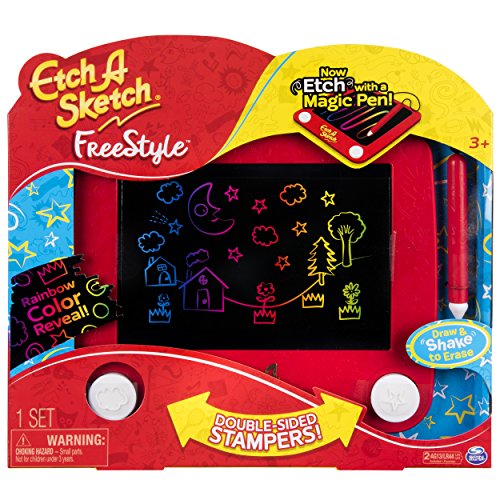 The classic preschool toy for boys and girls gets a modern twist with the Etch A Sketch Freestyle. The knobs are stampers so kids can add cool shapes and designs to their creations. And, it's in color!
There's also an app kids can use with this toy for more modern features. This isn't the same Etch A Sketch we played with in grade school!
Ages 3-5

Here's a couple more toys for preschool boys to get their creative juices flowing. The AquaDoodle mat on the right is a great travel toy for preschoolers!
 Color Wonder Magic Light Set
 AquaDoodle Color Mat
---
Hape Wooden Kid's Easel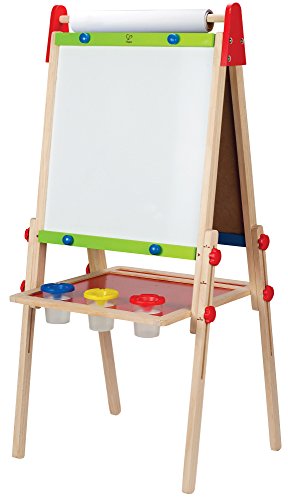 I love multi-functional toys! The Hape Wooden All-in-One Easel is not only a great toy for preschoolers, but it's the perfect gift for families with multiple kids.
One side of the easel is a chalkboard and the other side is a magnetic whiteboard. PLUS, it has a roll of paper that can be pulled down and fastened for kids to draw or paint on. There's also a tray to hold paint and other supplies for the little Picasso.
And the best part? It's one of the few easels that has an adjustable height feature! This sturdy toy will last through multiple kids, even beyond the preschool years.
Ages 3-8

If your preschooler likes creative toys, the My First Crayola line has a great selection of some good creative toys for preschoolers that you can check out here
.
---
DC Super Friends Batman Lights & Sounds Trike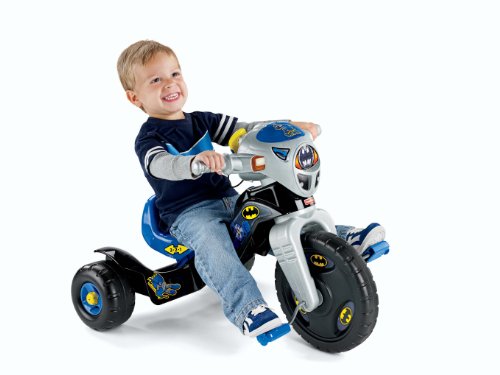 Ride-on toys are some of the best toys for preschool boys and when it's a Batman ride-on toy, it's all the better!
The Super Friends Batman Trike has a control panel that Alfred would be proud of. Preschoolers can use the lights and sounds for fun effects as they race down the sidewalk in search of villians.
A really nice feature of this toy is that the seat is adjustable, so he won't outgrow this trike too quickly. It's getting great reviews from parents too!
Age 2-6

---
Guardians of the Galaxy Music Mix Star-Lord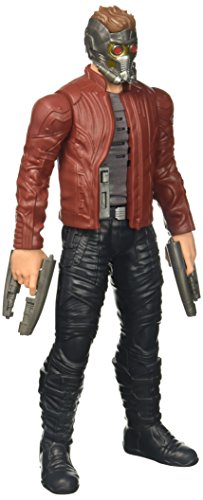 Action figures are some of the best toys for preschool boys because they encourage imaginative play.
And you can't get much cooler than Guardians of the Galaxy Star-Lord and his comedic sayings and awesome 70's music. Self-deprecating humor is in, man!
Ages 4+

Below are two other very popular Guardians of the Galaxy toys for preschool boys. Dancing Baby Groot moves to the groove while the raccoon with an attitude blasts away at galactic enemies!
 Guardians of the Galaxy Dancing Groot
 Guardians Blastin' Rocket Raccoon
---
Pixlplay Camera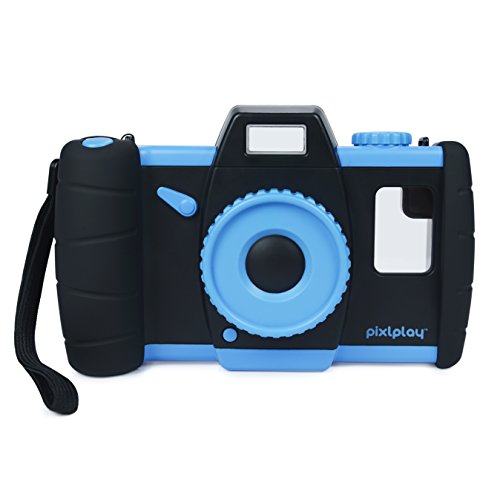 This is one of the best toys for preschool boys because it's a great way to recycle an old old Smartphone and give the kids a cool camera at the same time.
The Pixlplay turns an Apple or Android phone into a camera that integrates with an app and offers budding photographers all sorts of fun features.
Ages 3+

Below are a couple other cameras rated for preschoolers that are getting good reviews. The Action Cam on the right is like a Go Pro for kids. Imagine all the shenanigans that can be captured on film!
 VTech Kidizoom Camera Pix
 VTech Kidizoom Action Cam
---
Play-Doh Noodle Makin Mania Set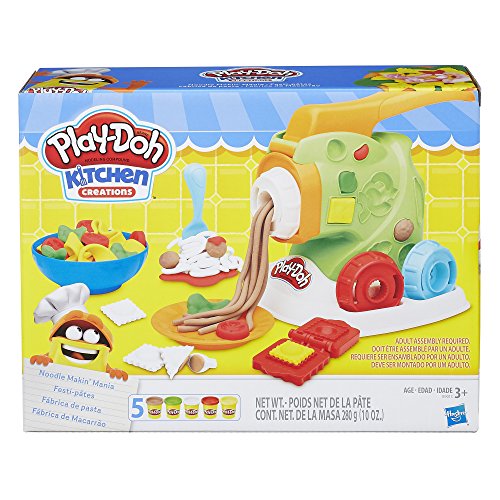 Play-Doh sets are consistently among the best toys for preschoolers. Their brand new noodle making set lets your young Emeril make all sorts of Italian concoctions, like lasagna and bow-tie pasta. A little of this, a little of that and BABAM!
If pastries are more to your preschooler's taste, this cookie making Play-Doh set is a top seller.
Ages 3+

Here are a couple more popular Play-Doh sets that kids love. The Molding Mania set on the right has a huge variety of shapes for all kinds of creative possibilities for kids.
 Sweet Shoppe Frosting Fun
 Super Molding Mania
Looking for more toys to encourage your budding chef? Check out our post on the best wooden play kitchen sets for preschool boys and girls.
---
Paw Patrol Paw Terrain Vehicle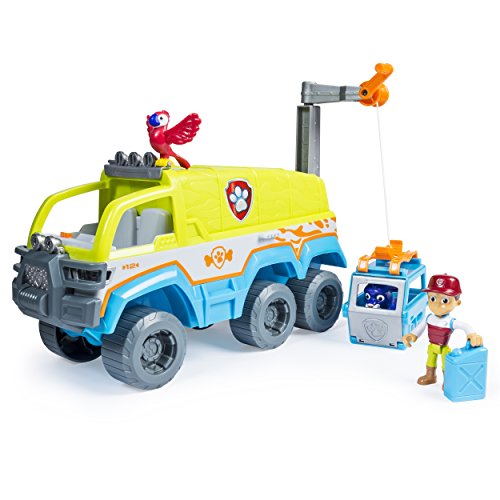 Another new Paw Patrol toy that's on the list of the best toys for preschoolers this year is the Rescue Terrain Vehicle. When a pup is in danger, it's Paw Patrol to the rescue, complete with lights, sounds and animal carrier.
But land rescues aren't their only specialty – the Paw Patrol Sea Patroller is on our list of best toys for preschool boys too.
Ages 3-5

---
VTech KidiBeats Kids Drum Set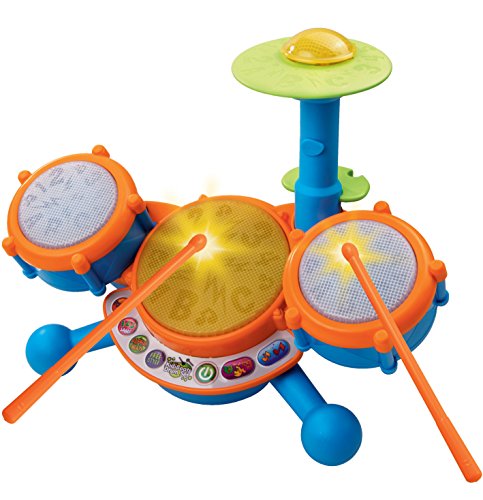 It's never too early to ignite dreams of stardom in the preschooler on your gift list. After all, you could have another Dave Grohl on your hands and not even realize it yet.
Budding drummers will have fun learning to keep a beat, plus their letters, numbers and other valuable lessons, with the KidiBeats Kids Drum Set for preschoolers.
And here's a link to some Tylenol for mom and dad.
Ages 2-5

VTech musical toys seem to always make the list for best toys for preschool boys. Below are two more popular music toys for VTech. The mini recording studio on the right has awesome reviews!
 VTech Strum and Jam Guitar
 Record & Learn KidiStudio
---
Little Tikes Easy Score Basketball Set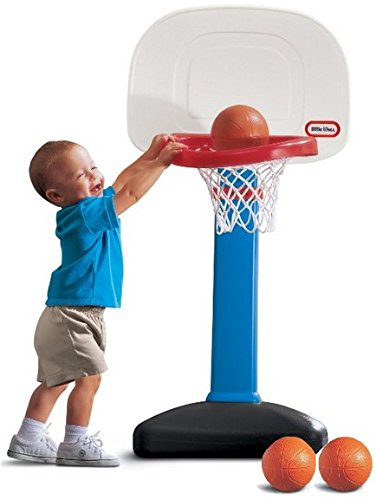 Little Tikes is known for making some of the best toys for preschool boys. Their toys are durable and ones like this that can be placed indoors or out, are appreciated by parents for those bad weather days.
Judging by the reviews, young swooshers are loving this Easy Score Basketball Set. The best toys for preschoolers are toys that help the little guys burn off some of that endless energy!
Ages 18 months – 5 years

Here's two more Little Tikes sports toys for preschoolers that are huge sellers!
 Little Tikes 3′ Trampoline
 Little Tikes T-Ball Set
---
Power Wheels Disney Pixar Lightning McQueen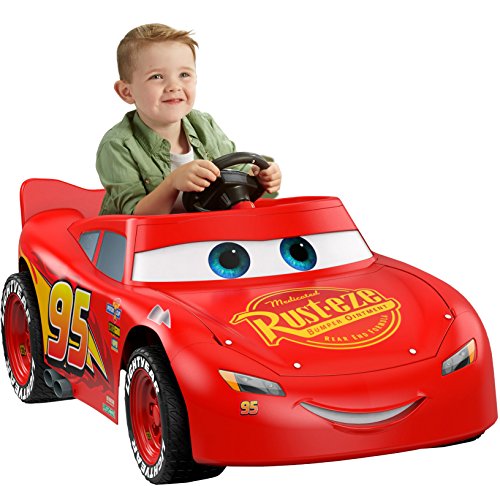 Hang on to your potatoes because your little spud will race like lightning (well, like 3.5 mph anyway) in his Power Wheels Lightning McQueen car!
The cool graphics and sounds will delight Disney Cars fans as they putt putt over sidewalks and grass. They'll be the envy of the neighborhood in this thing!
Ages 3-7

Here's a great selection of battery-powered vehicles
to compare to the Lightning McQueen car for the 3 or 4-year-old boy in your life.
---
Wonder Crew Superhero Buddy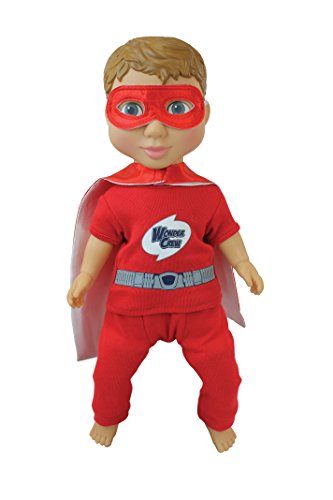 The best toys for preschool boys don't usually include dolls and we love that a mom designed these Superhero Buddy dolls to fill that void.
Sometimes boys need a toy for comfort and support too, and these caped hero dolls are perfect for that.
Ages 3-6

Here's a couple more dolls designed for preschool boys, to help further their nurturing side.
 Groovy Boys Logan Doll
 Baby Alive Snackin' Luke
---
Hasbro Toilet Trouble Game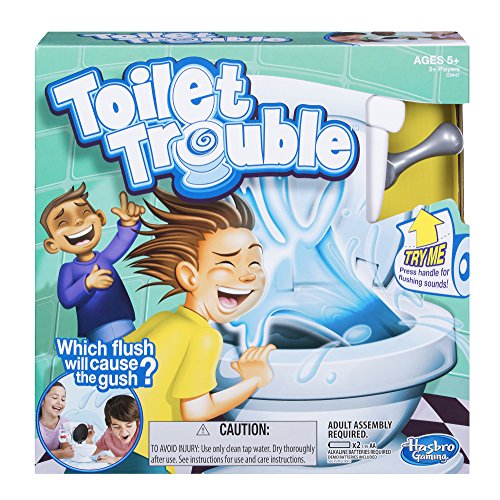 Forget about gathering 'round the fire, cause we're gathering 'round the toilet bowl instead (pretend one, anyway). No, it's not the morning after a frat party, it's just the Toilet Trouble game.
Preschool boys will love the suspense of waiting to see if they get sprayed in the face (kind of like how mom or dad felt when they changed his diapers). 😀
Ages 5+

Games are a great way for preschool boys to practice their thinking and social skills. Here's two more hot selling games that preschoolers are loving!
 Busytown Eye Found It Game
 Lewo Wooden Stacking Game
---

---
 Thomas & Friends Super Station Playset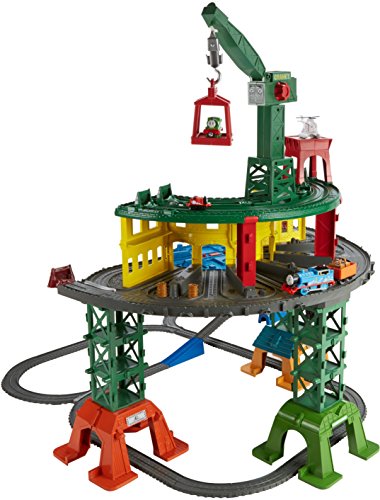 The Thomas & Friends toys are well-loved and among the best toys for preschool boys.
This brand new supersize Super Station playset features several of their favorite character cars and multiple configuration options to fit in a variety of spaces.
There's lots of room to add additional tracks and cars too, so you're all set for future gift ideas as well!
Ages 3-7

If the preschool boy on your list likes Thomas & friends, he'll enjoy the Mini Thomas & Friends sets. These are about the size of Matchbox cars and don't need tracks to play on. The Twist and Turn playset on the left is designed for minis and the 20 car set on the right is a really great deal on the minis!
 Thomas & Friends MINIS Stunt Playset
 Thomas & Friends MINIS, 20 Pack
---
Think & Learn Teach 'n Tag Movi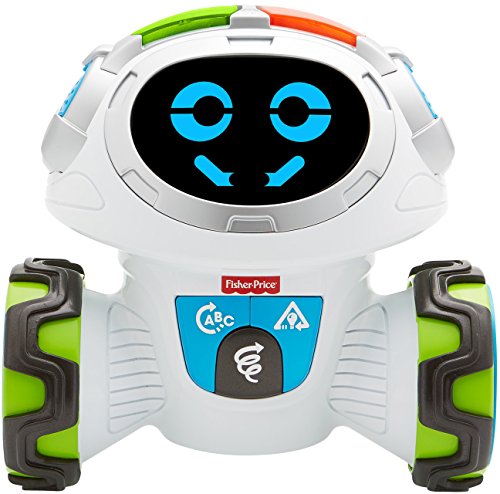 Interactive learning robot toys are all the rage in recent years and this brand new toy from Fisher-Price takes preschool learning to a whole new level.
There are all sorts of ways preschool boys and girls can play and learn with the Teach'n Tag Movi. And his little facial expressions are too cute!
Ages 3-6

Here's two more learning toys for preschoolers from Fisher-Price that have good reviews. The Code-a-Pillar was rated one of the best toys for preschool boys (and girls!) last year and is still very popular.
 Think & Learn Spell & Speak Turtle
 Think & Learn Code-a-Pillar
---
Disney Pixar Cars 3 Tech Touch Lightning McQueen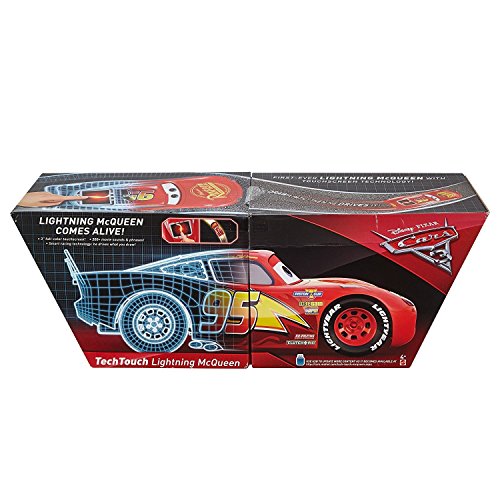 Since the movie came out in June, there are lots of Cars 3 themed toys for preschool boys this year and the Tech Touch Lightning McQueen car is the latest and greatest of them.
Kids can program their car to race around in specific configurations, or just let 'ole Lightning make his own way around the room. There is also a story mode, plus sound effects for another dimension of fun.
Ages 3-7

Here's a couple more fun Cars 3 toys for preschool boys. The Travel Time Mack truck pictured below is a big hit and the collection of all the Cars 3 characters on the right would be an awesome gift for a Cars 3 fan!
 Cars 3 Travel Time Mack
 Cars 3 Vehicles 10 Pack
---
VTech Drill and Learn Toolbox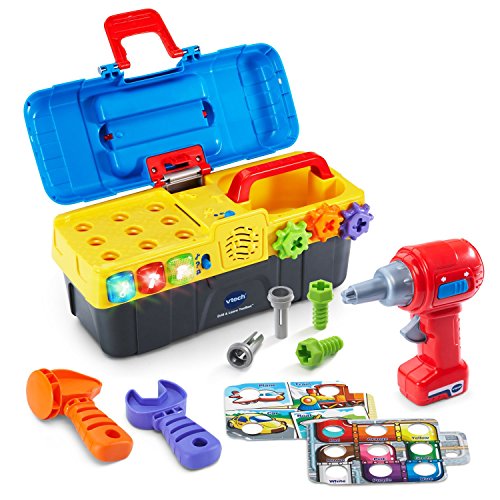 The VTech Drill and Learn Toolbox gives preschool boys their very own tool set so they can copy mom or dad.
Preschool boys can learn all about tools and really drill and pound the screws and nails.
While they're learning repair basics, they also learn their colors and numbers and improve motor skills.
Now, if only there was a tool set for grown men that makes them actually want to repair stuff. 🙄
Ages 2-5

For the serious preschool DIYer, check out the Deluxe Workshop below! This thing is getting great reviews! Another neat tool toy for preschoolers is the Take-A-Part vehicle and tools set, pictured on the right. Kids can practice taking the truck and motorcycle apart and putting them back together.
 Step2 Deluxe Workshop Playset
 Take-A-Part Vehicle and Tools
---
Magformers Set (62 pcs)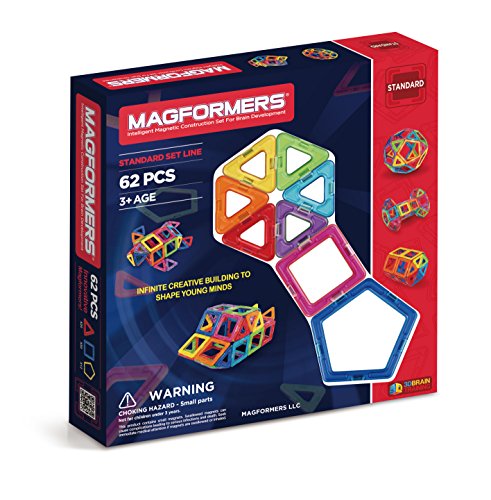 Magformers are the coolest building sets for kids! They're one of the best toys for preschool boys because they encourage both creative and STEM skills.
Magformers are magnetic shapes that connect together in all kinds of configurations for unique 3D creations.
The 62 Piece Standard Magformers Set has plenty of pieces for kids to play with, but if that's a bit overwhelming, there is a less expensive 30 piece Magformers set that is a good starter set for preschoolers.
Ages 3+

There are all kinds of themed Magformers sets, like the vehicle one below on the left, or the construction one on the right. Kids really do love these things!
 Magformers Vehicle Wow Set
 Magformers Building Construction Set
---
Fisher-Price Little People Wheelies Rampway Playset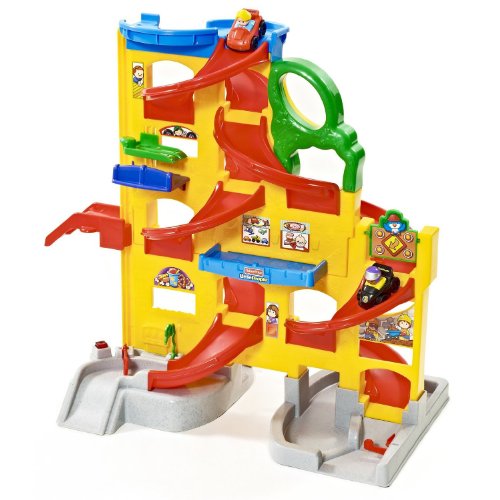 The Fisher-Price Little People toys are always on the list of the best toys for preschool boys. They have so many cute sets!
One of their very popular sets is the Little People Wheelies Rampway Playset. It's over 2 feet tall, so kids can watch the little wheelies spiral all the way down the ramp to the bottom.
And of course, there are lots of lights and sounds the whole way for entertainment! It's also nice that there's a carry handle on it, so it's easy to slide this toy in a nook somewhere when the kids aren't playing with it.
Ages 18 months – 6 years

Here are two new Little People sets. An animal rescue playset on the left, and a super-swooping amusement park set on the right. Both are getting great reviews and the amusement park set is a hot seller right now!
 Little People Animal Rescue Playset
 Little People Loops 'n Swoops
---
We hope this list of the best toys for preschool boys helps you to find the perfect toy for the little man on your gift list.
Don't forget to check out the Best Toys for Preschool Girls list, because it contains may of the best toys for preschoolers too! Many of the toys are gender neutral and 3 and 4-year-old boys may like them as much as the girls do.
Shopping for boys of other ages too? Check out our Top Toys for Boys age 6 to 8 gift guide!

Pin the Best Toys for Preschool Boys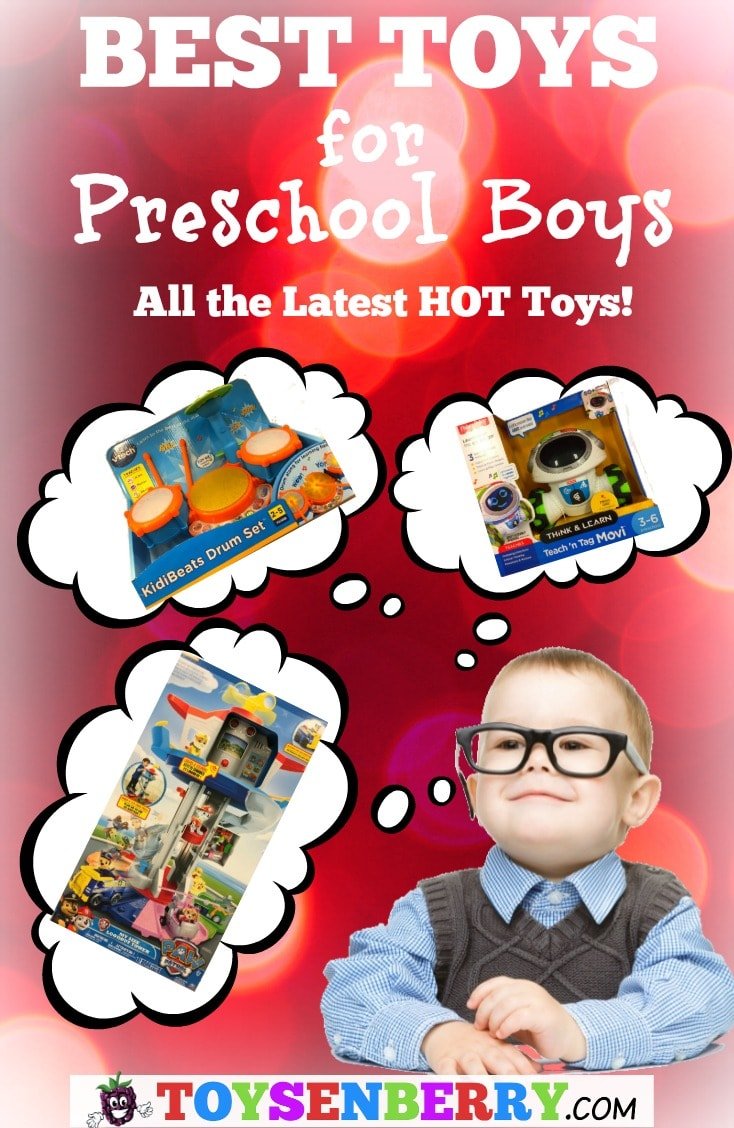 More Ideas for the Best Toys for Preschool Boys