Move over, rubber ducky, we've got the best bath toys for toddlers to make bath time really fun!
Bath time is an important ritual to clean and soothe your toddler. But since most little ones associate bath time with bedtime, sometimes they can get a little cranky and uncooperative when you break out the bubbles and wash cloth.
To help you out with that, we found some of the best toddler bathtub toys to keep your toddler entertained and happy during his tub scrub!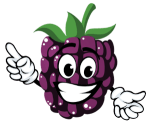 Heads up that the links below take you to Amazon, Target, or other retailers where noted. As an Amazon Associate I earn from qualifying purchases. I am also a participant in the Target Affiliate
Marketing Program. That means if you buy something through these links, I may get a small commission at no extra cost to you. You can learn more here. I hope you enjoy our toy and gift suggestions!
Best Bath Toys for Toddlers
Submarine Spray Station
Submarine Spray Station
Parents and little ones are loving the Submarine Spray Station toddler bathtub toy.
It has two ways to entertain toddlers – a water activity station that suction cups to the bathtub, plus a battery-operated submarine sprayer that sits in the water. Here's some more highlights of this engaging bathtub toy.
Lots of cause and effect interactions
Sprayer is a nice, strong stream
Colorful and fun!
This toddler bathtub toy does need 4 AA batteries which are not included, so do be aware of that.
Age: 2-6
---
Water Games are Fun Bath Toys for Toddlers
The Nuby Floating Octopus, pictured below, is like a floating ring toss for toddlers. This simple toy is so inexpensive and is getting amazing reviews! Plus, it can be used in the swimming pool too!
The Munchkin Fishin' Bath Toy, lets toddlers reel in the catch of the day. This is one of the best bath toys for toddlers because it works with magnets, not hooks, so it's easy for little ones to operate. Another nice feature is that the whole set is airtight to prevent mold.
Little dunkers will also love the 3 Bees and Me Basketball hoop and Balls set. It's designed to be mold free and it attaches to the tub faucet, rather than to the wall, making it extra sturdy!
Nuby Octopus
Munchkin Fishin'
Bath Basketball
---
Dolphin Waterfall Station Toddler Bath Toy
Dolphin Waterfall Station
The Dolphin Waterfall Station has tons of features to keep little ones entertained in the tub. Pour water in the top and watch it spill out an spin the water wheel. All with NO BATTERIES!
The dolphin water fall is just one of the toys in the set. You also get some stacking and pouring cups, a fishing pole with squirting toys, and two more pouring toys.
Toddlers will never get bored with all the ways they can play with this colorful bathtub toy!
Age: 18 Months+
---
Educational Foam Bath Toys for Toddlers
Foam letters and shapes make our list of the best bath toys for toddlers because they are educational, stay free of mold and offer a variety of ways for toddlers to play with them. They can stick and unstick them to the tub wall or float them in the water or play with them on the edge of the tub.
It can be hard to find foam bath toys that are rated for under 3 years old because many have smaller pieces that could be a choking hazard. But here are three good foam figure sets rate safe for toddlers that we found.
Baby Loovi Floating Geometric Shapes are perfect for toddlers to have fun in the bathtub while learning their colors, shapes and animals. They're super cute and come with their own mesh storage bag! These are rated for 6 months and up.
4M Foam Bathtub Stickers are colorful foam characters that come in either dinosaurs, vehicles, or sea creatures. These stick really well and teach object and color recognition but mostly, they are just fun! These are rated for 24 months and up.
MokiDoki Foam Bath Puzzles are fruit and vegetable foam figures with happy faces and a geometric shape that fits in the center. These are nice because they are nearly a half inch thick, so they're easy for little hands to maneuver. These are advertised for 6 months and up but the manufacturer suggests removing the geometric shape before giving them to toddlers under 3 years old.
Baby Loovi
4M Foam Stickers
Foam Bath Puzzles
Need some place to store all these fun bath toys for toddlers? You'll find a great selection of bath toy storage ideas here
.
---
Tomy Toomies Fountain Rocket
Toomies Fountain Rocket
Some toddlers don't care for getting their heads wet, which can make hair washing a challenge. The Toomies Fountain Rocket makes the experience less scary and more fun.
Little ones can watch the creature in the portal window bob up and down as they whoosh the rocket around. Meanwhile, water cascades over their little crusty heads for that much needed hair washing. Hashtag mom-win!
This toddler bathtime toy is lots of fun outside in the wading pool too.
Age 12 Months+
Below are a couple more fun bath toys for toddlers by TOMY. The floating island pulls apart and teaches colors, numbers and matching and the Jellyfish toy is another great bathtub toy for kids who don't like getting their head wet. Both are rated for 12 months and up and are fun outdoors in the kiddie pool too!
Toomies Floating Island
Spin & Splash Jellyfish
---
Bath Squirt Toys that are Fun Bath Toys for Toddlers
Water squirt toys are the best bath toys for toddlers because they're fun, inexpensive and come in a ton of different characters. Like many of these toddler bath toys, they can be used outside in a kiddie pool as well.
The thing with bath squirters is you have to clean them every so often to avoid mold. We have some tips on how to do that at the end of this post. Here's what we think are the best bath squirter toys for toddlers.
(My very favorite is the School of Fish because it's made by Munchkin and comes with a cute little boat!)
Little Mermaid Squirts
Finding Nemo Squirts
School of Fish
Nuby 10 Squirters
Squirters and Bath Toys
Barnyard Squirts
---
Baby Shark Sing and Swim Bath Toy
Baby Shark Sing and Swim
In case you haven't heard the Baby Shark song enough, The Baby Shark Sing and Swim bath toy can help you out with that. Toddlers love watching and listening as he happily sings his annoying song as he swims around the tub.
It's water-activated, so as soon as you drop him in the tub, he starts swimming and singing. This little bath toy has surprisingly good reviews too. He comes with an LR44 battery. Oh and you can pick up Daddy Shark here and Mama Shark here, in case you want the whole singing family.
Age 18 Months+
---
Adora BathTime Baby
Adora BathTime Baby
The Adora BathTime baby dolls come highly recommended by the experts (AKA a mom Facebook group), as a solution for toddlers and preschoolers who won't get in the bath.
These soft cuddly baby dolls are made to get wet and dry quickly and are even machine-washable. After being dried and cuddled in their very own robe, these adorable dolls can even suck their thumb to soothe themselves to sleep (that's the story for your little ones, anyway). 😉
In addition to the Kitty robe doll, the link will show you both unicorn and llama robed dolls, equally adorable. There's also some more masculine clothed dolls, like the Dino pictured below. And if you prefer a smaller size, they come in 8.5 inches instead of 13, like the cute Frog doll below.
BathTime Dino
Bathtime Frog 8.5 inches
---
Buildable Water Mazes are Fun Bath Toys
These simple pipes and cups that stick to the tub tile are bath toys that pose creative challenges for little ones.
The Boon Pipes or Munchkin Falls can be configured multiple ways to create a cool waterfall effect. Parents and toddlers are loving both of these fun and educational bathtub toys!
Building Bath Pipes
Munchkin Falls
Age 12 Months+
---
Sesame Street Bath Toys for Toddlers
If your toddler is a Sesame Street fan (and what toddler isn't??), here are what I think are the best Sesame Street bath toys for toddlers. First up are Ernie, Elmo and Cookie Monster squirters, all decked out in beach wear. So cute!
Then there is the Cookie Monster Submarine, complete with a propeller that really turns for some exciting underwater adventures! Both of these are for 12 months and up.
Sesame Street Squirts
Cookie Monster Sub
---
Green Toys Seacopter Bathtub Toy for Toddlers
Green Toys Seacopter
The Green Toys line makes some of the very best bath toys for toddlers and kids! Their Seacopter is super popular because it floats well, plus kids can pretend fly it, which adds to the play value.
Here's some reasons we LOVE Green Toys:
Very durable
Made from 100% recycled milk jugs
Made in the U.S.
The Seacopter is dishwasher safe!
Awesome reviews and priced great!
Age: 2+
Here's a couple more of the best bath toys for toddlers made by Green Toys. Parents and toddlers just love these!
Yellow Submarine
My First Tugboat
Besides bath toys, Green Toys makes fabulous toys for toddlers and young children. They're all high quality and made from 100% recycled materials. If you're looking for more toys for your toddler, I highly recommend them. You can check out the whole selection of Green Toys here
.
---
Munchkin Bath Toys for Toddlers
The Munchkin brand is also known for making some of the best bath toys for toddlers. One of our favorites is the Munchkins Arctic Polar Bear. He comes with four fish rings that toddlers can toss and try to land on his paws.
Wind up bath toys are super fun to play with and the little Munchkin Swimming Penguin is cute, durable and just the right size for toddlers.
Another winner among parents and toddlers is the Munchkin Float and Play Bubbles set. These are colorful floating bubbles that capture little ones' attention as young as 4 months old.
Polar Bear
Swimming Penguin
Float Bubbles
---
3 Bees & Me Boat Toddler Bathtub Toy
4 Boat Set
No list of the best bath toys for toddlers is complete without a set of bathtub boats! Parents and toddlers adore these cute little boats and I can see why!
Perfect size for little hands
Eye-catching and colorful
They float well!
Teaches number recognition too
These little boats would be great fun in a wading pool outdoors too!
Age: 18 months+
---
Stacking Cups Bathtub Toys
Stacking cups are also classic toddler bath toys. Little ones love stacking, pouring, and swishing these as they take their bath. And parents love that the kiddos are too busy to realize they're getting clean at the same time. So to round out this post, below are are four of our favorite stacking cup sets!
Moo Toys Animal Cups
Munchkin Caterpillar Cups
Skip Hop Buckets
Boon Stacking Boats
---
I hope our list of the best bath toys for toddlers helps you find a toy or two to keep your little one cheerful and entertained during her bath time ritual. Happy Tubbing!
Related: Backyard Water Toys for Toddlers
Best Educational Toys for Toddlers
[Sassy_Social_Share title="Share these epic toy ideas!"]
Pin the Best Bath Toys for Toddlers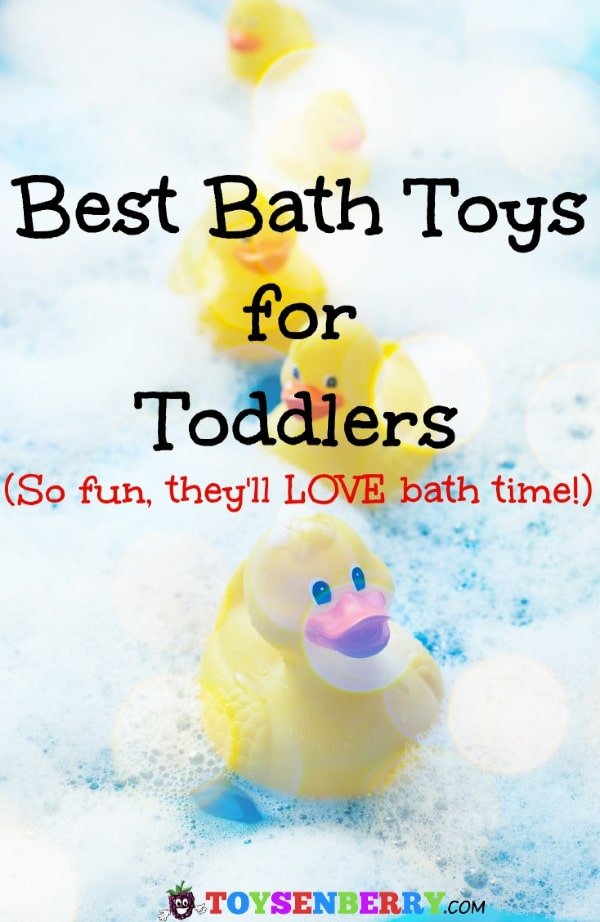 Search for More of the Best Bath Toys for Toddlers
How to Clean Toddler Bath Toys and Prevent Mold
To keep those bath toys mold free, Martha Stewart recommends cleaning the bath toys once a month. Soak the toys for an hour in one of these solutions:
1/2 Cup white vinegar and a gallon of water
3/4 Cup bleach and a gallon of water
Scrub the toys with a sponge or use a toothbrush to get into any crevices.
For the squirter toys, suck in the solution and let it soak on the inside of the toy and squeeze it out. You may see some mold come out with the solution.
Keep doing this until the squirters appear mold free. Rinse them thoroughly and make sure to squeeze all the water out. Let them air-dry (preferably outside).
In between cleanings, make sure to squeeze all the water out of the toys after bath time and let them air dry before you put them away. Turning on the fan in the bathroom helps to dry out the humidity in the room.
If the toys have persistent mold that you can't remove, throw them out!
You can also use a hot glue gun and seal the hole in the squirter so no water gets in at all. Of course, then it's a floater and not a squirter, but at least you solve the mold problem!