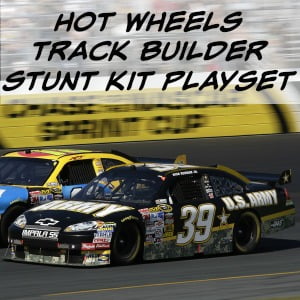 If you know a kid who is a Hot Wheels fan, then you know how excited they get when they try out a new Hot Wheels Track Builder set for the first time.
The challenge of building a new and more demanding route is addictive. The new Hot Wheels Track Builder Stunt Kit doesn't disappoint in this regard.
What's Special about the Hot Wheels Track Builder Stunt Kit Playset?
This Hot Wheels Track Builder set comes with the usual orange tracks, connectors, launchers, and crash intersections. You'll also find some unfamiliar pieces distinctly purposed for the stunts.
The tracks can be configured multiple ways, but instructions are provided for four specific trick layouts. Each one is a little more advanced than the last:
Level 1 – High Jump
Level 2 – Criss Cross
Level 3 – Long Jump
Level 4 – The Drop
Take a look at the official Hot Wheels video for a peek at these configurations:
Your child can move through the levels, experimenting and perfecting their jumps and tricks. The Hot Wheels Track Builder Stunt Kit even comes with a measuring stick so kids can improve their skills and compete with friends.
Another cool aspect of this kit is that you can take the box apart and create additional ramps and tricks for endless possibilities.
We spend loads of time finding cool stuff kids will love! Just a heads up that the links on this page take you to Amazon and if you buy something through a link, we may get a small commission (but you don't pay more – Fist Bump!). Read more about how that works here.
Hot Wheels Track Builder Stunt Kit Price
Hot Wheels Track Builder Stunt Kit
This Hot Wheels Track Builder set comes in at under $20 at most retail stores. You can check the current price on Amazon here.
Recommended Age
Mattel's recommended age is 4-10 years old.
Kids in the 4-5 year range will most likely need some help with the setup. They also may have some difficulty operating the launchers since they take a little muscle to pull back far enough for a good launch.
The Good Points of This Hot Wheels Track Builder Set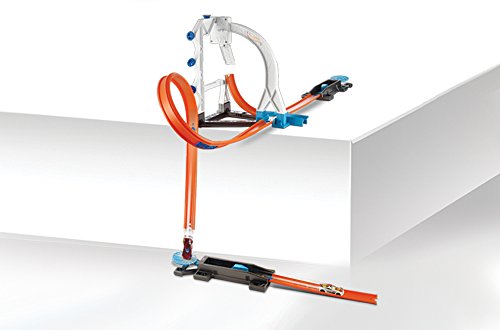 This track builder set seems sturdier than past sets. That's a big positive due to the complexity of the stunts. You definitely want a little stability if you're going to defy the laws of physics.
This is a challenging playset. It encourages kids to experiment with how high and far they can jump, the timing to avoid (or cause!) crashes, and how creative they can get with household items to smash into.
It encourages healthy competition and team play since there are two launchers included.
The tracks can be angled in unique ways because the included pivot points are different than other sets. This adds to the challenge and excitement of the play experience.
This Hot Wheels Track Builder set integrates with other Hot Wheels sets with no problem. This is great for kids that like to collect these playsets and hook them together. After all, that's one of the most fun features about the Hot Wheels toys!
Here's some other Hot Wheels cars and sets to connect with this set.
 Hot Wheels Workshop Track Builder Starter Kit
 Hot Wheels Criss Cross Crash Track Set
 Hot Wheels Exclusive Gift Pack, 9-Piece
You'll find more gift ideas like the Hot Wheels Track Builder Sets in our Top Toys for Boys Age 6 to 8 gift guide!
The Not So Good Points of the Hot Wheels Track Builder Stunt Kit
The instructions are very detailed and younger kids will need help setting up this Hot Wheels Track Builder set.
Many other reviewers found the base stunt construction to be so sturdy, they couldn't pull it apart to store it away. The tracks attach and detach easily, but the white tall structure you see in the picture higher up in this post is what they are referring to.
This is a good point to be aware of if you have limited space for toy storage. It could be a good thing however, because that's one less part to put together the next time the kids want to play with it (refer to the above paragraph regarding the complicated setup instructions).
Is This Hot Wheels Track Builder Set Worth the Price?
There is a whole lot of excitement and possibility here for just under $20, so yes, definitely worth the price.
Where Can You Buy the Hot Wheels Track Builder Stunt Kit?
We're so glad you asked that! 😉 You can buy it using any of the Amazon links in this post. Amazon has great prices, ships to your door and if you're an Amazon Prime member, you get two day shipping for free. That's great for last minute shoppers!
Final Rating on the Hot Wheels Track Builder Stunt Kit Playset
Fun Factor Value

Repeat Play Value

Price

Assembly
Summary
The assembly is challenging at first, but once the base is setup, it doesn't need to be reassembled for each track configuration, so it's not too bad. This toy provides a variety of fun and challenging ways to play and should keep Hot Wheels fans well entertained.

Have you seen the RC Wall Climbing Car? It's a great price and a super cool toy for kids who like playing with cars. We tell you all about in our Absolute Coolest RC Wall Climbing Car post.
Search for More Toys Like the Hot Wheels Track Builder Sets