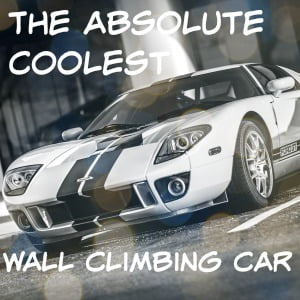 If you're looking for a cool toy to give a kid that likes toy cars, this wall climbing car is it!
The offiicial name of this RC toy is SZJJX Wall Climber, which is just really hard to pronounce. It used to be called the Spiderman Wall Climbing Car, which was easier to say, but was confusing because it had absolutely nothing to do with the Marvel franchise.
But like Spider-Man, this thing actually does climb floors, walls, and even ceilings!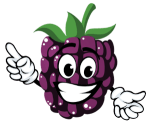 Heads up that the links below take you to Amazon, Target, or other retailers where noted. As an Amazon Associate I earn from qualifying purchases. I am also a participant in the Target Affiliate
Marketing Program. That means if you buy something through these links, I may get a small commission at no extra cost to you. You can learn more here. I hope you enjoy our toy and gift suggestions!
What's Cool About the SZJJX Wall Climbing Car
This RC wall climbing car is advertised as a "zero gravity car" which is pretty cool all by itself. A suction fan works as a vacuum feature and allows the car to drive vertically up walls and even upside-down.
It comes with a remote control which powers the car forward, backward, through left and right turns, and in 36o degree circles. Yes, you can do donuts with this car.
Quick Highlights
Three frequency remote
Charged via remote or USB
Small and lightweight
Works on any smooth surface
Headlights and brake lights
Shockproof body
Recommended Age
The manufacturer's recommend age for this toy is 8 years and up. Honestly, this is a pretty simple remote control car to operate. A younger child of seven or even six years old would probably do fine with this, with a little extra supervision.
This little dynamo will appeal to kids, teenagers, and any adult who enjoys playing with remote controlled vehicles. I mean…what's not to love about a wall climbing car?
The Good Points of This Wall Climbing Car
The big plus here is obvious: It's a car that climbs walls!!
This zero gravity feature is a huge selling point and makes it unique from all the other RC toys out there.
It's small and lightweight, yet durable enough to handle a fall or two.
At only 6 inches long, it doesn't look very powerful, but this nifty wall climbing car packs quite a bit of speed in its little size.
You'll be impressed with it's maneuverability.
It works well on any smooth surface, such as hard floors and smooth walls and ceilings.
This little racer also has headlights and brake lights that make it fun to play with in the dark.
The makers describe the car as having a shockproof body, designed to withstand falls without breakage, and other reviewers seem to agree.
Best of all – it's a GREAT price!
The Not So Good Points of This Wall Climbing Car
Its small size (remember, it's only about 6 inches long) might disappoint at first. But if it were bigger it probably wouldn't navigate across ceilings as effortlessly as it does.
The remote requires 6 AA batteries that are not included. This could get expensive if it's a well played with toy (and trust us, it will be!). You might consider rechargeable batteries to save a little money in the long run. (See the UPDATE on this below!)
The car takes about 20 – 30 minutes to charge and the charge lasts about ten minutes. So it's ten minutes of play, followed by 30 minutes of hearing, "Do you think it's ready yet?" from your child, repeatedly. Younger kids might get a bit impatient at having to wait. Truth be told, so might some adults.
It works great on smooth surfaces, but if you have a popcorn ceiling, it won't work there. Of course, nothing stopping your child (or you!) from bringing it to a friend's house and using it on their ceiling.
Is the SZJJX Wall Climbing Car Worth The Money?
This toy is absolutely worth the money. Is was priced well when it first came out in 2016 and it's even cheaper now.
This unique little remote controlled wall climbing car will keep kids of all ages occupied long after the wrapping paper is thrown out.
Where You Can Buy This Super Fun Wall Climbing Car
We are so glad you asked! 😉 When it is available again, you can buy this Superhero-ish, fabtastic, wall climbing car from Amazon, through links in this post.
Final Words on the SZJJX RC Wall Climbing Car
This will make a terrific gift for kids ages 8 to teens, and even for adults who like remote control vehicles. Girls and boys alike will have hours of fun with this one.
Final Rating for the SZJJX Remote Control Wall Climbing Car
Fun Factor Value

Repeat Play Value

Price
Summary
This car does exactly what the name says and more. It's a super fun toy for kids and adults both, especially RC car fans.
---
Update on RC Wall Climbing Cars
Since this post was first published in 2016, there have been a few other wall climbing cars released to the market. Some of them have added features, like a USB charger for the car. Currently though, most of the ones we recommend, including the SZJJX one, do not appear to be available.
We've left this post up however, because they may be available again in time for Christmas 2020 and we'll update this post with the links.
In the meantime, below are a few RC vehicles that kids love.
Air Hogs Climbing Car
SZJJX RC Off-Road Vehicle
RC Off Road Stunt Car
RC Stunt Flip and Roll Car
---
Zero gravity, wall climbing cars and other RC vehicles are super cool toys and definitely entertaining! They make an awesome birthday or Christmas gift for kids and playful adults too.

[Sassy_Social_Share title="Share these epic toy ideas!"]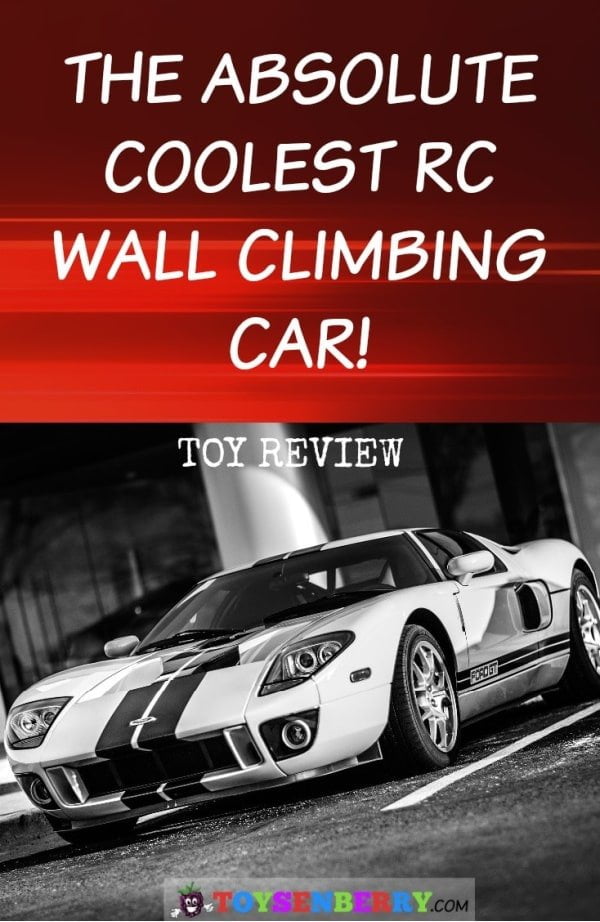 More RC Vehicles You Might Like