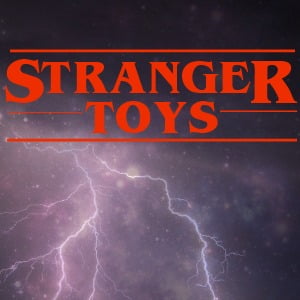 Here in the right-side up world, we don't have mind controlling aliens and demon dogs (that the government admits to, anyway) but we do have some pretty darn strange kids toys.
In honor of the hit show Stranger Things, we've gathered some of the strangest kids toys that you can actually buy right now.
Some of these weird kids toys are popular, some are funny gag gifts and some will give you the same horrified expression Winona Ryder wears throughout every episode of the show.
Strange Kids Toys

INWISH Magnetic Putty for Kids
INWISH Magnetic Putty  is like the black, gooey slime snail trail that the alien leaves everywhere in Stranger Things. Only, with a friendly face on it.
The putty comes with a little magnet and when you put the magnet near it, the gooey mass starts to move and shift and contort the face. If you put the magnet anywhere on it, the putty absorbs it, like a face-sucking Demo-dog.
It's definitely a strange kids toy, but it's also kind of cool and science-y. If you take a look at it on Amazon, you'll see pictures of how kids can spread it on their body to look like they've been slimed by a Demogorgon. Nerds would actually dig this stuff. Their parents maybe not so much.
This weird kids toy comes in different colors – here's the purple and here it is in blue.

Speaking of slime, take a look at this weird, cool slime set that made it on Amazon's Holiday Toy List this year. And then there's unicorn snot, because you can't ever have too much of that.
NATIONAL GEOGRAPHIC Mega Slime & Putty Lab
Slime Spitting Unicorn (not 1 but 2!)
---
Stinky Poo and T.P. Mini Plush Set
Stinky Poo and T.P. 'Friends Forever' Mini Plush Set
This toy has absolutely nothing to do with the Stranger Things show, except for the fact that Will and friends got themselves into some deep you-know-what.
These are strange kids toys, but believe it or not, the reviews don't stink. 😉
People like this weird little toy for everything from a gift for a 3-year-old to bathroom decor to a gag gift.
The package says this is for age 12 and up, but I think you could use your best judgement on that. As strange as this toy is, it actually might be helpful for potty training.
Whatever their purpose, Stinky Poo and T.P. are made by a company called Bored Inc and I think that says it all.
---
Alien Plush Toys
ALIEN Chestburster Plush – In Space No One Can Hear You Cuddle
What could be more comforting than hugging the chest-bursting xenomorph from the Aliens movie?
Preschoolers (that's right – it's for ages 3 and up) can actually have their very own monster to hide under their bed with this strange kids toy.
And hey, why not buy his face-hugging buddy too?
Both of these are soft and plushy but have the added feature of wire so they can terrify your preschooler in a multitude of poses.
Then there's the cute little Alien face-hugger and egg set that is still really weird, but less terrifying.
 Alien Facehugger Plush
 Less terrifying facehugger
---
Science Academy: Gross Body Lab
Science Academy: Gross Body Lab
Got a budding doctor on your gift list? May as well introduce him or her to all the gross body fluids that ooze out of humans on a daily basis.
The Gross Body Lab kit has six experiments to teach kids about slimy mucus, blood clots and guts.
At least three of the experiments involve bulging eyeballs, severed fingers and mushy brains. Cool!
It's one of the most morbidly strange kids toys out there, but you can't say it's not educational, I suppose. This one is for kids age 8 and up.
Go a notch higher on the grossness scale, and you'll find the two disgusting science kits below, featuring aliens and zomies.
Playz Disgusting n' Gross Experiment Set
Playz Alien Anatomy Guts & Gizzards
---
Despicable Me 2 Fart Blaster
Speaking of bodily functions, next on our list of strange kids toys is the Fart Blaster.
This one is the most mainstream of our weird toys, because it's from the wildly popular Despicable Me movies and is pretty hilarious. Here's some fun features:
Kids can control how the fart sounds by how they pull the finger trigger.
It emits a banana smell (better than the alternative, I'd say)
Has a time-release feature
My son had a fart machine when he was about 13 and drove us nuts with it. One day my husband got fed up with it and was lecturing my son on the virtues of knowing when to play around and when to be serious.
At that moment, the time-release feature kicked in and the fart machine emitted the highest pitch, squeekiest fart noise ever.
The serious lecture was abruptly aborted.
This comically strange kids toy is for ages 6 and up.
Below is a fart machine similar to the one my son had. In case you're interested.
Remote Control Fart Machine
Farting Poop Emoji Pen
---
Sparkle Farts Original Unicorn Plush
Sparkle Farts The Original Farting Unicorn Plush
Since we've already broached the fart topic, it's a good time to share Sparkle Farts, the farting unicorn.
When you squeeze this gassy unicorn, he farts and says things like, "Do you want to see how rainbows are made?"
I know. It's a really weird kids toy. But the funniest thing about it is that Sparkle has a British accent! Something about the juxtaposition of British decorum and embarrassing bodily noises makes this toy hilarious.
This is another strange kids toy that has surprisingly good reviews. This particular set comes with some unicorn tattoos and a poster. It's rated for kids age 6 and up.
Check out the video to fully appreciate the splendor of Sparkle, the farting unicorn.
---
Rick and Morty Spaceship and Garage Construction Set
Rick and Morty Spaceship and Garage Construction Set
In case you're not familiar with late-night dark humor cartoons, Rick and Morty is an animated show about the shenanigans of a cynical scientist (Rick) and his naive grandson (Morty).
It's a weird show, not really for kids, so any kids toys inspired by it are just strange.
The Rick and Morty Spaceship and Garage building set is 293 pieces and a challenging build, according to the reviews.
This weird kids toy is rated for kids age 12 and up.
---
Fugglers
The so-ugly-they're-cute Fugglers came about when their creator bought a set of false teeth and attached them to a stuffed animal as a joke.
Lo and behold a stuffed sensation was born!
These strange kid's toys are like tooth fairies from the upside-down world. They're rated for ages 4 and up.
Sir Belch Fuggler
Rabid Rabbit Fuggler
---
Gelli Baff
Gelli Baff turns water into slushie!
Gelli Baff turns bath water into colored goo. It's sort of like taking a bath in a slushie.
Weird as it sounds, kids think it's pretty fun. It can be used in a bathtub or outside in a kiddie pool.
When kids are done playing, you add salt to turn the goo back into water and it drains right out, theoretically. Read the reviews. Most are good, but some parents had a little trouble dissolving it.
Gelli Baff comes in several different colors and is rated for kids 3 and up.
---
Unicorn Moving Mouth Mask
Then we have the unicorn mask with the added fun feature of a mouth that really moves.
Okay, this one is kind of funny. There's a chin strap on the inside, so when you talk, the mouth moves up and down.
This strange kids toy is touted for kids age 4 and up, but it's probably better for older kids who can master the chin strap.
There's a couple of user videos on Amazon so you can see it in action and it is pretty entertaining. Also, if you click on the Unicorn Mask link, you'll see there are several other animal masks in the listing, all with the moving mouth feature.
Here's the promo video for it, just for fun. As you can see, adults have a pretty good time with these weird kids toys too.
---
Poopeez and Bizarre Bathroom Collectibles
Along the lines of the Grossery Gang toys, come Poopeez and Bizarre Bathroom. Both collections are based on gross things you find in the toilet.
Poopeez sounds like the name of a laxative, but they're strange little squishy toys that come inside of a tiny roll of toilet paper. Kids have to unroll it to see which Poopeez character they get. They have names like Lil' Squirt and Skid Mark.  🙄
Bizarre Bathroom collectibles are packaged inside of a toilet. Kids fill it with water and the color it turns reveals how rare the collectible is. FYI – Unflushables are rarer than Cloggers.
Say what you will about these gross toys, but kids aged 4 and up love the combination of poops and surprises!
Poopeez Series 1 Capsules
Bizarre Bathroom Series 1
---
Butts In Space: The Card Game
Butts in Space
So, I'm thinking the inspiration for this game was the planet Uranus, but I could be wrong.
The object of Butts In Space is to gather as many toilet paper cards as possible before the toilet spaceship is repaired and the game ends.
Players can play as Hairy Butt, Bow Butt, Classy Butt or Butt Butt. Action cards include the Mighty Power Fart and Lucky Underwear.
This weird kid's game and Kickstarter success will have the hole family laughing.  😉 It's recommended for butts aged 9 and up.
---
Unstable Unicorns Card Game
Unstable Unicorns Base Game
Unstable Unicorns is a wildly popular card game where players have to strategically build their unicorn army.
They do this by gathering certain unicorn cards, defending their cards against other players, and attacking other player's unicorns with action cards.
There's even several expansion packs that fans of the game are loving (Here's a deal on the base game and 3 expansion packs). The game is designed for 2-8 players, but it's most fun with at least 3 or more players.
What's weirder than using sweet, peaceful mythical creatures to strategically stab your friends in the back to win a game?
The recommended age is 14 and up, but reviewers have commented that younger kids can play too, as long as they read well and understand the strategy.
Speaking of strange kid's games involving animals, the Exploding Kittens game has a gazillion positive reviews and is the most-backed project on Kickstarter! The makers created a new game called Bears vs. Babies which is equally weird and quickly gaining popularity.
Exploding Kittens
Bears vs Babies
---
SmartLab Toys The Inhuman Squishy Zombie

Did you know Zombie-Based Learning is a thing? It was started by a middle-school teacher to make science more fun for kids.
The Inhuman Squishy Zombie toy comes with a graphic novel (more like a comic book) and guides kids through the process of figuring out the cause of the flesh eating bacteria that's taken over the world.
Kids examine the decaying flesh and mushy intestines of the zombie for clues about the mystery infection. Think Forensic Files and Sean of the Dead. You know, if the two brands were to make a weird toy together.
This strange kids toy is for ages 8 and up.
On the topic of strange zombie toys for kids, how about a zombie office invasion set and a rousing game of zombie bowling?
Zombies Office Mob
Bowling Zombies
---
Feisty Pets
Feisty pets are adorable, furry plush animals with an evil streak. One second they're sweet and huggable, but a little squeeze of their head and they turn into Cujo.
This strange kids toy came out in 2016 and became a big hit. I guess everyone can relate to the alter ego thing.
Feisty Pets come in a whole bunch of different animal types
, from unicorns to giraffes to dragons to dogs and tons more.
They're for ages 5 and up. Post traumatic stress therapy for your child is not included.
Check out these strange kids toys in action here.
 Feisty Pets Ferdinand Flamefart
 Feisty Pets Sammy Suckerpunch
---
Daron Doody Head Game
Daron Doody Head Game
Poop and farts. Kids love 'em and the Daron Doody Head Game is another strange kids toy that capitalizes on this obsession.
The object is to catch the plush poo poos with the velcro cap. The winner is pronounced the Grand Doody Head. Or something like that.
As weird as this game is, it's actually on Amazon's Holiday Toy List. So there you go.
This poop flinging  game is for kids age 3 and up.
Below are a couple other crappy  😉 games that kids love. The Doggie Doo game was featured on several talk shows, including Jay Leno and Chelsea Lately!
 Fishin' for Floaters Game
 The Dog Poop Game
---
Medieval Torture Wheel Rack Model
Medieval Torture Wheel Rack
Know a kid who likes to build models? Why give them a boring old airplane or classic car when you can get them a Medieval Torture Wheel Rack model to build?
The beauty of this model kit is that glue and paint are not included. That's right, kids not only get to build the device for human suffering, but they also get to pick out just the right shade of blood red paint.
The macabre fun doesn't end with the torture chair either. There's also a Medieval Torture Iron Maiden model so kids can play out multiple scenarios of torment.
And the best part about these toys? The recommended age is 14 MONTHS and up. Okay, I know that's an error and it should say YEARS, but…really??
One of the strangest kids toys EVER!
---
Weird and/or Gross Games for Kids
These next several games are weird, strange and/or gross…and super popular right now. My favorites are Snot It, where you have to pick boogers out of a bowl using a snotty string of slime. And also Greedy Granny, where you steal treats from Granny's bowl until she wakes up and spits her teeth at you. Good times.
Gooey Louie
Gas Out
Pimple Pete
Greedy Granny
Don't Step In It
Snot It
---
Extreme Chores Prank Pack
Last on our list of strange kids toys is the Extreme Chores Prank gift box.
It's not so much a weird toy as it is a way to prepare your kid for adult life by letting him experience deep and bitter disappointment.
The point is to disguise the cool toy your kid really wants inside the box advertising the lame video game about chores. So don't worry, that bitter disappointment only lasts a minute or so.
Of course, Karma is a you-know-what. These prank boxes come in all kinds of products
, so you could find yourself experiencing that moment of disheartening letdown come next Christmas.
These are devilishly weird, but surprisingly popular on Amazon!
---
Our list of strange kids toys may not be as weird as the upside-down, but now that you know they're out there, admit it… you feel a little less safe, don't you?
If you need to clear the disturbing toy images from your head, you can always read about the only slightly weird new Playmobil sets featuring the paranormal antics of the Ghostbusters.
Now excuse me while I go find some cute baby toys to look at.
Share these epic toy ideas!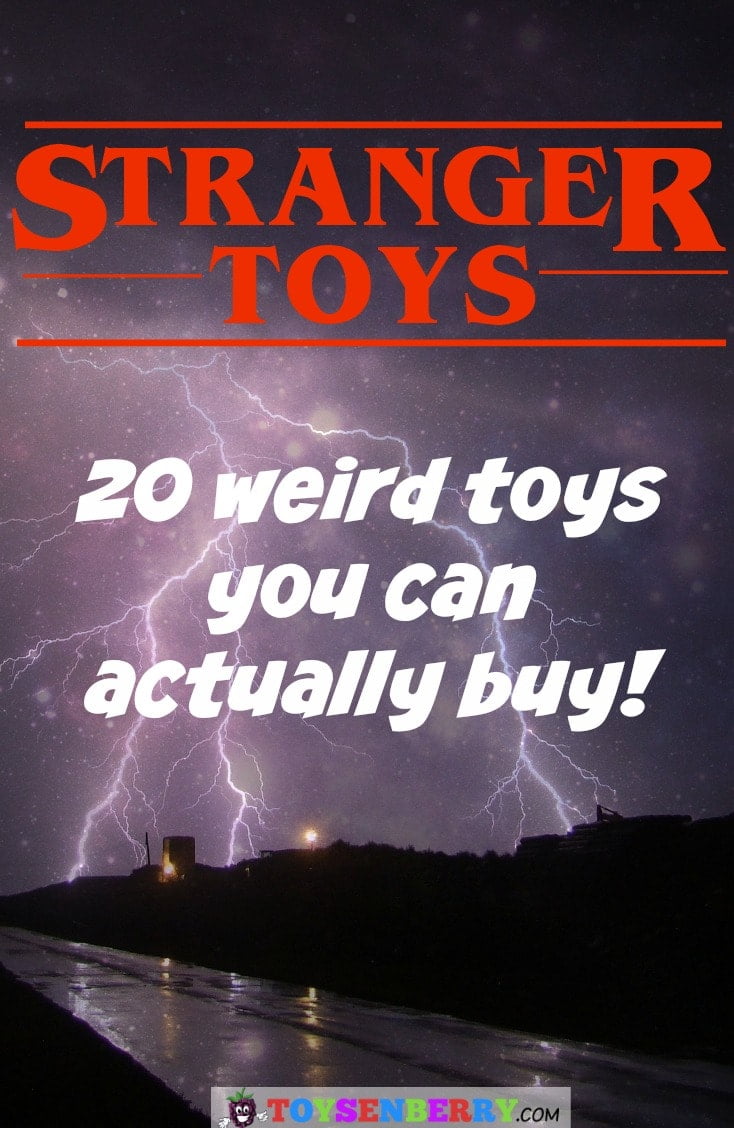 Search for more strange kids toys