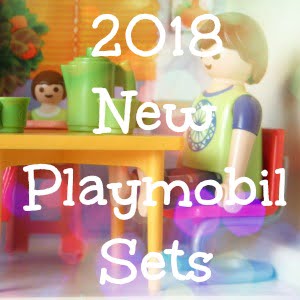 Playmobil has been making little plastic smiling people for over 42 years. And each year they introduce new Playmobil sets of imaginative worlds in which their happy toy people can live.
Playmobil has always insisted that kids "Make their own story," and not let the latest movie, like Star Wars or Harry Potter, make it for them.
But last year's new Playmobil sets broke from the company's long tradition of not making licensed toys. Their new playsets based on the classic Ghostbusters movie were (and still are) very successful. You know, the one where Dan Ackroyd says, "Listen! Do you smell something?"
In an article on the Playmobil website, they explain that, like the Ghostbusters movie, Playmobil is loved and fondly remembered by parents, while at the same time attracting young fans with their engaging and detailed playsets.
Playmobil's expansion into licensed deals brings more exciting new sets to their line this year, while maintaining the charm and detail their little plastic worlds are known for.
The new Playmobil sets for 2018 are sure to inspire kids' imaginations just like they always have. Here are some of the new playsets available for sale on Amazon now!
In a hurry? >>> Check out all the new Playmobil sets on Amazon HERE!
New Playmobil Sets 2018
Ghostbuster Character and Hologram Cone
2018 brings some more additions to the Ghostbusters playsets and these are WAY cool!
These new Playmobil sets are based on the Ghostbusters II movie which came out in 1989.
The playsets include a Ghostbuster character and a hologram cone. Each of the plastic parapsychologists also comes with their signature proton pack, wand and meter, plus some slime splats for effect.
But the coolest thing is the hologram cone that works with an app to trap the paranormal pests. The app is free and when it's open on a smart device, kids can place the cone on it, pick which ghost they want to trap and bust the heck out of it!
Check it out in action in the pop-up video below.

Cool, right?
The Spengler hologram set is pictured above and below are the other three Ghostbusters, Winston, Stantz and Venkman.
PLAYMOBIL Ghostbuster Winston
PLAYMOBIL Ghostbuster Stantz
PLAYMOBIL Ghostbuster Venkmanet
Watch for some more new Playmobil sets to be released later this month. These are based on The Real Ghostbusters cartoon series.
The sets will include a character, a totally rad vehicle (like the Aqua Scooter!) and a numinous nemesis. (Yeah, I'm Stan Lee-ing my adjectives here 😀 )
Age: 6+
---
Playmobil Family Fun Aquarium
The Playmobil Family Fun sets are some of my favorites! This year they've added an Aquarium building set to their fun family destination sets and it's adorable!
You can fill it with water for reals
Tank rotates around
Sea lion flippers, tail and head really move
Includes parent, child, trainer figures plus 2 seal lions, fish, plants and other accessories
The water play feature of this set adds a whole 'nother dimension of fun. You'll probably want some more sea life to fill in the tank, like this Sea Turtles Set, Octopus and Baby Set, or Hammerhead Shark Set.
And in true Playmobil style, there are lots of interesting add-on sets to turn the aquarium into a fantastic, Sea World style theme park. My favorites are the Penguin Enclosure and the Aquarium Gift Shop (such FUN details in this one!).
Penguin Enclosure
Aquarium Shop
Age 4+
---
Playmobil Ski Lodge Set
The smiley, plastic people can hit the slopes with the new Playmobil Ski Lodge building set. As usual, they've thought of everything, right down to the steamy mugs of hot chocolate and the kitty curled up by the fire!
This set includes 5 people figures, which is great for multiple kids to play without having to buy more figures right off the bat. And there are lots of accessories, including furniture for the rooms, skis, snowman and tons more.
My favorite new Playmobil sets to buy as accessory sets to the lodge are the Snowball Fight building set (complete with fort and sled) and the Winter SUV building set (so the little guys can safely traverse those snowy roads!).
Snowball Fight Set
Winter Suv Set
Age: 4+
---
Playmobil Take Along FIFA World Cup Arena
Young soccer fans will love this new Playmobil set! The Take Along FIFA World Cup Arena set easily folds up so kids can take it along on play dates.
The little characters can kick, block and make goals with the press of a lever. The goalie has some cool actions kids can do to help him bring his team to victory.
Kids can customize the game with their favorite FIFA World Cup contenders, like England, France or Mexico (to name just a few).
Soccer Player England
Soccer Player France
Soccer Player Mexico
Age: 5+
---
Playmobil Horse Farm Set
I am absolutely giddy over the new Playmobil Horse Farm Set! (Get it? Giddyup? Okay, I'll stop.)
Just look at all the accessories this thing comes with! Right down to the foal, barn kitties and stickers with the horse names to put on their stalls. This set is so realistic and detailed, it even includes all the proper tack that a real equestrian would need. A real, 2-inch tall, plastic equestrian, anyway.  😉
This is a fabulous gift for a kid who loves horses!
There are several new Playmobil playsets in this theme to build an equine empire. My favorites are the Horse Show set and the Horse Grooming Station set. But close seconds are the individual stable and horse sets to add to it, featuring specific horse breeds, like the Horse Stable with Appaloosa set, and Horse Stable with Arabian set.
Horse Show Set
Horse Grooming Station
Age: 5+
---
Playmobil Shopping Plaza
This one is a cute Playmobil set for girls! Our little smiling friends will have all their sports, fashion and pet needs taken care of with the new Playmobil Shopping Plaza set. Here's some really fun details of this set.
Includes pets and enclosures
Lots of ways to create imaginative store displays
Set can be split into 3 separate stores for more play options
The shopping fanatic in me is obsessed with the cute little clothes and accessories in this set! Speaking of which – there are a TON of little pieces in this playset. This adds to the fun, but something to keep in mind if you're buying for younger kids prone to losing things.
There are 2 fabulous new Playmobil add-on sets to go with this theme. Check out the charming Cupcake Shop and A-DORBS Baby Store Set. Both of these are fantastic little sets on their own too!
Cupcake Shop Set
Baby Store Set
Age: 5+
---
Playmobil Modern House Playset
Playmobil peoples get an upgraded crib with this new Playmobil set! The Modern House building set is a spacious, 2-story with lots of room for furniture and accessories.
The only drawback is that it only comes with some outdoor furnishings. You have to buy each of the room sets separately. BUT, the sets include a TON of detailed accessories for each room and they couldn't possibly include ALL of that without raising the price. So…maybe it was smart the way they did it.
AND one thing I do like about this house is that it's an empty canvas for kids to arrange the furniture and accessories any way they like. You could put the kitchen upstairs and the bedrooms downstairs or arrange it any other funky way you want. There's no designs on the walls to designate which area has to be which room. I kind of dig that.
The Modern House has a working doorbell and entryway light, so it takes 2 AA batteries, which are not included.
Oh, the cute little room sets! My favorites are the Kitchen set and the Housewarming party set (you get a whole bunch of cool stuff, like an outdoor fireplace and party lights!).
One thing I think Playmobil could have done differently with the room sets is to not include the dolls in them (except for the kids room sets, cause you need kid dolls). Each set comes with at least 1 or 2 adult dolls, which seems weird to me because how many adults are going to live in this house??
Seems like they could have left those out and then charged less. Nevertheless…the room sets are cute as heck! (Did I say that already?) Here they all are, below.
 Kitchen Set
 Living Room
 Bathroom Set
 Children's Room
 Bedroom Set
 Housewarming Party
Age: 4+
---
Toy Shopping Tip: To ensure you're getting the best price on the Playmobil set you want, check the price on the Playmobil website directly. Sometimes they are cheaper than Amazon! It varies with each set, but it's worth a look!
---
PLAYMOBIL Arctic Expedition Headquarters
The new Playmobil sets with an arctic expedition theme combine science and adventure in these playsets. Tiny researchers have to study and preserve vital energy crystals while fighting off ice pirates! Here's some neat features of the Arctic Expedition Headquarters building set.
Removable ice dome lid for easy play access
Dome lights up (needs 2 AA batteries)
Includes "working" cannons to use against the ice pirates
Kids can discover a secret hiding place for the energy crystals
Comes with cool accessories, like a snowmobile with liftable hood
There are fun new add-on sets to the Arctic theme, like this Arctic Explorers with Polar Bears set.
---
Playmobil Bridal Shop – Perfect Playmobil Set for Girls
The girls are going to love this new Playmobil set – released just in time for the royal wedding! The little plastic brides-to-be can try on dresses, get their makeup done, choose a wig, drink champagne and say yes to the dress!
I tell ya, the detail Playmobil puts into their toys is just amazing. There's even little teeny display stands to hold bridezilla jewelry. This is THE Playmobil set for little girls.
Here's a couple other new sets in the wedding series.
Playmobil Wedding Reception
Playmobil Wedding Limo
---
Explorer Series Hidden Temple with T-Rex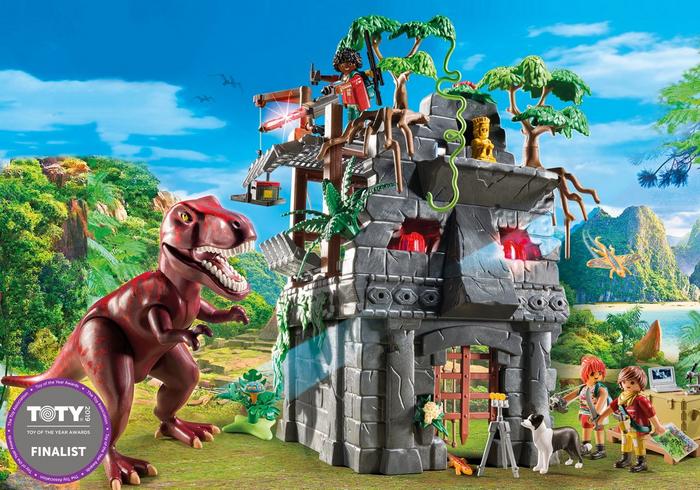 Check Price on Playmobil Website
The brand new Playmobil sets in their Explorer series are fabulous imagination igniters! The Hidden Temple with T-Rex set is FULL of details, right down to the poseable T-Rex, lasser gun with LED light, and tiny little explorer's map.
Currently (10/27/2018), this set is priced considerably more on Amazon than it is on the Playmobil site. So the links for this product direct you to Playmobil so you can get the best price. They offer free shipping at certain price levels and sometimes you can get freebies with your order too!
Some of the other sets in the series are available on Amazon at the same low price as Playmobil, like the Adventure Copter with Pterodactyl set (which is way cool!) and the Motocross Bike with Raptor set.
---
PLAYMOBIL Take Along Haunted House
This is a fun addition to the new Playmobil sets for 2018! The Take Along Haunted House includes creepy details, like a giant spider and mad scientist.
Kids who love Halloween themed toys, or who like to create spooky stories will love this set! It's a Take Along toy too, so it's portable and easy to play with on the go.
Be sure and check out the Take Along Haunted House on the Playmobil site as well because it's often cheaper there. AND the Playmobil site has add-on characters available, like this Wolfman and Witch set!
---
Playmobil Magical Fairy Forest
I LOVE the new Playmobil fairy sets! They are among the best Playmobil sets for girls. The new Magical Fairy Forest Playset is full of enchanting details, like a fairy swing, a lantern that lights up, a cauldron to make healing potions, unicorns…and soooo much more!
It's such an awesome set, we've included it on our list of the best new toys for girls for 2018!
Below are two of my favorite add-ons for this set.
Enchanted Fairy Ship
Unicorn Fairy Carriage
---
Playmobil Sprit Riding Free Lucky's House
The much anticipated new Playmobil sets based on the DreamWorks Spirit Riding Free Netflix Series were just released this September and they are GORGEOUS!
The Lucky's House set is a beautiful Victorian style mansion with a detailed kitchen and accessories, including a hidden compartment in the floor and Aunt Cora cooking in the kitchen.
The only drawback to this set is that you have to buy Lucky's bedroom furniture and accessories separately. But…you do get a LOT of pieces for the price with the bedroom set.
That said, girls and boys who love horses can imagine and play out their very own stories or recreate scenes from the series with this fun set. Below are my favorite add-on sets from Amazon for the Spirit collection.
I also love the set with Lucky's dad and his horse and wagon, available for cheaper on the Playmobil website!
Lucky & Spirit Horse Stall
Abigail & Boomerang
---
One of these new Playmobil sets would be a delightful birthday or "just because" gift for a child in your life.
If you've never bought or played with a Playmobil set, you have to check them out.  Playmobil sets have such variety and they are all so charming, kids and parents get hooked on them!
---
Get the Best Price on the New Playmobil Sets
Playmobil building sets can be hard to find in stores. Toys R Us used to carry them, but as we all know, they are no more (at least for now).
Amazon generally has the best price on the most popular sets. BUT, sometimes the Playmobil site has the lowest prices, or a sale on the set you want, or even a coupon or freebie with an order. So it's always worth checking directly on the Playmobil site just to make sure you're getting the best price.
---
Share these epic toy ideas!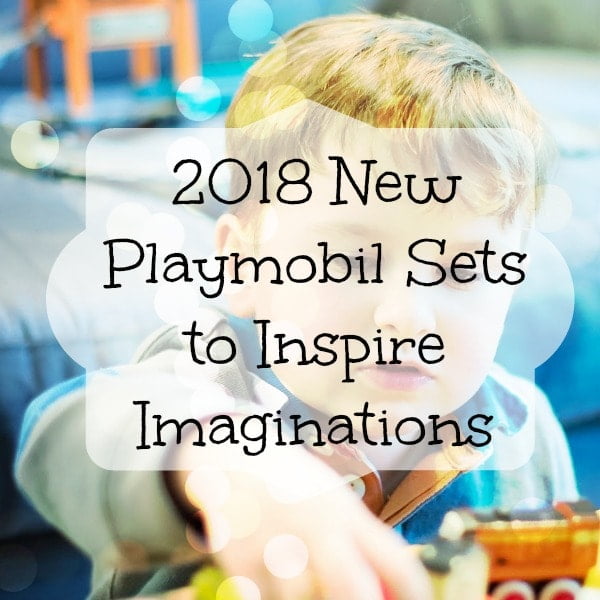 Search for More Playmobil Sets