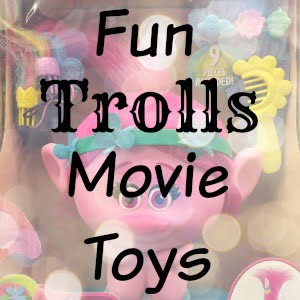 Do you know a fan of the DreamWorks Trolls movie? There is a huge selection of Trolls movie toys and dolls on the market that would make a
fun Christmas or birthday gift for young Trolls enthusiasts
. After all, what's not to love about all that color, glitter, and happiness?
There are plenty of Trolls movie toys to pick from, for both boys and girls. If you are looking for Trolls movie dolls, you can use our table of contents below and go straight to that section.
We spend loads of time finding cool stuff kids will love! Just a heads up that the links on this page take you to Amazon and if you buy something through a link, we may get a small commission (but you don't pay more – Fist Bump!). Read more about how that works here.
DreamWorks Trolls Movie Toys
Trolls Movie Toys: Trolls in Trouble Game

Kids will have fun getting the little big-haired creatures to safety in the Trolls in Trouble game. There are numbered dice to move them along the board, plus a character die to provide setbacks and bonus moves. The game is very simple to set up and learn.
Age 5+
---
Trolls Movie Toys: Trolls Operation Game

The second in our list of Trolls toys is the Trolls Operation Game, a hairier version of the original Operation game. And we do mean "hairier". Players have to use the attached tweezers to remove the charms from the Trolls flowing locks, without causing the buzzer to sound. Kind of reminds me of when my girls had lice. But kids won't have such traumatic memories to dissuade them from playing, so they should enjoy it.
Age 6+
---
Trolls Movie Toys: Trolls 6V Dynacraft Light-Up Super Coupe Ride-On
This is the motherlode of Trolls movie toys, right here. Girls can zoom through their neighborhood at a break-neck 2.5 miles per hour in this battery powered Trolls Super Coupe Ride-on toy. It features shiny blue rims, a stylish hood ornament, working horn and headlights and a custom Trolls themed paint job (stickers). There's even an MP3 input and speaker so girls can blast their favorite tunes while their cruising. All it's missing is some sweet hydraulics.
Age 3+
---
Trolls Movie Toys:Trolls 6V Dynacraft Light-Up Little Quad Ride-On

The littler ones won't get left behind with this Trolls Little Quad Ride-On toy. It's easier for younger ones to handle than the coupe above and  features one speed, light-up handlebars, and push button acceleration.
Age 18-36 months
Trolls Movie toys are great gifts for preschoolers. For more gift ideas for this age group, check out our Best Toys for Preschool Girls and Best Toys for Preschool Boys gift guides!
---
Trolls Light-Up Melody Microphone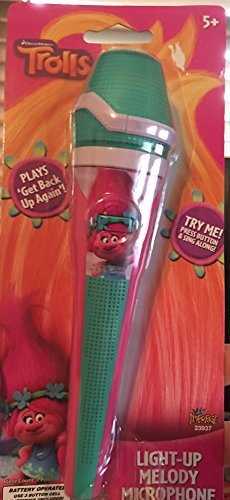 Kids can sing along to the famous Trolls Movie song, "Get Back Up Again," with the Trolls Light-Up Melody Microphone. Your little Trolls fan can feel like Poppy, bringing light and happiness with song!
Age 5+
---
Trolls Movie Toys: Trolls Floor Puzzle with Hair

This Poppy floor puzzle is 24″ x 36″ inches and features fuzzy Troll hair pieces for Poppy's updo.
Age 4+
---
Trolls Movie Toys: 3 Assorted Trolls 48 piece Puzzle Set

For a little more puzzle variety in your Trolls movie toys collection, you might want to check out this set of 3 Trolls puzzles. Kids will sharpen their cognitive skills, plus have fun making the colorful characters take shape, with these 48 piece puzzles.
Age 3+
---
Trolls Movie Dolls
Trolls Movie Dolls: Poppy's Coronation Pod

Our list of Trolls movie toys wouldn't be complete without some play figure sets featuring the Trolls movie dolls. Poppy's Coronation Pod has a spinning dance floor that lights up, plus lots of accessories for the Poppy and Branch Trolls movie dolls. Kids will love reenacting their favorite movie scenes with this fun little set.
Age 4+
---
Trolls Movie Dolls: Poppy's Stylin' Pod

Of course, the Trolls movie is all about that hair, 'bout that hair, no Tribble (you gotta know the Meghan Trainor song and be a Star Trek fan for that to be funny. I know…the odds aren't good). Anyhoo, Poppy's Stylin' Pod lets kids comb, brush, tease, and squeeze the Trolls dolls' hair into all sorts of crazy styles. This Trolls movie toy comes with lots of hair accessories, plus a couple wigs for those bad hair days.
Age 4+
---
Trolls Movie Dolls: Satin and Chenille's Style Set

Satin and Chenille are the twin fashionistas of the Troll world. The Satin and Chenille Style Set comes with both Trolls movie dolls, Satin and Chenille, and a variety of different accessories to glam them up.
Age 4+
Kids love toys based on their favorite movies or shows. For more gift ideas like Trolls Movie toys, check out the toys featured in our Shimmer and Shine toys article.
---
Trolls Movie Dolls: Trolls Collectible Figures – Set of All 5 Characters

Why buy one Trolls character when you can get a set of all 5 DreamWorks Trolls characters? These little Trolls movie dolls will fit in either of the Trolls toys playsets we mentioned earlier, giving kids even more crazy hair to style and shape.
Age 4+
---
Trolls Movie Dolls: Poppy Large Hug 'N Plush Doll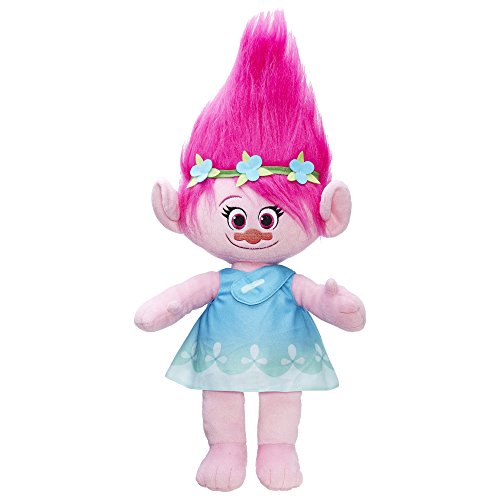 The large Poppy Hug'N Plush Doll is exactly what the name implies – plush and soft and perfect for hugging! This is one of the larger Trolls movie dolls and is great for younger kids. There are actually several different Hug 'N Plush dolls available, so you can pick your child's favorite character.
Age 4+
---
Trolls Movie Dolls: Bridget Exclusive Doll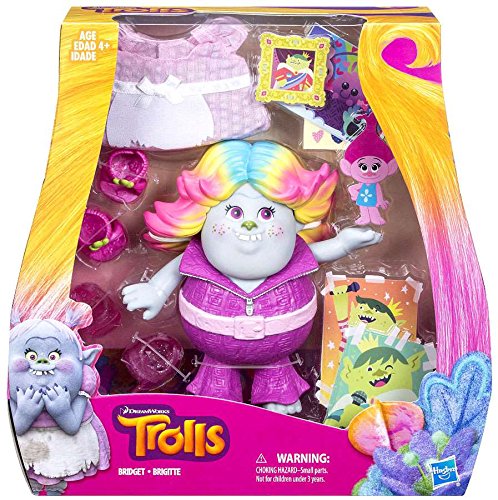 We can't forget about the lovable Bergen, Bridget, in our list of Trolls Movie dolls. She comes with two outfits and accessories so she can get the perfect look in her quest for love!
Age 3+
The most popular of the Trolls Movie dolls is the Trolls Hug Time Poppy doll. This is still a hot toy for girls, so be sure and read our Trolls Hug Time Poppy doll review here!
---
Trolls Movie Toys: Trolls Arts and Crafts
Trolls Arts and Crafts: Coloring and Stamper Activity Book Set

This activity book and stamp set will keep kids creatively entertained for hours. What kid doesn't like stamps and stickers? If you've got some holiday travelling ahead, this is a great distraction to take on a plane or in the car.
Ages 3+
---
Trolls Arts and Crafts: The Epic Trolls Sticker Book

For kids who can't get enough stickers, this Epic Trolls Sticker book book comes with over 1000 stickers! Plus there's all sorts of games and activities to keep kids occupied on a rainy day or when mom the kids just need some quiet time.
Age 3+
---
Trolls Arts and Crafts: Crayola Trolls Glitter Scrapbook Kit
There are some fun Trolls movie toys geared towards creative fans. This Glitter Scrapbook kit (name alone should appeal to little girls – what girl doesn't love her some glitter?) contains Trolls themed scrapbook pages, markers, pencils, stickers, Troll figure cut outs, and more. Kids can embellish their favorite photo pages in a colorful Trolls theme or use the supplies to make some Trolls crafts. It's a really versatile Trolls arts and crafts set.
Age 5+
---
Trolls Arts and Crafts: Trolls Charm Bracelet Kit

What's more stylish to a Trolls fan then some colorful Trolls jewelry? This Trolls arts and crafts kit will appeal to kids who like to get creative and make their own jewelry. Kids can make cute charm bracelets with this Trolls Charm Bracelet Kit containing beads, charms, and all the tools young crafters need.
Age 7+
---
Trolls Arts and Crafts: Crayola Trolls Light-up Tracing Pad
Kids can trace their favorite characters from the movie with this Crayola light-up tracing tool. This fun Trolls arts and crafts toy comes with colored pencils to fill in the colorful characters, plus paper (it works with regular printer paper also). Kids can layer the images and make their own cool scenes.
There are too many great Trolls arts and crafts toys to list here, so you might want to take a look at the whole Trolls arts and crafts selection
 on Amazon.
---
Trolls Bedroom Accessories
Trolls Bedroom Accessories: Trolls Pillow Pets – Poppy

Trolls fans can cuddle up to these Trolls characters plush toys that open out to a 16 inch pillow. This is a nice toy for kids to sleep on while travelling. Well, one can always hope the kid falls asleep if you're travelling. There are also Branch and Guy Diamond pillows. These would be great Trolls bedroom accessories to go with a Trolls themed room!
Age 3+
---
Trolls Bedroom Accessories: Pillow Pets Dreamworks Trolls Dream Lites

This is another cool Trolls bedroom accessory that kids will love! The Pillow Pets Poppy Dream Lite projects stars and cupcakes on the walls and ceiling so little Trolls fans can fall asleep dreaming of sweets. You can set it to automatically shut off after 20 minutes, which is convenient. There is also a Branch Dream Lite and a Guy Diamond Dream Lite. 
Age 3+
---
Trolls Accessories
Trolls Accessories: Trolls headband with Poppy hair

The last two on our Trolls movie toys list aren't so much toys as they are fun Trolls accessories for little Trolls fans. This cute Poppy headband complete with Troll hair is a fun way for girls to show their enthusiasm for the movie and complement a funky, colorful outfit. This would be a fun "crown" for a girl to wear at her Trolls themed birthday party as well. Or, part of her Halloween ensemble!
Age 3+
---
Trolls accessories: Trolls Movie Poppy Zip Hoodie with Faux Hair

This is one of the cutest Trolls accessories and it's practical too! Just in time for cooler weather, this Poppy Hoodie, adorned with the Trolls signature 'do would be a fun addition to a little girl's wardrobe. It comes in a variety of sizes, and there is also a Satin and Chenille version.


---
The Dreamworks Trolls movie is still popular with young kids and these Trolls movie toys, Trolls movie dolls and Trolls accessories would make great gifts. We hope this article gave you a few ideas to bring a smile to your young Trolls fan.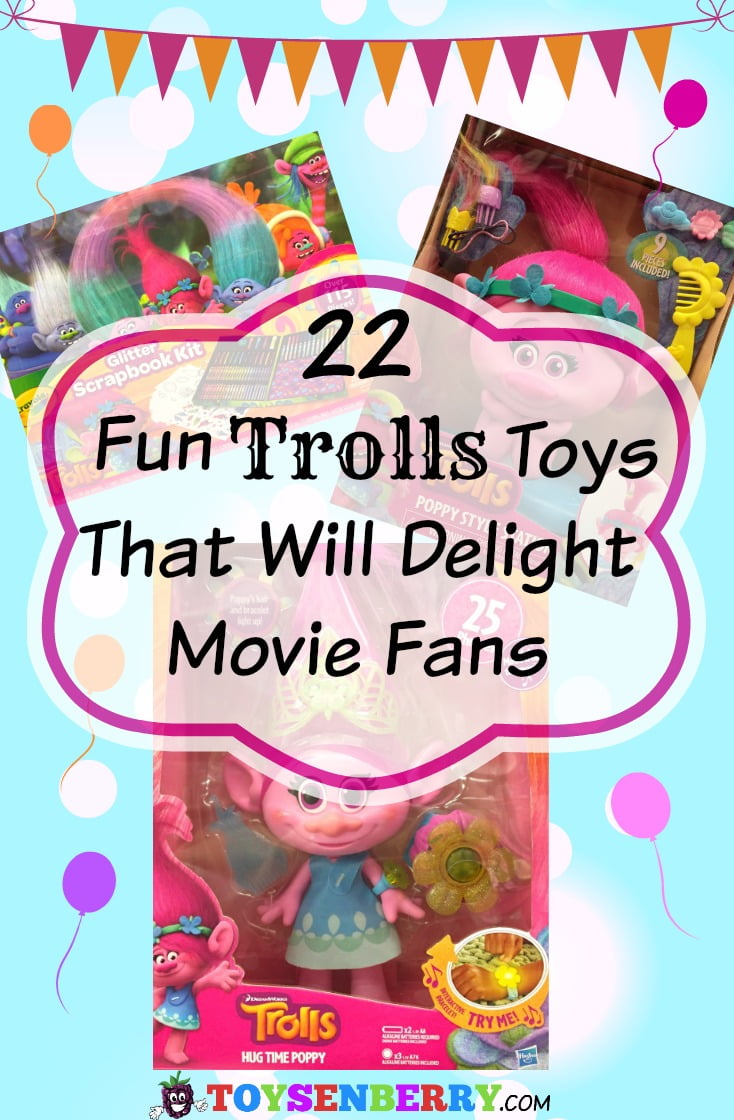 More Ideas for Trolls Movie Toys