Shimmer and Shine is a popular Nickelodean show about twin genies-in-training and their human friend, Leah. The show is such a hit with preschoolers and young elementary school kids, that a whole collection of Shimmer and Shine toys have been released since it started.
If you're looking for a birthday or Christmas gift for a girl age three to six or so, here's the best of the Shimmer and Shine toys that we think will delight her!
We spend loads of time finding cool stuff kids will love! Just a heads up that the links on this page take you to Amazon and if you buy something through a link, we may get a small commission (but you don't pay more – Fist Bump!). Read more about how that works here.
Shimmer and Shine Toys
Shimmer And Shine  Genie Sleepover Party Set
What could be more fun than a sleepover with Shimmer, Shine, and Leah?
This Genie Sleepover Party Set includes all three dolls in their cute pajamas, plus Nahal and Tala. The dolls are about 4-6 inches tall. Kids will love tucking in these little cuties!
UPDATE: This super popular toy was out of stock in many large retail stores, both in-store and online for a while (Bummer! It's so cute!), but now it seems to be back at a higher price. You can check the current price on Amazon through our link below.
You can piece together a similar genie sleepover set with the Bedtime Shine, Bedtime Shimmer and Tala and Nahal dolls. This bundled set of both Shimmer and Shine is a great deal too.
---
Shimmer and Shine Genie Dance Shine Doll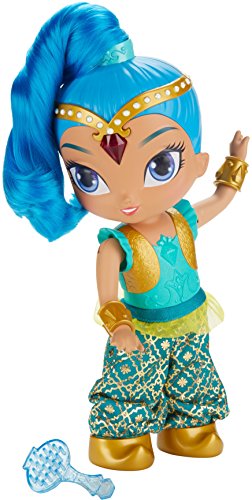 One of the best new Shimmer and Shine toys for 2017 is the dancing Shimmer and Shine Dolls.
Shimmer and Shine move to the groove of some of the show's popular songs. The cool thing about these is they sing dance moves so that your preschooler can learn the dances and shake and shimmy along with their dolls.
If you buy both the dancing Shimmer and dancing Shine dolls, they will sync up and sing duets together!

---
Shimmer and Shine Wish & Spin Shimmer
Much of the appeal of the show is that the two little genies grant Leah three wishes every day. Three wishes every day? Yes, please!
The Shimmer and Shine Wish & Spin Shimmer dolls bring that fantasy to life (except for the actual granting of wishes part. Oh well.) as they spin around and say the magic wish-granting words.
Each of the Shimmer and Shine dolls comes with a genie bottle necklace that when pressed, causes the little genie to do her wish granting dance, just like in the show.
The dolls are sold separately, but if a child has both, she can connect the genie necklaces and the dolls will talk and sing and dance in sync!
The Shimmer and Shine Wish and Spin dolls would be a magical gift for a young dreamer and will inspire all sorts of imaginative play.

---
Shimmer and Shine Magic Flying Carpet
Girls can take the Shimmer and Shine genies on all sorts of misadventures with the Shimmer and Shine Magic Flying Carpet. The carpet comes with with two dolls already, so no need to buy any dolls separately.
The dolls snap onto the carpet in a sitting or standing position while your little wisher whooshes them around the room. The carpet flutters and the genies utter over 40 different phrases.
The carpet can also be placed on the floor and pushed around, like a magic CARpet (see what I did there?). It's a plus that the genie dolls can be played with separate from the carpet too, which adds to the play value of the toy.
The Magic Flying Carpet toy is one of the best Shimmer and Shine toys (IMHO) and was one of the hottest kids toys for Christmas last year. If you haven't bought one for the Shimmer and Shine fan on your list, you should think about it for this year. It's a great price for all the play value of the toy!
---
Shimmer and Shine Swing and Splash Genie Boat
Another new Shimmer and Shine toy for 2017 is the Swing and Splash Genie Boat.
This toy is super fun because girls can take it in the bathtub! It would be fun in a wading pool outdoors, too. The boat comes with both Shimmer and Shine dolls and they are removable, so this doesn't have to be used only in water.
The boat has a little swing and the top can be used as a pouring cup or as a separate little boat in case Shimmer wants a break from Shine for a while. 😉
This Shimmer and Shine toy is a really good value for the price and your preschooler will love it!

Here's two more adorable Shimmer and Shine Bathtub toys, based on the episode where the genies become mermaids!
 Shimmer & Shine Mermaid Shimmer
 Shimmer & Shine Mermaid Shine
---
Shimmer and Shine Float & Sing Palace Friends
Shimmer and Shine love to hang out at their castle with their pets, Nahal (a white Bengal tiger) and Tala (a gibbon monkey).
The Float & Sing Palace Friends  Shimmer and Shine toy comes with both dolls and their pets. This makes it a great toy if you are buying it for sisters. And there's something delightfully appealing to kids about getting both a doll and an animal in one toy.
The couch that comes with the playset has a fun feature of a lever that will raise up the genies so they "float" above the couch.
One word of warning though – the bracelets are very tiny and they are removable, so if you're child still likes to put tiny things in their mouth (or in their nose, ears, etc…), you might want to remove the bracelets before giving the dolls to your child!
The tiny bracelets aside…this is a pretty little playset that young girls will enjoy. It's a great value too, since it comes with two dolls and two pets.

---
Shimmer and Shine Teenie Genies Floating Genie Palace Playset
These cute little teenie-tiny versions of Shimmer and Shine get a whole palace playset to frolic around in! They can float up to the second floor, or take a magic carpet ride over the top of the palace.
Since the palace is large enough for up to 130 of their closest friends, you can buy additional Teenie Genies in multi packs
 on Amazon.
The nice thing about the Floating Genie Palace Playset is that other small sized figures, like Shopkins, will fit nicely in it too. Nothing wrong with a little diversity in the genie palace!

---

---
Shimmer and Shine Shimmer Dress Up Set
Little girls can dress up just like Shimmer with this cute Shimmer Dress Up Set. It comes with a shirt, pants, 2 bracelets and a necklace, just like Shimmer's.
There is also a Shine Dress Up Set, so no matter which genie a child prefers, they can look just like them. This would be a great Halloween costume too. You might also check out this Shimmer and Shine Dress Up Trunk for your little genie, it's a great buy.

---
Shimmer and Shine Wish Come True Shine Purse Set
This adorable Nahal purse will delight a young fashionista. She can carry around all her little treasures, plus wear the bracelets and necklace that come with it as well.
There is also a Shimmer Purse Set, which looks like the cute monkey, Tala. Girls will love playing dress up with these, or wearing them while out and about with mom.
---
Shimmer & Shine 6 Inch Nahal Plush
Nahal and Tala are just as enchanting as Shimmer and Shine, so of course the Shimmer and Shine toys must include them as plush toys.
The 6 inch Nahal toy does not disappoint. It looks just like Nahal does in the show, with that pretty white fur, magenta stripes, and big blue eyes. Kids can't help but cuddle and squeeze this darling Nahal Plush toy to their heart's content.
There is an equally cute Tala Plush toy as well.

---
Shimmer and Shine Talk & Sing Doll (Shimmer or Shine)
Kids will love pressing the tummy and hearing the Talk & Sing Shine Doll really talk and sing songs. Parents will love that the doll's voice is not overly annoying or loud – it's quite pleasant, actually.
The Shimmer and Shine Talk & Sing dolls are 12 inches tall, so they're not too big to carry around, yet large enough to be a comfy bedtime toy.
Both dolls have the genie trademark long hair which girls love combing and styling.
The doll's body is soft and cuddly, not hard plastic, making them perfect Shimmer and Shine toys for young preschoolers.
If you click the link or the image, the product lists both the Shimmer doll and the Shine doll, so you can order either one from there.

For more movie and TV show themed toys for girls, you might like the toy suggestions in our Beauty and the Beast toys article or  Dreamworks Trolls toys article.
---
Shimmer & Shine Coloring and Board Books Set
The Shimmer and Shine toys include many non-doll toys as well. With the Shimmer & Shine Coloring and Board Books set, kids can color their favorite characters and movie scenes, plus do a variety of puzzles and activities.
The set also includes stamps and crayons, so when the kids finish the activity book, they'll still have a couple new additions to their art supplies. Two board books are also included, making this a great set to keep the kids busy during quiet times or while travelling.
Your Shimmer and Shine fan may also like these art sets. Little girls are especially loving the mosaic set!
 Shimmer and Shine Sparkle Mosaics
 Shimmer and Shine Deluxe Art Set
---
Shimmer & Shine Teenie Genies Magic Carpet Adventure Playset
Girls can fly the genies around Zahramay Falls in this Magic Carpet Adventure playset. The little carpets really float using magnets, which is cool.
The set comes with 2 figures and is large enough for two or more kids to play together, so it'a another good choice if you are looking for a toy for sisters to share. This Shimmer and Shine toy is a great price for all the play value!
---
Shimmer and Shine Singing Birthday Wishes Doll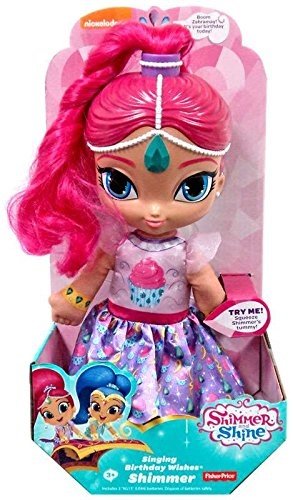 What little girl wouldn't want to hear Shimmer or Shine sing her Happy Birthday?
Squeeze their tummy and they sing a special birthday song, genie style, plus say a number of other phrases.
They are soft-bodied dolls, so they're great for bedtime. You can find Birthday Shine here and Birthday Shimmer here.

---
Mega Bloks Shimmer and Shine Bazaar Building Set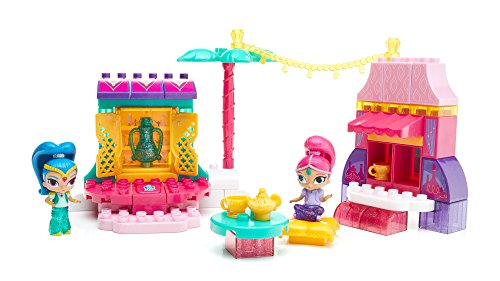 Mega Bloks are fun and educational building sets for preschoolers. This Shimmer and Shine Bazaar building set lets kids build their own little marketplace for Shimmer and Shine to hang out in.
The set comes with both buildable dolls, some accessories, like teapot, cups, cushion and a cool light-up urn.
Younger kids will need help building it – it's not difficult at all, but pre-readers will need help following the instructions. But they will have fun playing with it for sure!

Magformers are great STEM building sets for preschoolers and they have some really cute Shimmer and Shine building sets. The carnival one is cool because kids can build some neat carnival rides with it and they are easy for preschoolers to build too!
 MAGFORMERS Shimmer and Shine Basic 22 pc Set
 MAGFORMERS Shimmer and Shine Carnival 64 pc Set
---
We hope these suggestions help you to find the best Shimmer and Shine toys for the preschool aged girl or boy on your list. For more of the latest toys for girls, check out our Best Toys for Preschool Girls and Top Toys for Girls Age 6 to 8  gift guides.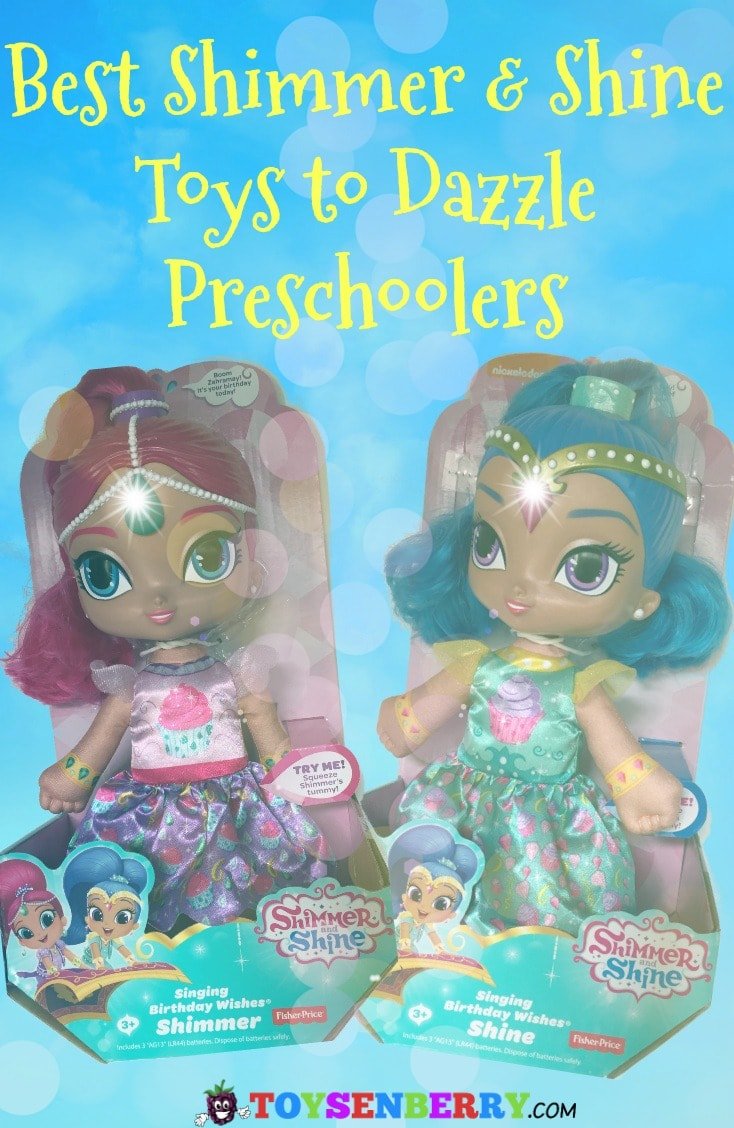 More Shimmer and Shine Toys Suggestions