The Disney live action tale of Belle's adventures with her enchanted new friends inspired a beastly amount of Disney Beauty And The Beast toys. Of course, that's not a bad thing, because there is a huge fan base for the charming live action movie staring Emma Watson.
It's only bad if you're trying to pick a toy as a gift for a young movie fan and can't decide what to get. Well, ponder no longer, because these are the latest, most popular toys in the Disney Beauty and The Beast toys collection.
We spend loads of time finding cool stuff kids will love! Just a heads up that the links on this page take you to Amazon and if you buy something through a link, we may get a small commission (but you don't pay more – Fist Bump!). Read more about how that works here.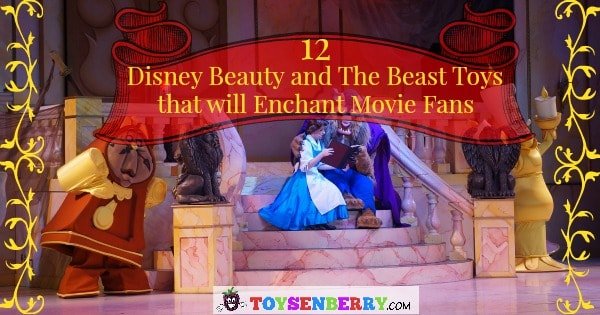 Disney Beauty and The Beast Toys
Disney Beauty and the Beast Grand Romance Doll Set – Belle & Beast
Be still my heart! Little girls will love playing out their favorite movie scenes with the beautiful Belle and Beast Grand Romance doll set. You can also pick up the Belle and Gaston set, although Belle looks dreadfully irritated in that one.
Age 3+
---
Disney Princess Belle Musical Tea Party Cart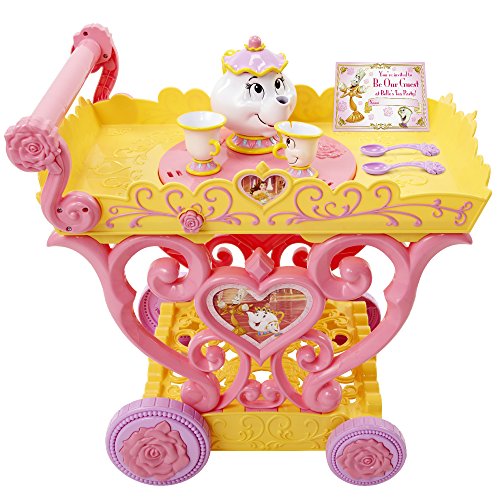 This cute tea cart plays the "Be Our Guest" song as it's pushed and features a lazy susan turntable to make serving tea a breeze for little Belle-wanna-bees. This Disney Beauty and the Beast toy was very popular last year so we are including it on our list. You can read all the reviews and check the current price here.
Age 3-6

For more gift ideas for your Beauty and the Beast fan, here's a great selection of Beauty and the Beast themed clothing
 on Amazon they might like. Themed pajamas are a great Christmas or birthday gift for kids.
---
Disney Beauty and The Beast Live Action Baby Belle Doll
This soft and cuddly Baby Belle is the perfect bedtime toy for toddlers and preschoolers. She sports a beautiful yellow baby-sized Belle gown and a pretty rose rattle (although it doesn't "rattle"). At 13 inches high, it's just the right size for little ones to cuddle and hold.
Age 3-6

---
Disney Beauty and The Beast Live Action Ballroom Belle Doll
Ballroom Belle is of course, Baby Belle all grown up. She's a very good size for preschoolers who want a princess doll, but haven't yet developed the dexterity needed to handle a Barbie sized doll. Ballroom Belle is 13.5 inches tall and has more babydoll-like proportions, making her easier for small (and still a bit clumsy) hands to hold. Her flowing tresses and sparkly ball gown will delight her new owner, for sure.
To add to the playtime fun, you can also buy the Belle dress up costume and matching jewelry. Who says the ball can only have one Belle?
Age 3-6

A brand new release to the Disney Beauty and The Beast toys is Dance Code Disney Princess Belle, which teaches girls age 5 and up how to code. It's set to release November 1, 2017 only on Amazon!
---
Disney Beauty And The Beast Singing Tea Set
Kids can have a tea party with Mrs. Potts, Chip, and Lumiere. And not just any tea party, but a singing tea party! Lumiere belts out his signature tune, Be Our Guest, as his candle "flames" flicker to the melody. Mrs. Potts makes pouring sounds as you tip her to pour the pretend tea. Little movie fans can create exciting new scenes with this fun singing tea set. Another popular Disney Beauty and the Beast toy along the same lines (only quieter) is the Enchanted Tea set, featuring a beautiful gold design for those more formal tea party occasions.
Age 3+
---
Disney Beauty And The Beast Enchanted Rose Jewelry Box
This Beauty And The Beast themed jewelry box is a lovely addition to our list of Disney Beauty And The Beast toys. What a pretty accessory for a child's dresser or nightstand! When your little belle opens the drawer, the rose lights up and the Beauty And The Beast song begins to play.
It comes with 3 AAA batteries too so it's ready to delight, right out of the box. The other nice feature is that you can chose from several settings that control when and for how long the music plays (in case the song begins to grate on your nerves).
Age 3-6

As you can see, most of the Disney Beauty and the Beast toys on our list are for preschool age kids. If you are looking for more toy suggestions for this age group, check out our latest gift guide of the best toys for preschool girls.
---
Disney Beauty And The Beast Village Dress Belle
No collection of Disney Beauty And The Beast toys can be complete without sweet Belle in her signature village outfit. Sure, she's gorgeous in her ball gown, but village Belle is who she really is and this doll really captures Belle's essence. The face is a beautiful likeness of Emma Watson as Belle in the movie.
Village Belle is about 13 inches tall, so she's just the right size to play with other Barbie sized dolls. A nice added feature is that her boots come off, for those moments when she might want to run through the grass. You might want to check out the similar sized Classic Beast doll to go with her.
Age 3+

---
Disney Beauty And The Beast Castle Friends Collection
This little set of Lumiere, Mrs. Potts, and friends is a fun addition to any child's Disney Beauty And The Beast toys. Each figure is only about an inch high or less, but they are very detailed and the perfect size for Village Dress Belle to play interact with.
These would also be a pretty addition to adorn a dollhouse, or even to display on a child's desk or shelf.
Age 3+

Belle is a much-loved Disney princess. If you are buying for a Disney princess fan, you might want to check out the cute playsets in our Disney Princess Little Kingdom toys article.
KidKraft Belle Enchanted Dollhouse
Give your Belle doll her very own enchanted dollhouse to live in. The KidKraft brand quality is evident everywhere in this well constructed, beautifully decorated dollhouse. Each wall is covered in gorgeous artwork from the movie, both inside and out.
This three story dollhouse stands nearly four feet high, so there is plenty of room for multiple children to play together. It comes with all of the furniture and accessories you see pictured with it. Any Beauty And The Beast fan, or dollhouse collector would adore this toy!
Age 3-8

---
Disney Beauty And The Beast Plush Toys
Plush toys make a cuddly addition to a child's Disney Beauty And The Beast toys. They're beautiful to decorate a bed, to sleep with, to display on a shelf, and of course to play with. Each of the character plush toys are good sized too, so they even work as small pillows.
Choose from Mrs. Potts and Chip, The Beast, Belle, Lumiere, Phillipe, or Cogsworth.
Age 3 mos+
---

---
Funko POP Beauty And The Beast Figures
For you Funko POP fans out there, of course there are Disney Beauty And The Beast toys just for them, too!
Besides Belle, the other characters are available as well.
Age 3+

---
LEGO Belle's Enchanted Castle Building Kit
Kids will get lots of entertainment value out of this toy. After they build the enchanted castle, they can recreate their favorite scenes from the movie inside it. This kit comes with several figures and accessories to add to the playtime fun. There are also some little interactions your child will enjoy, like drawers that open and close, a platform for Belle and Beast to dance on, and a few other surprises.
Age 6+

The Belle's Castle Lego set is one of the few Disney Beauty and The Beast toys that's rated for age 6 and up (instead of 3 and up). For more toy suggestions for that age range, check out our Toys for Girls Age 6 to 8 gift guide.
---
We hope our list of these popular Disney Beauty and the Beast toys helps you to find the perfect toy for the Beauty and the Beast fan in your life. For more of the hottest kids toys for Christmas and birthdays, check out our hot toy guides.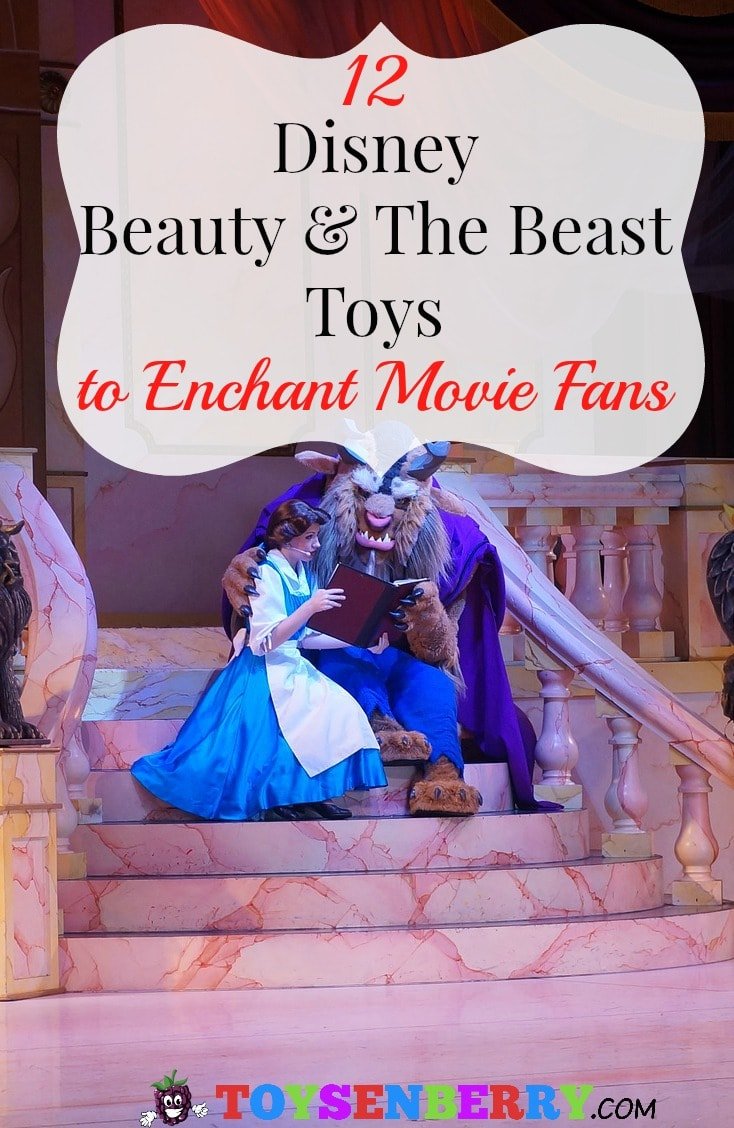 More toys like the Disney Beauty and the Beast toys