What was lacking in the carefree world of the Littlest Pet Shop critters? Why, a Littlest Pet Shop Cruise Ship, of course!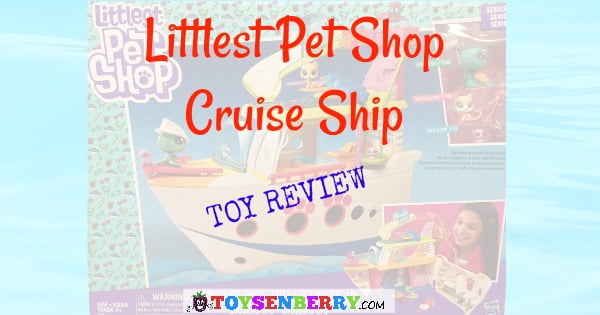 Who knew back in 2005, when the Littlest Pet Shop toy line was redesigned for Hasbro, that it would become one of Hasbro's most successful lines? But the big question is…will their newest toy, the LPS Cruise Ship, float your boat or sink like a stone?
Littlest Pet Shop Cruise Ship Review
From the moment Hasbro revealed the Littlest Pet Shop Cruise Ship toy at the 2017 Toy Fair, it seemed as if it would be a hit. What's not to love about little critters living it up on the high seas? But let's take a closer look and find out if it's worth the hype.
We spend loads of time finding cool stuff kids will love! Just a heads up that the links on this page take you to Amazon and if you buy something through a link, we may get a small commission (but you don't pay more – Fist Bump!). Read more about how that works here.
What's Special About the Littlest Pet Shop Cruise Ship
The cutest thing about this toy is that Hasbro captured all the best highlights of being on a cruise and packed it into this Littlest Pet Shop toy for kids to recreate the fun. First off, if you've ever been on a cruise, you know they are PACKED with activities. The LPS Cruise Ship is no different. The tiny critters can rock climb, zipline, surf, swim, slide, lounge, dance, watch and perform shows and any number of other things a kid's imagination can dream up.


There are lots of fun details on on this floating pet paradise (even a selfie stick and phone!)! We love that the little dance platforms spin, giving small hands a fun interaction to do with their pets.
Also, the stage area provides a great place for kids to have their pets perform shows for the cruise ship audience. Will they act out a dance revue? A magic show? A comedy act? A song and dance extravaganza? The possibilities are wide open and little minds will be stimulated as kids concoct a story for their favorite pets to play out on the stage.
This toy is another great example of how the Hasbro Littlest Pet Shop toys inspire make-believe play in young girls and boys.
If your Hasbro Littlest Pet Shop toys fan likes make-believe play sets, she might love one of the sets featured in our Disney Princess Little Kingdom Toys article.
The Littlest Pet Shop Cruise Ship comes complete with a Lido deck, of course. Kids can send their pets down the slide and into the pool for some swimming fun. The pet passengers can even try their luck on the surfboards, which can be moved up and down with a little dial.
Below the Lido deck is a lounge area with a round table and 3 or 4 perches for the pets to sit and eat. It's fitting that the table is covered with food pictures because, let's face it, that's one of the best things about a cruise, right?
There's even a tiny bathroom (with built-in litterbox) in which the vacationing critters can do their biznus'. That's good, cause there's no pooper scooper on board!
Recommended Age for The Littlest Pet Shop Cruise Ship
Due to the tiny parts that accompany most Hasbro Littlest Pet Shop toys, the Littlest Pet Shop Cruise Ship is recommended for ages 4 and up.
If you're looking for more gift and toy ideas for girls in this age group, check out our toy guides for the best toys for preschool girls and toys for girls age 6 to 8. They are updated regularly and have all the latest toys for girls.
The Good Points of the Littlest Pet Shop Cruise Ship
Aside from the fun features we mentioned above, there are a couple other noteworthy features of the Littlest Pet Shop Cruise Ship.  There are pegs on the surfboards and dance platforms to keep the pets in place while they are spinning or surfing. This helps avoid frustrated cries from both parents and little ones.
There are plenty of perches, ledges, shelves, and nooks to hold lots of pet passengers. It's advertised to hold 30 little pets, but you could probably use even more with this toy. Speaking of which, here's a limited edition multi-pack of LPS figures to help fill up all the lounge areas on the cruise ship.
The ship opens out, so with some imagination kids can use floor space and create other "decks" or "stations".  Other LPS toys, like the hair salon or Tiki stand would work well with the cruise ship and add even more play value to this toy. (Every cruise ship has food stands and hair salons, right?). The cruise ship folds up for easy storage, too.
The Not So Good Points about the Littlest Pet Shop Cruise Ship
This LPS Cruise Ship toy could have included a few more accessories, and  another classic-sized pet or two, for the price.
It comes with a classic-sized turtle, mini cat, and teensie octopus. The accessories include a disco ball, two drinks, a lounge chair, a selfie stick and phone, dance platforms, viewer, zipline basket and stickers. Hasbro could have thrown in a microphone for the stage and maybe another lounge chair.
Is The Littlest Pet Shop Cruise Ship Worth the Money?
You can check the current Amazon price for the Cruise Ship here. It is priced in line with other Hasbro Littlest Pet Shop toys of similar size, such as the Pet Jet or Let's Start the Show Style Set. For the play value and all the features of this toy, we feel, for the most part, that it is worth the money. If it makes your Littlest Pet Shop fan happy and entertained, then what more could you ask?

Where You Can Buy the Littlest Pet Shop Cruise Ship
Of course, you can buy this Littlest Pet Shop toy right here, from Amazon! Other big box retailers that sell Hasbro Littlest Pet Shop toys have this toy available as well.
Final Words on the Littlest Pet Shop Cruise Ship
This is a toy with loads of play value for Littlest Pet Shop fans. It's a ship-shape way (yes, we went there!) for kids to create adventures for their tiny pets and stay entertained.
Fun Factor

Repeat Play

Price

Assembly
Summary
We give price a 4, only because the set could have come with a few more accessories for the price. The cuteness, fun factor, and repeat play value are all high fives and any Littlest Pet Shop fan will love this latest addition to the line!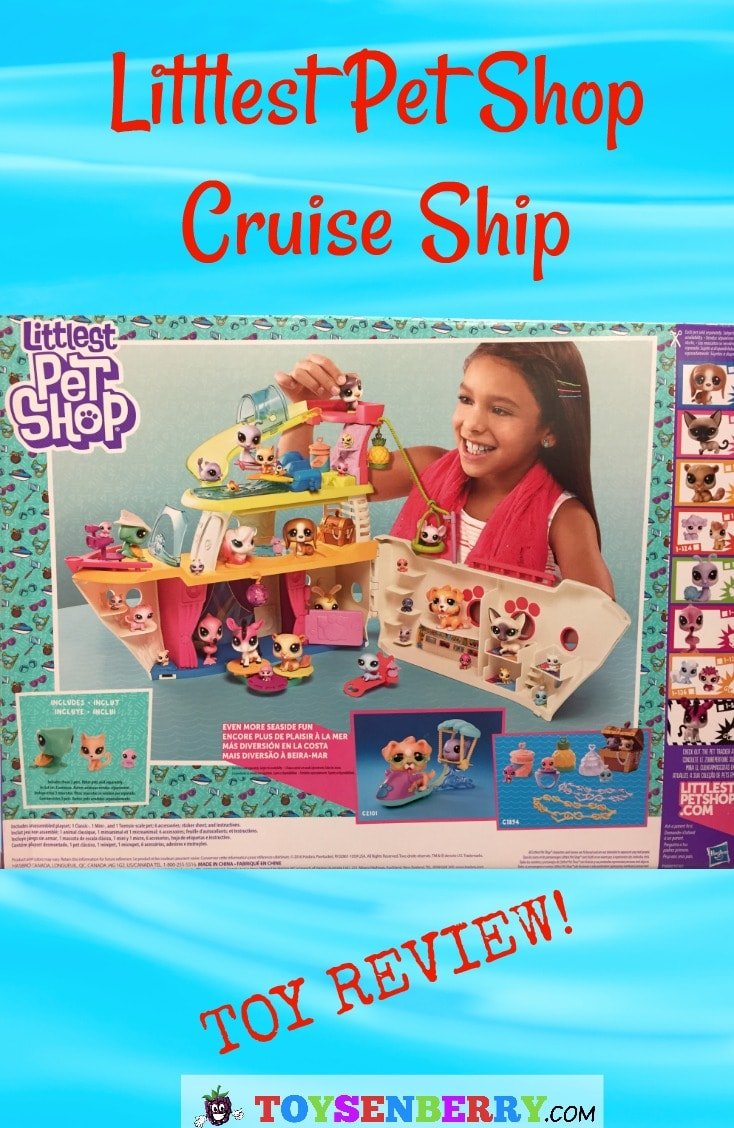 More Toys like the Littlest Pet Shop Cruise Ship