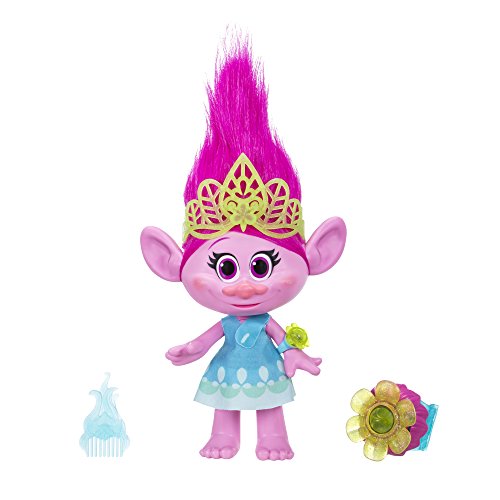 Poppy is the buoyant co-star in the Dreamworks movie, Trolls. There is a variety of toy merchandise associated with this movie, so of course, there is a Trolls Hug Time Poppy doll, since she is the star, after all.
The move is a 3D animated musical comedy that, in true DreamWorks style, is a colorful feast for the eyes. It's been out for over a year now, but the Trolls Hug Time Poppy doll is still very popular so it may very well be on kids' Christmas wishlist.
A little trivia for you – remember the Troll fad from the early 1960's? Those dolls were originally created in 1959 by a Danish woodcutter, Thomas Dam. Poor Tom couldn't afford a Christmas gift for his young daughter so he carved one from wood using only his imagination. Well, and a knife.
The point is, if your wood carving skills aren't up to par, never fear, because there are some darn cute Trolls movie inspired dolls to save you, like this one.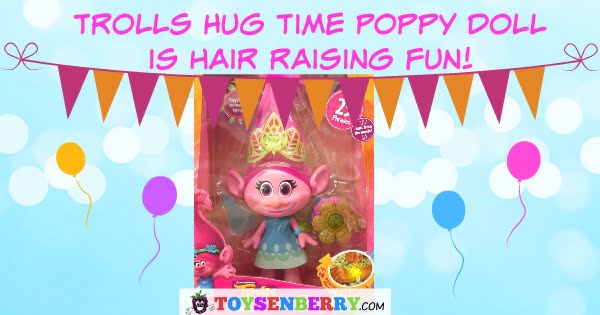 We spend loads of time finding cool stuff kids will love! Just a heads up that the links on this page take you to Amazon and if you buy something through a link, we may get a small commission (but you don't pay more – Fist Bump!). Read more about how that works here.
Trolls Hug Time Poppy Doll
What's Special about the Trolls Hug Time Poppy Doll?
Poppy is the ever cheerful troll princess in the movie, and the doll portrayal of her does an excellent job mimicking that.
To get a true sense of this heroic and positive little character in the movie, take a peek at the Trolls movie trailer:
Looks like a fun ride, right?
Of course the Trolls Poppy doll looks like the movie character, with her pink skin and signature crazy troll hair. But she also acts like the character, giving your child the sense that she's truly friends with the spirited little Poppy from the movie.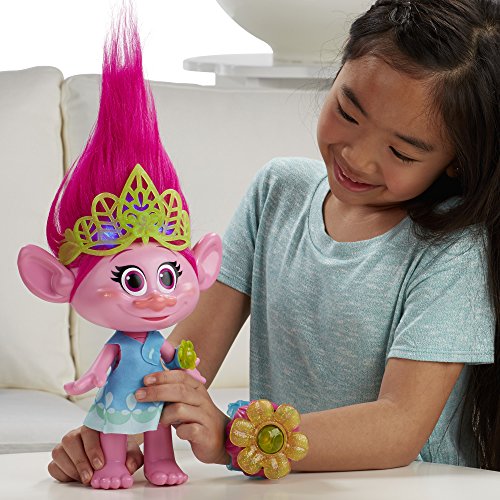 Little girls will want to act out their favorite scenes from the movie with their Trolls Poppy doll. Press her tummy and she says one of 25 pre-programmed phrases from the movie, and her pretty little crown lights up.
If you hold Poppy's hands and and pull them slightly from side to side, songs from the movie will play, and she will appear to dance. Her bracelet and crown will light up as well, to the delight of your child.
In the movie, Poppy's bracelet is actually a watch that tells Poppy it's time for hugs. The Poppy doll comes with a matching bracelet for your child. When your child presses the button on her bracelet, it connects with Poppy's bracelet and both light up. Hug time!
A chime will then sound and Poppy will begin to light up and talk.
If your child sees the movie, the significance of the bracelets lighting up will be clear. Just know that this is an important feature for the Poppy doll. To see what I mean, check out the video on Amazon of Poppy in action.
The Poppy doll comes with her crown, bracelet, a bracelet for your child, and a comb to style that crazy troll hair.
She also comes with three A76 batteries and two AA batteries. You'll want to have spares at the ready since the two AA batteries are to demo it in the store and will likely run out quickly.
Recommended Age for the Trolls Hug Time Poppy Doll
The Trolls Hug Time Poppy doll is recommended for kids ages four years-old and up. It will most likely appeal to girls, due to the feminine colors and the whole wearing a bracelet thing. And girls are just more likely to relate to the character, although Poppy's message of positivity and joy would appeal to both boys and girls.
The Trolls Hug Time Poppy Doll is perfect for girls in the 3 to 7 age bracket and even a bit older. For more toy suggestions for girls this age, check out our guides for the best toys for preschool girls and the top toys for girls age 6 to 8.
The Good Points of the Trolls Hug Time Poppy Doll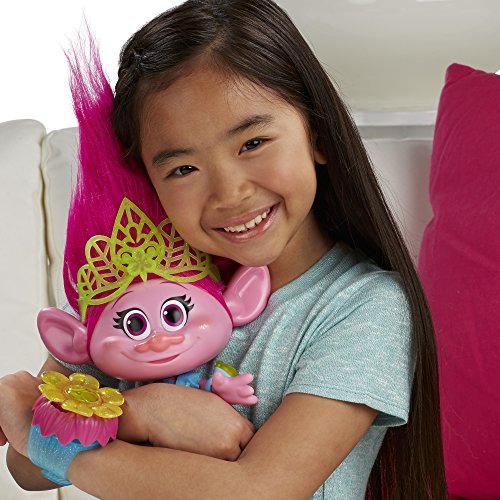 Poppy is just a fun and positive character and to have a doll that brings her bubbly personality to life would be a treat for any child.
Poppy has enough fun features to be an extremely entertaining little toy. Your child will be enamored with Poppy's extensive vocabulary and songs, not to mention the interactive bracelets.
The Trolls Poppy doll is 15 inches high, making it large enough to be easily squeezed and held by your child.
Toy Poppy is sure to encourage imaginative play, as your child dreams up Troll adventures for the two to embark upon. To inspire a child's imaginations is always a good thing.

The Not So Good Points of the Trolls Hug Time Poppy Doll
The only really negative thing about this toy is she may be a little too large for smaller children to handle easily.
Also, because she doesn't have the traditional movie princess look, her appearance might overwhelm a youngster. However, if your child has seen the movie or trailers for it, and knows what to expect about Poppy's appearance, the unique look of this doll shouldn't be an issue.
The last not-so-good thing is you may spout off any of the 25 Poppy phrases at random because you've heard them 25 million times. But hey, that's the price you pay for a happy child, right?
In addition to the Trolls Hug Time Poppy Doll, there are lots of other really fun Trolls Movie toys. You might want to check out our article where we feature 18 Fun Trolls Movie toys for kids.
Is Poppy Worth the Money?
You can check the exact price on Amazon here.
It's a little bit pricey, but if your child loves the Trolls movie and the Poppy character, then this toy will be money well spent. It's one of those main wishlist toys that a little girl would be ecstatic to receive.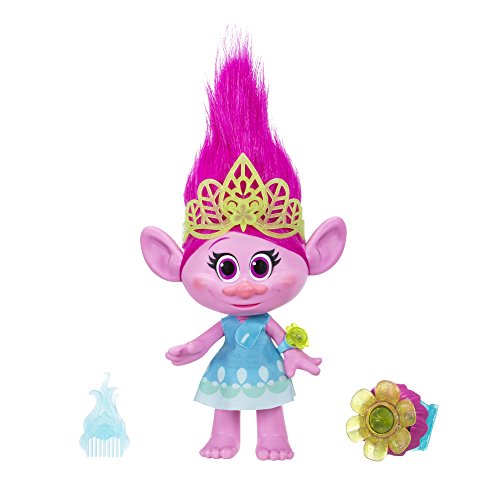 The good thing is that Amazon has an excellent return policy if it turns out your child doesn't care for the toy.
Where you Can Buy the Trolls Hug Time Poppy Doll
The Trolls Hug Time Poppy is available now wherever toys are sold. Of course, you can buy it right here on Amazon.
Final Words on the Trolls Hug Time Poppy Doll
We feel the Trolls Hug Time Poppy doll will be a hit with kids who are fans of the movie. She would be a great gift for any child who loves the Poppy character. Hasbro did a fabulous shop of capturing her positive, bubbly personality and bringing it to life with this toy.
So much so that I just noticed how I've anthropomorphized this toy throughout this review by calling it a "she"!
Final Rating for the Trolls Hug Time Poppy Doll
Fun Factor Value

Repeat Play Value

Price
Summary
Although a little on the pricey side, this doll captures the Poppy character from the Trolls movie very well and will delight young movie fans.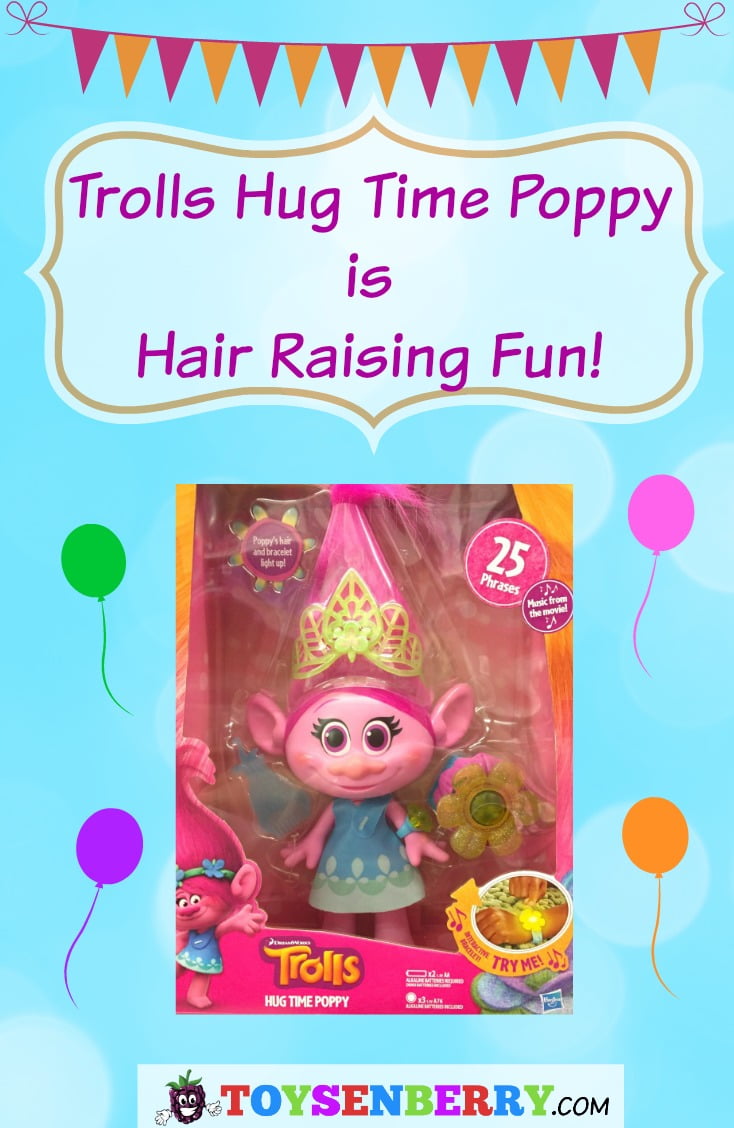 More Toys Like the Trolls Hug Time Poppy Doll