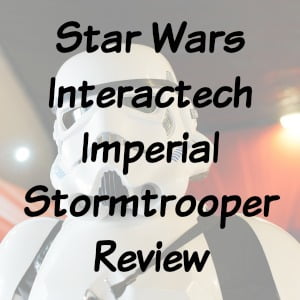 The Star Wars Interactech Imperial Stormtrooper figure is included on the official Hasbro collector's list of Hasbro Rogue One toys.
How do I know this? I'm so glad you asked.  😉  I wrote a whole post where I covered every single toy on that list.
Every. single. toy. (Well, those sold on Amazon, anyway.)
By the end of it, I was talking like Yoda.
The point is, the Hasbro Rogue One Toys guide for those who don't understand Star Wars was written for those who have a Star Wars fan on their holiday gift list, but don't know all that much about Star Wars. Like me…before I wrote that post, anyway.
That said, I have to say…this Star Wars Interactech Star Wars Stormtrooper action figure is way cool, even from my perspective as a Star Wars newb.
This review was originally written in 2016 when the toy first came out, but there are many reasons why it is still a great gift choice for kids even now.
We spend loads of time finding cool stuff kids will love! Just a heads up that the links on this page take you to Amazon and if you buy something through a link, we may get a small commission (but you don't pay more – Fist Bump!). Read more about how that works here.
In a Hurry? >>>>You can check out the Interactech Stormtrooper toy on Amazon here.
Star Wars Interactech Imperial Stormtrooper Figure Review
What's Special about the Star Wars Interactech Imperial Stormtrooper Figure?
Star Wars Interactech Stormtrooper Figure
The Interactech Imperial Stormtrooper has over 65 sounds and phrases. To activate the toy, you press its belt.  It has a motion sensor so that different movements will elicit a different response.
Make a marching motion with him and it makes Stormtrooper marching sounds.
Pretend he's in hand to hand combat and hear him throwing punches.
Toss him in the air and he yells in fear.
Despite all that hostile treatment, Mr. Stormtrooper remains in good spirits.
Dangle him upside down and he says things like, "A trooper should always be on his feet," or "Uhh…a little help here."
It's not just motion that triggers responses from the Imperialist, either. If you snap on his jetpack , his chest glows with a Tie Fighter likeness, indicating he's ready for lift-off. Swoosh him through the air and you'll get flying noises.
This figure also comes with a blaster. Place it in his hand and his chest lights up with the Imperial symbol and says phrases to show he's ready to fight for the Empire.
Flick him back and forth and you'll hear the familiar "PEW, PEW" of his blaster.
And of course, he has a place to holster his weapon when he's at ease and just hangin' with his Trooper buddies.
The Interactech Imperial Stormtrooper is about 13 inches tall – a nice size for active playing. It takes 2 AA batteries to work. It does come with batteries used for demo purposes in the store, but those generally run out quickly.
Take a look at this video to see the Star Wars Interactech Stormtrooper action figure in action:
Recommended Age
The Manufacturer recommends this Star Wars Stormtrooper toy for kids aged 4 and up. For play appeal, we think it would appeal to kids up to around age 10. Of course, for someone who is a collector or an avid Star Wars fan, there really is no maximum age for this.
For more gift ideas for kids in this age group, check out our Top Toys for Boys Age 6 to 8 and Best Toys for Preschool Boys gift guides.
The Good Points of the the Star Wars Interactech Imperial Stormtrooper Action Figure
The variety of interactions with the Interactech Imperial Stormtrooper make this a very entertaining toy with definite repeat play value.
This toy appears to be very durable. It's made from hard shiny plastic so that it can withstand a tumble or two that may arise from any overactive galactic adventures (or 7-year-olds).
There is an "Off" button so the toy won't get triggered accidentally during non-play time. This is nice so that you don't wake up in the middle of the night thinking the Empire is attacking your house.
It automatically goes into sleep mode if there are no interactions with it for a minute or so. That's a nice feature to help save on batteries.
The Not So Good Points of the Star Wars Interactech Imperial Stormtrooper Figure
Some might not like that this Star Wars Stormtrooper figure isn't very poseable. The knees don't bend, but that's probably because of the electronic parts within the figure.
It would be nice if there were an Interactech figure on the good side of The Force so the two could battle it out. This might extend the repeat play value a bit more.
However, there are other 12-inch Star Wars action figures that could be used along with the Interactech Stormtrooper for group play.
The only other negative we can think of is that the noises might drive parents nuts. But kids having fun is usually at the expense of peace and quiet, isn't it?
Worth the Price it is, Hmmmmm?*
*For that to be funny, you have to read it in a Yoda voice.
Star Wars Interactech Stormtrooper Figure
The Star Wars Interactech Imperial Stormtrooper figure has come down quite a bit in price since he was first released in 2016.
Which makes this holiday season a great time to buy him because he's still available and at a decent price.
We feel this Imperial Stormtrooper toy is a good value for the price, considering all the different ways a child can interact with it.
Last Words on the Star Wars Interactech Imperial Stormtrooper Figure
Bottom line…this is an entertaining toy and would be a great gift for a Star Wars fan or any kid who likes action toys. Lots of kids of all ages love Star Wars and a toy like this brings all those galactic adventures to life.
Final Rating for the Star Wars Interactech Imperial Stormtrooper Toy
Fun Factor

Repeat Play

Price
Summary
This Star Wars Stormtrooper toy is durable and had lots of fun interactions for quality play time. Although its lack of poses is a negative, that does not detract from the play value. This gift would delight a Star Wars fan and earn the giver definite cool points!
More Gifts Star Wars Fans Might Like