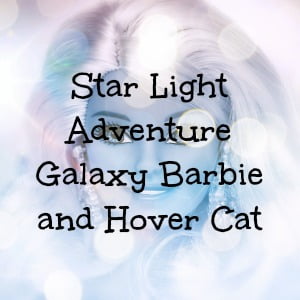 Barbie pairs up with a decidedly different kind of pet in this Barbie and Hover Cat toy. Not only that, but she's shedding her fashionable outfits and taking to the skies.
And no, I don't mean she's begun a new career in streaking. Star Light Adventure Galaxy Barbie is all suited up and ready to kick some galactic butt.
But she's not embarking on her out of this world adventure alone, no siree. She has her trusty sidekitty, Pupcorn, and some new friends to help her save the dimming stars.
That's the plot for the Barbie Star Light Adventure movie on which this toy is based. Both the movie and the Barbie and Hover Cat came out in Fall of 2016.
We spend loads of time finding cool stuff kids will love! Just a heads up that the links on this page take you to Amazon and if you buy something through a link, we may get a small commission (but you don't pay more – Fist Bump!). Read more about how that works here.
In a Hurry? >>>>>Check out Star Light Adventure Galaxy Barbie on Amazon right now.
Barbie Star Light Adventure Galaxy Barbie and Hover Cat
Barbie Star Light Galaxy Barbie Doll & Flying Cat
What's Special About Galaxy Barbie and Hover Cat?
Well for starters…she has a flying cat! But I'll get to that in a minute.
This is no traditional Barbie. If you expect to be able to change her into some cute outfits, you'll be galactically disappointed (sorry, I couldn't resist that one).
The first thing you'll notice is her futuristic look and the fact that she can't wear any other Barbie ensembles other than the clothes she comes with.
Poor Spacey Barbie. What's a girl to do with such a limited wardrobe? It can't be helped though, because she holds 4 AAA batteries in her back, secured with a screw. With all that weight, I suppose her makers thought it best to make her pink pantsuit molded on.
She does, however, have a silver vest and boots (the latest in future fashion, we just don't realize it yet), a pink plastic skirt, and a hairclip. All of these are removable.
Also removable is her blue utility belt. Because when one is on a different planet saving the universe, one just might have to attend a gala and one's utility belt might clash with the dress. (#RulesOfFashion)
Because you can't actually change Galaxy Barbie's clothes, Mattel had to make a separate Barbie doll wearing the cosmic frock from the movie. I have to say, it's quite lovely. That doll is Barbie Star Light Adventure Gown doll. 
Here's what Galaxy Barbie's clone-who-gets-the-prettier-outfit looks like, if you're curious. Also, here's the Star Light Adventure Barbie movie.
 Barbie Star Light Adventure Gown Doll
 Barbie: Star Light Adventure
Fashion issues aside…the whole flying cat thing is pretty cool. The way it works is, Barbie has the handle to space kitty's leash in her hand (this is permanent, by the way). You connect the leash to the handle, then push a button on the back of Barbie's leg. This powers the propellers attached to space kitty and away she goes!
It really works and little Pupcorn flies like a …well, like a flying kitty.
I will Little girls will be thrilled to act out scenes from the movie or make up new adventures for Star Light Adventure Barbie and her Hover Cat.
Watch the video and tell me if you don't want one of these:
Recommended Age for Barbie and Hover Cat
The manufacturer's recommended age range for this toy is 3 – 7-years old. Honestly, I played with Barbie's until I was ten, so I think you could go a little older with this one.
If you're buying for an elementary school aged child and she liked the movie and is still into Barbies, she would love this. Girls that haven't seen the movie might not get the futuristic concept of it. Although…what's not to love about a flying cat?
Just a side note here – I bought the Barbie Star Light Adventure Flying RC Hoverboard Doll (pictured below) for my niece. She liked it so much that this year for her birthday, I bought her Galaxy Barbie and Hover Cat, along with the movie and she really enjoys playing with this toy. She just turned 9. So, take the age recommendation with a grain of salt, is what I'm saying.
Is the Price Astronomical?
I couldn't resist that one either. Barbie Star Light Adventure and Hover Cat are at a great price on Amazon. Even less this year than when I bought it (darn it!). You can check the current price of Star Light Adventure Galaxy Barbie on Amazon.
The Good
The Not So Good
Some girls might not like Galaxy Barbie's limited wardrobe.
A few other reviewers are complaining that flying kitty's propellers fall off easily if they're bumped. And actually, the little girl in the video above mentioned that they might fall off. So this could be frustrating for younger kids.
Is Galaxy Barbie and Hover Cat Worth the Price?
The Barbie and Hover Cat set has come way down in price since it first came out (as toys often do) so it's actually really reasonably priced right now. None of Farm Vet Barbie's pets fly and she's more expensive than our Galaxy Girl.
Final Words on Star Light Adventure Galaxy Barbie and Hover Cat
Barbie and Hover Cat is a fun Barbie toy set that any child who likes Barbies would love to receive. Just ask my niece! Little girls will be inspired to come up with unique space adventures to embark upon with this pair by their side.
Below (far left) is the RC Hoverboard Doll (the one I bought my niece) and a couple other inexpensive Barbies from the movie that would pair well with Galaxy Barbie and Hover Cat.
 Barbie Star Light Adventure Flying RC Hoverboard Doll
 Barbie Star Light Adventure Lights & Sounds Hoverboarder
 Barbie Galactic Adventure Prince Doll
Review Results for Star Light Adventure Galaxy Barbie and Flying Cat
Fun Factor

Repeat Play

Price
Summary
Girls who like changing their dolls outfits, might not play with this as much as their other, more traditional Barbies, so we give it a 3 for repeat play value. But it is great fun to zoom Barbie around with her flying kitty and we think girls who liked the movie will really love this.

For more gift ideas for girls, check out our Top Toys for Girls Age 6 to 8 and Best Toys for Preschool Girls gift guides!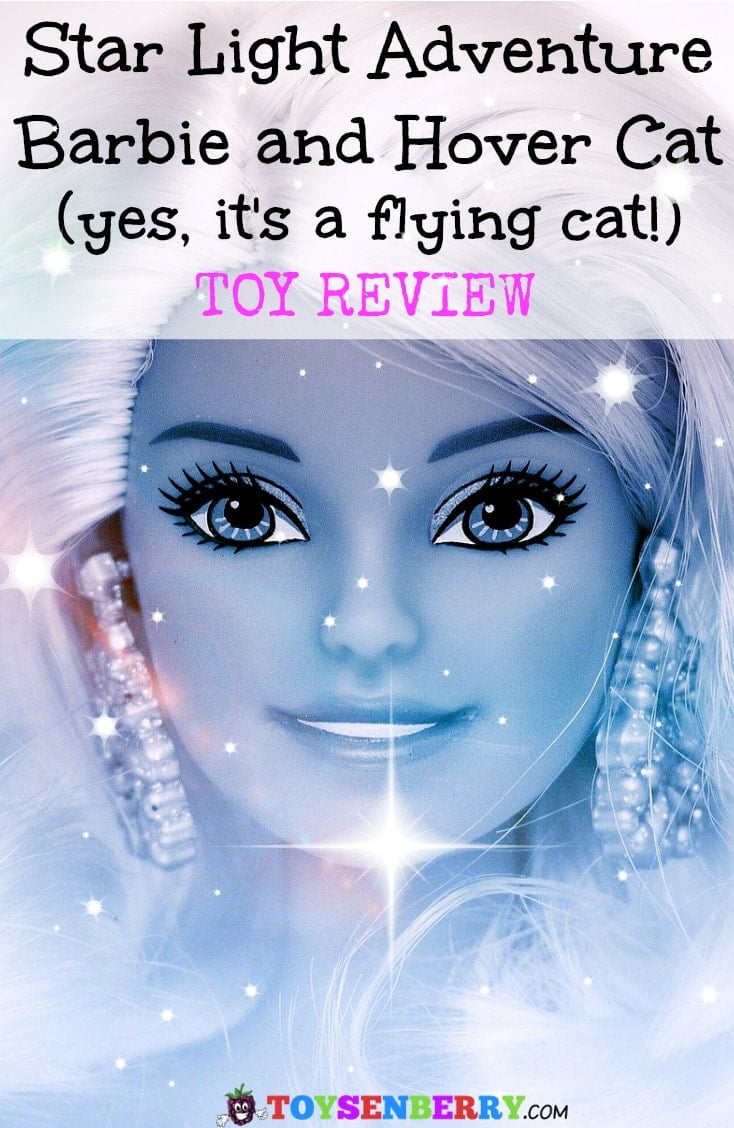 More Barbie Gift Ideas