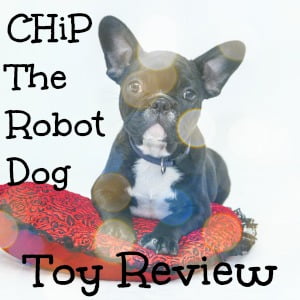 Welcome to our CHiP the Robot Dog Review!
Mechanical pets have come a long, long way in the last 15 years. First there were the kind you controlled with a button attached by a wire (like the pitiful one described in our About story).
Then came the Tamagotchi virtual pets, and now…actual interactive robotic pets, like CHiP the Robot Dog.
Recent years have seen some amazing strides in robotics and AI and little CHiP is a great example.
CHiP is a robot puppy that responds to commands, can be "trained", and displays some freestyle interactions as well, such as growling and barking.
We spend loads of time finding cool stuff kids will love! Just a heads up that the links on this page take you to Amazon and if you buy something through a link, we may get a small commission (but you don't pay more – Fist Bump!). Read more about how that works here.
CHiP the Robot Dog Price
Since ChiP has been released in 2016, the price has come wayyy down from it's original $196 price. You can check the current price on Amazon here. If you put off buying CHiP last year due to the price, you should consider it this year (#ProcrastinationPaysOff).
Recommended Age for CHiP the Robot Dog Toy
WowWee recommends the CHiP the Robot Dog toy for ages 6 – 15. Really, it will appeal to all ages, right on up to those who enjoy robotic pets for adults. Kids in the younger range may get a bit impatient because there is some setup to it and it takes some practice to master the commands. But the more CHiP's owner uses and interacts with him, the "smarter" CHiP becomes and the better he begins to respond.
What's Special About CHiP the Lovable Robot Dog?
For starters, this little robot pup is cute as a button. His little ears, the way he tilts his head, that pre-programmed, yet interactive personality – CHiP the Lovable Robot Dog will win you over immediately.
Take a look at this official video from WowWee and you'll see what we mean:
The WowWee CHiP robot toy dog comes with a SmartBand, a SmartBall (which requires 4 AAA batteries, not included), and a SmartBed, which is where he charges up for more play.
The wristband controls and helps to "train" this cute canine. You can speak commands into it, and reinforce good behavior or discipline bad, with buttons on the watch. There is also an app for both iphone and Android, which gives even more commands and functionality.
The wristband also enables the WowWee CHiP robot toy to play fetch with his SmartBall. He'll return the ball to whomever is wearing the wristband.
With the app, you can set which voice belongs to CHiP's master and most users found he functioned much better after they did this.
The cutest feature is the "Yoga" command, which will prompt CHip to stand on his head.
CHip is pretty quick and agile and thanks to his mecanum – specially designed wheels – is able to follow you around easily and play games with his ball.
CHip's dimensions are: 8.5″ tall, 9.25″ long, from front wheels to back wheels, and about 7.5″ high. He weighs in at about 2 pounds, 10 ounces.
Our CHiP the Robot Dog Review of The Good Points
There is a lot to love about CHip the lovable Robot Dog. The novelty of a robotic pet will appeal to kids and adults alike.
Since he learns through reinforcement, after continued use and consistency he behaves the way you want him to (which is more than can be said for some real dogs!). This also makes him customizable to each owner. Eventually, your CHiP will behave differently than say, your neighbor's. And that's pretty cool!
The most fun feature is the way he plays with his ball, chasing it around the house and playing fetch with his owner. While this won't give your kids as much activity as running around outside with a real dog, it does encourage kids to be active and run and play with him.
When CHip runs low on energy, he retreats to his bed automatically to charge up and be ready to play again.
The WowWee CHiP robot toy dog comes with a 90-day warranty, which is nice. The manufacturer will continue to deliver updates to CHiP and his ball, which may increase features as time goes on.
Electronic pets are among the hottest kids toys for Christmas! For more gift ideas like CHiP, check out our 2017 Top Electronic Pets for Kids article.
Our CHiP the Robot Dog Review of the The Not So Good Points
The biggest complaint from other reviewers is the lack of written instructions that come with little CHip the Robot Dog. That may have improved by now, since CHip has been on the market for over a year. In our CHiP the Robot Dog Review, we are including a link to the user manual for CHip here.
This video from WowWee gives some basic instructions, and it's also a good way to see a little more detail about how CHiP the lovable robot dog works:
Some users complain that CHiP only responds to men's voices. Kids and girls with higher pitched voices may have a hard time getting CHiP the Robot Dog to hear them. This seems to improve greatly if you download the app and register the owners' voices with the app.
Speaking of the apps, many users are saying the iphone app works great, but the Android does not. However, there was a firmware update to the Android app on 9/23/2016 and that problem has been resolved.
This WowWee CHip robot toy dog runs out of energy a bit quicker than a real dog. A few reviewers mentioned he has to be recharged often, and sometimes can not find his charging bed automatically, like he's supposed to. There is a manual charging option, but it would be nice if CHip could take care of himself in that regard. Some kids might get impatient waiting for their puppy friend to be ready to play again.
Another common complaint is that you must install the wheel guards on CHip yourself, when you first receive him. Maybe that's so he can fit better in the shipping box, we're not sure, but it's more of an inconvenience than a true downside.
Check Out CHiP's Little Bro and Sis!
 WowWee Chippies Robot Toy Dog – Chipper (Blue)
 WowWee Chippies Robot Toy Dog – Chippella
Is CHiP the Robot Dog Price Worth It?
CHiP's original price was nothing to sneeze at. But the CHiP robot dog's price has come down quite a bit since he first came out and we find him to be quite worth the price now. Remember, you are getting CHip, the ball, his bed, and the SmartBand and all of these things contribute to a fun playing experience with him.
The thing we gathered from our research is that, just like a real pet, you have to be committed to making CHiP a part of the family. If you play with him often and reinforce his behaviors so he learns what you want him to do, he can be a super fun toy and well worth the money. And hey, it's still cheaper than a real dog.
Where Can You Buy CHip?
WowWee CHiP Robot Toy Dog – White
CHip is available now at many large retail stores and online. Or hey, here's an idea – you can buy him right here from Amazon and have him shipped to your door!  😉
CHip the Robot Dog Review Final Words
CHip is just plain cool. C'mon he's a ROBOT! If your child is somewhat patient at first, and learns how to use the commands, they will be delighted with this toy. He's also a great robotic pet for adults too.
Is this CHiP the lovable robot dog better than the real thing? That depends on your perspective. A real live being will always trump a robot but then again, CHiP doesn't need a pooper scooper and won't chew your shoes. So.
Fun Factor

Repeat Play

Price

Assembly
Summary
Since CHiP's price has dropped, we increased the rating for price to a 5. We give assembly a 4 because the wheel guards are a bit of a challenge to put on him when you first get him. Overall, we feel CHiP is entertaining for kids and adults and a pretty sweet piece of toy technology!
CHiP the Robot Dog Review Video of a Family's Experience
We found this video on YouTube of a real family interacting with CHiP. You might fast forward through a couple parts, like the unboxing in the beginning, but it gives a good feel of how an average kid responds to this toy.
This video a true experience from a family trying out their WowWee CHiP robot dog toy for the first few days after receiving him. It might give you an indication of whether CHiP would be a good fit for your family or for the child in your life.