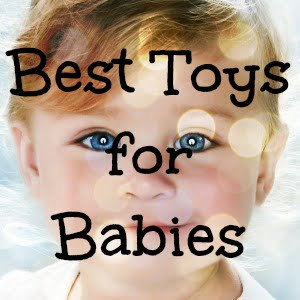 The best toys for babies are full of color and texture and delight baby's developing senses.
Keep in mind that when you're buying toys for babies for Christmas gifts or other occasions, you're buying for mom and dad too. Because the best baby toys will hold the little dumpling's attention long enough for mom or dad to finish their coffee.  😉
All the more reason to pick something really awesome! So to help you pick out the best toys for babies on your gift list, we've gathered some top picks from sources like Parents magazine, Toy Insider, Amazon favorites and others.
These are some of the best baby toys for 2019!
We spend loads of time finding cool stuff kids will love! Just a heads up that the links on this page take you to Amazon and if you buy something through a link, we may get a small commission (but you don't pay more – Fist Bump!). Read more about how that works here.
In a hurry? >>>>Check out the hot selling baby toys on Amazon here
!
Best Toys for Babies
One of the Top Baby Toys is the Winkle Sensory Rattle
Manhattan Toy Winkel Rattle and Sensory Teether Toy
The award winning Winkle Rattle by Manhattan Toy is a favorite among babies and parents both. We know cause the babies took a vote.  😀
Seriously, this classic toy won multiple awards for being one of the best toys for babies. 
Holds baby's attention within a few days of birth
Gives babies multiple ways to grab it
Pliable and BPA-free for safe chewing
Under 5 inches and lightweight, perfect for baby flailing
Check out the parent reviews on Amazon and you'll see why this one is a top seller. The inexpensive price doesn't hurt either!
Age: Newborn – 24 Months
---
Baby Gyms are the Best Toys for Babies
Fisher-Price Music and Lights Deluxe Gym, Rainforest
Baby gyms are great examples of baby toys that moms and dads love. Baby can lay on his back or tummy and be entertained by the toys, lights, sounds and textures all around him.
Meanwhile, mom or dad get a chance to catch up on Netflix shows, make dinner, fold laundry or do other stuff they can't do while entertaining junior.
The Fisher-Price Rainforest Gym has these nice features:
7+ detachable toys, including a mirror
Attach toys to the top or to the blanket for different playtime experiences
Toucan senses movement then lights up and plays music
Lots of blanket textures for baby to explore
Another reason a baby gym makes a great baby gift is that mom and dad can reuse it if they have another baby. These baby toys can get lots of mileage!
Here's a few other top choices for baby gyms, each with some unique features. The Infantino gym on the left can be turned into a ball pit for older babies. And the Kick & Play gym on the right lets baby play piano with his feet, or the keyboard can lay flat for the more traditional budding pianist.
 Infantino Grow-with-me Activity Gym and Ball Pit
 Baby Einstein Caterpillar and Friends Play Gym
 Fisher-Price Kick & Play Piano Gym, Blue/Green
---
Lil'Critters Moosical Cow is a Top Baby Toy for Christmas
VTech Baby Lil' Critters Moosical Beads
Musical toys delight baby's eyes and ears and are an early lesson in cause and effect.
This Lil' Critters Moosical Cow has lots of contrasting colors for very young babies, and musical buttons babies can activate with a hand swipe when they get more active. Here's some more pluses for this baby toy:
Has two volumes and an on/off switch
Plays over 30 songs and sounds
Plastic ring is easy for baby to grasp
Small enough to toss in the diaper bag and take on-the-go
This little talking cow offers loads of entertainment for babies at a super low price. It actually was released a couple years ago, but is still getting great reviews, so we're keeping it on our 2017 best toys for babies list.
Age: Newborn – 24 Months
---
Little Tikes Activity Garden Set is One of the Best Toys for Babies
Little Tikes Activity Garden Baby Playset

The best toys for babies grow and adapt along with the little munchkins.
The Little Tikes Activity Garden Set provides a safe playpen-type space for younger babies to explore. But it also opens up for a larger play space to accommodate older babies and toddlers. There are lots of fun features on this toy:
Crawl-through archway and slide to encourage motor skills
Multiple activities, like shape sorter, keyboard, ball drop and more
Detachable activity center 
Simple to rearrange
Good for indoors or out
Parents will love this as a Christmas toy for their baby because it will keep baby entertained up to 3 years old. It's great for families with multiple young children too!
You definitely want to check out the reviews on this one, it's a top baby toy that's another parent and kid favorite!
Age: 6-36 Months
---
Manhattan Toy Baby Stella is a Top Infant Toy
The Manhattan Toy line makes the cutest dolls for babies and toddlers. These are great to encourage nurturing in young boys and girls.
Here's my favorite features of the Baby Stella dolls:
They're soft and cuddly
Great bedtime comfort toys
15 inches long, to fill the arms of little ones
Wee Baby Stella comes in 12 inches for smaller children
Simple features and clothing that's easily removable
They come in a variety of skin tones
Huge selection of outfits and accessories to go with them

High quality soft dolls for babies at a reasonable price!
If you order a doll and accessories, do make sure you're ordering the right size accessories for your doll, since the dolls do come in two sizes.
Below are a couple of their popular dolls and the most ADORBS doll pajama set ever! (#IWantGrandkids)
 Manhattan Toy Baby Stella Boy Doll
 Manhattan Toy Wee Baby Stella
 Baby Stella Goodnight Pajama Set
Aww, heck, there's too many cute ones to just show you three! Here's the link to the whole selection of Manhattan Toy Baby Stella items on Amazon.
Age: 12 Months – 6 years
---
No Ants – Just One of the Best Toys for Babies!
LeapFrog Shapes And Sharing Picnic Basket

The LeapFrog Shapes and Sharing Picnic Basket keeps babies and toddlers busy sorting, matching, stacking and filling, while mom does the same thing with the laundry!
When youngsters lift the lid, the cheery basket sings or asks questions about shapes and colors. This parent favorite is loaded with other fun features:
Great price!
14 picnic items for imaginative play
Teaches shapes, colors, motor skills and manners
Pieces fit inside for easy storage
Speaks or sings over 30 songs, phrases and sounds
For the price and everything you get, this is one of the best Christmas toys for babies!
Age: 6-36 Months 
---
Ding Dong! Baby's Home!
Fisher-Price Laugh & Learn Smart Stages Home Playset [Amazon Exclusive]
There are lots of fun interactions babies can do in this pint-sized house playset from Fisher-Price!
The Smart Stages Home Playset is an educational toy for babies that interacts differently as baby grows. Parents can enter their baby's age, then the toy responds with different levels of age appropriate learning activities. Here are some highlights of this entertaining toy:
Level 1 helps baby explore sights, sounds and cause and effect
Level 2 gives baby simple learning instructions and activities to follow
Level 3 encourages toddlers to pretend play
Multiple kids can play from both sides of the toy
75+ songs and phrases
Since this toy has a variety of activities to appeal to kids all the way up to 3 years old, it's a gift parents could get a lot of use out of, especially families with both a baby and a toddler.
Age: 6-36 Months
---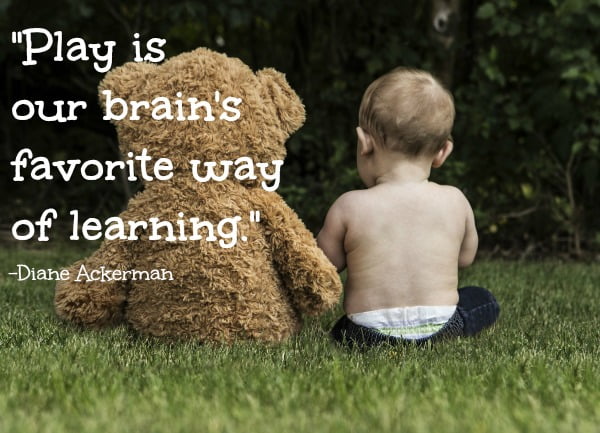 ---
Hape Pound & Tap Bench is a Top Infant Toy
Hape Pound & Tap Bench with Slide Out Xylophone
Babies will be delighted by the tinking sounds they'll hear as they tap the colored balls onto the xylophone in the Pound & Tap Bench by Hape.
This classic toy not only encourages musical development in babies, but it also teaches colors and cause and effect. Here are some other reasons this is one of the top baby toys this year and years past:
Solid quality wooden toy built to last
Non-toxic materials
Encourages audio recognition
Xylophone is removable, so there's two ways to play
This toy has been around several years, but it's still a big seller and gets great reviews. I'm not surprised, because Hape is known for their good-quality wooden toys for kids. You can be sure if you buy one for a gift, it's going to last.
Age: 12-36 Months
---
VTech Sit, Stand and Ride Baby Walker
VTech Sit, Stand and Ride Baby Walker
Baby's a rollin' stone and the VTech Sit, Stand and Ride toy is just the thing to help her get where she needs to go!
This puppy is the fully loaded Mercedes of baby ride-on toys. It's a floor toy for young babies, a walking toy for slightly older babies and a full-on ride-on when baby is old enough to hit the road (so to speak). Check out all the other features it has to offer:
Interactive activity panel with TONS of learning fun
60+ songs, melodies and sounds
Activity panel removes for floor play
Motion sensors activate sounds and songs as baby moves it forward
Speed control (no speeding tickets for baby!)
With the versatility and price of this toy, it's easy to see why it's one of the best toys for babies this year!
Age: 9-36 Months
---
Activity Cubes are Among the Best Toys for Babies
Hape Country Critters Wooden Activity Cube
There's a reason you see activity cubes in all the pediatricians' offices. They keep little ones of all ages occupied and happy!
I love this Hape Country Critters Activity Cube because, like I mentioned above, Hape makes great quality wooden toys. Also, the country critter theme of this one is so darn cute and colorful. It features the always engaging moving beads, but is loaded with other activities too:
Shape sorter
Movable maze
Ball dropper
Non-toxic
Non-electronic (nice for quiet time!)
Versatile appeal for many ages
The other thing I love about this toy and activity cubes in general, is that parents can put it in a family room and it occupies several young kids at once.
It takes the place of multiple small toys scattered around the room and parents will thank you for that!
Here's two more activity cubes with great reviews that are top baby toys. I really love the Manhattan Toy Tree Top activity center, pictured on the left. Manhattan Toy is another toy line with an excellent quality record.
Manhattan Toy Tree Top Adventure Activity Center
ALEX Jr. My Busy Town Wooden Activity Cube
Age: 12 Months – 6 Years
---
This Smart Puppy is One of the Best Baby Toys for 2017
Fisher-Price Laugh & Learn First Words Smart Puppy
The Laugh & Learn First Words Smart Puppy was just released in 2017.
Just look at that cute little puppy face! Babies love faces, so that feature alone is a real eye-catcher for babies. But there are lots of other reasons babies and parents are loving this new baby toy:
Three age settings for different learning levels
Babies swipe or place blocks on the platform and hear puppy speak
Teaches numbers, colors, objects, animals and more
Various textures for baby to explore
Lots of songs and phrases in a delightful childlike voice
The Smart Puppy is priced pretty reasonably too, for an electronic toy. For all of these reasons, it was on several best toys for babies lists last year. 
Age: 9-36 Months
The Laugh & Learn Smart Puppy is a wonderful educational toy for babies. For more toys like this, check out our Best Learning Toys for Babies article.
---
Rockin' Rider Pony Ride-On is a Top Baby Toy for Christmas!
The Rockin' Rider Pony Ride-On toy is a rootin' tootin' good time. 😉 Cowbabies can ride off into the sunset rocking horse style, or the bottom comes off and they can giddy up on wheels.
This cute little pony also sings and talks when the ears are pressed. The other nice thing about this baby toy is that it's soft and huggable for little ones, unlike most other ride-ons.
It's like baby has her own little pony pet that she can push or pull around when she's not riding it.
According to the reviews, parents and little ones love this pretty pony!
Rockin' Rider Candy 2-in-1 Pony Ride-On
Rockin' Rider Charger 2-in-1 Pony Ride-On
Age: 12 Months+
---

---
YKS Plush Giraffe Developmental Toy is a Top Infant Toy
This colorful giraffe developmental toy for babies is a big hit with parents and little ones. Here's a few reasons why he's so popular:
Bright colors grab baby's attention
Rings on him are safe for biting
His floppy legs are easy for baby to grasp during tummy time play
He's 13 inches long for baby to hold for soothing and comfort
Can attach to a stroller or car seat
One last note on this toy – the manufacturers instructions say to spot clean him, but a few reviewers machine washed him on the delicate cycle and air-dried him and reported that he came out of it just fine. Parents can put him in a pillow case (tie the end of the case in a knot) first for extra care. I've machine washed many a plush toy this way successfully.
This is a really versatile toy at a great price and would be a lovely Christmas or shower gift for new parents.
Age: Newborn – 24 Months
---
Babies Love the Playskool Explore N' Grow Busy Ball Popper
Playskool Explore N' Grow Busy Ball Popper
Babies love watching these multi-colored balls travel through the chute and pop out of the top of the Playskool Ball Popper.
And parents love the surprised look on baby's face when the balls sometimes fly out and around the room. Here's a few fun features of this top toy for babies:
Plays 8 songs
Easy push button start
Keeps baby's attention
Encourages baby to crawl after the balls and bring them back
This is a fun toy for toddlers too and gets them moving as they run after the balls. This toy comes with only 5 balls, so you're probably going to want to pick up some more. This pack of refill balls works well with this toy, according to reviewers.
Age: 9-36 Months
---
Our Favorite Best Toy for Babies are Activity Tables
VTech Magic Star Learning Table
All of these are top baby toys for Christmas 2017 and would make wonderful gifts for babies and parents. But if we had to pick just one favorite out of all the best toys for babies, it would have to be the VTech Magic Star Learning Table.
I like activity tables for little ones because of their versatility. Parents can put the top on the floor for baby to play with while he's on his tummy or sitting. When baby is older, parents can add the legs and baby can play while he's standing.
Because they offer a variety of activities for babies, activity tables are like having several toys in one. Here are some other reasons I really like the Magic Star Learning Table:
65+ sounds and phrases
English and Spanish modes
Steering wheel drives the bear around the track
Teaches colors, numbers, songs and more
Comes in two colors
Great reviews and price
One thing to keep in mind about activity tables is that most are not sturdy enough for a baby to use it to pull himself up to stand. In standing mode, it's meant for babies who are able to stand up on their own. Just something parents need to watch out for.
LeapFrog Learn and Groove Musical Table Activity Center
A second activity table I really like is the LeapFrog Learn And Groove Musical Table.
It features learning games, but also has a music mode geared more towards helping babies develop an ear for different musical sounds.
It too, has English and Spanish modes and comes in two colors.
It's another great choice for an activity table and either of these would be wonderful gifts for a baby.
Age: 6-36 Months
---
VTech Baby Rattle and Sing Puppy is One of the Top Infant Toys!
VTech Baby Rattle and Sing Puppy
Rattles have been among the best toys for babies going back 2500 years, if you can believe that!
They've come a long, long way, baby, and the Rattle and Sing Puppy is not the same rattle grandma played with. Here's some fun modern features:
20+ songs, sounds and phrases
Puppy's cheeks light up
Lots of colors, textures and sounds to discover
Perfect on-the-go toy
This one holds lots of entertainment value for baby, parents love it and it's super affordable!
Age: 3 Months+
---
Fisher-Price Grow 'n Learn Garden Caddy Grows with Baby
Smart Stages Grow 'n Learn Garden Caddy [Amazon Exclusive]
I love this concept! The Grow 'n Learn Garden Caddy uses gardening to teach babies colors, shapes, ABCs, object names and more.
It has the Smart Stages technology, so parents can set it to the appropriate level for their baby's age. Here's some other reasons this is one of the best toys for babies this year:
50+ songs, sounds and phrases
Babies can "water" and learn cause and effect
Perfect size for little hands
Several activities packed into a compact toy
Handle for easy carrying
This is a cute toy for any baby, but what a great gift it would be for a baby of gardening parents!
Age: 9-36 Months
---
The Best Toys for Babies to Go Places
Little Tikes Push & Ride Racer
The Push and Ride Racer isn't a fancy ride-on toy, but it's great for babies for a number of reasons:
Helps improve walking skills as baby pushes it
Helps motor skills as baby learns to straddle and sit on it
Works baby's muscles as he uses his legs to power it forward
Low seat is easy for young toddlers to ride on
Seat lifts up to tote a favorite toy
The other reason parents will thank you for this toy? It's quiet!
Age: 9-36 Months
Below are a couple of top baby ride-on toys for slightly older babies (12 months and up).
 Fisher-Price Laugh & Learn Smart Stages Scooter
 Little Tikes Go and Grow Lil' Rollin' Giraffe Ride-on
---
We hope this list of the best toys for babies helps you to pick out an engaging toy for that special baby (and parents!) on your gift list. Happy shopping from Toysenberry!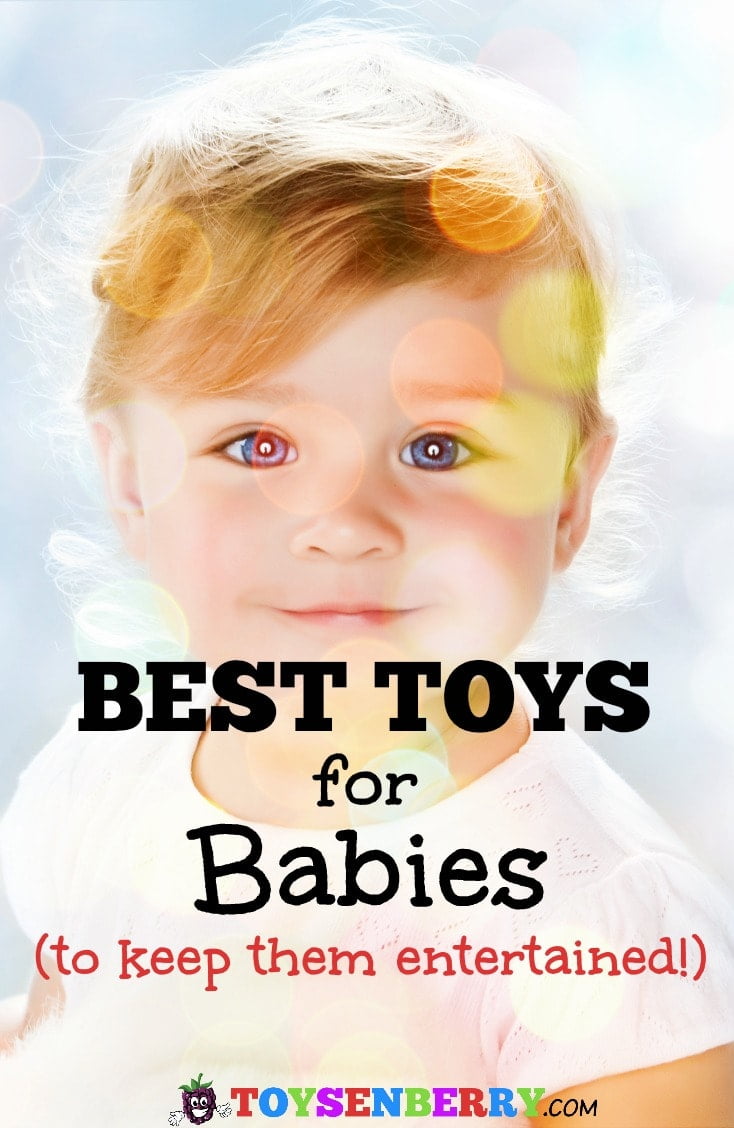 Search for More Best Toys for Babies