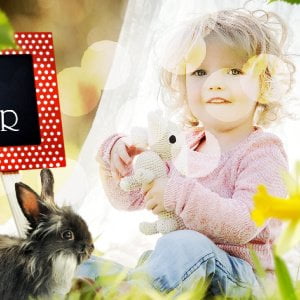 Easter is a magical time for little ones, but can be stressful for moms and dads trying to find Easter basket stuffers for their toddlers.
To help you Easter bunnies out, we've gathered some fun and small-sized toys and gifts that are inexpensive and just right as small Easter gifts.
When your little chicks peep into their baskets, these Easter basket stuffers for toddlers will bring squeals of delight!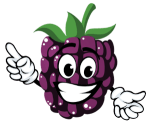 Heads up that the links below take you to Amazon, Target, or other retailers where noted. As an Amazon Associate I earn from qualifying purchases. I am also a participant in the Target Affiliate
Marketing Program. That means if you buy something through these links, I may get a small commission at no extra cost to you. You can learn more here. I hope you enjoy our toy and gift suggestions!
Toddler Easter Basket Stuffers
To kick off our list, here's a few quick ideas for your toddler's Easter basket. Keep in mind that some toys work better as Easter basket fillers if you remove them from their packaging first. They will probably fit better in your basket too. For more ideas, hop on down the page!
Gardening Set
Sunglasses
Paw Patrol Puppets
Character Socks
Egg Nesting Toy
Bunny Shirt
More Easter Basket Stuffers for Toddlers
TOMY Toomies Hide & Squeak Eggs
Hide & Squeak Eggs
These little Hide & Squeak Eggs just scream Easter basket stuffers for toddlers. Not literally of course…it's more like a chirp when toddlers push their little heads.
This carton of colorful cuties teaches shape sorting, color matching and motor skills, among other things. It's about 8″ x 6″ in size, but if that is too large for your Easter basket, you could remove the eggs from the container and just tuck a few into your toddler's basket.
This is a fun little Easter surprise for your toddler!
Age 18M+
---
A Plush Bunny
No toddler Easter basket is complete without a stuffed bunny. I adore this Miyoni White Rabbit. He's excellent quality, beautifully realistic looking and a great price. He measures about 10″ long and is rated for ages 6 months and up.
Another quality choice that is a little smaller is the Manhattan Toy Lulu Bunny. He's about 5.5″ high, seated. He is adorable and rated for newborns and up.
---
Fisher-Price Little People Playsets
Small playsets make great Easter basket stuffers for toddlers. These Little People sets are roughly 5″x5″x5″ and are the right price range for an Easter basket.
Toddlers love make-believe play, especially when it involves something they can relate to. That's why the Little People playsets, with their baby and family themes are so popular with little ones.
There are a few to choose from, but my two favorites are the Swing & Stroll set and the Snack & Snooze Set
Age 18M+
Swing & Stroll Set
Snack & Snooze
---
Peppa Pig Playsets
Peppa Pig playsets are priced and sized right for a toddler Easter basket stuffer too. These are slightly larger than the Little People sets, at about 6.5″x5.5″. There are several to choose from and you can see more choices within the linked sets below. I love little Peppa's cheery face!
Age 2+
Peppa Pig Birthday
Peppa Pig Playdate
---
Bath Toys Make Great Easter Basket Stuffers for Toddlers
Bath and water toys are easy Easter basket stuffers because toddlers can never have too many of them, especially with water play season right around the corner.
The Skip Hop Submarine Monkey and Munchkin Swimming Penguin are two great choices to entertain toddlers in the bath or wading pool. They are just the right size and price to add to an Easter basket. These are rated for ages 12 months and up.
Squirt toys are great little Easter basket fillers for babies and toddlers age 6 months and up. The Disney ones pictured below come in several different character sets. Also popular for bath and water play is the Nuby Floating Octopus. He's rated for ages 18 months and up.
Submarine Monkey
Swimming Penguin
Disney Squirt Toys
Floating Octopus
---
BabyBibi Bath Books
Floating Bath Books
Bath books are just the right size to tuck into a toddler's Easter basket. They are so versatile too!
Take them along traveling, use them in the bathtub or wading pool or keep a few in the diaper bag to entertain your little one when you're on the go.
BabyBibi bath books are great quality too. They come in sets of 4, or you can grab this set of 12 and put a few in the Easter basket and save a few for surprises later in the year.
Age: 0M – 36M
---
Play Phone and Keys
Little ones love copying mom and dad, so a play phone and/or keys are very entertaining Easter basket stuffers for toddlers.
The LeapFrog Chat and Count Emoji phone lights up, plays songs, and even teaches phone manners! (18M+) And the B. toys FunKeys are colorful and make car sounds so the little ones can feel like little mums and dads. (10M+)
These handy little Easter surprises just might entertain your toddler enough to leave your phone and keys alone. 😉
LeapFrog Play Phone
B. toys FunKeys
---
Finger Puppets are Fun Toddler Easter Basket Stuffers
It's so fun watching toddlers use their imaginations and play with little finger puppets. I love that both of the finger puppet sets below include several, so you can tuck a few in your toddler Easter basket and save some for surprises later.
The Twister.CK Finger Puppets come with 10 animal and 6 family character puppets. They are made of velvet and are so cute! They are rated for 24 months and up.
Joyin Toy Easter Finger Puppets feature a variety of little characters and each one comes in a plastic egg. These are very cute too and the egg makes them perfect for a preschool or toddler Easter basket stuffer. There isn't an age recommendation for these but they should be fine for about 24 months and up.
Cloth Finger Puppets
Finger Puppets in Eggs
---
Small Baby Dolls
I love these Lil Cutesies dolls for toddler Easter basket stuffers! They're good quality and a fantastic price. They are about 8.5″ long, but the legs bend so you can sit them easily into a basket. There's 3 to pick from and they are all so adorbs!
If you're looking for a boy doll for your toddler, this HABA boy doll is about 11 inches tall but he's soft so you could sit him in a basket too. He's slightly more than the Lil Cutesies, but still reasonable for an Easter basket gift.
Age 2+
Lil Cutesies Lulu
HABA Boy Doll
---
Toddler Books
Books are wonderful Easter basket stuffers for toddlers. They are entertaining, educational, and inexpensive. Below are a few popular favorites for toddlers. I especially love the Bright Baby Touch and Feel board books. They are a great price and my little niece and nephew had several and LOVED them!
Touch & Feel Book
The Runaway Bunny
The Bunny Hop
A Little Bunny
---
For more Toddler gift ideas for Easter under $20, check these out!
---
Munchkin Tea and Cupcake Set
Tea and Cupcake Set
How adorable is this Tea and Cupcake set? Can you picture it out of the package and tucked into a toddler Easter basket? So cute!
It's actually designed as a bath toy (the cups have holes in the bottom), but can be used outside the bath as a cute play tea set (without liquid of course!). It's all the better that it can be taken into the tub or wading pool!
And the price! This one is a steal!
Age 2+
---
Toy Vehicles
Small cars, trucks and other vehicles are cheap and a great size for a toddler Easter basket stuffer. Plus, little ones love them!
This Fisher-Price figure and helicopter set is priced just right for an Easter basket. They also make this cute race car and figure.
Push and Go vehicles are perfect for little toddler hands and this Push & Go Truck set is a great price for 4 sturdy trucks. They are all smaller than 7 inches long, except the bulldozer is about 9 inches. You could tuck one or two in the Easter basket and save the others for later.
Age 12M+
Helicopter & Figure
Push and Go Trucks
TIP: To save money on your toddler Easter basket stuffers, go in with another parent on multi-packs of small toys and split them!
---
Small Puzzles
You can never have too many puzzles to give your toddler varied learning challenges. They are great for helping motor skills, shape recognition and many other development skills. Below are a couple ideas for puzzles that are sized and priced right for a toddler's Easter basket.
Age 2+
---
Toddler Magnets
Magnets are such a simple and entertaining toddler Easter basket filler. Put them on the fridge and little ones stay quiet and busy while mom or dad are making dinner. Or get a magnetic board for for your toddler to use them for quiet time anywhere. Here's a couple popular magnet sets for toddlers that would be great in the Easter basket.
Age 2+
Animal Magnets
Princess Magnets
---
Practical Easter Basket Stuffers for Toddlers
Of course you want to put some fun toys in your toddlers basket, but it's nice when the Easter bunny can kill two chicks (so to speak) with one egg and put something in there that's practical too. Here's a few cute ideas for practical Easter basket stuffers for toddlers.
Cute Slippers
Boring slippers or just blah but slippers with fuzzy animals or their favorite characters on them, well now you're hoppin'.
These bunny slippers are super reasonably priced. The link will show other cute characters too, for both boys and girls.
Licensed character slippers, like these cute Paw Patrol slippers are priced a bit higher, but might elicit a more enthusiastic response from your toddler if they are big fans. These come in Skye and Everest characters too.
Bunny Slippers
Paw Patrol Slippers
---
Sun Hat
Hats are good Easter basket stuffers for toddlers because they are foldable and inexpensive. This cute Sarfel sun hat comes in several designs and colors for boys and girls. And this Paw Patrol baseball cap is adorable and comes in a couple different styles.
---
Character Sippy Cups
Cups may not seem too exciting for toddlers, but when their favorite characters are plastered on them, they get egg-cited. Here's a couple ideas the little ones might like.
Age 12M+
Paw Patrol Cups
My Little Pony Cup
---
Snacks are Great as Toddler Easter Basket Stuffers
Lastly, but certainly not the least desirable – snacks! Instead of candy in their Easter basket, tuck in animal crackers or fruit snacks or another of your toddler's favorite noshes.
Annie's Variety Crackers
Annie's Fruit Snacks
---
I hope our list of Easter basket stuffers for toddlers helps you find the perfect items for the little somebunnies in your life!
You might also like:
Easter basket fillers for teens and tweens
Easter basket stuffers for boys
[Sassy_Social_Share title="Share these epic toy ideas!"]
Pin These Toddler Easter Basket Stuffers for Later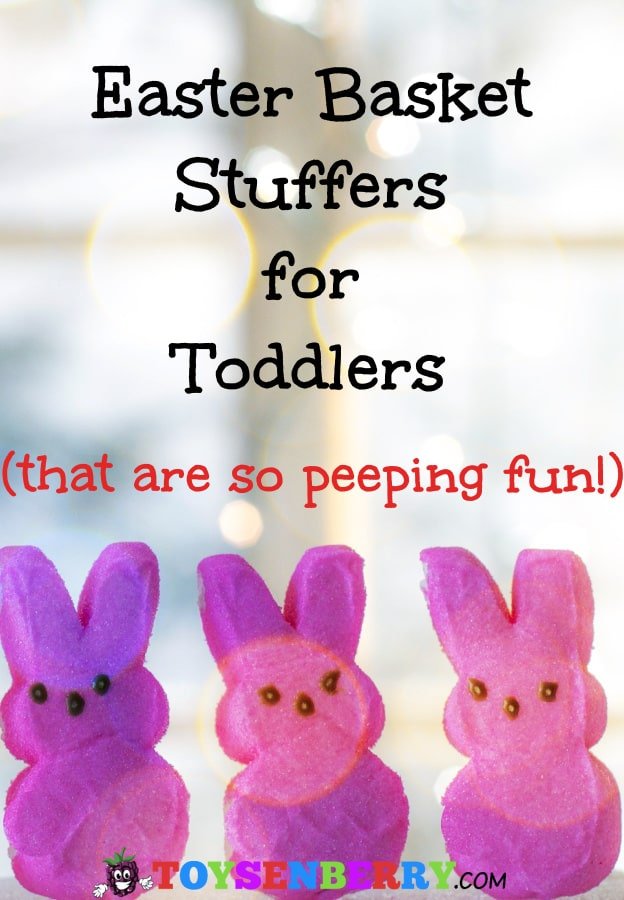 Search for More Toddler Easter Basket Stuffer Ideas