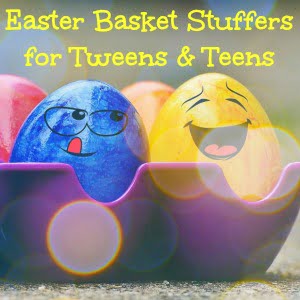 When your kids are over the age of nine, the coming of the Easter bunny may not bring out the same childish enthusiasm it once did. That means it's time for the Easter Bunny's helpers to step up their game with some totally rad Easter basket stuffers for tweens and teens!
If your kids have outgrown sticker books and silly putty, check out these popular small gifts for tweens and teens that are perfect to fill in their Easter baskets.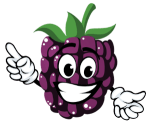 Heads up that the links below take you to Amazon, Target, or other retailers where noted. As an Amazon Associate I earn from qualifying purchases. I am also a participant in the Target Affiliate
Marketing Program. That means if you buy something through these links, I may get a small commission at no extra cost to you. You can learn more here. I hope you enjoy our toy and gift suggestions!
Easter Basket Stuffers for Tweens and Teens
To start off our list of Easter basket ideas for tweens and teens, here's a few fun, unique, and inexpensive items that are perfect for Easter basket stuffers. Then scroll on down for lots more great Easter basket stuffer ideas for tween and teen aged boys and girls.
Beanie Boos
Bike Lights
i-clips Bookmarks
Gamer Socks
New Driver Book
Phone Stand
Mini USB Lights
Small Journal
Mad Libs
Chalkola Markers
Chalkola Markers
These Chalkola Markers are way cool! They write on nearly any surface – chalkboards, glass, wood, whiteboards, cardboard – you name it.
They are nice, vibrant colors and wash off pretty easily from non-porous surfaces and are more permanent on porous surfaces.
Creative teens and tweens will love experimenting with these on all kinds of things.
These are great for school projects and the price is perfect for a handy, useable Easter basket filler!
---
LED Book Light
LED Book Light
Book lights are an enlightened Easter basket idea for teens and tweens. 😀
This LED book light attaches to a regular book or E-reader and makes nighttime reading SO much simpler.
It folds up too, so your teen can take it travelling or camping AND it comes it several designs and colors to suit boys or girls.
An inexpensive Easter basket stuffer for tweens and teens that encourages reading? Yes, please!
---
Portable Chargers
There's a game we used to play at my house where my husband would randomly ask our teenage daughter how much battery life she had left on her phone.
Her answer was always 20% or less. Every. single. time.
If I'd known about these little backup power sources, I would have made her carry one with her in case she needed her (more than likely dead) phone for an emergency. At any rate, I saw these and thought they'd make super handy Easter basket stuffers for teens.
These cute little Yoobao portable chargers come in a few different designs and include an 18-month warranty. These slightly less expensive Poweradd portable chargers come in come in five colors and include a 24-month limited warranty.
Yoobao Portable Charger
POWERADD Portable Charger
---
PopSockets
The Child PopSocket
So, the trend in Smartphones and tablets now is to have a handle or ring on the back of them to make them easier to hold, do one-handed texting, or prop up.
Popsockets do all of that with loads of style. They attach to the back of a Smartphone or tablet and collapse down when not in use.
They're super convenient and inexpensive, making them an awesome Easter basket filler for tweens and teens!
Plus, they come in a GAZILLION designs so teens and preteens can show their personality. You can check out the full selection of Popsockets here.
---
Novelty Flash Drives
Teens always need flash drives – they use them to save their music library, homework, essays, projects, computer backups and whatever else they need to save and use on another computer.
Novelty Flash Drives come in tons of different shapes and are trendy and practical Easter basket stuffers for tweens and teens (They make great Easter egg fillers for tweens too!). Below are a couple of my favorites but you can check out a large selection here too.
Crystal Flash Drive
Owl Flash Drive
---
Scratch Art Notes
Scratch Art Notes
Scratch Art is the coolest paper invention since scratch and sniff!
Tweens and teens love leaving colorful little messages for their friends and family with these and they can get really creative with their drawings and doodles.
There are a few different brands but I like the Melissa & Doug Scratch Art Notes because they are super popular, have great reviews and are priced right for a tween Easter basket stuffer.
This set comes with 125 notes plus a stylus. A word of warning: You're going to want to swipe some of these to use at the office!
---
Coloring Supplies
Coloring and doodling are great ways for teens and tweens to reduce stress and enjoy some non-screen time. Here's a huge selection of doodle and coloring books that both age groups will love.
Colored pencils and markers come in handy both at home and school and are a great Easter basket idea for teens and tweens. The colored pencils pictured below are a great value and you get 50 colors!
Spacey Doodles
Henna Doodles
Dual Tip Markers Pack
Colored Pencils
---
Ink-a-do Tattoo Pens
Ink-a-Do Tattoo Pens
Tweens and teens love these Ink-a-do Tattoo Pens. The colors are vibrant and shimmery, they go on smooth and wash off easily with soap and water.
They come with stencils so tweens can quickly design a pretty piece to show off for a special occasion, or they can always freestyle it with their own unique work.
Ink-a-do pens are reasonably priced for a set of 6 colors (this listing is a 2-pack) and have great reviews from parents too! What a fun Easter basket stuffer for tweens and teens!
---
Small Games Make Perfect Easter Basket Stuffers for Tweens and Teens
Inexpensive card and travel games are awesome Easter basket stuffers for tweens and hard-to-please teens! They're a fun way to encourage your teen to put down their phone and have some real, face to face interaction with their friends.
And who knows, once your teen gets hooked on their favorite game, they may actually think family game night is fun!
My favorite card game is Monopoly Deal. It's the perfect combination of luck and skill and brings out the competitive spirit in even the most passive of souls. It doesn't drag on like the board game and invites lots of good-humored trash talking. Because what's a game among friends without a little trash talk? 😉
The other small games below are super popular with tweens, teens and families too. Matter of fact, I read recently that Bananagrams was a favorite of the Downton Abbey cast to play between takes.
Monopoly Deal
Boggle Classic
Bananagrams
Phase 10 Card Game
---
Bean Boozled Game
BeanBoozled Game
I love the BeanBoozled game as an Easter basket stuffer. It fits right in with the Easter theme because…hello, jelly beans. And it doesn't hurt that it's inexpensive and hilariously entertaining.
The object of the game is to select and eat the jelly bean the spinner lands on. But is that green jelly bean you selected, lime or lawn clipping flavored? And is the orange one caramel corn or moldy cheese?
It's an eggciting mystery!
In case you couldn't tell, this is my #1 favorite Easter basket stuffer for tweens and teens. No Easter basket should be without BeanBoozled!
This listing is for a 2-pack of the game. You may want to check out this deal on a BeanBoozled game plus four refills, so kids can play the game over a few times.
---
Coin Purses and Wallets
Here's another simple, but useful Easter basket idea for teens and tweens. Coin purses are practical little Easter basket stuffers for tween and teen girls. They're super handy to hold an ID, a little money and lip balm or to hold small personal items in a bathroom drawer or desk.
This set of coin purses (pictured below) comes in different designs, like alpacas and flamingos, and you get four purses for one low price which is a super deal!
For boys, this slim trifold wallet is a great deal and comes in a few different color choices. I like that it has a separate compartment for change, lip balm or a house key too.
---
Lip Balm
Speaking of lip balm – that's another welcome Easter basket stuffer for teens and tweens! This pack of 2 eos lip balms is perfect for an Easter basket.
You can also get a great deal on Lip Smackers 8-packs of balm which works well if you have more than one tween Easter basket to put together, or if you want to hang on to some for stocking stuffers later.
And for boys? Bacon flavored lip balm, of course! Or, this 3-pack of S'mores ChapStick is popular too.
---
Bluetooth Earphones
Mpow Bluetooth Headphones
Your teen will love these Mpow Bluetooth Headphones in their Easter basket!
This is a slightly higher price range for a teen Easter basket stuffer, but really not by much. They are surprisingly well priced, have great sound, and are waterproof.
I actually just recently started using bluetooth headphones and I LOVE not feeling tethered to my phone.
This is a great Easter gift for a responsible teen who will take care of them.
---
Bubble Wrap Phone Case
Bubble Wrap Phone Case
Who doesn't love the satisfaction from popping bubble wrap? If they have an iPhone, your tween or teen will love this bubble wrap phone cover.
It's made from silicone, so it's quite durable, and comes in clear, pink, or black. It's made especially for Apple phones, so be sure and select the correct iPhone version when you order.
Part practical accessory, part fidget toy, this thing provides the perfect distraction from teen drama and anxiety!
---
Cute Cable Protectors
Help your kids extend the life of their many, many charging cables with some cute silicone cable protectors. This is such a fun and practical teen and tween Easter basket stuffer!
Below are two cute sets, one is designed for Apple product and the other will fit other brands as well as Apple.
Universal Cable Protectors
Apple Cable Protectors
---
Nulaxy Bluetooth Car Radio Adapter
Car Radio Adapter
If your teen is driving an older car with an outdated radio and no bluetooth (oh, the horror!) they will love this Nulaxy Bluetooth Car Radio Adapter in their Easter basket.
It plugs into the cigarette lighter (remember those?), connects to their phone via bluetooth or aux cable and voila! Emo teen songs fill the car.
This one is in the upper price range of teen Easter basket stuffers on our list (under $20) but is a practical little device for which your teen will be forever grateful. Except maybe not as grateful as having a new car.
---
Baby Yoda Stuff
If your tween or teen is into The Mandalorian series on Disney+, you are in luck because there is loads of merchandise that is priced right for Easter basket stuffers. Like this adjustable face mask or this 500 piece puzzle featuring cute Baby Yoda (AKA The Child).
---
Books Are Great Tween Easter Basket Stuffers
Paperback books of all kinds are perfect to tuck into an Easter basket. Puzzle and How-To books are great boredom busters for travelling or quiet time. Here's a few popular selections for tweens and teens.
Easy Origami
Difficult Riddles
Search & Find
How to Draw Cute
---
Easter Basket Stuffer Ideas for Tween and Teen Girls
There are sooo many Easter basket ideas for girls! Let me just tell you about these super cute items that tween and teen girls are loving right now. Boys may like some of these too, like the books or journal, but there are more specific Easter basket ideas for boys later in this post.
Each of these neat tween and teen Easter basket stuffers are pictured as you scroll down.
The Body Shop Sprays
The popular Mango Body Spray from The Body Shop is a teen favorite. There are other nice scents too, like grapefruit and strawberry. They are perfect girly Easter basket stuffers for tween and teen girls.
I AM Wristbands
The I AM Wristbands have inspiring messages for girls that remind them they are truly AWESOME!
3D Butterfly Wall Decals
Teen girls love making their space their own and these 3D Butterfly Wall Decals will turn their bedroom into a garden retreat. They come in several colors, but love these metallic ones.
Bracelet Making Kit
Jewelry making is a fun way for girls to express their creativity. This Friendship bracelet kit is just the right size and price to work as an Easter basket filler for tweens.
Hair Chalk
GirlZone Hair Chalk lets tween and teen girls express themselves with color and wash it out before going to visit grandma. There are 10 colors to choose from and don't be surprised if mom and even dad want to give them a try.
Fairy Lights
Your girl can fall asleep gazing at these pretty, twinkly fairy lights adorning her desk, dresser or shelves in her room. This little set is a 6 foot string of multi-colored lights and I love that they have a timer setting so no worries if she forgets to turn them off.
One-Year Journal
Express Yourself is a one-year journal for older tweens and teens that encourages self-expression and creativity. I like that there's room for girls to write daily musings, but also there's inspirational quotes and mindful questions. This is a thoughtful addition to a tween or teen girl's Easter basket.
Wild Republic Huggers
Wild Republic makes super cute animal plush slap bracelets like this Bunny Hugger Bracelet. They can be wrapped around a bedpost, leg, bicycle handle or anything else you can think of. There are tons of animals to choose from and they are great quality and price!
Da Bomb Bath Bombs
Da Bombs are popular bath bombs in fun scents, like this Earth bath bomb with its fresh oceany-y smell. Each one comes with a tiny surprise inside too and who doesn't like surprises?
Adventure Girls Activity Book
Crafty tween and teen girls will love this Adventure Girls Activity Book full of crafts and outdoor skills to foster independence and knowledge.
Mango Body Mist
I AM Wristbands
3D Wall Decals
Bracelet Kit
Hair Chalk
Fairy Lights
One-Year Journal
Bunny Hugger Bracelet
Earth Bath Bomb
Adventure Girls
---
More Easter Basket Fillers for Tween and Teen Girls
Small Craft Kits
Craft kits are fun Easter basket stuffers for teens and tweens and can be enjoyed long after Easter. Below are a few popular kits that are just right as small Easter gifts.
The magnetic tile art kit is the most versatile, since the designs can be as simple or intricate as your tween or teen wants. The possibilities are endless! The Inspire poster and Bracelet Box are priced a little higher than our other Easter basket stuffers for tweens, but are pretty cool options that would fit in a larger sized Easter basket.
Magnet Tile Art
Jelli Rez DIY Charms
DIY Inspire Poster
Bracelet Making
---
Hair Accessories
Hair accessories are something teen girls always need to replenish. These trendy hair clips are perfect to clip back bangs or strays and these smaller sized velvet scrunchies are great to keep thin to medium hair in place.
20 PCS Hair Clips
10 Pcs Velvet Scrunchies
---
Novelty Socks and T-shirts are Practical Easter Basket Stuffers for Teen Girls
Funny t-shirts are easily rolled up and tucked into an Easter basket and I love the sarcastic saying on the this one – perfect for teens! And these socks come in several cute patterns with dogs, cats and other animals.
---
Easter Basket Stuffer Ideas for Tween and Teen Boys
Here's a few Easter basket ideas for tween and teen boys. You may notice a theme of personal hygiene, because, well… BOYS! Scroll down a bit to view images of them all.
Fresh Guy Body Spray
Ever notice how boys tend to overuse body spray like it's a substitute for a shower? I like this Fresh Guy body spray because a little bit goes a long way and it's a light scent, good for tween and teen boys. It's a great price for a practical Easter basket stuffer for tween and teen boys.
Bacon Dental Floss
Bacon flavored dental floss is a sneaky way to encourage your tween or teen to floss after eating all that Easter candy!
Dude Face Wipes
Boys aren't usually the greatest at taking care of their skin. But these Dude Face Wipes are so convenient and easy to use, they'll have no excuse for not cleaning behind their ears anymore. 😀
The Manual to Manhood
The Manual to Manhood offers all sorts of practical advice for guys. It covers everything from how to fold a shirt, to how to meet a girl's parents. Even with mom and dad's help and guidance, there's bound to be some tips and tricks in here that your teen boy could use.
Desktop Wavy Wacky Inflatable Tube Guy
He's tall! He's wavy! He's wacky! He's inflatable! Hence the name! Every guy needs one of these Wacky Inflatable Tube Guys.
Infinity Cube Fidget Toy
The Infinity Cube is one of the hottest fidget toys around. Teens and preteens can reduce tension and increase creativity with this tiny little puzzle.
Wonder Stars
Glow in the Dark Stars bring the nighttime sky right into your teen or tween's bedroom. You need a tiny bit of Poster Putty to make these stick, but even buying the stars and putty, it's still a pretty cheap price for a cool tween or teen Easter basket stuffer.
Graphic T-Shirts
T-shirts with funny sayings are always popular with boys and make practical Easter basket stuffers for teens and tweens.
I bought a I Paused My Game To Be Here shirt for two of my teen nephews. They LOVED it! These come in several sizes and there is a size chart in the listing. If you are buying for a larger size teen, you can get this gamer shirt in men's sizes.
Blank Comic Book
There are lots of "make your own comic book" templates on Amazon, but I like this blank comic book because the templates are varied and it gives a brief how-to for novice comic writers. It's a fun way for tweens and teens to express their creativity and sense of humor.
Mini Flashlight
Boys love flashlights. All ages. They just do. This Mini LED Flashlight is ultra-bright, pocket-size and the perfect price for an Easter basket stuffer. They'll feel like they're prepared for any emergency.
Fresh Guy Body Spray
Bacon Floss
DUDE Wipes
Manual to Manhood
Wacky Waving Guy
Infinity Cube
Wonder Stars
Gamer Shirt
Blank Comic Book
Mini Flashlight
---
More Easter Basket Stuffer Ideas for Tween and Teen Boys
Desktop Sports Games
Mini versions of your tween or teens favorite sports are great Easter basket or stocking stuffers for teen boys. They're entertaining and make unique desk or room decor. There is a desktop version of almost any sport. Check out the highly-rated sets below for your tween's Easter basket.
Desktop Boxing
Finger Hockey
Desktop Tetherball
Desktop Volleyball
---
Favorite Easter Basket Stuffers for Tweens and Teens
No Easter basket is complete without some kind of sweet treats in it, so here's a few ideas that will bring smiles to your tweens and not bust your pocketbook.
Tootsie Roll Fruit Chews
Instead of grass in the bottom of your Easter basket, use small wrapped candies, like these Tootsie Roll Fruit Chews or Life Saver Candies. Use the pro trick of stuffing paper in the bottom as a filler, then just pour enough candy in to layer over the paper. You use less candy that way. 😉
Tootsie Roll Eggs
Tootsie Roll Eggs are just the right size to fit in an Easter egg and can I just say that the only way to make a Tootsie Roll better is to cover it with a candy shell? These also work well interspersed as fillers in the base of your basket. They're individually wrapped!
Bunny Farts
If you ever wondered what a bunny fart looks like, check out this Bag of Bunny Farts! This item is the splurgy Easter basket stuffer on our list, but it's a fun novelty item and according to the package, some of the proceeds go to a good cause.
Gum and Mints
Gum and mints are inexpensive Easter basket fillers for tweens and teens. These Double Bubbles are just the right size to fill an egg or scatter around the Easter basket. These are also individually wrapped!
Trolli Curvy Candy Canes
Trollis are popular sweet and sour candies and they make these fun and unique fruity Curvy Candy Canes. An unexpected little surprise for a teen's Easter basket!
Flavored Popcorn
Who doesn't love Popcornopolis? These carrot-shaped cones of goodness are a special Easter basket treat for your tweens and teens. This one is a pack of 12, which is enough for multiple Easter baskets plus a reward for the Easter bunny's helper. 😉
Trail Mix
These Planter's Nuts and Chocolate Packs are just the right mix of salty and sweet and the perfect size for an Easter basket stuffer. They're also a good deal for a pack of 6!
Homemade Treats
Grab some of these Easter Treat Bags (you get 36 of them!) and fill them with some homemade cookies, a brownie, rice cereal treats, or whatever your teen or tween loves!
Fruit Chews
Tootsie Roll Eggs
Bunny Farts
Dubble Bubble
Trolli Curvy Canes
Popcornopolis
Trail Mix
Easter Treat Bags
---
Easter Mad Libs and Emoji Eggs
Finally, to round out our list of Easter basket stuffers for tweens and teens, we have two more very important items.
How do you properly celebrate any occasion with family and friends? Why, with Mad Libs, of course! These special Easter Mad Libs with wacky fill-in-the-blank stories are just the thing to follow up that serious Sunday service. 😉
And why have boring, pastel eggs when you can have Emoji Eggs? These are perfect to stuff with cash, gum, lip balm or candy to give your tween or teen some fun Easter surprises in their basket. They come in a pack of 24, so there's plenty to go around!
If you want some gag gift ideas for your teen's Easter basket, check out our list of weird kid's toys.
---
We hope a few of these Easter basket stuffers for tweens and teens earn you Easter morning high fives from your special somebunnies! 😀
Related:
Easter Basket Stuffers for Younger Boys
Easter Basket Toys for Toddlers
Gift Ideas for Tweens and Teens
Outdoor Toys for Tweens and Teens

[Sassy_Social_Share title="Share these epic toy ideas!"]
Save These Easter Basket Ideas for Teens and Tweens for Later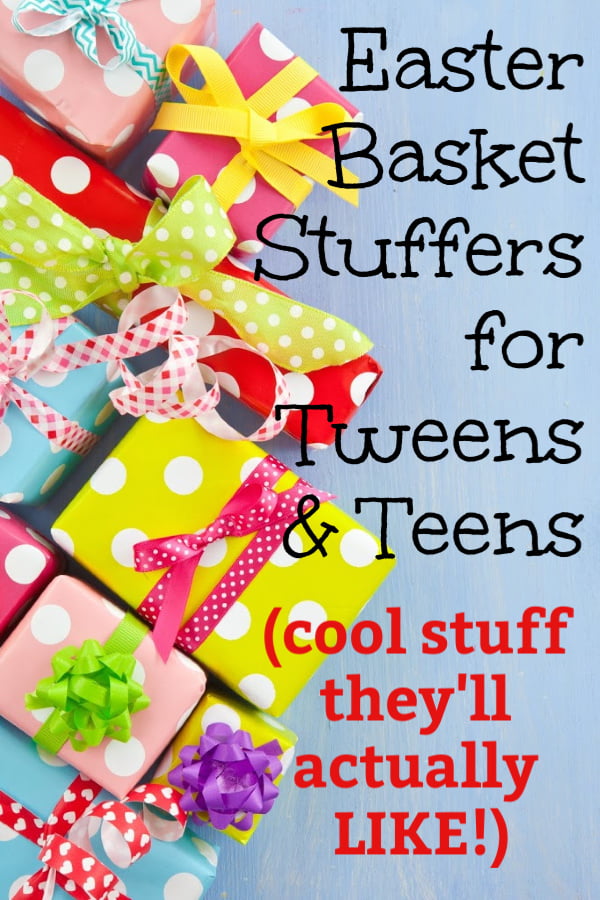 Search for More Easter Basket Fillers For Tweens and Teens