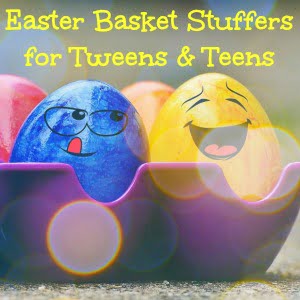 When your kids are over the age of nine, the coming of the Easter bunny doesn't bring out the same childish enthusiasm it once did. That means it's time for the Easter Bunny's helpers to step up their game with some totally rad Easter basket stuffers for tweens and teens!
If your kids have outgrown sticker books and silly putty, check out these popular small gifts for tweens and teens that are perfect to fill in their Easter baskets.
We spend loads of time finding cool stuff kids will love! Just a heads up that the links on this page take you to Amazon and if you buy something through a link, we may get a small commission (but you don't pay more – Fist Bump!). Read more about how that works here.
Easter Basket Stuffers for Tweens and Teens
✳ In a hurry? >>> Check out our favorite 5 Easter basket stuffers for tweens and teens (boys or girls)  HERE.
Chalk-O-Rama Chalk Crayons
Chalk-O-Rama
These Chalk Crayons are way cool! They write on any surface – chalkboards, glass, wood, whiteboards, cardboard – you name it.
They are nice, vibrant colors and wash off pretty easily. Creative teens and tweens will love experimenting with these on all kinds of surfaces.
These are great for school projects and the price is perfect for a handy, useable  Easter basket filler!
---
LED Book Light
Book lights are an enlightened Easter basket idea for teens and tweens.   😀
This LED Disc Book Light attaches to a regular book or E-reader and makes nighttime reading SO much simpler.
It folds up too, so your teen can take it travelling or camping AND it comes it several designs and colors to suit boys or girls.
An inexpensive Easter basket stuffer for tweens and teens that encourages reading? Yes, please!
---
Portable Chargers
There's a game we used to play at my house where my husband would randomly ask our teenage daughter how much battery life she had left on her phone.
Her answer was always 20% or less. Every. single. time.
If I'd known about these little backup power sources, I would have made her carry one with her in case she needed her (more than likely dead) phone for an emergency. At any rate, I saw these and thought they'd make super handy Easter basket stuffers for teens.
These cute little Yoobao chargers come in several fun designs and include an 18-month warranty. These slightly less expensive Poweradd portable chargers come in five colors and include a 24-month limited warranty.
 Portable charger in fun designs
 Portable charger in fun colors
---
PopSockets
So, the trend in Smartphones and tablets now is to have a handle or ring on the back of them to make them easier to hold, do one-handed texting, or prop up.
PopSockets do all of that with loads of style. They attach to the back of a Smartphone or tablet and collapse down when not in use.
They're super convenient and inexpensive, making them an awesome Easter basket filler for tweens and teens!
Plus, they come in a GAZILLION designs so teens and preteens can show their personality. You can check out all of the PopSockets here.
---
Novelty Flash Drives
Teens always need flash drives – they use them to save their music library, homework, essays, projects, computer backups and whatever else they need to save and use on another computer.
These fun flash drives come in a ton of shapes and trendy and practical Easter basket stuffers for tweens and teens.
Purse 16GB Flash Drive
Guitar 16 GB Flash Drive
Related: What are the top gadgets and gifts for tweens?
---
Scratch Art Notes
Scratch Art Rainbow MIni Notes
Scratch Art is the coolest paper invention since scratch and sniff!
Tweens and teens love leaving colorful little messages for their friends and family with these and they can get really creative with their drawings and doodles.
There are a few different brands but these particular ones from Melissa & Doug are super popular, have great reviews and are priced right for a tween Easter basket stuffer.
This set comes with 125 notes plus a stylus. A word of warning: You're going to want to swipe some of these to use at the office!
---
Coloring Supplies
Coloring and doodling are great ways for teens and tweens to reduce stress and enjoy some non-screen time. Here's a huge selection of doodle and coloring books that both age groups will love.
Gel pens, colored pencils or markers come in handy both at home and school and are a great Easter basket idea for teens and tweens. The dual-ended colored pencils pictured below are a super value and you get 36 colors!
 Spacey Doodles
 Henna Doodles
 Colored Pencils
 Metallic Markers
---
Ink-a-do Tattoo Pens
Tweens love these Ink-a-do Tattoo Pens. The colors are vibrant and shimmery, they go on smooth and wash off easily with soap and water.
They come with stencils so tweens can quickly design a pretty piece to show off for a special occasion, or they can always freestyle it with their own unique work.
Ink-a-do pens are reasonably priced for a set of 6 colors and have great reviews from parents too!
---
Small Games
Inexpensive card and travel games are awesome Easter basket stuffers for tweens and hard-to-please teens! They're a fun way to encourage your teen to put down their phone and have some real, face to face interaction with their friends.
And who knows, once your teen gets hooked on their favorite game, they may actually think family game night is fun!
My favorite card game is Monopoly Deal. It's the perfect combination of luck and skill and brings out the competitive spirit in even the most passive of souls. It doesn't drag on like the board game and invites lots of good-humored trash talking. Because what's a game among friends without a little trash talk?  😉
 Monopoly Deal
 Family Feud
 Boggle
 Finger Twister
---
Bean Boozled Game
I love the Bean Boozled game! It fits right in with the Easter theme because…hello, jelly beans. And it doesn't hurt that it's super cheap and hilariously entertaining.
The object of the game is to select and eat the jelly bean the spinner lands on. But is that green jelly bean you selected, lime or lawn clipping flavored? And is the orange one caramel corn or moldy cheese?
It's and eggciting mystery!
In case you couldn't tell, this is my #1 favorite Easter basket stuffer for tweens and teens. No Easter basket should be without Bean Boozled!
(You get the cheapest price if you buy this as an add-on item, but if you don't have other items to buy, you can get this Bean Boozled game with 4 jelly bean refills, so kids can play the game over a few times. Or you can get this two pack of Bean Boozled. All of these options are great deals!)
---
Coin Purses and Wallets
Here's another simple, but useful Easter basket idea for teens and tweens. Coin purses are practical little Easter basket stuffers for tween and teen girls. They're super handy to hold an ID, a little money and lip balm or to hold small personal items in a bathroom drawer or desk.
The set below comes in different designs and you get 3 purses for one low price, which is a super deal!
You might want to check out the whole selection of coin purses for girls, because there are lots of really cute designs and some great bargains!
Tween and teen boy's wallets don't come in sets, but this one pictured below is a good price for a simple, sturdy wallet for a boy. I like that it has a separate compartment for change (or a house key) too.
 Set of 4 Coin Purses
 Boys Slim Wallet
---
Lip Balm
Speaking of lip balm – that's another welcome Easter basket stuffer for teens and tweens! Lip Smackers makes some yummy flavors for girls, Like this pack of Starburst flavored balms. There's 8 to a pack, so these are great if you have more than one tween Easter basket to put together, or if you want to hang on to some for stocking stuffers later!
This pack of 6 all natural lip balms in flavors like Tangy Papaya and Beach Coconut is a great deal too.
And for boys? Bacon flavored lip balm of course!
Lip Smacker Starburst Lip Balm
Every guy's dream – Bacon Lip Balm!
---
Easter Basket Stuffer Ideas Just for Tween and Teen Girls
Need to send a done for you Easter basket to a tween or teen girl? Check this one out on Amazon! 
Why are there so many more Easter basket ideas for tween and teen girls, is what I want to know. Girls just like stuff more than boys, I think.
Anyhoo, let me tell you about these super cute items that tween and teen girls are loving right now. Each of these neat tween and teen Easter basket stuffers are pictured down below.
Pocket Bunny Perfumes
The super popular Pocket Bunny rub-on perfumes are teen favorites and come in several scents. This is the perfect girly Easter basket stuffer for tween and teen girls.
I AM Wristbands
The I AM Wristbands have inspiring reminders for girls that they are truly AWESOME!
Jean Tattoos
Jean Tats are fun, temporary fabric tattoos girls can use to bling up their jeans. They wash right out, too!
Beanie Boos
Beanie Boos are wildly popular little creatures that tween and teen girls love to collect. What's Easter without a bunny Beanie Boo?
Stone Bead Bracelet Making Kit
Jewelry making is a fun way for girls to express their creativity. This Stone Bead Bracelet Kit is so pretty and just the right size and price to work as an Easter basket filler for teens and preteens.
Fairy Lights
Your girl can fall asleep gazing at these pretty, twinkly fairy lights adorning her desk, dresser or shelves in her room. This little set is a 6 foot string of multi-colored lights and I love that they have a timer setting so no worries if she forgets to turn them off.
One-Year Journal
Express Yourself is a one-year journal for older tweens and teens that encourages self-expression and creativity. I like that there's room for girls to write daily musings, but also there's inspirational quotes and mindful questions. This is a thoughtful addition to a tween or teen girl's Easter basket.
Dork Diaries or Other Books
Books are great Easter basket stuffers for tweens and teens because they're screen-free entertainment! The Dork Diaries is a super popular series about the daily mishaps of an eighth-grader. For older girls, the best-selling novel Everything, Everything is a hit and soon to be a movie.
USB Tassel Keychain
You never know when you'll need your USB cable, so why not give your tween or teen one they can easily take everywhere? This USB Tassel Keychain attaches to keys, purse or backpack and makes it super easy for girls to use that portable charger I mentioned above and keep their phone charged.
Scented Squishy Backpack Charms
Squishy charms, like this Strawberry Cupcake, are still popular among girls and tweens. Believe it or not, it actually IS therapeutic to squish them! There's a ton of different ones, so check out the whole selection here.
Washi Tape Craft Book
Crafty tween and teen girls will love this Washi Tape Craft Book, full of creative ways to use Washi Tape to jazz up anything and everything. Washi Tape is another fun Easter basket stuffer for tween and teen girls too, and here's a great deal on Washi Tape here.
Pocket Bunny Bloom
I AM Wristbands
Jean Tatoos
Lollipop Beanie Boo
Bracelet Kit
Fairy Lights
One-Year Journal
USB Tassel Keychain
Scented Squishy
Washi Tape Craft Book
---
---
Easter Basket Stuffer Ideas Just for Tween and Teen Boys
Want to send an already done for you Easter basket to a tween or teen boy? Check out this one on Amazon!
Here's a few Easter basket ideas for tween and teen boys. You may notice a theme of personal hygiene, because, well… BOYS!
Axe Body Spray
Peace body spray by Axe is a clean, powdery scent with a woodsy undertone that smells great and isn't overwhelming for young guys. You get three in this pack, which is perfect if you have more than one young man's Easter basket to stuff.
Bacon Dental Floss
Bacon flavored dental floss is a sneaky way to encourage your tween or teen to floss after eating all that Easter candy!
Dude Face Wipes
Boys aren't usually the greatest at taking care of their skin. But these Dude Face Wipes are so convenient and easy to use, they'll have no excuse for not cleaning behind their ears anymore.  😀
The Manual to Manhood
The Manual to Manhood offers all sorts of practical advice for guys. It covers everything from how to fold a shirt, to how to meet a girl's parents. Even with mom and dad's help and guidance, there's bound to be some tips and tricks in here that your teen boy could use.
Tangles Jr.
Tangles are uber popular fidget toys for boys and girls. They really are a bit addictive once you get your hands on one. This package contains 3, so it's another great Easter basket stuffer for multiple tweens or teens. And speaking of fidget toys, you should check out the hot-selling Infinity Cube too.
Rocket Copters
Easter time means the start of warmer evenings, so outdoor entertainment items make fun Easter basket stuffers for tweens and teens. Rocket Copters launch 120 feet in the air and light up the sky for some really cool outside fun! Plus, there's 6 in a pack so you can tuck a couple into multiple Easter baskets to make 2 or more kids happy for pretty cheap!
Glow in the Dark Stars
Glow in the dark stars bring the nighttime sky right into your teen or tween's bedroom. You need a tiny bit of Poster Putty to make these stick, but even buying the stars and putty, it's still a pretty cheap price for a cool tween or teen Easter basket stuffer.
Graphic T-Shirts
T-shirts with funny sayings are always popular with boys and make practical Easter basket stuffers for teens and tweens. This pack of 3 shirts is a great deal. They only go up to size 14, so would work for a small to medium size tween. For teens, here's a whole selection of funny shirts in a variety of sizes.
Blank Comic Book
There are lots of "make your own comic book" templates on Amazon, but I like this blank comic book because the templates are varied, there aren't pre-inserted speech bubbles to limit your options, and it gives a brief how-to for novice comic writers. It's a fun way for tweens and teens to express their creativity and sense of humor.
Nerf Gun
Boys love Nerf guns. All ages. They just do. This Nerf N-Strike Elite Triad Blaster is super popular and the perfect price for an Easter basket stuffer.
Peace Body Spray
Bacon Floss
DUDE Face Wipes
The Manual to Manhood
TANGLE Set of 3
Rocket Copters
Glow Stars
Graphic Tees
Nerf Gun
Infinity Cube
Related: What are the best outdoor toys to get tweens off the couch?
---
---
Favorite Easter Basket Stuffers for Tweens and Teens
No Easter basket is complete without some kind of sweet treats in it, so here's a few ideas that will bring smiles to your tweens and not bust your pocketbook.
Tootsie Roll Fruit Chews
Instead of grass in the bottom of your Easter basket, use small wrapped candies, like these Tootsie Roll Fruit Chews or Jolly Rancher candies. Use the pro trick of stuffing paper in the bottom as a filler, then just pour enough candy in to layer over the paper. You use less candy that way.  😉
Tootsie Roll Eggs
These Tootsie Roll Eggs are just the right size to fit in an Easter egg and can I just say that the only way to make a Tootsie Roll better is to cover it with a candy shell? These also work well interspersed as fillers in the base of your basket. They're individually wrapped!
Bunny Farts
If you ever wondered what a bunny fart looks like, check out this Bag of Bunny Farts! This one is the splurgy Easter basket stuffer on our list, but it's a fun novelty item and according to the package, some of the proceeds go to a good cause.
Gum and Mints
Gum and mints are inexpensive Easter basket fillers for tweens and teens. These Hubba Bubbas are just the right size to fill an egg or scatter around the Easter basket (You get 72 of them!). These are also individually wrapped!
Trolli Curvy Candy Canes
Trollis are popular sweet and sour candies and they make these fun and unique fruity curvy candy canes. An unexpected little surprise for a teen's Easter basket!
Flavored Popcorn
Who doesn't love Popcornopolis? These carrot-shaped cones of goodness are a special Easter basket treat for your tweens and teens. This one is a pack of 12, which is enough for multiple Easter baskets plus a reward for the Easter bunny's helper.  😉
Trail Mix
These Planter's Nuts and Chocolate packs are just the right mix of salty and sweet and the perfect size for an Easter basket stuffer. They're also a good deal for a pack of 6!
Homemade Treats
Grab some of these Easter treat bags (you get 36 of them!) and fill them with some homemade cookies, a brownie, rice cereal treats, or whatever your teen or tween loves!
Tootsie Roll Fruit Chews
Tootsie Roll Eggs
Bunny Farts
Hubba Bubba
Curvy Candy Canes
Flavored Popcorn
Trail Mix
Easter Treat Bags
---
If you want some gag gift ideas for your teen's Easter basket, check out our list of weird kid's toys.
Easter Mad Libs and Emoji Eggs
Finally, to round out our list of Easter basket stuffers for tweens and teens, we have two more very important items.
How do you properly celebrate any occasion with family and friends? Why, with Mad Libs, of course! These special Easter Mad Libs with wacky fill-in-the-blank stories are just the thing to follow up that serious Sunday service.  😉
And why have boring, pastel eggs when you can have Emoji Eggs? These are perfect to stuff with cash, gum, lip balm or candy to give your tween or teen some fun Easter surprises in their basket. They come in a pack of 24, so there's plenty to go around!
 Eggstravaganza Mad Libs
 Emoji Easter Eggs
---
We hope a few of these Easter basket stuffers for tweens and teens earn you Easter morning high fives from your special somebunnies!  😀
Save These Easter Basket Ideas for Teens and Tweens for Later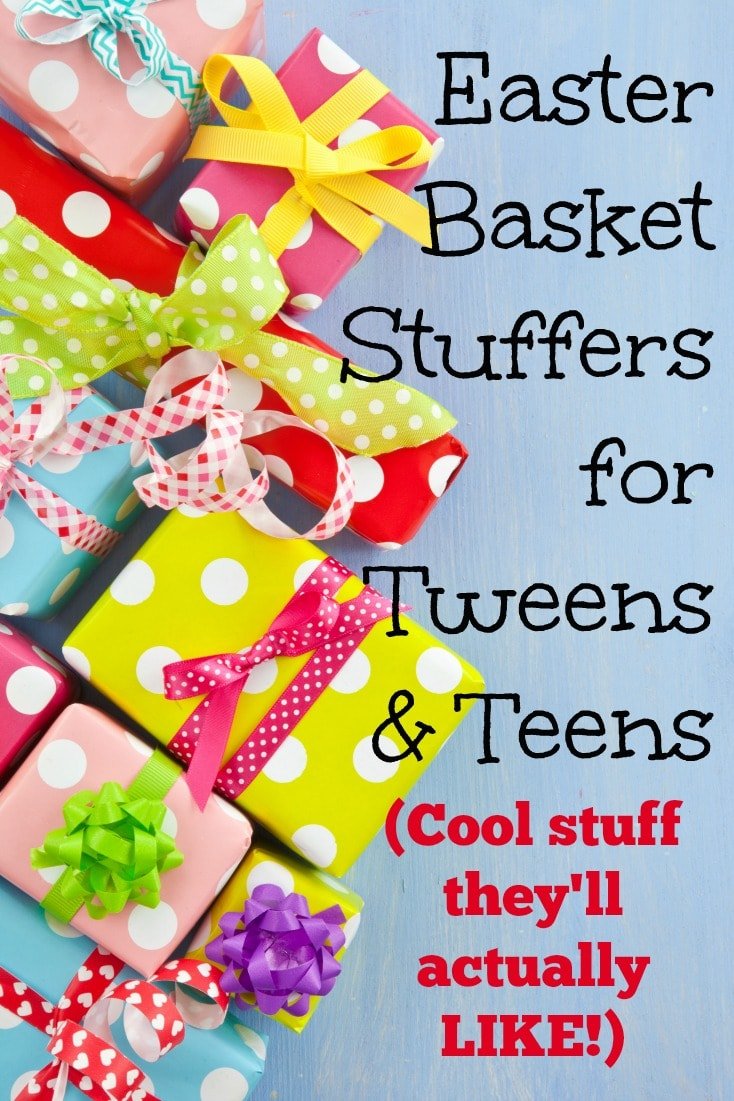 Search for More Easter Basket Fillers For Tweens and Teens