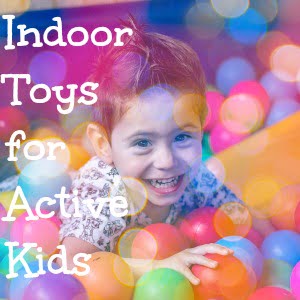 When the weather prevents your little Tasmanian devils from playing outside, having some indoor toys for active kids to burn off energy is a must!
To help you (and the kiddos!) keep your sanity when you're both stuck indoors, we've compiled a varied list of the best indoor active toys for kids.
Indoor Toys for Active Kids
Because there are so many ways kids need to burn their energy, we split this list into crawling and climbing toys,  jumping and bouncing toys, balancing toys, sports toys and active games.
And yes, with the right toys, kids really can do all of these things indoors without requiring you to encase everything in bubble wrap!
We spend loads of time finding cool stuff kids will love! Just a heads up that the links on this page take you to Amazon and if you buy something through a link, we may get a small commission (but you don't pay more – Fist Bump!). Read more about how that works here.
✳ In a hurry? >>>Go straight to our top three active indoor toys here!
Indoor Crawling and Climbing Toys for Kids
Melissa & Doug Sunny Patch Happy Giddy Tunnel
Sunny Patch Happy Giddy Tunnel
Kids LOVE crawl-through tunnels like the Melissa & Doug Sunny Patch Happy Giddy Tunnel. It's just a little shy of 5 feet long, just right to make it part of an indoor obstacle course to tire out your little gopher.  😉
Here's some big pluses of this fun indoor toy for active kids.
Durable, easy-clean material
Good for indoors or out
Removable flap at both ends
Collapses flat for easy storage!
You'll see from the reviews that parents love this indoor active toy as much as the kids do! And there's an equally cute pink butterfly Sunny Patch tunnel too!
Age: 3-5
---
Ball Pit Tents and Tunnels
Ball Pit Tents and Tunnels
Crawl-through tunnels are even more fun when they come with forts! This Ball Pit with Tents and Tunnels is currently among the highest rated kids play tunnels on Amazon.
It looks huge, but you can connect all the pieces, or separate them if you don't have the room. It can be configured multiple ways to fit in your space. It's also great if you need two play areas – one for older, rougher playing kids and one for younger ones.
Here's some more reasons why this makes our list of one of the best indoor active toys for kids:
More durable than other kids tunnels
Includes basketball hoop, ball darts, and ball toss games
Versatile for indoors or out
Collapses for easy storage
Active kids will have a blast crawling, tossing, and playing in this thing!
Almost forgot…this does NOT come with balls. Here's a good deal on a pack of 200 ball pit balls.
Age: 2+
✳ Kids play tunnels come in all shapes and sizes – Check out the whole selection of play tunnels for kids here
!
---
Step2 All-Star Sports Climber
Step2 makes some of the best active toys for kids and most of them can be used both indoors and out. If you have the room for it, their best-selling All-Star Sports Climber will keep little ones happily expending energy for hours!
It's not too big – a little over 5 feet long and 2 and a half feet wide. But you need some space around it for the sliding and ball tossing. Now normally, I wouldn't suggest a bunch of ball tossing indoors (especially when older kids are doing the tossing!), but for most preschoolers and young kids, this is fine indoors. You could always substitute these Nerf balls if your youngster throws a mean spiral!
Here's some features of this fun indoor toy that active kids will love.
Multiple activities – climbing, sliding, basketball, football and soccer
Includes inflatable balls
Very durable
Great for indoors or out
The versatility of this toy, plus the great reviews, make it one of the best active toys for preschoolers for indoor or outdoor play!
Age: 2-6
Below are a couple more, highly-rated indoor climbing toys for kids. Slides are great because kids can always race their cars, stuffed animals, Barbies and anything else down them when they're tired of sliding!
 Step2 Folding Slide Ages 2-8
 Little Tikes Climber Ages 1-4
Related: What are the best toys for preschool boys?
---
ECR4Kids Gus Climb-N-Crawl Caterpillar
ECR4Kids Gus Climb-N-Crawl Caterpillar
Due to its size, you'll probably need a playroom or basement for this one, but the Gus Climb-N-Crawl Caterpillar is one of the coolest indoor toys for active kids! It's a tad over 7 feet long but can be easily shortened by removing a section or two.
Here's some more reasons parents love this indoor climbing toy for kids.
It's super sturdy!
Great for crawling, climbing or pretend play
For both indoors and outside
Pieces can be rearranged
I love the versatility of this climbing toy! The peep holes can be integrated into all sorts of fun kids games like a bean bag toss or Nerf targets and the interior makes a cool fort (here's a good deal on some bean bags, by the way).
Age: 3-8
---
Lil Monkey Dome Climber
Another really good indoor climbing toy for kids is The Lil Monkey Dome Climber. Kids can climb, swing and dangle to their heart's content and at a little over 5-1/2 feet across, it's not overwhelming for a playroom.
Here's some more reasons you and your kids will love monkeying around on this active indoor toy.
Easy to assemble
Sturdy, but lightweight to move
Holds 264 lbs, safe for multiple kids
Made of plastic for flexibility and safety
Throw a big sheet over it for a boss tent!
This indoor climbing toy is sure to tire out your little monkeys, even if they're stuck inside! You might want to put a cushioned play mat under it, especially if it's going on hard floors. Here's a multi-purpose children's play mat that's reasonably priced and covers a 6'x6′ area.
Age: 3-6
---
Jumping and Bouncing Indoor Toys for Active Kids
Gymnic Rody Hopping Horse
The Rody Horse is a wildly popular active toy for kids that lets little ones bounce, bounce, bounce all over the house and yard. It's made by an Italian company, Gymnic, that makes fitness and physiotherapy products.
Here's a few reasons why this odd toy is such a huge hit with parents and kids.
Super sturdy
Made of Latex-free vinyl
Deflates easily for travel
Works on hardwood, carpet, grass and concrete
Good for indoors or out
If you check him out in the link, note that the different colors vary a little in price.
Rody inflates with any standard bicycle pump, but there is NOT one included. This pump seems to work well with Rody and other inflatable toys and is inexpensive.
You can even add rocking and rolling to Rody with bases you buy separately (here's the rocking base and here's the rolling base). If you do want a base with Rody, you should check out this deal on Rody plus the rocking base sold together!
Being stuck indoors in bad weather can make even grown-ups start bouncing off the walls. Luckily, there's a Rody for big kids too! The Rody Max holds up to 200 pounds so you can safely bounce away those winter blues!
You can see Rody in action in the pop-up video below.

Rody Age: 3-6
Rody Max 5+
---
Kidoozie Pogo Jumper
Your little jumping beans will love the Kidoozie Pogo Jumper! As Tigger says, it's "Fun, fun, fun, fun, fun!"
This is one of the best active toys for kids because it's a one-size-fits-all deal. The handle is like a bungee cord so it stretches depending on the size of the child. Here's some more reasons parents and kids love this toy so much.
Works on all surfaces, in or out
Supports up to 250 lbs (hello, new toy!)
No assembly, super simple

Low cost and great reviews!
The only possible downside is the squeaker every time you jump. It will drive the dogs (and some parents!) crazy. But it's probably the funnest part for the kids. So here's some earplugs.
Seriously, this is one of my favorite indoor toys for active kids to stay busy and would be a great gift!
Age 3+
---
Little Tikes 3′ Trampoline
Trampolines are a great way for kids to get the wiggles out and this Little Tikes Trampoline is a winner with parents and kids!  Here's some nice features of this popular active indoor toy.
Easy to assemble
Designed specifically for indoors
Supports up to 55 lbs.
Sturdy but light to move
Support bar for safe bouncing
Some reviewers had issues with the foam cushion on the support bar needing to be reinforced with duct tape after some use, so be aware of that.
But that issue aside, this is a terrific energy-burning toy for young kids to stay active while stuck indoors!
Age: 3-6
For older kids, this trampoline by Merax is a good choice.
It holds up to 180 pounds, and the support bar is removable so when the kiddos aren't using it, mom or dad can get in an ab or leg workout!
This Merax Trampoline is made specifically for indoor use and comes in three colors.
---
Waliki Toys Hopper Ball
Waliki Hopper Balls are big hits with kids and great exercise for adults too! Luckily, these come in 4 sizes, so preschoolers on up to adults can hoppily hop around.
There's a slew of different types and brands of hoppy balls on Amazon, but here's some pluses of the Waliki brand.
Includes a pump to inflate
Inflates in 4 minutes
Featured in the media for its quality
Comes in a ton of colors
Hopper Balls are one of the best indoor toys for active kids, but they are fantastic for outdoors too! They're super reasonably priced and would be a fun addition to your indoor active toys stash.
Age: 3+
✳ Hopper balls come in a ton of colors and patterns – Check out the whole selection of hopper balls here
!
---
Kids Indoor Active Toys for Balancing
 Teeter Popper Balancing Toy for Kids
Fat Brain Toys Teeter Popper – Green
The award winning Teeter Popper toy encourages kids to rock, balance, tilt, wobble and spin to their heart's content. The silicone suction cups on the bottom give a satisfying "POP" sound when kids use it on a smooth floor, making it all the more enticing to play with.
Here's some more features of this unusual indoor active toy for kids.
For sitting or standing
Improves balance, coordination and core strength
Supports up to 110 lbs.
For indoor or outdoor use
Check out the video in the Amazon description to see all the different ways kids are using the Teeter Popper. For maximum popping noise, it needs to be on a smooth floor, but it does work on grass and carpet (sans the sound effects).
The Teeter Popper comes in several colors
 too. It's a unique balancing toy that active kids can have all kinds of fun with!
Age: 3+
---
Spooner Boards Freestyle
Spooner Boards Freestyle – Blue
For older kids who want a little more of a challenge, the Spooner Board is a fun indoor active toy for kids to practice balancing tricks.
This Shark Tank success is rated for ages 3 and up, but it does take a bit of practice to master. Tweens and teens will love it because they can do some cool tricks with it! Check out the popup video below to get an idea of all the fun ways kids can play with this.

Here's some more features of this cool indoor active toy.
Helps kids learn snowboarding, skiing and surfing skills
Supports up to 500 lbs (according to Spooner Boards website)
Sturdy construction
For indoor and outdoor use
Not only is this a balancing toy, but kids use it outdoors to slide down grass and snow covered hills too. And parents are loving this just for a good core and leg workout!
Age: 3+

Related: What are the best outdoor toys for tweens?
---
Gonge Riverstones Balancing Toy
These Gonge Riverstones are a neat way to create a balance and coordination challenge for kids. Also good for testing party guests' ability to drive home  😉 .
Kids love rearranging these to create all kinds of skill games. Set a timer to see who can get across them quickest, set them up as part of an indoor obstacle course…you get the idea. They're super versatile.
Here's some more features of this indoor toy that active kids will enjoy.
Different levels and sizes to hone balance skills
Stackable for easy storage
Safe to use on any surface, in or out
Supports up to 110 lbs
Note that one set includes 3 large and 3 small stones for a total of 6. The picture is a little deceiving and is probably showing 2 sets together.
Parents love these to keep their kids active and busy! Gonge also makes taller Hilltop Stones and many parents like using the two types together.
Age: 3-7
Below are a couple more balance toys that are popular.The stilts are super fun and kids love clomping around in the Monster Feet to practice their coordination and balance skills.
---
Bilibo
The Bilibo is an award-winning, Swiss designed toy sensation! Kids can sit, stand, spin or rock in it – and so much more.
They can put it on their backs and pretend to be a turtle, or tie a scarf to it and pull their Barbies around. They can take it out outside and roll in in the grass in it or put it in the pool (or tub) and give their action figures a sea adventure.
It's crazy how such a simple thing inspires so many play ideas, but read the positive reviews and you'll see that it absolutely does. Here's some more reasons the Bilibo is quickly becoming a favorite indoor active kids toy.
Extremely durable
Comes in several colors
Fit 2 or more together for more creative play options
Inspires open-ended play
Age: 2-7
---
Indoor Toys for Active Kids Who Like Sports
Franklin Sports Indoor Hockey 2 In 1 Set
This Franklin Sports Indoor Hockey set is a great way for kids of all ages to burn off energy! It comes with regular adjustable height hockey sticks, plus a shorter pair for knee hockey (or for preschoolers).
Parents are giving this set glowing reviews and here's a few reasons why:
Goals fold for easy storage
2 games in one
Includes 3 foam pucks
The suggested age is 3-7, but older kids love a rousing game of indoor knee hockey and so do moms and dads! After all, what better way to make use of a long hallway?
Age: 3+
The goals in this set are perfect for some indoor soccer too! So you might want to pick up a soft foam soccer ball to stretch the play value of this set. And you know you're gonna need some more pucks.
 Soft Indoor Soccer Ball
 Extra Foam Hockey Pucks
---
Air Powered Soccer Ball for Indoor Active Kids Play
Speaking of toys you can use with those hockey nets, check this one out. When it comes to cool indoor active toys, an Air Powered Soccer Ball wins the cup!
This floating soccer ball works like an air hockey table – it sucks air in through the top and expels it out the bottom, causing it to "float" on the floor. Kids only need to tap it a bit to get it to glide across the floor. Here's a few more features of this active toy for kids.
Lights up for fun nighttime play
Works on low carpet or hard floors
Foam edging so you're furniture is safe
Can also be used outdoors
Requires 4 AA batteries (not included)
There are several similar products on Amazon but we chose to recommend this particular listing because of the 30-day satisfaction guarantee AND the 1-year warranty. 
This different Hover Ball listing received a ton of positive reviews, but there were some concerning complaints about it too. As a consumer, I would definitely go with the product that offers a warranty. That way, for the price, you really can't go wrong!
Age: 3+
---
Little Tikes EasyScore Basketball Set
Adjustable Height EasyScore Basketball Set
Little dunkers can practice for their eventual NBA tryouts with the EasyScore Basketball Set. A wide rim and smaller sized balls make dunking a breeze and encourages young players to keep playing.
Here's some more reasons this is one of the best indoor active toys for kids.
6 Height adjustments from 2-4 feet
Base can be weighted with sand or water if needed
Great for indoors or out
Includes 3 balls
I love that this is portable enough to tote indoors or out, as weather dictates. According to the positive reviews, parents and preschoolers are loving this set!
Age: 18 months – 5 years
Here are a couple more highly rated active toys for this age range. The golf set is so cute and your little Tiger Jr. will get lots of exercise running after the balls (the trick is to place the target cup waaaay across the room!). And while the kiddos are stuck indoors, you may as well get some housework out of them with the Lets Play House set. Cause moms know how much exercise sweeping and mopping actually is!
 Easy Hit Golf Set
 Let's Play House Set
---
Gym1 Deluxe Indoor Playground
Gym1 Deluxe Indoor Playground. YOU GET ALL OF THIS!
The Deluxe Indoor Playground by Gym1 is amazing! It transforms any standard doorway in your home to a mini basic training camp for kids.
The base installs easily to a door frame and there are 5 attachments for climbing, swinging, pulling and trapezing. Here's some more details about this indoor active toy that kids and parents love.
Supports up to 300 lbs!
Simple installation and take down
Unit weighs less than 10 lbs
Fits most standard doorways between 25-36 inches wide.
Gym1 was designed by a couple of Harvard grads who wanted to encourage their own kids to keep active and has been widely used to help combat child obesity. 
You'll want to measure your door frame carefully to make sure it falls into their "standard" range. If not, there are extenders available, but it will NOT fit in doorways wider than 36 inches. Click the link to go to the Amazon description and you'll see a detailed photo showing exactly where and how to measure your doorway to make sure this fits.
Also, be sure to test the strength of your door frame. If it's very old or loose, it will need reinforcing in order to use this.
You might be wondering how the heck this thing installs with no drilling, so below is a super short popup video so you can see how that works.

There is a smaller Gym1 Indoor Playground as well. It's the same set, minus two of the pieces.
The Gym1 has RAVE reviews, both on and off Amazon. It really is a complete mini indoor playground and an awesome way for kids to stay active when they're stuck indoors!
Age: 3-12
---
Jazzminton Paddle Ball
Jazzminton is a cross between paddle ball, ping pong and badminton. The kids get to whack the birdies back and forth and you get to keep your knick-knacks intact. Theoretically, anyway.
I suppose if you hit the feathered birdies hard enough, they could knock a Hummel over, but in general Jazzminton is a safe active indoor game to play in the house.
This set comes with 2 slow birdies and two fast ones for more advanced players. Kids can bat the birdie alone or back and forth and they get better with practice, so they'll like this more and more as they play with it.
It's great fun outdoors too. We had a similar set and I used to drive my husband crazy when we went camping because I always wanted him to play with me so I could work off those s'mores.  😛
Anyhoo, you can add to the fun by using LED light up birdies for night time play!
Age: 6+
---
Indoor Active Games Get Kids Moving
Melissa & Doug Hop and Count Hopscotch Game Rug
Surely a game that started out as a military training exercise for early Roman soldiers is enough to keep stir-crazy kids busy, right? Well, it's at least worth a try and this Melissa & Doug Hopscotch Game Rug makes it easy to give it a whirl!
Here's a few reasons this Hopscotch rug is one of the best indoor toys for active kids.
Roomy width compared to others (it's 26.5″ wide)
Machine washable (I suggest gentle cycle)
Comes with 2 beanbag markers
I love the bright, cheery colors and design of this one too. The squares and numbers are big and clear. With a reasonable price and great reviews, this one's a winner!
Age: 3-7

I also want to share with you the highly-rated Shapes Bean Bags, pictured on the right. Having a set of these on hand is a good idea in case you have more than 2 kids playing hopscotch. Plus, they give opportunities for the kids to make up their own bean bag tossing games. (Hint: save your coffee cans to turn into bean bag toss receptacles!)
Hopscotch Carpet
Shapes Beanbags
Related: What are the best toys for preschool girls?
---
Educational Insights Pancake Pile-Up! Relay Game
The award-winning Pancake Pile-Up! Game is a relay race where kids have to grab the correct pancake off the griddle and race to put it on the customer's plate. The first one to complete a stack in the right order (ending with the butter pat on top, of course) wins the game.
Here's a few reasons why parents and kids are loving this fast-paced game.
For 2 players or up to 12 in teams
Everything stores in one box
Doubles as a fun pretend play diner set
Teaches sequencing, matching, coordination and many other skills
The further away you place the plates, the more exercise your little flapjack servers get! The game comes with order cards for kids to match their stacks to, but kids could also make their own for some additional challenges. Throw on a side of eggs and bacon or add pretend cups of coffee – there's loads of imaginative possibilities!
Check out all the positive reviews on this one and you'll see why this game is another one of my very favorite indoor toys for active kids to keep busy!
Age: 3+
Related: What are the best wooden play kitchens for kids? 
---
B. Mat-A-Matics Musical Mat
The B. Mat-A-Matics Musical Mat gives kids a variety of ways to get their groove on (and the wiggles out!). Here's a few reasons it makes our list of the best indoor toys for active kids.
Rolls up for easy storage
Lightweight for kids to move around
Easy to wipe clean
Lights up for fun night time play
Volume Control!
There are 4 play settings to engage your kids:
Melody Mix – kids can step anywhere and dance along to familiar tunes
Super Dance – Follow the lights and get down to funky dance music
Wacky Sounds – Bop around the mat and listen to funny sounds
Memory Music – Kids finish a nursery rhyme tune by stepping on the correct notes
Heads up that among the funny sounds in Wacky mode are burp and fart noises. Some parents might not appreciate that. Kids, of course, are delighted with them, and it's one of the reasons they love this toy.
Despite that though, most parents agree this Musical Mat game keeps their little noisemakers happy and active indoors! 
Age: 3-10
---
Keyboard Playmat
Next on our list is another musical indoor active toy. Kids will have a blast creating toe tunes with this Floor Keyboard Playmat. They can tap, jump and slide their way through favorite melodies or  just free-romp their own unique sound.
Take a look at some more details about this fun indoor active toy.
71″ long
Has record and playback modes
Most important: Volume Control!
8 instrument sounds
Folds for storage
Requires 4 AA batteries (not included)
Some reviewers complained the instruments didn't sound much different from one another, but despite that, this Keyboard Playmat is a best seller and parents and kids love it!
It's a fun way to encourage both movement and creativity in the kiddos. And admit it – seeing this makes you want to reenact that scene from the movie Big, doesn't it?
Age: 3+
---
Magic Moves Electronic Wand
The Magic Moves Electronic Wand was invented by a preschool teacher who wanted an engaging way for kids to have fun while getting some exercise in her class. Her invention won several toy awards and is a big seller!
It gives quirky commands like, "Spin like a top," or "Strut like a duck." Each command is followed by about 30 seconds of music so kids can move around and follow the command.
Check out some of the fun features of this toy:
Gives over 90 directions 
Engaging twinkling lights
Develops creativity and listening skills
Requires 3 AAA batteries (included!)
Kids can also have fun just engaging in pretend play with it too. Magic Moves really is a versatile indoor toy for active kids to get some exercise and stay entertained! 
Age: 3-6

There's also the Jammin' Gym active toy for kids, pictured below on the left, which has more exercise oriented-commands.
Speaking of commands for kids to act out, another great active indoor toy is the highly-rated game, Charades for Kids, pictured on the right. This is great for all ages because younger kids can just act out the picture where older ones can read the other choices on the card.
 Magic Moves Jammin' Gym
 Charades for Kids
---
Ultra Dash
Ultra Dash is a timed electronic game where kids race to gather up colored targets in a particular order and the one who completes the course the fastest, wins. There are 3 different play modes:
Beat the Clock – Times how long each player takes to collect all the targets
Target Tally – Set a time goal and see who can gather all the targets within that time
Relay Race – Times how long a team takes to collect the targets (get 2 for the teams to compete against each other)
When you pound the target with the device, it will make a sound to let you know it registered before moving on to the next target.
Kids can place the targets anywhere they want in the house, allowing for some creative relay courses. Plus, there are some other variations you can set within the game to make it even more challenging. Oh, and it comes with the 3 AAA batteries it requires.
The Ultra Dash is a 2018 Toy of The Year finalist and a great toy to keep kids active while they're stuck indoors. Kids can play with this outdoors too, but the lights on it can be a little difficult to see in the sunlight. This is a good one to just keep stashed for those indoor emergency play needs!
Age: 6+

Below are two more fun  indoor toys for active kids to get moving. Hyper Toss challenges kids to toss and catch the ball in the correct colored cup. It's sort of a cross between Simon Says and Ball-in-a-Cup. And Fitivities is a board game featuring fun exercises that will tire your little athletes out.
Related: What are the best toys and gifts for tweens?
---
Alex Toys Yoga Blocks & Mat
These fun new toys from Alex Toys help keep kids active indoors or out in a very Zen way. The Yoga Activity Blocks include cards with easy Yoga poses on them, and cards with a specified length of time on them. Kids roll both blocks to see which pose they have to hold for how long.
The Yoga Activity Mat consists of foam puzzle pieces that map out simple yoga moves in a colorful, easy to follow manner.
Both of these indoor toys help active kids develop better strength, balance and focus. What more could you want from an indoor toy?
Yoga Activity Blocks
Yoga Activity Mat
---
More Indoor Games to Keep Kids Active
We end our list of indoor toys for active kids with a few inexpensive board and card games. Each of these gets kids moving in creative and fun ways and will keep the kiddos entertained!
Card 'N' Go Seek
The Floor is Lava!
Unicorn Ring Toss
I Can Do That
Don't Step In It
Sturdy Birdy
---
Grab a few of these indoor toys for your active kids to get their energy out the next time they're cooped up inside. Trust me, Future You will thank Past You for your brilliant forethought!

Pin Indoor Toys for Active Kids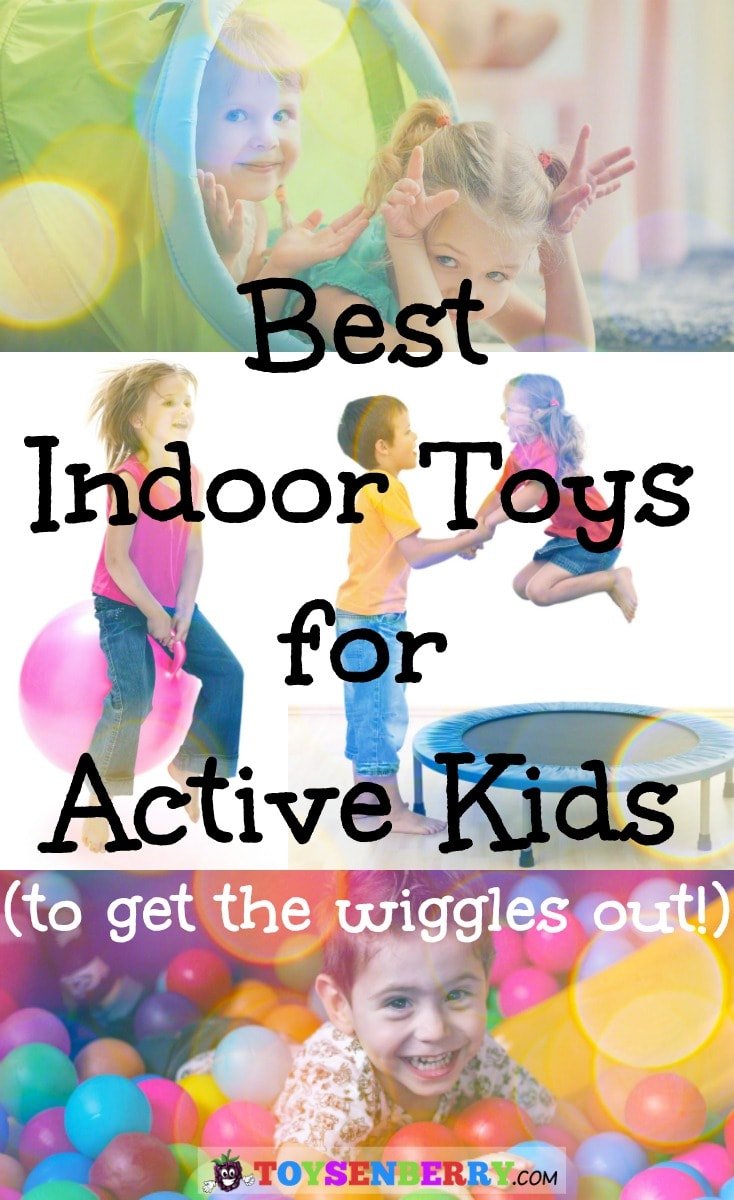 Search for more Indoor Active Toys for Kids